When you are preparing to paint a wooden surface that has been painted before, you will need to use a paint remover on the wood first. This is particularly important if the wood surface has several old layers of paint that have started to deteriorate. This can leave a surface that is peeling, cracked, or bubbly, which can be difficult to paint over.
Choosing a good paint remover for wood is important if you want the job done well and efficiently. You also don't want to use a paint stripper that can damage the wood or uses chemicals that can make you sick. Here are a few tips and reviews to help you find the best paint stripper for your next painting project.
In a hurry… Here's Our Top Pick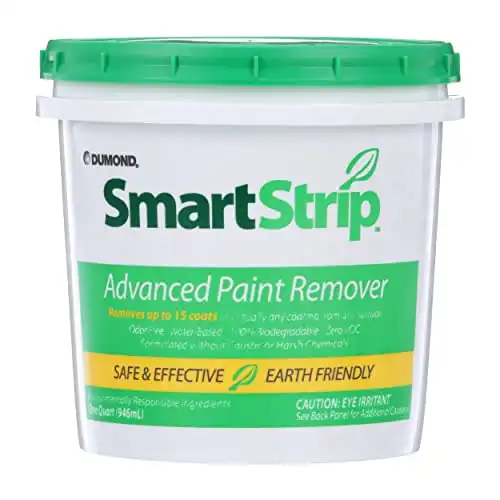 We earn a commission if you make a purchase, at no additional cost to you.
Considerations When Choosing a Paint Remover for Wood
Types of Paint Stripper
Caustic
Super popular, but less versatile, caustic formulas use lye to turn the paint it is removing into soap, which makes it super easy to take off a wood surface. However, you should use a caustic paint stripper on epoxy, but it will work well when used on oil-based paint that is on a concrete surface.
Solvent
Solvents are popular since you can use them for other purposes besides stripping paint. This chemical-filled formula is designed to separate paint from wood. Capable of working on both metal and wood surfaces, this formula will remove both water and oil-based paints pretty effectively. Keep in mind that solvents tend to have pretty strong fumes thanks to the VOCs, or volatile organic compounds, that are included in their formula. Make sure to wear a mask when you use this type of paint stripper.
NMP
NMP stands for N-methyl-2-pyrrolidone, which is a substitute to methylene chloride. This chemical is thought by some to be safer than methylene chloride, but there is still some debate on it.
Biochemical
If you are looking for a more natural option, biochemical formulas use more ingredients that are sourced from actual plants. Keep in mind that these formulas can still cause irritations and some brands will also use NMP in this formula.
Zero-VOC
This type of formula tends to be more expensive, but safer to use. Using alternative ingredients to NMPs or VOC and any other dangerous chemical, this type of formula isn't that effective and can cause its own irritants.
Step by Step Guide on How to Safely Strip Paint from Wood
Making paint and varnish easy to remove, a paint stripper is a solvent that will soften old finishes. You can find them as a paste, liquid, or gel, and they are effective when you need to remove paint off of wood on a large project, fine details, or curved shapes. Also, you will find that paint strippers that are used on tight areas and rounded surfaces are more effective and easier than sanding.
How to Strip Paint from Wood
You can easily learn how to strip paint from wood using paint strippers and removers. Just remember that it's important to keep the stripper and removers away from your lungs, skin, and eyes. Depending on the brand, you may be able to find a formula that has minimal odor and fumes that are also easy to clean up with just water. No matter what formula you get, it's recommended that you use a paint stripper outside or in an area that is well-ventilated with drop cloths since paint removing is messy and smelly work.  It is also possible to use a hand engraving tool or dremel to remove paint from hard to reach grooves.
• Using a metal or glass container, pour a little bit of the paint stripper into the container and then apply the formula as specified by the manufacturer.
• If you are removing paint from a vertical surface like a wood door frame, use a paste or gel.
• Start removing paint at the top of the project and then work your way down.
• Make sure you take the time to work the paint remover into any hard to reach areas.
• Give the solvent enough time to work according to the manufacturer's instructions.
• Being careful not to damage the wood, and use a putty knife, specialty scraper, or paint scraper to take off any softened paint.
• If you encounter problem areas or are working on a detailed spot, reapply the paint stripper as necessary.
• Use an abrasive pad or nylon brush to scrub the wood to get rid of stripper sludge and any traces of the old paint finish.
Paint Stripper Safety Tips
• Use chemical resistant gloves
• Wear goggles and a mask
• Protective clothing including long sleeves and pants
• Work in a ventilated area or outside
• Avoid working around flames
Features to Look for in a Paint Remover for Wood
Multi-Surface Paint Remover
If you aren't sure what other surfaces you will work on next, it can be helpful to buy a multi-surface paint remover that you can apply to several different surfaces. A general paint stripper has the additional benefit that it can remove paint from many different surfaces, just make sure that one of those surfaces is wood.  Using the best paint remover for items like wood, metal, aluminum, and concrete is critical for a successful paint job.
Fast-Acting
For those that don't want to waste a lot of time, look for a paint stripper that will work in just a few minutes. There are many on the market that can work quickly so that you can remove a layer of paint in about 15 minutes. Just make sure that you find out what chemicals these formulas use for the safety of those living in the house.
Strips Multiple Paint Types
Since water and oil-based paint can react differently to the same paint remover, it is important to make sure that the paint remover you choose will work on both types of paint. There are also some paint removers that are able to work on any type of paint or varnish, which can make the process a whole lot easier.
Avoid Methylene Chloride
If possible, avoid a paint remover that has hazardous chemicals in it like methylene chloride. Since it is pretty common, this can be hard, but it's worth doing a little extra research to find a product that is safer to use. If you do choose a product that contains this chemical, make sure that you find out how to apply it to surfaces safely.
Test Older Paint for Lead
It's important to test the paint in your home for lead if it was built before 1978. You can buy these inexpensive lead tests from a hardware store.
Best Paint Stripper Reviews
Smart Strip Advanced Paint Remover
Using a revolutionary formula, Smart Strip Advanced Paint Remover is safe to use for both you and the environment. This non-carcinogenic formula is non-caustic, non-toxic, and doesn't use methylene chloride. This water-based paint remover is easy to apply with a roller, brush, or a conventional airless sprayer.
The Smart Strip Advanced Paint Remover is effective at removing up to 15 coats of pretty much any urethane, varnish, acrylic, water-based, and oil-based coating. It can even remove old lead paint from interior surfaces and exterior surfaces like fiberglass, glass, plastic, metal, plaster, concrete, stone, brick, or wood.
This user-friendly paint remover is free of VOC's and is completely biodegradable as well as pH neutral. Once applied, the paste needs to sit on the coating for up to 24 hours, which depends on the type of coating you are removing and the number of layers that are being removed. Since it was formulated to stay wet, it is effective over an extended period of time and doesn't need to be used with Peel Away Paper.
After Smart Strip Advanced Paint Remover has been removed, the softened paint will lift off using a scraper. You can use a power washer or sponge and water to remove any residue that remains behind. Available in a one-quart can, this product does not need to neutralize the surface that is being stripped.
Pros:
The formula can remove 15 coats
This formula is very easy to apply
It doesn't use harsh chemicals
Cons:
It won't get off all the layers in one application
If you don't put on a thick layer, it doesn't work well
Klean Strip Premium Stripper
Featuring a non-methylene chloride formula, Klean Strip Premium Stripper is fast-acting and can remove several layers of oil-based and latex paint in just 15 minutes. One of the more powerful strippers on the market, this paint stripper is ideal for those really tough jobs. Equipped with a putty knife, this product is available in a one-quart can.
Capable of removing several layers of paint, Klean Strip Premium Stripper can remove shellac, varnish, epoxy, and polyurethane from masonry, wood, and metal surfaces. The brushable and thick paste will cling to a vertical surface and not drip or run. Using a less-toxic patent-pending formula, you won't have to worry about working in several and toxic conditions, but you do want to use it in an adequately ventilated area.
This fast-acting liquid can dissolve decades of paint build-up in 15 minutes. The Klean Strip Premium Stripper includes a putty knife made by Centaurus AZ. Making your scraping job easier, this putty knife also features a curved face that is ideal for getting globs of remnant paint out of a roller.
Pros:
It comes with a handy putty knife
This formula won't run or drip
It starts to work in about 15 minutes
Cons:
2-Minute Remover Advanced Paint & Varnish Remover
When using an advanced formula, the 2-Minute Remover ADVANCED Paint & Varnish Remover is a methylene chloride free product that makes it easy to remove paint with just one application. Quickly lightening wood stains and attacking the finish, this formula will not corrode metal or damage wood. Capable of removing several layers of finish at one time, this paint remover is safe to use on automotive and marine finishes as well as masonry, metal, and wood.
Easily removing polyurethane, epoxy, varnish, shellac, lacquer, and both oil and latex-based paints, the 2-Minute Remover Advanced Paint & Varnish Remover is a safe formula that can strip up to 25 square feet per gallon. This is a fast-acting formula created to remove several layers of finish without using harsh and dangerous chemicals.
Pros:
It doesn't use harsh chemicals
This is a fast working formula that can remove several layers of paint at once
It's safe to use on wood
Cons:
You have to use several coats
Has a very strong smell
New Generation Paint Stripper
Removing all kinds of paint, the New Generation Paint Stripper is an effective and non-high-quality stripper that doesn't use any toxic chemicals. As effective as a Methylene Chloride product, this paint stripper can remove up to five layers of paint with just one application. Bringing a natural finish to furniture, this product is strong enough for finishing work or heavy-duty products but is also gentle enough to use on antiques.
Perfect for any stripping job, the New Generation Paint Stripper is a fast-acting gel that is safe to use on concrete, wood, and metal. It is also easy to clean with water and safe to use. Capable of removing any type of glue, this stripper also works on varnishes, shellac, lacquer, polyurethane, and epoxy, oil, and latex paints.
Without using methylene chloride, this is a safe product that is strong enough to be used as an industrial stripper. The New Generation Paint Stripper is fast-acting and will work in about 15 minutes for most stripping projects.
Pros:
It removes all kinds of paint and finishes
This formula does not contain harsh chemicals
It's safe to use on antiques
Cons:
Unless you submerge an area, the results aren't very good
It only works on flat areas
Hi-Speed Ready-Strip Citrus Paint & Varnish Remover
Handy and safe to use, the Hi-Speed Ready-Strip Citrus Paint & Varnish Remover comes with a trigger sprayer and works on both vertical and horizontal surfaces. This 'no-drip' formula makes it easier to remove varnish and paint on any surface. Using a special mix of chemicals, this paint remover does not use any harsh chemicals.
Safe to use on linoleum, sheetrock, plastic, and rubber, the Hi-Speed Ready-Strip Citrus Paint & Varnish Remover can be used on both exterior and interior surfaces like concrete, masonry, wood, metal, and brick. Easy to use, this formula is able to remove up to three layers of paint build-up in just one application.
Staying wet longer, the Hi-Speed Ready-Strip Citrus Paint & Varnish Remover will start to work in around 30 minutes. This innovative product works on both water and oil-based paint and can easily be cleaned up with just water.
Pros:
Works well to strip multiple layers of old paint
This stripper is a dust-free solution to removing paint
It doesn't create a sticky mess
Cons:
Sometimes requires a lot of scraping
It can damage the wood because of its acid content
Finishing Things up
No matter which paint remover you end up choosing, remember since paint strippers can be made from a potent formula to use the product in a well-ventilated area or outside. Also, make sure the surrounding area is protected and use chemical resistant covers to protect both the floor and nearby furniture.