Are you looking for a high-quality, affordable 3D printer? These amazing devices are a builder's dream come true, but which one offers the best value for your money? Keep reading to find out why you should shortlist the FlashForge Finder 3D Printer, as well as what its advantages and weaknesses are.
CHECK LATEST PRICE ON AMAZON.COM
FlashForge Finder 3D Printer
The FlashForge Finder 3D Printer is the next step in 3D printing technology. It embeds Cloud, flash drive connectivity, a USB cable, and even Wi-Fi to help you craft anything you wish. It is easy to use and highly precise, with intuitive controls and a calibration detection system.
Who is This 3D Printer For?
This product is ideal for anyone who wants to try out 3D printer technology. It's affordable, and there is no need to worry if you haven't used one before. This one includes everything you need to get you started. The quick-start guide offers precise information to help you put everything together, and it also comes with a complete tool bag.
Additionally, the product has intuitive controls and high-level precision, making it perhaps the best entry-level 3D printer available on the market.
What's Included?
The package contains a quick-start guide to ease your setup, an after-sales service card, and a power cable. You will also find a filament guide tube and a tool bag. The tool bag contains a wrench, two Allen wrenches, PTFE tube, grease, and an unclogging pin tool.
The printer also comes with one roll of PLA filament of 300 grams with random colors, a power adapter, solid glue, and a USB cable — in other words, it comes with everything you need to get you started.
Overview of Features
The FlashForge Finder 3D Printer is a high-tech product that comes at an affordable price with numerous features. For instance, apart from including everything you need to set it up in no time, the printer can use Wi-Fi and the Cloud to print any model you wish.
It comes with a slide-in build plate, which allows you to remove the finished 3D prints with ease. This is a great beginner-friendly feature, as it minimizes the chances that you will damage the print.
What's more, it features an intelligent assisted-leveling system that promises precise, facile calibration. More specifically, the detection system will help you tighten or loosen the screws. It has a faint beeper that lets you know when you have reached the correct level.
System Features
This system detects the space between the build plate and the nozzle. Once you finish one location, the printer directs you towards the next screw location, following the same process.
Meanwhile, the touchscreen display will offer you clear messages to ease the process. It can't get much easier than this!
For people who live with their families or friends, or if you have a baby, this product promises quiet operation. The sound is as low as 50 decibels, offering a pleasant experience without disturbing others.
The Wi-Fi feature has already reached its second generation, which means that it is stable and minimizes errors. You can send all the files you've created with your 3D modeling software from your computer to the printer using a Wi-Fi network.
What's more, the model database is endless, considering the 3D Cloud function. This provides online access to editing, sharing, storing, and printing status checks.
How to Use FlashForge Finder 3D Printer
The printer is effortless to set up if you follow the quick-start guide, while the software (FlashPrint) follows the same concept. For the best experience, it is recommended to update the firmware to its latest version. You may do this by enabling the Wi-Fi function from the printer's touchscreen menu and thennupdating the firmware.
Alternative
Are you looking for an advanced model that is not only larger but also more complex? If so, we recommend the Comgrow Creality Ender 3 3D Printer.
This model has a noiseless, high-quality operation that will offer plenty of qualities and features. It boasts high-precision printing abilities, and it is recommended for students or hobbyists who are passionate about 3D printing.
Conclusion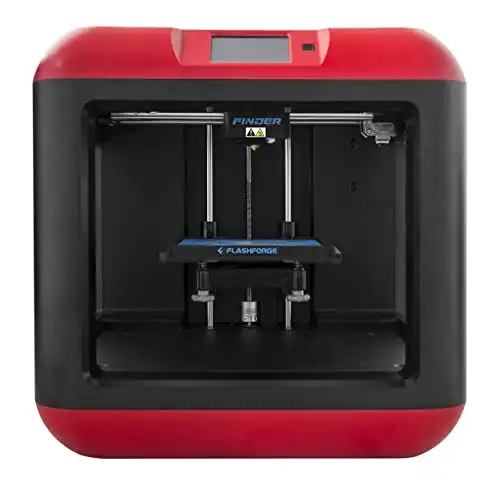 We earn a commission if you make a purchase, at no additional cost to you.
After review,  the best 3D printers offer great opportunities to express your creativity.  Finding a good quality printer that feeds your curiosity is not so difficult anymore, due to the FlashForge Finder 3D Printer. We wholeheartedly recommend it to any 3D printing enthusiasts or beginners.
If you want a high-precision printer and access to endless models via the Cloud, this product is ideal for you. Another great feature that adds value to it is the ease of setup and use. As you can see, this is not a product to miss.