Ready to start your own machine shop or just want to use a CNC machine in your garage?  With a plethora of options in today's CNC market, it is not only difficult to make a decision but damn near impossible.  So we set out to make a complete guide to buying your first CNC machine.  Scratch that, even if you've owned a CNC mill or operated one, this guide is still for you.
CNC Milling Machine Overview
When researching the best CNC mills availabe in today's market, we focused on 3 main factors we deemed most important.
3 Factors to Consider before buying a CNC Mill
There are three main things to consider when buying a small CNC Mill.  The first being the size of the machine.  Will it fit in your space and will you be able to get it through garage doors if necessary.  Now for most small CNC machines, this won't be much of an issue, but it is ultimately one of the main factors when deciding on a machine for your shop.
The second aspect to consider before your first purchase is what do you plan on making with this machine.  Will you be machining steel, plastic, or aluminum?  How large are your workpieces?  If you are planning to just cut small parts out of a vise or fixture, then your options are practically endless.  Cutting just plastic or aluminum will give you even more choices.  We will cover all the small desktop CNC machines, knee mills, and best CNC machine brands as we go along.
The third biggest factor to consider is cost.  Pricing a CNC machine is a big step in this process.  When setting up any machine shop, having a tight budget is almost always a concern.  With that in mind, we will be going over the cheapest options available in the CNC market.  These milling machines being mostly in the $3,000-$10,000 range.  In this guide, we will start small and work our way up, starting with Desktop Mills, then on to small CNC Mills and VMCs.
Desktop CNC Mills
Haas Desktop Mill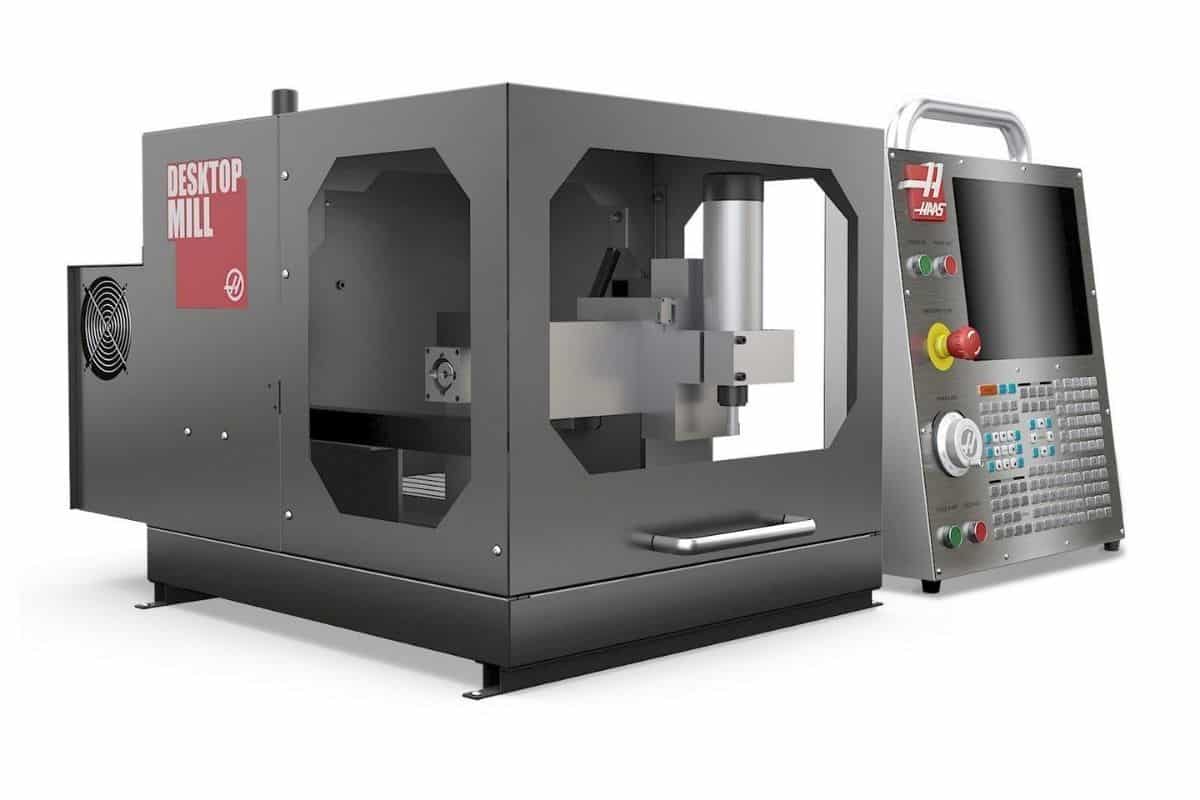 Courtesy of Haas Automation
Now don't laugh just yet.  Although this Desktop CNC Mill is more geared to students and those working in a lab setting, there is still a lot to love about this machine.  If you are familiar with the Haas brand, then you know they wouldn't make something that isn't a quality product.  Designated as a "Training Mill", the Haas Desktop Mill is packed with a 15,000-rpm electric spindle and a fully-functional Haas Control Panel.
Built to fit on most desktops, toolbox, tabletops, and workbenches.  The machine is compact and light enough to be easily moved and transported from a shop floor to an office.  Made with hobbyist machinists and beginner's in mind, it is great for those looking to improve their programming skills.
Since it is a hobby-inspired small CNC mill under $10,000, you won't find a large cutting surface area with this machine.  Nor, will you be able to change tools automatically like on the larger machines we will cover later.  If you are looking to cut small parts using plastic or aluminum, and are tight on space and a budget, then this might be the one for you.  After review, we have mostly great things to say about the Haas Desktop Mill with its purpose in mind.
Features & Specs
Cutting Area  6" x 10" x 1.5" (152 x 254 x 38mm)
15,000-RPM Electric Spindle
HAAS Control
ER11 Collet
Runs on single-phase 120V or 220V (As requested)
Pros
Fully Functional Haas Control
No need for coolant
Doesn't require compressed air
Small, Compact, and lightweight
Cons
Only a 6-Month Warranty
Pricey for its size
Bantam Tools Desktop CNC Milling Machine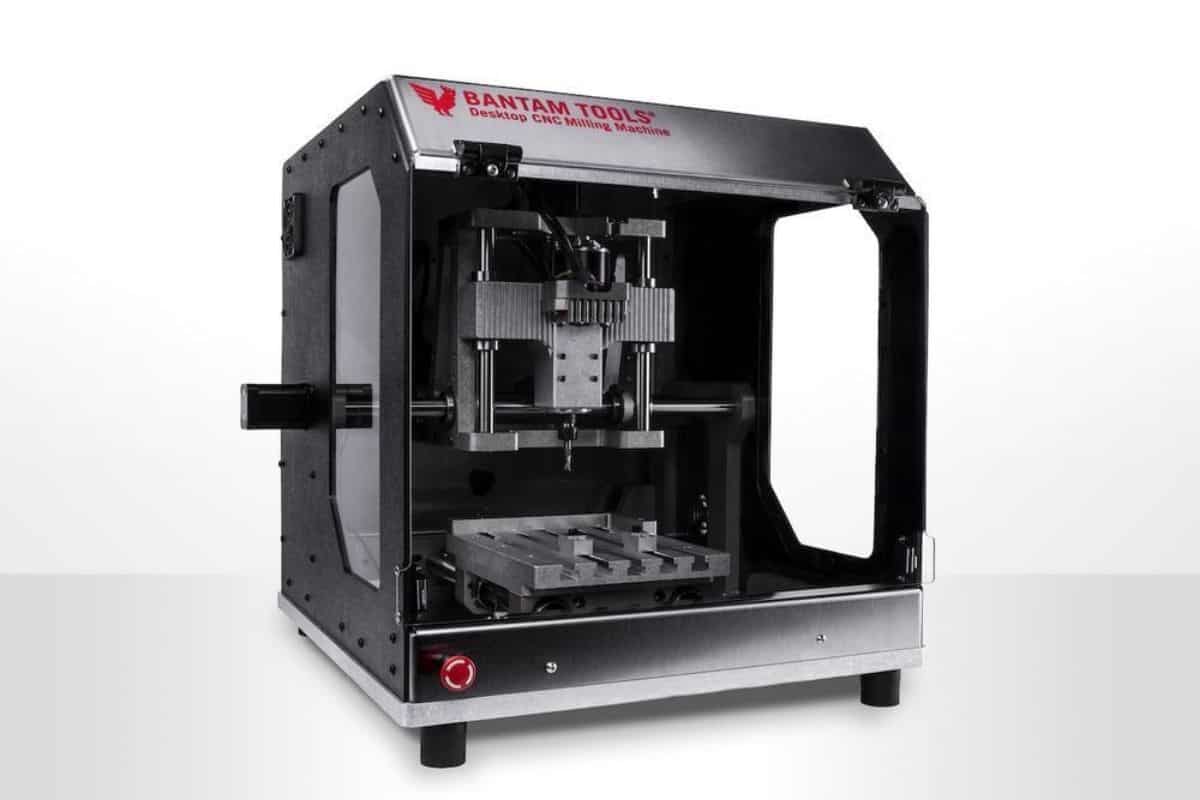 Courtesy of Bantam Tools
Another portable small and compact option is the Bantam Tools Desktop CNC Milling Machine.  Bantam prides itself on building the smallest and meanest aluminum cutting machine on the market.  Designed and optimized to cut aluminum at high-speeds, it makes question everything you know about CNC machines and how they operate.
Although compact, this machine is built with very rigid construction.  Weighing in at just over 70lbs, this benchtop CNC Mill can be easily moved, with a little help, to wherever it best serves you.  With a solid aluminum frame and a whopping 28,000-rpm spindle, this mill is certainly one to not take lightly.
Not only does this unit incorporate high-speed machining, it also makes set-up quick and painless.  Using a conductive probing system, the Bantam Milling machine makes setting tools and part geometry nearly effortless.  A t-slot bed and a built-in clamping system makes securing your part and fixtures as simple as possible.  In review, one of the best desktop CNC mills on the market.
Features & Specs
Drag and Drop SVG with built-in Auto-CAM software
Real-time Software Feedback during Machining
Easy Integration with Fusion 360 CAM
Fully Enclosed with 180-Degree Window Visibility
Pros
Optimized for Aluminum Cutting
Bantam Tools Milling Machine Software Included
Small and Compact
Very Affordable
Easily fits on a benchtop
Cons
No Warranty for Spindle
Premium Subscription required for some options
Pocket NC V2-50 Desktop 5-Axis Machine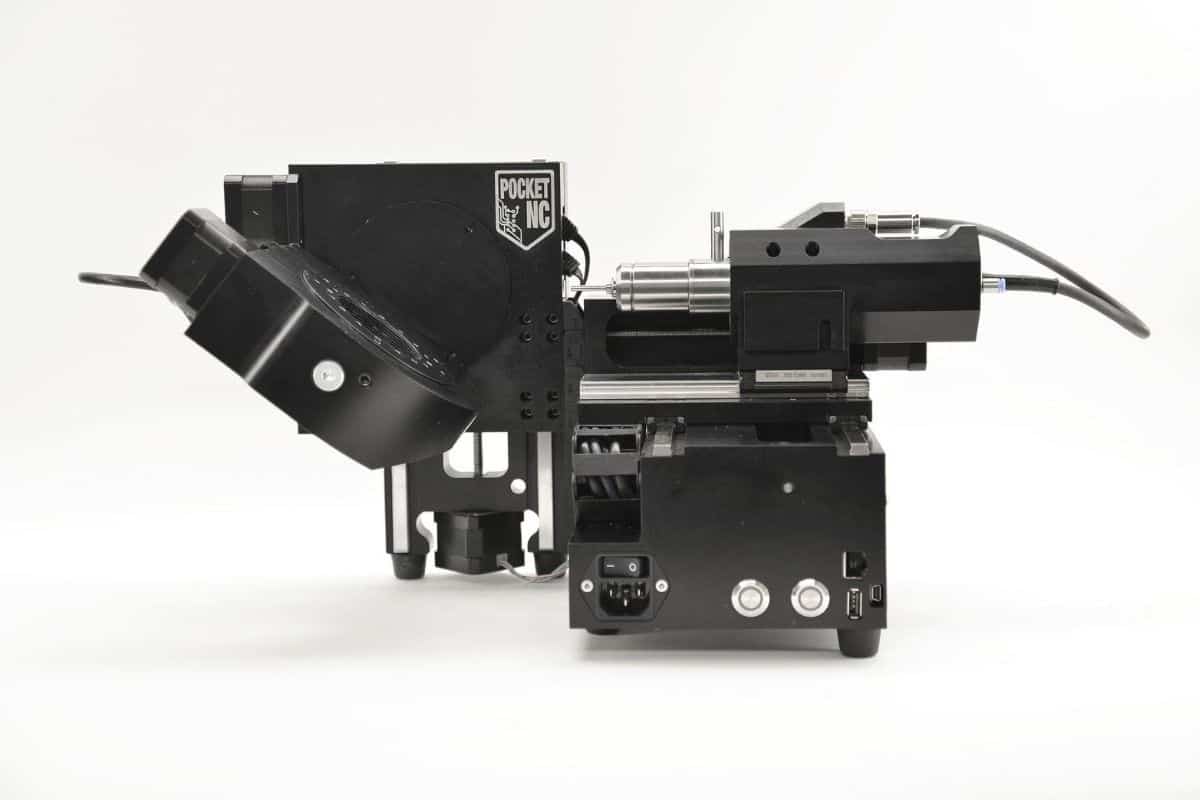 Courtesy of Pocket NC
A truly unique compact 5-Axis CNC milling machine.  The Pocket NC V2-50 Desktop mill will change everything you think you knew about 5-Axis machining.  Being able to deliver the functionality and abilities of a 5-axis machine is no easy task.  And being able to do so in such a small compact design, makes this machine a real stroke of genius.
Built with a prototyper in mind, the Pocket NC machine is a great alternative to a 3D printer.  To create a complex 3-dimensional part, many machines require a 4th or even 5th axis to complete such an item.  Ideal for cutting plastics and aluminum, this machine is still rigid enough to cut harder materials like brass and titanium.  Having a desktop CNC mill that cuts steel is major resource to have in any home or job shop.
Used by many in a wide variety of industries, this compact CNC mill under $10,000 specializes in fields such as jewelry making, medical technology, start-ups, and R&D.  If you are interested in any of those fields or are making small original complex parts, then this machine is a great option. Overall, a great benchtop CNC mill option for your home or shop.
Features & Specs
Maximum XYZ travel 4.55" x 5.05" x 3.55" (115 x 128 x 90mm)
A-axis Rotation -25° to 135°
B-axis Continuous Rotation
Up to 50,000-RPM Spindle
Tested on G5 titanium, 6061 Aluminum
Pros
Easily the most affordable 5-Axis machine available
Works with standard G-Code
Includes Vise and Hardware
Cons
Requires Air Compressor (Not Included)
Limited Warranty
Best CNC Mills for a Small Shop
Tormach 1100M CNC Mill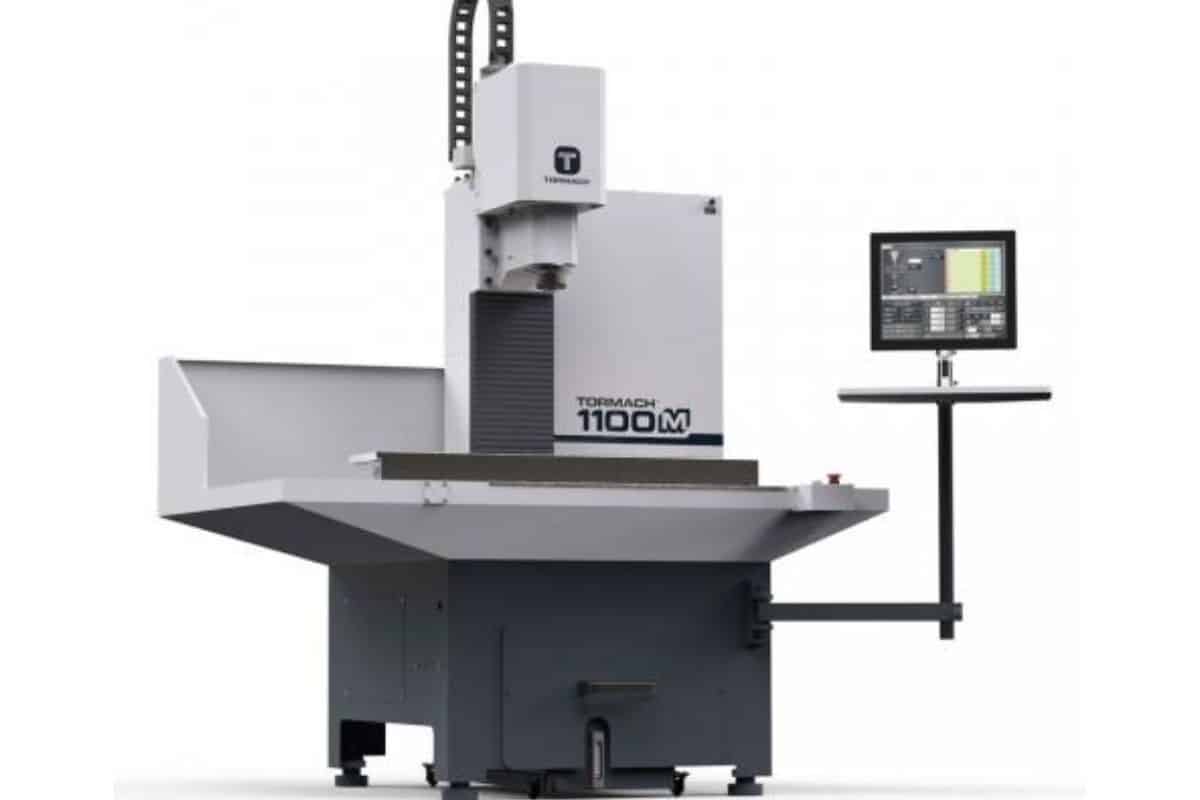 Courtesy of Tormach
The industry leader in affordable CNC mills, Tormach has done it again with this best selling machine.  A true CNC metal milling machine known for it's rigid construction and ability to last a lifetime makes it a great option for any machine shop.  Having the versatility to cut materials such as titanium gives you the flexibility customers like when doing business.  Did you know Tormach also makes small CNC lathes?
Tormach known for their quality and customer support, they will help ease in worries during the buying process you may have.  Now available in 4 different base packages, from an entry-level model to a premium version.  In the entry 1100M package you'll receive the base model mill, control, and owner's kit.
The premium package of the 1100M CNC mill now includes an automatic tool changer, a digital probe, and an electronic tool setter.   With these options included, this machine easily competes with comparable VMC CNC mills in the same price range.  This machine can easily fit in a garage in your home or workshop.  Capable of easily cutting metals, woods, plastics, and composites.  The 1100M is a true swiss-army knife to have you in your machine shop.
Features & Specs
7,500-rpm Spindle
XYZ Travel 18" x 11" x 16.25" (457 x 279 x 412mm)
Machine Weight 1600lbs (726 kg)
80gb Program Memory
Touch-Screen Interface
Built-in Speed and Feeds Calculator
Pros
4th axis capability
Conversational Programming
Powerful 2-hp Spindle
Budget-Friendly
Cons
Entry Base Model lacks most Features
Fadal VMC 2015 HS-II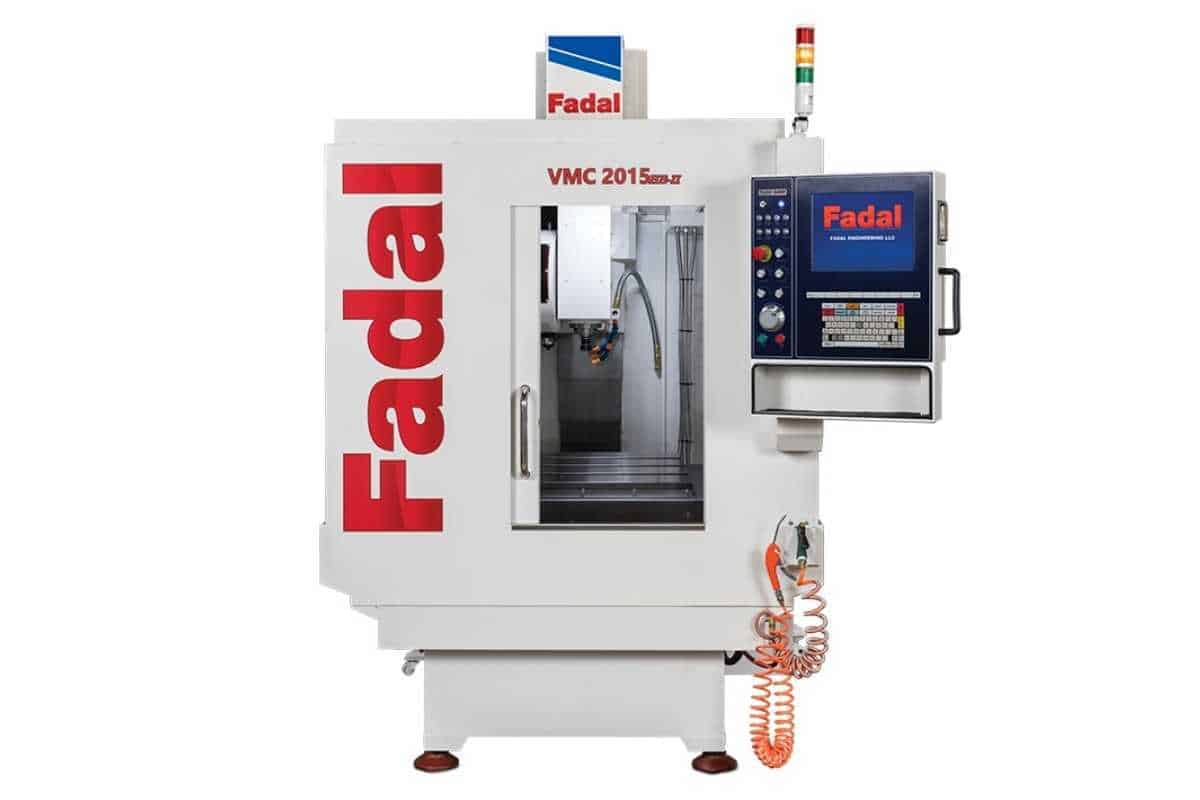 Courtesy of Fadal
A trusted name in the CNC machining world, Fadal machines are built to last.  Like most vertical machining centers in this price range, it has just enough versatility for every size machine shop.  When looking to maximize efficiency in your machine shop, the Fadal CNC mill will reduce cycle times quickly with it's 1-sec tool change.  Equipped with precision ball screws, the Fadal VMC obtains the accuracy and repeatability for the tightest of tolerances.
Capable of high-speed machining in an enclosed capacity, allows this machine to operate safely for all users.  Included with this mill is a Spindle Air Blast technology which helps cool your tools to eliminate wear.  One of the best CNC machine brands, Fadal always creates quality products that will last.
Standard with the Fadal VMC 2015 HS-II is a chip wash down system and LED work lamps.  Also,  it is equipped with an automatic PDI lubrication system to keep your machine running smoothly.  The Fadal CNC mill is one of the best options for those with a larger budget and one the best quality available.
Features & Specs
XYZ Travel 20" x 15" x 16" (508 x 381 x 406mm)
Tool Capacity of 20
Standard 12,000-rpm Spindle
Spindle Oil Cooler
Linear Roller Bearing Ways
Pros
Rigid Tapping
2,500 Blocks/sec Look Ahead
4th Axis Ready
Backward Compatible to 88HS & MP
Cons
Cost
Tool Probing Not Included (optional)
Fryer Compact Toolroom Mill CM-15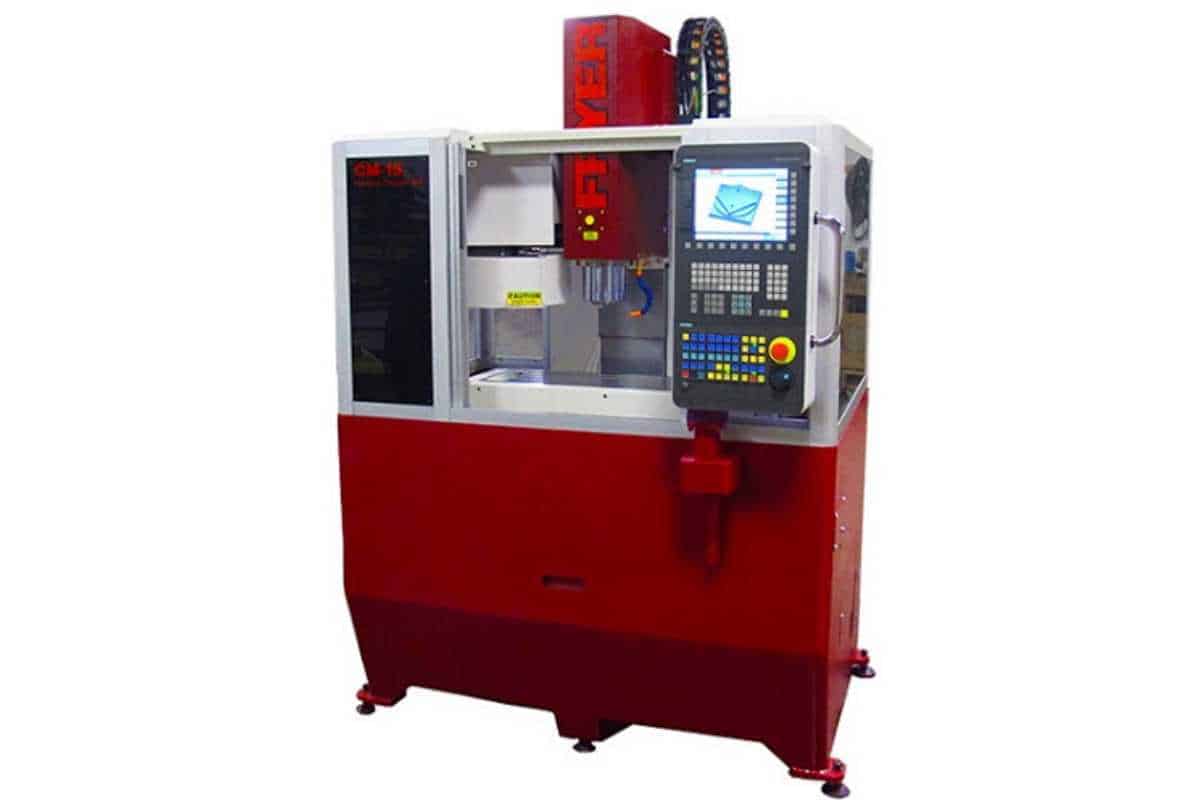 Courtesy of Fryer
A terrific CNC Mill option for any toolroom, job shop, or any manufacturing facility.  Furnished with high precision ball screws, the Fryer CM series can handle almost any tolerance thrown at them.  The industry standard Siemens 828 Control comes standard with every machine.
With an excellent programming menu built-in, you can program and set-up right at the machine.  Making some of the most complex job shop tasks as simple as they can be to date.  Having canned cycles ready at the edge of your fingertips you'll be able to set-up small one-off jobs quickly and efficiently.  A graphic verify simulator comes standard with your Fryer CM-15.
Now, this machine truly is as compact as they say, it can easily be moved by one person with a pallet jack.  A solid iron cast base will help eliminate any vibration wherever you may want to locate your machine.  One of the best job shop CNC milling machines we have reviewed.
Features & Specs
XYZ Travel 15" x 10" x 15" (381 x 254 x 381mm)
7.5 HP Spindle Motor
8,000-rpm spindle
8 tool storage capacity
Machine Weight 2,350 lbs
Fanuc G-Code
Pros
Includes Siemens High-Speed digital control system
Manual or CNC mode
3D Graphic Simulation
Rigid Tapping with Peck feature
Cons
No Tool or Part Setting Probe
Tormach PCNC 440 Benchtop CNC Mill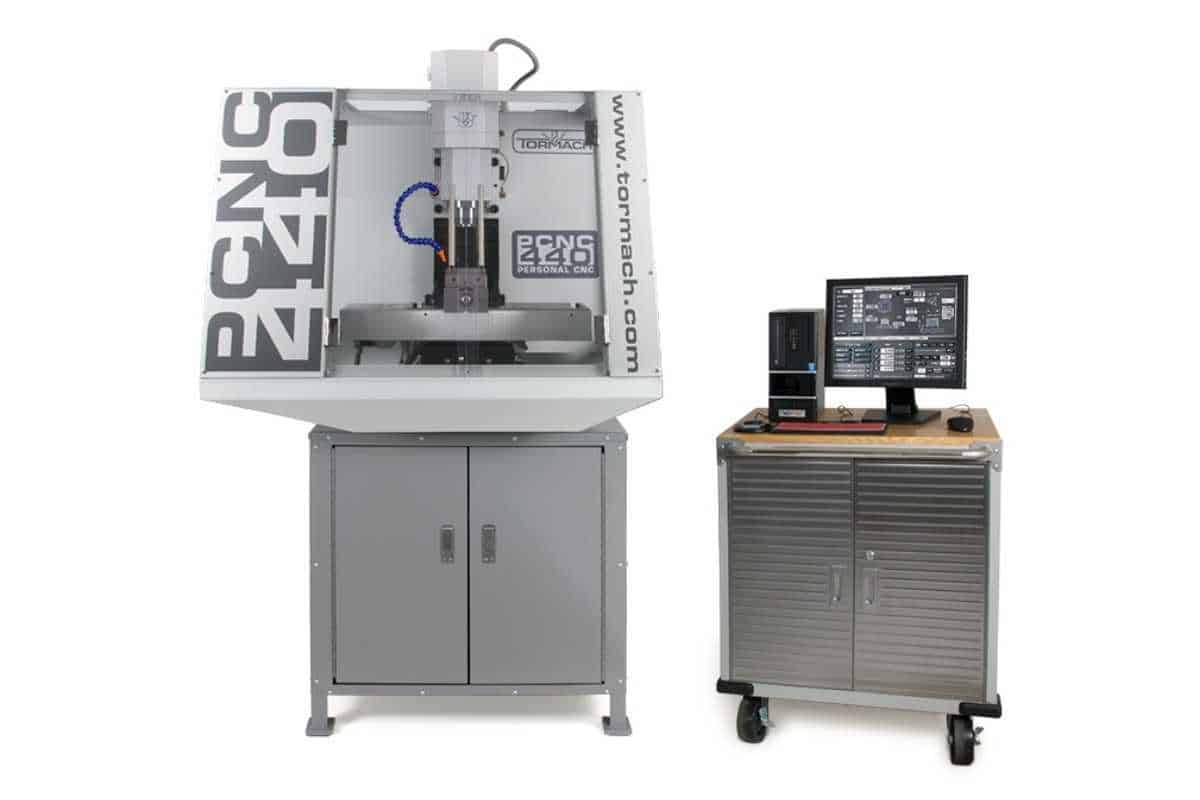 Courtesy of Tormach
Yes, you read that right, another Tormach CNC Mill made it on this list  Some would call this the little brother of the more popular 1100M, but this little guy is trying to make some noise.  Labeled by Tormach as a "Personal CNC", this machine won't take up much room and will provide the same quality you expect from this brand.
One of the cheapest options we've reviewed on our list of small CNC milling machines.  The PCNC 440 is built not just for small shops or hobbyists, but for any machine shop looking for a solid secondary operation.  Optional 4th axis rotary attachments can be added making this small milling machine a complex juggernaut.
Equipped with a massive 80gb program memory, the 440 makes transferring files a cakewalk when included with its built-in dropbox support.  Worried about your CAD/CAM software not connecting with this machine, well the good folk's at Tormach have figured that out.  The Pathpilot Control system easily integrates with most CAD/CAM software.  Not a fan of CAM software, not a problem, with conversational programming still as an option.
Features & Specs
XYZ Travel 10" x 6.25" x 10" (254 x 158.75 x 254mm)
Machine Weight 600lbs
Ability to cut aluminum, composites, steel, titanium, and more
Optional Full Enclosure
10,000-rpm spindle
Pros
Extremely affordable for most budgets
Easily Portable
Rigid Construction with iron cast base
User-friendly touch screen interface
Cons
Syil X5 Mini CNC Mill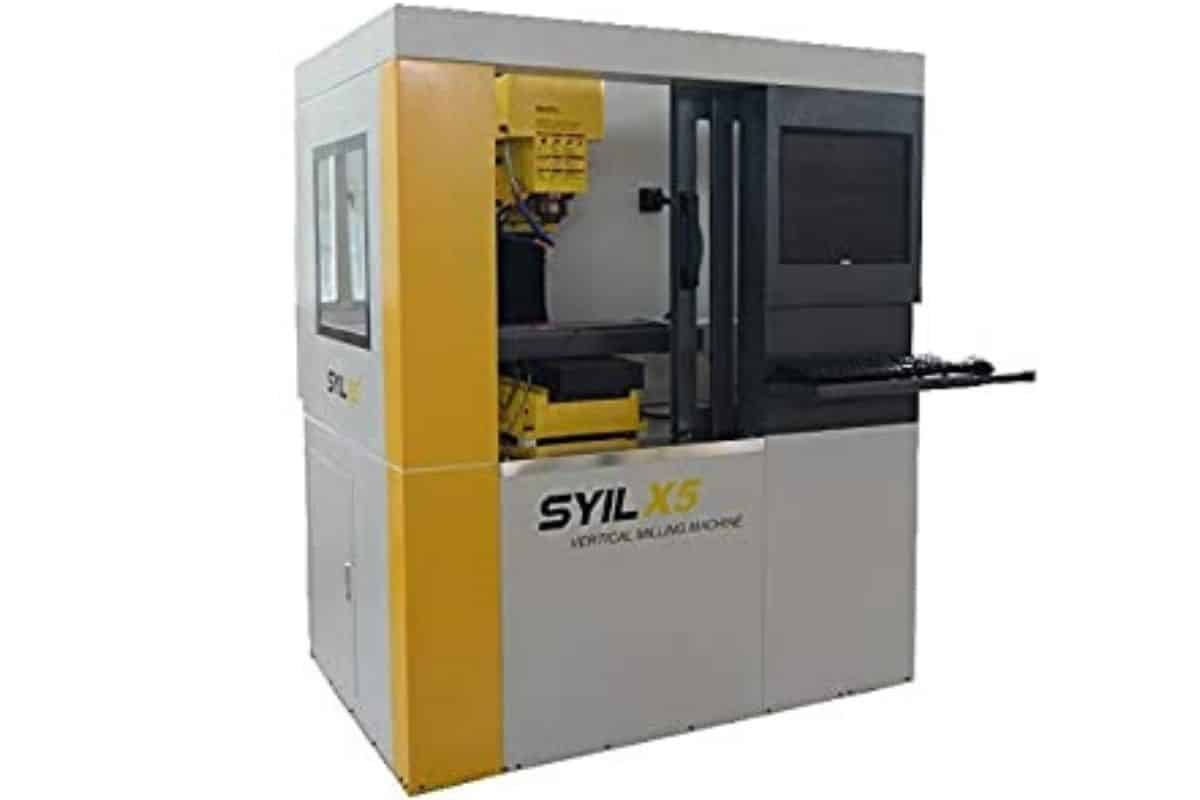 Courtesy of Syil
The Syil X5 is another personal hobby CNC mill that is compact and user-friendly.  When dealing with limited floor space having a small milling machine like the X5 is a life-saver.  This mini-mill is a good option for those who want a machine in then start-up, job shop, or even home.
Strapped with the Siemens 808D advanced controller, we can safely say that this machine will be a joy to work with.  Not only will you have great control of the typical 3-axis system but also with an optional 4th axis attachment.  Of course, purchase required separately, but none the less it always nice to have that option in your tool chest.
Overall, this isn't the best benchtop CNC mill we have reviewed, but it is a worthy contender.  We aren't crazy happy with the spindle or overall entry-level cost of this machine.  That being said it will definitely be a machine to keep an eye on it for years to come.
Features & Specs
XYZ Travel 10.8" x 6.1" x 9" (275 x 155 x 230mm)
8 Tool Storage Capacity
5,000-rpm Spindle
Pros
Affordable Cost at Entry-Level
Iron-Cast base
Compact Design
Cons
Lack of Spindle Power
Tool-to-Tool Change of 10 Seconds
CNC Masters MAX CNC Milling Machine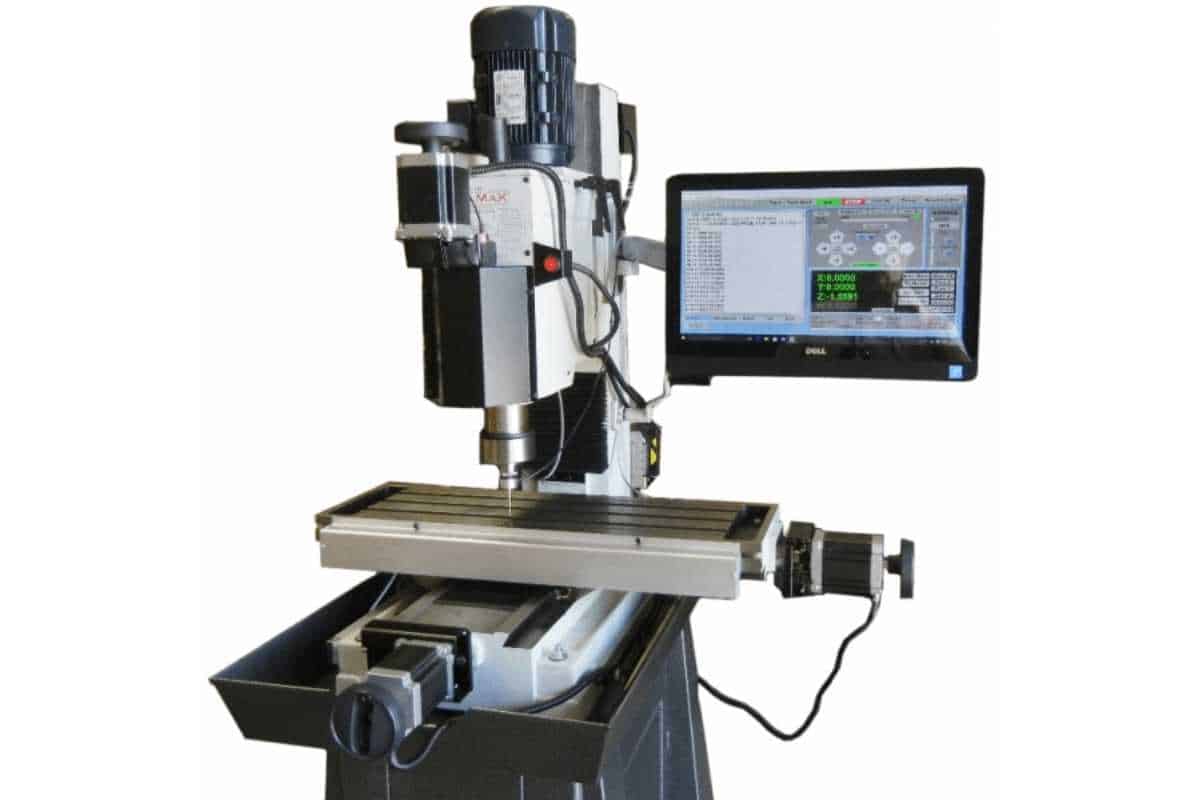 Courtesy of CNC Masters
So maybe we're going a little old school on this one with the traditional bed mill.  Any real machinist knows these Bridgeportesque machines have been the staple of machine shops for decades.  You don't get these fancy new VMC's of today, without someone using one of these bed mills, or even the less popular knee mills of the past.
Now on to this fully equipped MAX CNC mill.  There's a lot to like about this small benchtop CNC mill like its large travel capacity.  Like most bed mills, there is a lot of room in the X-axis due to its lack of an enclosure.  With all that being said, we wouldn't recommend this milling machine for any parts with tight tolerances.
The base model of the Max doesn't offer much, but there are a lot of options that can be added with your purchase.  Some of those add-ons being a 4th Axis, Rigid Tapping Control, Digital Probe, Coolant control, and a quick tool changer option.  After review, we would recommend this machine to those who feel most comfortable with a benchtop bed mill.
Features & Specs
XYZ Travel 21.5" x 10.5" x 4.5" (546 x 266 x 114mm)
4,500-rpm Spindle
Made in the USA
Precision ball screws
Pros
Low cost
Head tilts for horizontal milling and drilling
Includes CNC Masters custom software
Cons
Lacks the precision of other compact mills
Safety – Not enclosed
Kent USA BM-3 CNC Milling Machine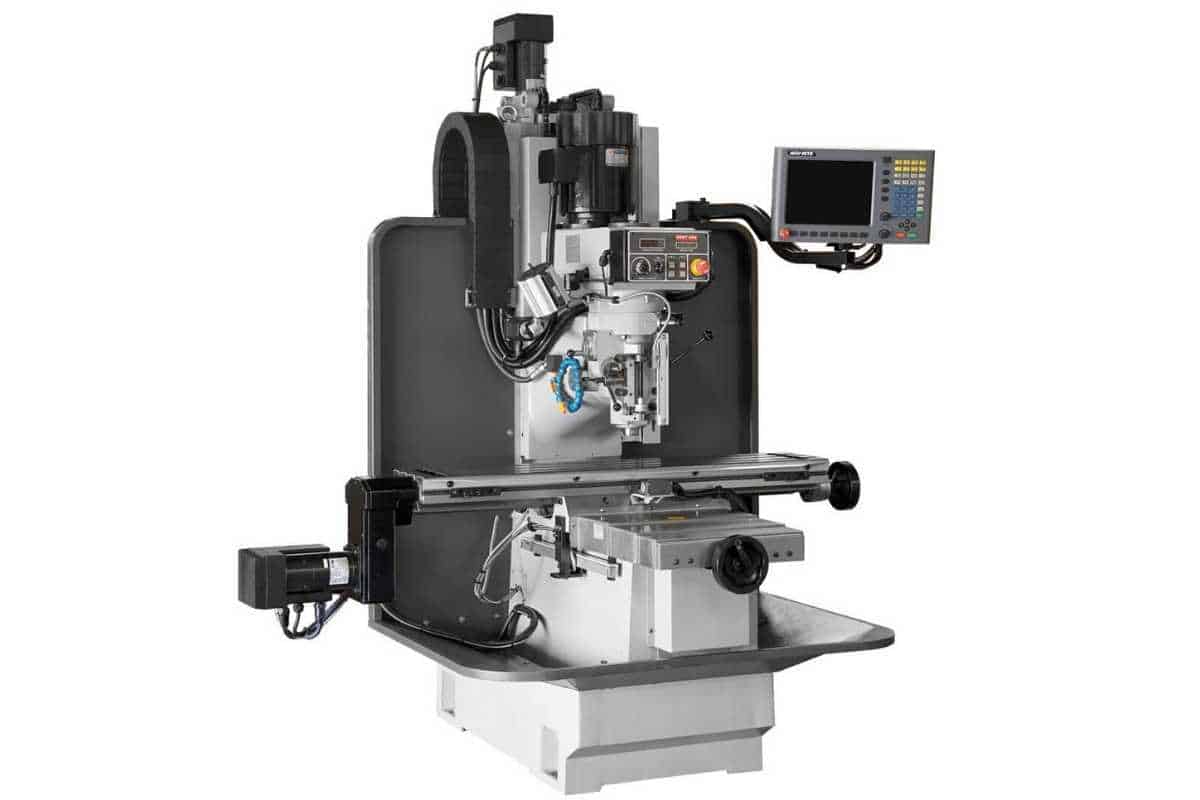 Courtesy of Kent USA
Another CNC Bed Mill on our list, this time with the Kent USA BM-3.  Manufactured in California, this CNC milling machine offers the largest cutting work area out of all the machines we've reviewed.  Boasting a massive table size of 10" x 50", with a x-axis capable of cutting up to 34".  The BM-3 offers a rigid frame, making this one tough milling machine.
Included with this CNC Mill is the Acu-Rite® MillPwr-G2 Conversational control panel.  Now it's not just conversational, the BM-3 offers manual and g-code operational modes.  This CNC machine is equipped with programmable spindle speed control and coolant.
After further review, we believe this CNC milling machine is fully capable of being a real workhorse in any machine shop or garage.  We can happily say this is a cheap CNC Mill option for those on a strict budget.
Features & Specs
XYZ Travel 34" x 16" x 24" (864 x 406 x 610mm)
3 HP spindle motor
4,500-rpm Spindle
Machine Weight 4100lbs
Pros
Large work area
12.3" LCD Screen
2 Year Warranty
Cons
Limited drilling capacity
Not easily portable
CNC Mill Buying Guide
Now that we've covered what we like and don't like about these CNC machines, let's cover some of the other most important factors when buying a CNC mill.  There are some things that we just don't think of before buying a machine.  Like the warranty, cost of tools, maintenance, customer service, and spare parts.   Whether you are buying a CNC machine that's under $10,000 or $25,000, it doesn't really matter, you need to make the right decision for you or your business.
How to Buy a CNC Mill – The Smart Way
Having your CNC machine breakdown or a tool crash in the middle of an important job is enough to keep any shop owner up at night.  With these thoughts in mind, it's important to have a contingency plan just in case.  Get familiar with your customer service rep, and don't be afraid to order spare parts that regularly need to be replaced, in advance.
Speaking of customer service, always talk to a representative of the manufacturer about certain circumstances or accidents that may occur while operation.  Make sure to get a good understanding of what to expect on their end before trusting them with your hard-earned money.
While going over the specifics with your rep, be sure to ask about the warranty and if there are any parts that it does not cover.  Many manufacturers will suggest they have a great warranty, but will not replace wearable parts like a spindle.  Take your time and make sure everything is clear and upfront on their end.
Tools and Accessories
It's best to find a machine that uses typical CAT40 or 50 tool holders.  Avoid any odd or hard to find sizes or tapers to make buying extra tool holders as cheap and easy as possible.  A lot of manufacturers will have tool reps that they work with, so be sure to ask for some recommendations.
Some CNC Manufacturers might bundle some accessories in with your purchase.  Do your due diligence to now add any extra purchases that you may not need with your machine.  When they bundle their add-ons there typically isn't any discount included, so if there's anything you want to purchase later it will likely be the same price.
Our CNC Mill Recommendations
First and foremost, we would just like to add that this recommendation is strictly based on our reviews and may not be your preference.  Second, we will break these down into two categories.  Those being Desktop CNC Mill and Small CNC Mill.
The Best Desktop CNC Mill
To be honest this was a tough choice.  Each machine had a lot to like about them, but ultimately it came down to one thing, versatility.  That CNC machine being the Pocket NC V2-50 5 Axis Mill.  When we put everything out on the table, we quickly realized this machine just had so much to offer compared to its counterparts.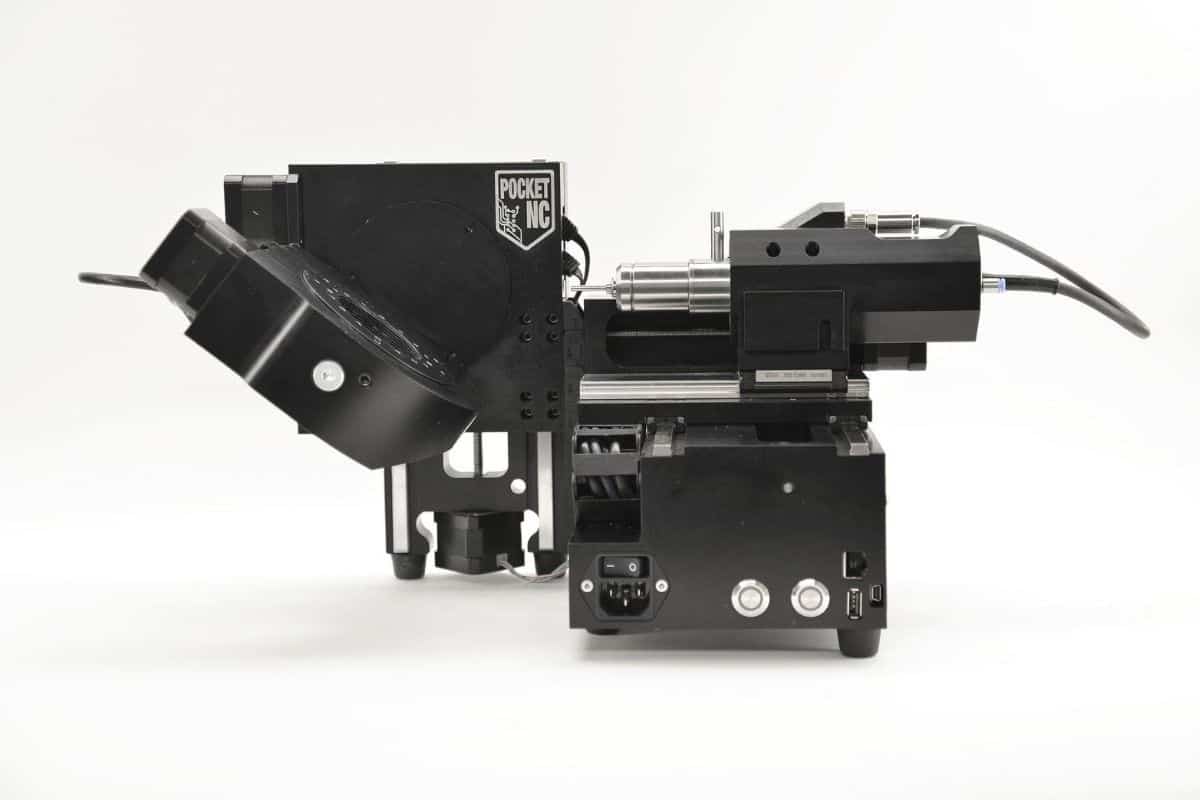 Courtesy of Pocket NC
Our Rating
Pocket NC V2-50 5-Axis
The Best Small CNC Mill
Not to sound like a broken clock, but this was also an incredibly tough decision.  It ultimately came down to the cost of the CNC Mill as the biggest factor.  The Tormach 1100M CNC Mill was hands down the most impressive milling machine in its price range.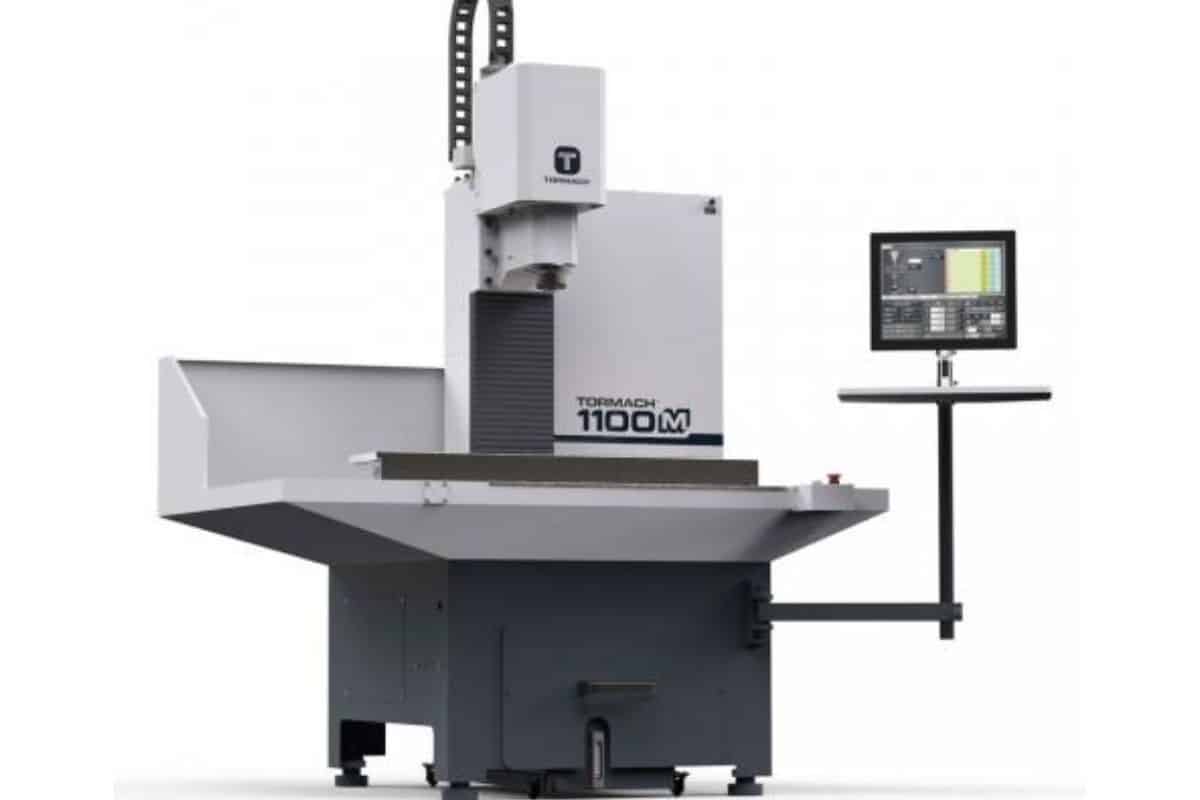 Courtesy of Tormach
Our Rating
Tormach 1100M CNC Mill
Final Take
Well in conclusion I think we were able to cover a lot of info and will like to update this list regularly.  We also would love to hear from you.  If there are any machines we missed or you have any questions or concerns regarding these machines, please feel free to message us.