Technological advancements have made laser engravers more compact and affordable. Therefore, it shouldn't be hard to find a machine that's suitable for hobbyists and small businesses. But which unit is the best at home laser engraver?
In a hurry… Here's Our Top Pick
Our Pick
Glowforge Plus 3D Laser Printer
The Glowforge Plus is an excellent plug-in-play laser cutter. Prepare to get your creative juices flowing because this beauty is also a cutting beast.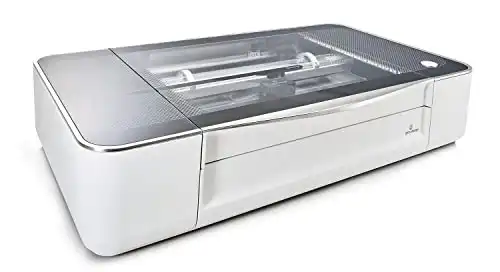 We earn a commission if you make a purchase, at no additional cost to you.
This write-up takes a close look at some of the popular machines you can order today.
Models in this list are easy to set up and operate, and some units are even multi-functional. So, your job is only to find the one that fits your needs.
If you are on a limited budget we recommend you check out the Best Affordable Laser Engravers here.
Best at Home Laser Engraver Reviews
Glowforge Plus 3D Laser Printer
The Glowforge Plus 3D Laser Printer is one the most highly effective home laser engravers for wood to date. This laser engraver offers a lot of options when it comes to the different materials that you can use at any given time.
Another great advantage of the Glowforge Plus is that it offers you the freedom to create. With only a pen, you can let your vision take control by drawing directly onto the materials. The rest is up to the Glowforge Plus, which, with its on-board cameras, turns your drawing into a real product. Also, these on-board cameras allow you to check a preview of your future product in different materials.
Pros
Includes Wifi-Connection
Works with a wide range of Materials
Easy to set up and use
Compatible with any Software
Excellent Customer Service
Cons
May be too loud for some rooms
Dremel LC40-0
If you're looking for a top-of-the-line machine that can handle small-scale commercial work, the LC40-0 might be for you. This is a three-in-one machine; it has a high-speed laser cutter, etcher, and engraver.
The unit's CO2 40W laser can engrave, cut, and etch with incredible precision, to be exact. The machine works with fabric, glass, acrylic, paper, wood, and many more materials. Also, the software is pretty straightforward, even for complete novices.
Dremel has also made this machine safe. The laser cutter is UL Safety-approved, and five sensors monitor the system to ensure smooth operation. It's also worth noting that most critical components have been custom-designed for this unit.
This laser is a bit bigger than some other models, measuring 15" x 26.4" x 39" and weighing 90lbs. Still, it can be considered compact for an engraver that can handle commercial projects.
The cool thing about it is that the LC40-0 ships with some sample materials. That allows you to run the machine through its paces before moving onto actual projects.  Overall this one of the best home laser engravers for wood.
Pros
Suitable for commercial work
Laser cutter, engraver, and etcher
Precision Cuts and Accuracy
Great safety features
Comes with sample materials
Cons
Can be difficult to move due to it's weight
Higher Price compared to Glowforge
TEN-HIGH
Laser Engraving Cutting Machine
The TEN-HIGH comes with all the bells and whistles you might want in a best at home laser engraver. It's perfectly suitable for commercial use, but it comes at a fraction of the price of similar units.
This machine has a massive engraving area of 15.7" x 23.6". And it's engineered to work with nonmetal and organic materials. These include double color plate, MDF, leather, cloth, paper, etc.
As for the internals, the TEN-HIGH has a rotary axis switch and pre-assembled rotary axis. The machine has a fan for exhaust fumes to prevent contamination. And you get an exhaust pipe, among other accessories.
The water temperature is always on-display for improved safety and convenience. Plus, the machine features an electric lift-platform. Software-wise, the TEN-HIGH is compatible with Seal Design Software LaserDTW, CorelLASER, and CorelDraw.
Thanks to its specs and big engraving area, this machine may appear bulky. But it's designed for busy workshops and design studios, and you can position it on a workbench. Just make sure the bench can support the weight.
Pros
Entry-level professional machine
Large engraving area
Great exhaust and ventilation system
Works with different software
Great Value
Cons
May be too large for some rooms or homes
Genmitsu CNC 3018-PRO
Those on a tight budget who need a reliable engraver should check out the Genmitsu CNC 3018-PRO. But don't let the low price trick you, this unit doesn't compromise on the essential features.
First of all, the 3028-PRO has a solid metal construction, and it's sturdy enough when assembled. It comes with a premium power adapter for improved safety. And this unit has UL, CE, and FCC safety certificates.
The mainboard s integrated, and the machine uses the Grbl software. It is an open-source program that's compatible with Arduino. Also, there's plenty of support for Grbl online, so learning the ropes shouldn't be hard.
One of the best things about this model is that it can work with soft aluminum, any kind of plastic, acrylics, and wood. The working area measures 1.7" x 3.9" x 7".
Pros
Affordable
Lightweight and Aluminum Structure
Also acts as CNC Router
Best for Beginners
Cons
Requires Assembly
Not Enclosed
Snapmaker Original 3-in-1
The Snapmaker is one mean engraving machine. Not only that, but it can also work as a 3D printer and a CNC machine. It's among the most compact units in this review, and these are not the only features that put it on the best at home laser engraver list.
This engraver has a durable all-metal frame, and it's modular. That means you won't struggle to switch between engraving, 3D printing, and etching. Furthermore, the Snapmaker is ideal for small studios that need a unit for quick prototyping.
This 3-in-1 is compatible with more than a dozen materials, but the compatibility varies depending on what you want to do. For example, the laser engraver works with fabric, plywood, acrylic, and leather. Though, you can CNC carbon fiber and hardwood.
When it comes to software, it's been custom-engineered for this unit. It handles all the tasks and offers plenty of models for cutting, carving, and engraving.
Pros
3-in-1 Machine
Suitable for small-scale professional use
Easy to assemble
Great Community Support
Cons
Has a relatively small engraving surface area
Become a Pro Engraver
In this day and age, the demand for engraving is rapidly increasing. Be it engineering or design studios, veterans and novices need a tool to churn out designs fast, and now you know which machines are the top choice.  Remember to choose the right Laser Cutter and Engraver based on your needs.  There are a lot of quality choices listed above, so don't be afraid to start your dreams.
To choose the best at home laser engraver, you just need to figure out which unit meets your output requirements. So, go on, take your pick.