Since writing this article on the best hobby vinyl cutter, I've received a lot of amazing personal feedback from makers and hobbyists.
Whether you are making car decals or looking for the best vinyl cutter for making t-shirts, we help you find what's best for you personally. In this article, we will not only introduce the top 5 personal vinyl cutters, but we will discuss some factors that you should consider while buying a vinyl cutter.
You might need a vinyl cutter for different purposes. It will serve multiple purposes when chosen intelligently. You might need one for DIY crafts and arts to create some personalized and professional-looking items. You can also buy one for your kids to boost their creative and artistic skills. The key is to find the right one. Let's know more about how to find the best hobby vinyl cutter.
In a hurry…
Here's Our Top Pick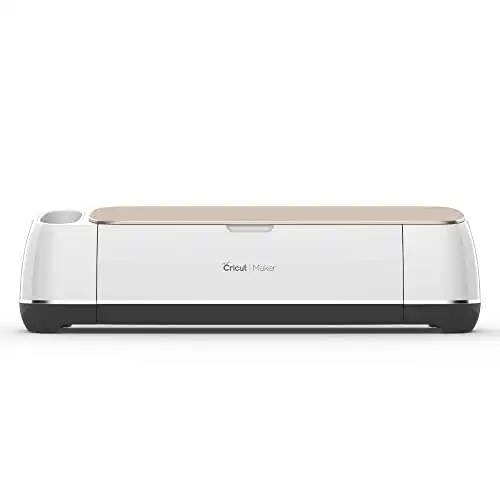 We earn a commission if you make a purchase, at no additional cost to you.
What is a Vinyl Sign Cutter?
A vinyl cutter is a machine made to trim vinyl and a few other materials. These machines can help to create different shapes. These are not big machines and will not accommodate much space as well. They look like your computer printer. You will need a computer to operate and control them. These devices come with sharp blades to create different shapes from vinyl sheets.
You can use a vinyl cutter to create any shape and design depending on your preference. The cutter will cut any design smoothly. It can be effective to cut any length and size depending on your personal or professional needs.
What Size Vinyl Cutter Should I Buy?
The purpose of usage will help you to decide the proper size. Vinyl cutters are available in different sizes and if you are looking for one for your home, you can go with small sizes. The maximum length of an average machine is around two feet and twelve inches wide.
However, you can consider a bigger size for the commercial vinyl cutting. You need to consider the length of the material to choose the right size. For example, if you want to buy one for hobby sized decals, you can think of investing in a less expensive entry-level machine.
When you plan to add graphics around ten feet, then also, a basic cutter will serve the purpose.
Where to Buy a Vinyl Cutter?
In this digital world, you will find many options to get your products delivered at your doorstep. Consider visiting some popular online retailers. Needless to mention, you can find all the leading brands on your preferred online stores.
Check the availability and delivery demands. You should always consider a store that offers hassle-free delivery and easy returns. The return option must be there. First, inquire about the cutter, check reviews to know more about efficiency and benefits, and then decide.
The benefit of buying from online stores is that you can inquire about different products and choose the best one based on usability, efficiency, and price.
Also, customer reviews will help you to be familiar with both positives and negatives.
How Much Does a Vinyl Cutter Cost?
When it comes to the price, it will vary depending on the size and some other advanced features. All the devices are not made equal and some of them can cost you more. If you want to invest in an affordable machine, then you might not need to spend more than $150.
However, you are going to spend much more, even more than double if you want to use one for commercial cutting. Therefore, it is important to understand your budget and purpose of buying. Once you know the demands, it will be easier for you to narrow down your choices. You just need to make a smart buy to use your device for a long time.
Now you know the price and the best place to buy a vinyl cutter.
Next, we will discuss some popular choices to enable you to choose the right machine without spending much time on the research. In the following, we will discuss the top five best personal vinyl cutters. Check the features and benefits to know which one can be the best fit depending on your unique requirements.
Best Personal Hobby Vinyl Cutter Reviews
1. Cricut Maker Vinyl Cutter
The Cricut Maker Vinyl Cutter tops the list since it is highly recommended by most of the users. It comes with a quality rotary cutter that will offer a deep cut. This machine is designed to ensure easy navigation through many other materials including vinyl.
You can use it for paper crafts, vinyl decals, iron-on, and even sewing projects. You will have to buy a knife blade separately to use for heavier materials as well as quilting and sewing projects.
Features
A multi-purpose tool designed to give ample freedom to users to handle different materials including vinyl decals, iron-ons, and paper crafts.
Cricut Maker helps in different projects with some specific tools such as a scoring tool, pen, and blades.
Its rolling and gliding action enables users to cut any fabric smoothly and effortlessly.
Simple design and layout to ensure easy usage for both beginners and experienced. It has its apps to offer more versatility and flexibility.
Easy to use and supports almost all the media formats and cloud-based storage will be available to avoid the need for cartridges.
The Integrated Smart Dial to help users to select the right settings.
Pros
Easy to program, rolling, and gliding
Highly versatile to serve multiple interests
Smooth and fast cuts
Can be used for different materials in addition to vinyl
A lot of free simple designs, projects, and images
Can cut thick materials effortlessly
Cons
Limited cutting area
Replacement costs are more
Might not be perfect for complex designs
Cricut Maker Vinyl Cutter is one of the best selling vinyl cutters available in the current market. All the credit goes to the design, versatility, and easy and smooth cutting. This machine can be used both for personal and professional usage.
2. Silhouette Portrait 2
Silhouette Portrait 2 can be the right choice if you plan to invest in a vinyl cutter for your personal uses. This device will work as a printer. When it comes to compatibility, it is compatible with your Mac computer as well as PC. It does not print like your printer. Instead, it will use a compact blade to cut many different materials that include cardstock, vinyl, paper, and even fabric.
It features an auto adaptable blade and can efficiently cut more than a hundred types of materials. If you are a beginner and want to hone your skill, you should not look beyond this option. You will love the easy to use features and software.
Features
Versatile and cuts a wide variety of materials
Features fifty digital designs
Compatible to PixScan
Contains Bluetooth adaptor and a cutting pad
Multiple setting for different cuts
Smooth and accurate cut
Can handle 10 feet long designs
Pros
Easy to use and set up
Powerful and compact
Affordable and can easily fit into your budget
Cons
The limited cutting area like the previous one
Silhouette Portrait 2 offers a cost-effective solution and can serve your different interests. It is user-friendly and can be best for beginners. They can easily use this device and hone their skill without spending much. Also, they can expect the best quality cuts similar to some expensive products in the industry.
3. Cricut Air 2 Mint Vinyl Cutter
Cricut Air 2 Mint Vinyl Cutter features wireless Bluetooth technology and can be the perfect choice for both commercial and personal projects. As it features Bluetooth technology, you can send any job from your smartphone and get it done. Also, it enables users to create any design or upload from their smartphones, tablets, or computer.
There is a Smart Set Dial to offer easy control and setting.
With this machine, you can flawlessly cut around 100m materials. There will be available 3,000 projects and you can add them whenever you want.
Features
Enables users to create different types of projects including custom stickers, home decors, apparel, greeting cards, and many more designs.
Cuts more than 100 materials accurately and smoothly
2x faster writing and cutting for vinyl
Can choose from 350 fonts
Endless possibilities wherever and whenever you want
Helps to print full-color patterns and images
It allows buyers to be a part of the community and design the first project with all the required help.
An iOS app will help users to design their projects on the phone and send them wirelessly.
Pros
Supports more than 100 materials
Wireless technology to offer more freedom to users
Endless possibilities to hone skills
Great speed
Easy to use device and software
Cons
You might find it a bit noisy
Cricut Air 2 Mint Vinyl Cutter helps users to boost their creativity without the location barrier. It can enable users to create and choose any design and send it without any hassle. You will love the easy to use features, amazing customer service, and the great community help.
4. Sizzix Big Shot Vinyl Cutter
The Big Shot can be great to support your different creative pursuits. It features 6″ opening to intricate any designs within a few seconds. Also, you will find 100 designs in the Sizzix library to boost your artistic skill. It will help you to cut different types of materials such as vinyl, paper, thin leather, fabric, and cardboard.
This device can make you versatile by enabling you to create scrapbook pages, custom invitations, quilting patterns, greetings cards, and many more designs. Also, this machine is super easy to use and can be used by any even kids to cater to their art needs.
Features
Embosses and cuts different types of materials up to six inches wide
Straightforward and easy setting
Availability of hundreds of designs for the benefit of users
Heavy-duty and excellent cutting
Supported by extended three years warranty
Comes with many accessories
Solid construction to offer a durable result
Pros
Very useful and can help in different projects
Cuts beautifully and smoothly
Multi-purpose machine
Compact and easy to carry
Less expensive compared to leading names
Cons
Comes with connectivity issues
Sizzix Big Shot Vinyl Cutter is designed to support your different cutting needs. Users can expect excellent results regardless of the types of materials. Also, you will have to spend less on this machine.
5. Silhouette CAMEO-3-4 Vinyl Cutting
The Silhouette CAMEO 4 features a self-adjusting autoblade. It can offer accurate, clean, and quick cutting depending on your project demands. It is compatible with your computer, tablet, or your smartphone. You can virtually get any shape that you want within a few seconds. This machine can cut a wide range of materials that include vinyl, cardstock, fabric, and paper. It is designed to cut ten feet long and twelve inches wide. Silhouette also features Bluetooth technology to support wireless cutting.
Features
Cuts different varieties of materials up to ten feet long and twelve-inch wide.
Self-adjusting autoblade to handle cutting to meet your unique needs.
Dual-carriage to help users to use multi-tools.
It comes with many accessories to boost performance.
100 digital designs for your use.
Additional storage and PixScan technology.
Pros
Auto blade adjustment to save time and offer better accuracy
Bluetooth technology
Responsive touchscreen
Enough storage
Offers easy access to the design store of Silhouette
Largest cutting space
Cons
Not heavy like other cutters
Makes a bit noise while operating
Silhouette CAMEO-3-4 Vinyl Cutting comes with many advanced technologies to offer excellent cutting. It provides ample storage and helps users to hone their skills by using more than hundreds of digital designs.
Wrapping Up
A vinyl cutter is designed to save your time and boost your artistic skill. You can use one to make your crafts and designs more impressive and accurate. These devices can transform any design and help you to create your brand identity. You can maximize the benefits by investing in the right one. Choose the machine that is created to suit your unique needs. Otherwise, you cannot expect the best outcome.
The best thing is that now wide options are available online. You can simply go through the features and feedback to know the weakness and strengths of each. Take your time to do proper research and then only decide on an investment.