We've already highlighted some of the best CNC machines you can use for guitar building. Now it's time to find some inspiration and design ideas with a handpicked collection of CNC guitar files and project examples from around the web.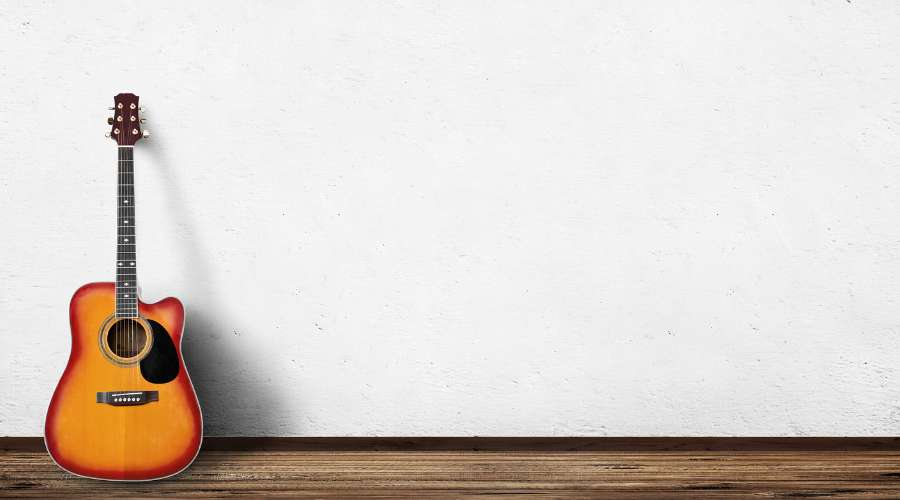 In this post, I've gathered 25 of my favorite guitar CNC files and projects for makers, including free downloads and paid options in different file formats.
Keep reading to find decorative and functional designs, along with great project examples that show how other makers have completed acoustic and electric guitar builds with their CNC machines. 
CNC Guitar Files, Projects, and Examples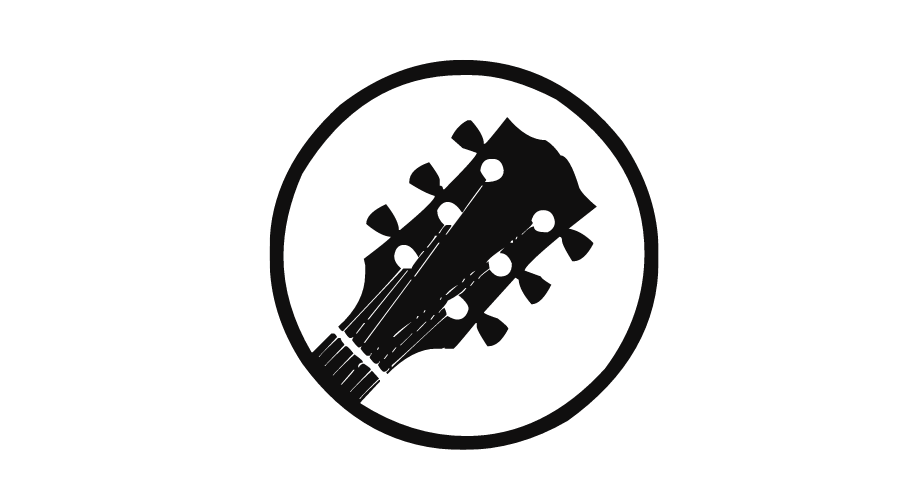 Free DXF 7 Guitar Pack 
This free guitar DXF pack from MakerUnion features 7 different guitar styles to carve, including classic and acoustic guitars, along with iconic electric guitars like the Stratocaster and Les Paul.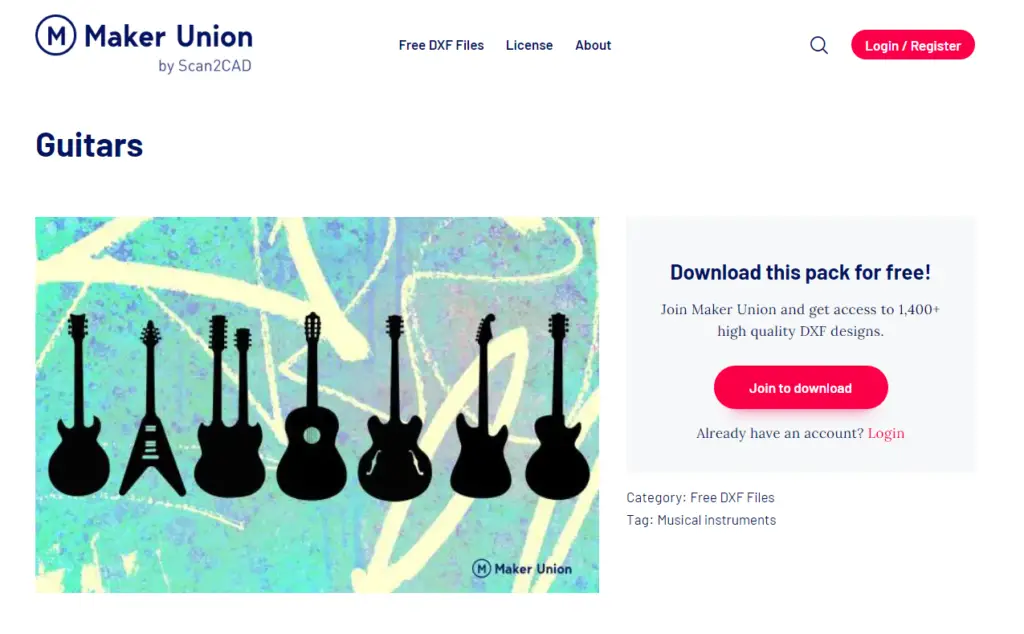 What's great about these DXF packs is that they're suitable for most CNC-guided machines, including routers, plasma cutters, and laser cutters, and are free once you're a member of the MakerUnion community. 
Electric Guitar Full Build Tutorial (X-Carve)
In this guitar build example, maker Steve Carmichael uses his X-carve CNC machine to carve the body, neck, fretboard, and inlays for this electric guitar design.
This is one of the most in-depth tutorials I've found on using a CNC to build a guitar, along with videos explaining each step of the carving process. Definitely worth checking out. 
Simple Vector Electric Guitar Silhouette 
Need something simple to get started with your CNC guitar design? Here's a very basic electric guitar silhouette for a CNC project available over at SignTorch. This vector file comes in DXF, EPS, SVG and other file formats. 
Decorative Guitar Neck CNC Wall Art File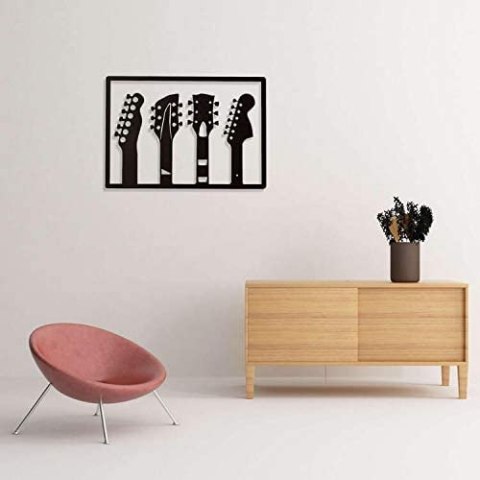 If you're looking for some decorative guitar-inspired wall art, this Corel Draw File (CDR) comes with a CNC-ready design featuring 4 different guitar necks. Plus, it's available for free to download and scale to your needs. 
The Guitar Player Silhouette (DXF File)
This guitarist silhouette DXF file features a stylistic image of a man playing guitar. It would be great for a CNC design marketed as music room decor. This file is also tested for compatibility with different CNC machines, and you could make this out of wood, MDF, or even metal. Keep in mind that this is a paid CNC file that costs $48 (or $8 if you're a member of the CNC design shop Pro plan).
CNC Guitar Welded Fire Pit 
Here's something a little different for the music-loving makers out there. With this paid file pack, you could add a musical touch to a metal fire pit design with this classical guitar design file. It comes with DXF and SVG files for CNC metal cutters, including plasma, water jet cutters, fiber laser cutters, and other CNC machines. 
Shapeoko XL Custom CNC Guitar Project 
This custom guitar project done with a Shapeoko requires Carbide Create, but it's an excellent demonstration of how you can use a CNC router to build a truly unique, high-value product for a niche audience.
In this case, the designer was relatively new to using a CNC machine but has taken the craft to a new level, making these guitars for his own shop over at B Custom Guitars.  
Acoustic and Electric Guitar Silhouettes
Here's another great CNC file pack if you want a series of simple guitar designs to choose from. It includes both acoustic and electric guitar options, with 10 different DXF file options to try out on your CNC machine of choice. These files are free and creative commons licensed. 
Custom Ukelele CNC Guitar Project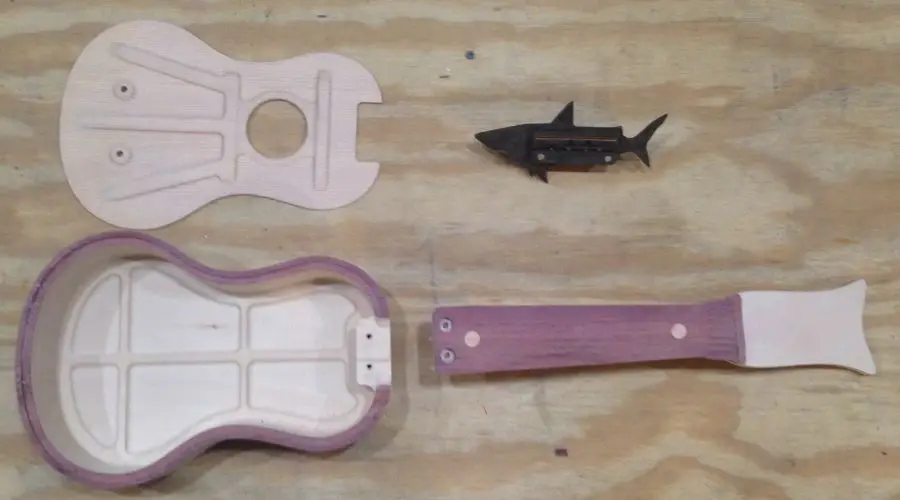 I love this example from the Carbide community. This beautiful custom Ukelele was made using a Shapeoko CNC machine, with a spruce soundboard, cherry wood bridge, and basswood neck and body.
The post includes a link to the Fusion 360 model files. I haven't seen many other Ukulele project examples, so be sure to check this one out!
Acoustic Guitar Neck (Onefinity CNC Project)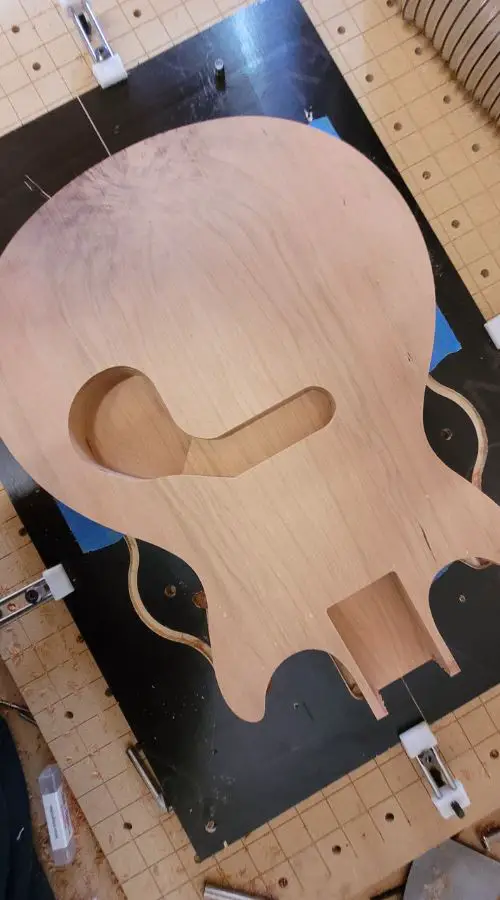 This is a great example of what can be done with a hobby-level CNC machine when it comes to guitar building.
This maker's thread on the Onefinity forum doesn't include project files, but there are some illustrative photos, as well as tips and photos from an additional build featuring a copy of a Melody-maker electric guitar.
Flying V Guitar CNC File
Ok, there's not much information accompanying this file page. But the flying V design stands out, especially if you're into heavy metal. The vector file is available to download for free. 
Telecaster Guitar Tray CNC Project File
These CNC-carved guitar trays seem to be popular items for makers working with smaller desktop routers. I like this one in particular, available on the CutRocket free file repository, because it's shaped like a telecaster. It would make a great gift or item to sell via your own shop. Keep in mind that files on this site are in the c2d format, so you'll need Carbide Create.
MaslowCaster CNC Custom Guitar Build
This is a fun forum thread to check out if you want to see a beginner luthier tackle a full electric guitar build with a CNC machine from his own custom CAD files. Available to view on the Maslow CNC forum. 
CNC Your Own Stratocaster Cutting Board 
A guitar body carving can make a great cutting board. Just has a look at this design from maker Jeff Revel over on the Inventables project page. This beautiful checkered wooden cutting board was made on an X-carve, but the files are available on Easel and can be scaled to different sizes.
Piccuito CNC Guitar Body Project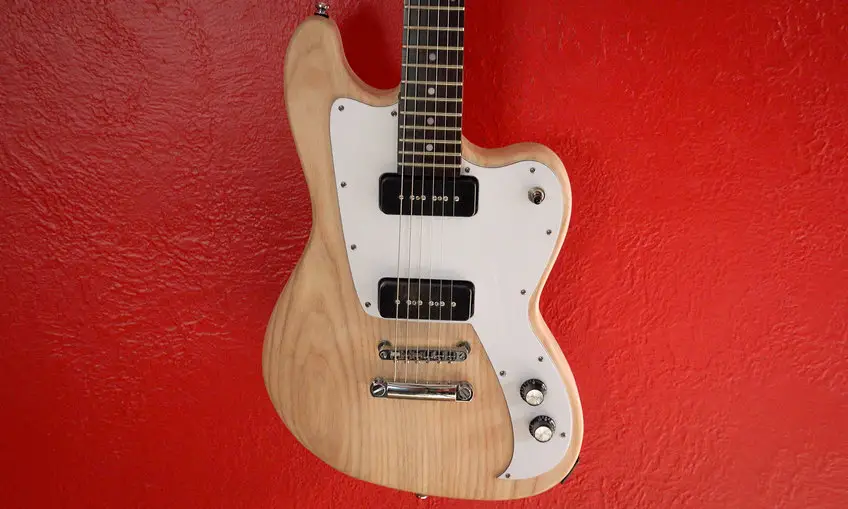 In another electric guitar CNC example, Dave Piccuito (aka the Drunken Woodworker) uses his X-Carve CNC machine and Easel software to design to build an electric guitar using parts from an Epiphone Les Paul. This project includes a series of pictures along with step-by-step instructions. 
Telemaster Style Guitar DXF and SVG Files
Available on Etsy, here's a fun CNC download pack that includes scalable vector files (SVG and DXF) for building a classic Telemaster-style guitar body and neck. These paid files are compatible with popular hobbyist CNC machines like the X-Carve, Onefinity, and Shapeoko. 
Stratocaster CNC Files
Looking to carve your own Stratocaster-style guitar body? This STL file package, available as a paid download from BigDave CNC on Etsy, is a great way to get started. It includes a detailed design that can be scaled and customized on either a CNC machine or 3D printer. As an STL file, it will work with programs such as V-Carve, Aspire, Cura, Mesh Labs, and more. 
Gibson Explorer Electric Guitar Plans
If you're a fan of the heavy-metal guitar style, the sharp, angular body of the Gibson Explorer will be right up your alley. With this digital file package, you can recreate the Explorer on your own CNC machine. This paid download package on Etsy includes full plans with scalable vector files in AI, DFX, and SVG formats. 
3D CNC Guitar Files – Full Collection
If you're looking for a bunch of different options from one site (all paid), this collection from 3DCNC Files is worth checking out.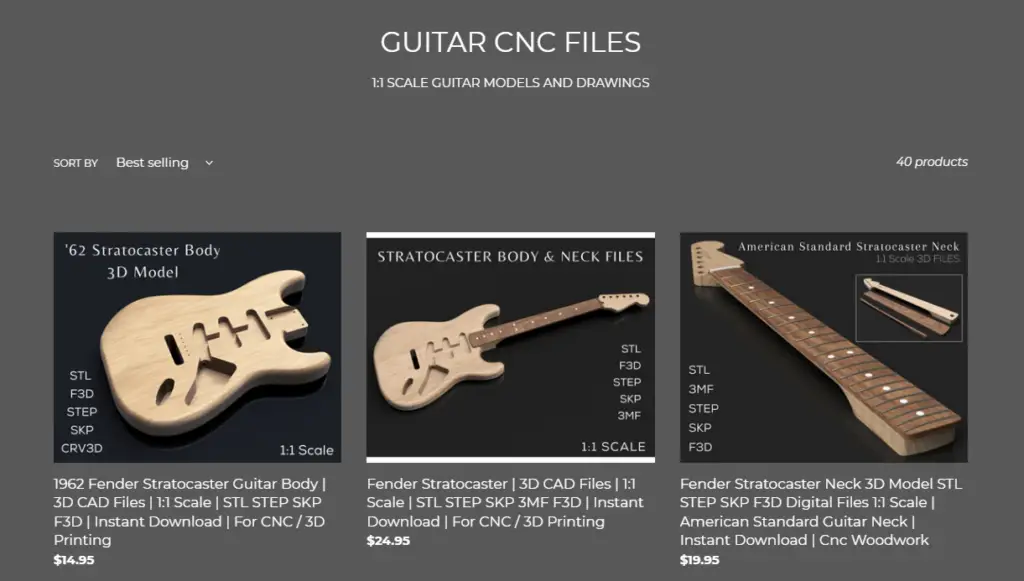 Although more expensive than some of the other download packs, this site offers a wider range of full guitar models and components in scalable vectors, including a 1962 Strat body, Gibson SG guitar body, Fender Telecaster, 1959 Gibson Les Paul, an Ibanez guitar body, pickguard designs, and even custom guitar picks to carve out of wood on your CNC machine. 
2D Files from GenOne Luthier Supply
This is a DWG and DXF file package for an electric guitar build from GenOne Luthier Supply. 
The files include layers for easy separation into tool paths and are designed for use with different CNC software and CAD programs. It's a nice design package that includes elements for the body, neck, fretboard, pick guard and more. 
Carbide Create Treble Clef Guitar Stand
Here's something a little different. If you already have a nice guitar, you can still use your CNC machine to design a beautiful and functional stand for it. This design, available only in c2d format for Carbide Create, gives you the plans to create a unique guitar stand with a full guitar body cutout and supporting treble clef symbol. 
STEM Guitar Building Design Files for CNC Students and Educators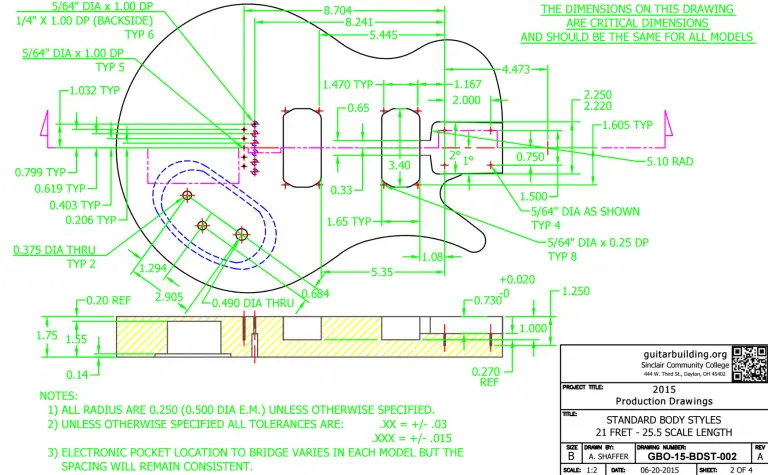 The STEM-focused guitarbuilding.org website is geared toward teachers and students looking to supplement their studies in physical science, math, engineering, CAD, CNC, and more. And to make this process as fun and practical as possible, they provide access to free DXF and Fusion 360 design files for different guitar models.
Simple SVG Guitar Icon File 
Here's a simple and clean acoustic guitar SVG icon that you can use to start your CNC guitar project. The Noun Project has tons of icons like this, and all are available as scalable vectors. Just keep in mind that you'll need a paid membership to download the royalty-free files. 
Guitar Vector Icon Packages (Scalable)
Here's another very cool guitar vector icon set that can be scaled and carved on a CNC machine. The download pack includes AI and EPS vector files with 12 different guitar icons. 
Decorative Guitar CNC Design Files
As far as guitar-inspired wall art goes, this download from DXF Stock is one of my favorite designs out there. It's a paid file that includes DXF, SVG, AI and other vector file formats that can be cut on different types of CNC machines depending on the material you choose (i.e. metal or wood).