If you work with metal for HVAC, automotive, construction, sign-making, or other 2D industrial fabrication projects, you might be looking to upgrade your production capacity with a 5×10 CNC plasma table.
With a table this size, you can cut and produce large format designs and parts with better accuracy and efficiency.
Of course, any high-quality CNC plasma table will be a major investment (we're talking several thousand dollars), especially when you get into this mid-sized tier.
For this article, I've researched a bunch of industrial-level 5×10 CNC plasma tables (all from US or Canada-based manufacturers) and picked several options with standout features, including:
excellent build quality
high-performance components
user-friendly technological features, and
compatibility with popular Hypertherm or equivalent plasma cutting systems.
Hopefully, this list will help you find a solution that takes your business or personal projects to a whole new level.
Tracker Nitro 5×10 Plasma Cutter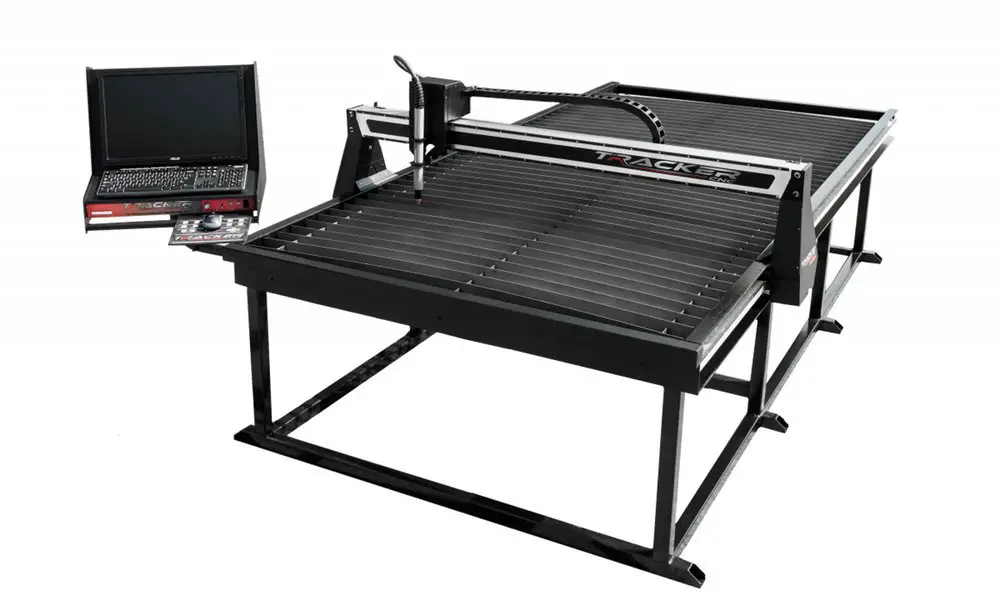 One of the first tables I considered for this article is the Tracker Nitro. I like that it's basically a "plug and play" model, which might appeal to you if you're looking for a quick way to get started with a metal fabrication or design business. 
These tables are shipped fully assembled and pre-tested, with a Lenovo command center, onboard WiFi, and compatibility with Hypertherm Powermax models. You can have these manufactured with an optional downdraft table, and they're built with a self-adjusting rack and pinion drive system.
As for cutting speed, the Nitro has a max cutting speed of 380 inches per minute (ipm) and a traverse speed of 500 ipm, which is on the lower end of the models we researched. However, unless you're looking for higher than average production output, these metrics shouldn't be a deal-breaker for most CNC users.
With manufacturing facilities in Michigan and Ontario, Tracker offers a well-built, economical option to get up and running with a commercial-scale CNC plasma table.
Sparx Robotics XR-51 CNC Plasma Table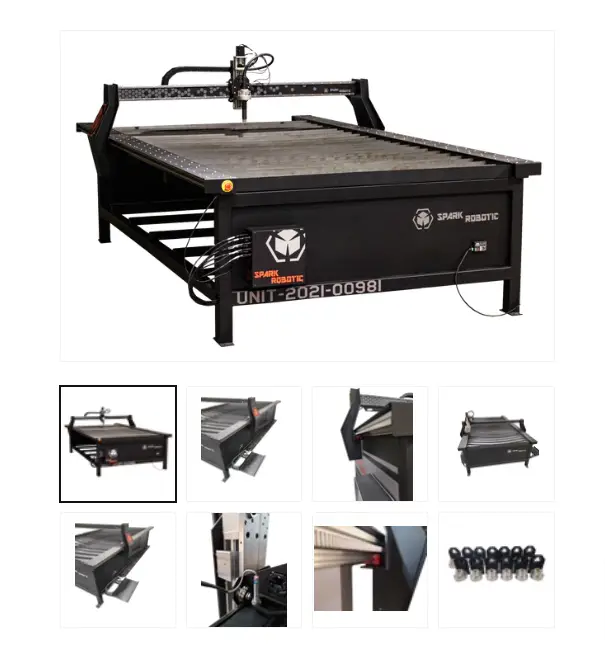 The XR-51 from Sparx robotics is a solid mid-range option for those who want a 5×10 plasma table with industrial capabilities. This table is constructed with a welded steel frame, 2.75" deep water table, and hardened linear guide rails (Y and Z axis), along with a hardened V rail for the X-axis.
With these features, you'll get consistency and accuracy, along with high-performance components like an integrated E-stop switch, built-in torch height control (THC), and planetary gear reduction for a compact, high-performance design.
Sparx CNC tables are manufactured in North Carolina and come with a warranty that covers 3 years for mechanical, 2 years for electrical, and 3 months on the laptop (additional charge). 
Hornet LTX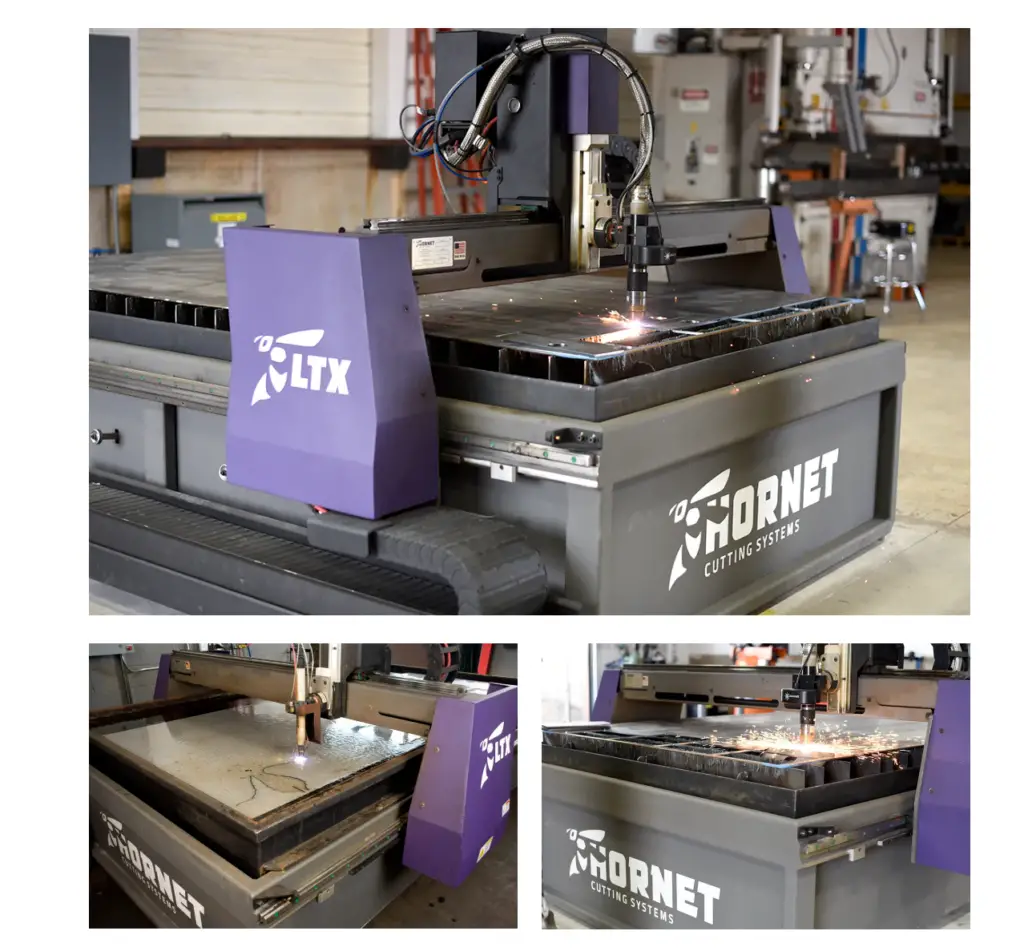 The LTX, manufactured by Hornet Cutting Systems in Valley Center, KS, is a heavy-duty, production-ready 5×10 CNC plasma table.
One thing I like about the LTX is that you have the option to use a range of Hypertherm plasma systems, including the PowerMax series, MaxPro 200 and XPR 170. Plus, the plasma table has an impressive max traverse speed of 1200 ipm, along with digital AC servo motors, a 4-axis drive system, and Edge connect CNC controllers. 
Hornet provides on-site installation and training with their plasma tables, along with a warranty on parts and labor. You can contact the company on their site to learn more about the warranty and request a quote based on your requirements. 
BOSS Tables MVP
Another table we really like is the MVP from BOSS Tables. It may be higher-priced than other 5×10 plasma tables in its class, but the MVP stands out due to some impressive build features, including a fully welded box frame, full floating rails, and a 5" deep waterbed to reduce thermal distortion. Yup, this table is ready for heavy-duty CNC work. 
Produced in Calmer, IA, BOSS tables also come with advanced components like digital torch height control, helical gears for smooth and quiet operation, and planetary gearboxes. The MVP will work with Hyperterm PowerMax plasma cutters and comes with a 2-year warranty and lifetime support. 
Also, the MVP comes with a computing system that runs on a Linux-based platform, rather than Windows, which many users prefer due to better security and flexibility when adding software and transferring files.
The MVP comes with Inkscape software for basic design needs, although Boss recommends Fusion 360 from Autodesk for better flexibility and performance when working with CAD designs. 
Lincoln Torchmate 5100
Lincoln is a well-known name in the plasma-cutting space. Along with plasma cutting systems, they produce industrial-level CNC tables, including the Torchmate 5100.
And the 5100 is a heavy-duty piece of equipment, perfect for high-density sheet cutting with stainless and aluminum.
Plus, this machine boasts a max traverse speed of 1500 ipm. So, if you're looking to speed up production, definitely consider the 5100. 
This 5×10 table can hold up to a 4" plate and comes equipped with a helical gear track, down draft or water table, and the option to add a rotary bevel attachment.
The 5100 also works with a wide range of Lincoln's own Torchmate plasma cutting systems, including the Fineline (170 and 300 HD), Flexcut 200, and Flexcut 125. 
The table comes fully assembled, along with access to their full online training program to get you up and running in no time. 
STV Sparx Pro 10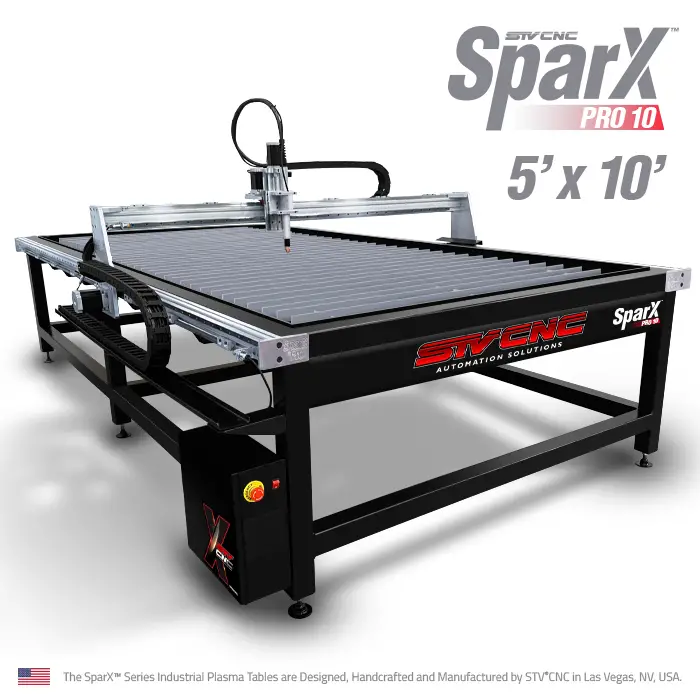 The Sparx Pro 10 from STV is a popular table with a welded steel frame, 2-axis ball lead screw drive, and compatibility with Hypertherm PowerMax cutting systems. 
The Pro 10 can hold up to a 2" plate. While this isn't as much as other production-ready tables, like the Torchmate, it is definitely enough for most shop owners and hobbyists.
Also, the Pro 10 comes with a nice suite of features. My favorites are the proximity sensors for the X, Y and Z axis, along with the attached controller with built-in E-stop. These features definitely improve accuracy, efficiency and safety when cutting. 
The Pro 10 comes fully assembled and is available with several add-ons, including a laptop loaded with Windows 10 and a pre-installed controller program. And all STV models include lifetime support. 
ARC Pro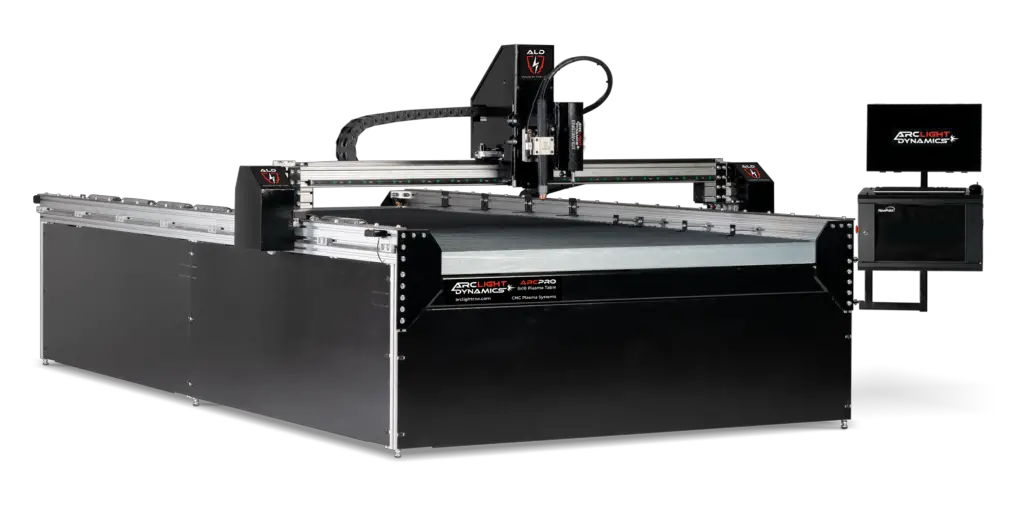 Arclight is another well-known plasma table brand, and they have a couple of options when it comes to the 5×10 category.
For this list, I chose the Pro model, mainly because it will be more than enough for most users. However, if you're cutting thicker materials on a regular basis (i.e. thicker than 1" steel), you may want to consider the Max series.
Still, you get plenty of stability and durability with the Pro model. And much of this has to do with the hybrid frame design, which is built with both steel and aluminum. In theory, this hybrid construction will actually vibration and noise when cutting, without sacrificing overall stability. 
The Arc Pro comes with a dual-drive gantry with precision linear rails for fast and accurate cutting, along with several available add-ons (at an extra cost), including a plate engraver, collision detection system, bevel cutting attachment, handheld controller, and more.
The Pro is also available with a 4" deep water table and comes "98%" pre-assembled with training and lifetime support included. 
I was also impressed with their lifetime warranty on the frame, plus 3 years on the controller and motion control system, and 1 year on the computer.
ShopSabre Sidekick 10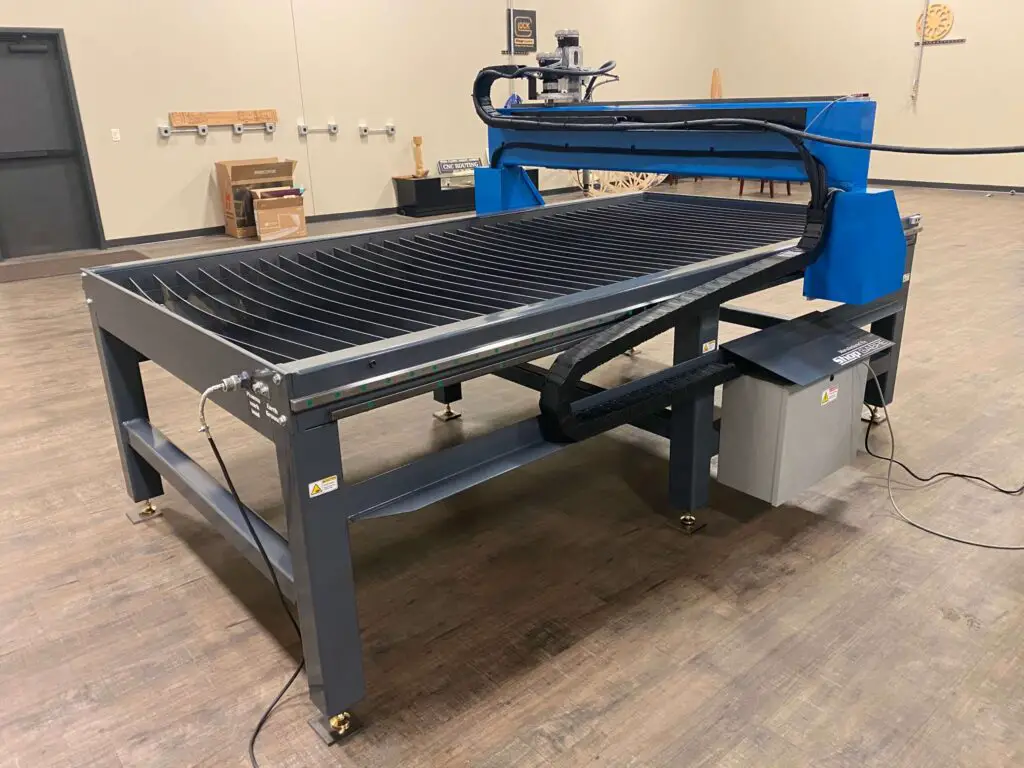 Sabre is a large and well-known manufacturer in the CNC market. In fact, many makers get their start on a Sabre machine, and their reputation carries over to the CNC plasma subset of users. 
Like other tables on this list, the Sidekick has a range of features that enable fast and accurate cutting, like high torque servo motors and direct-drive planetary gears. And with an above-average cutting speed of 1000 ipm (and mid-range price point), it's the perfect option for hobbyist makers or business-level customers.
But my favorite feature is the overall build quality of this table. Specifically, the Sidekick is built using a unique single-piece tubed frame design for an ultra-sturdy construction.
The tubing is ultra-thick, extending down to the 6 legs that provide more floor contact than other tables and, overall, reduce vibration when cutting.
Sabre includes a ton of information on their website, so it's definitely worth checking out to learn more about this plasma model along with other CNC options for setting up a full-scale makerspace.
Tizona 5×10 CNC Plasma Table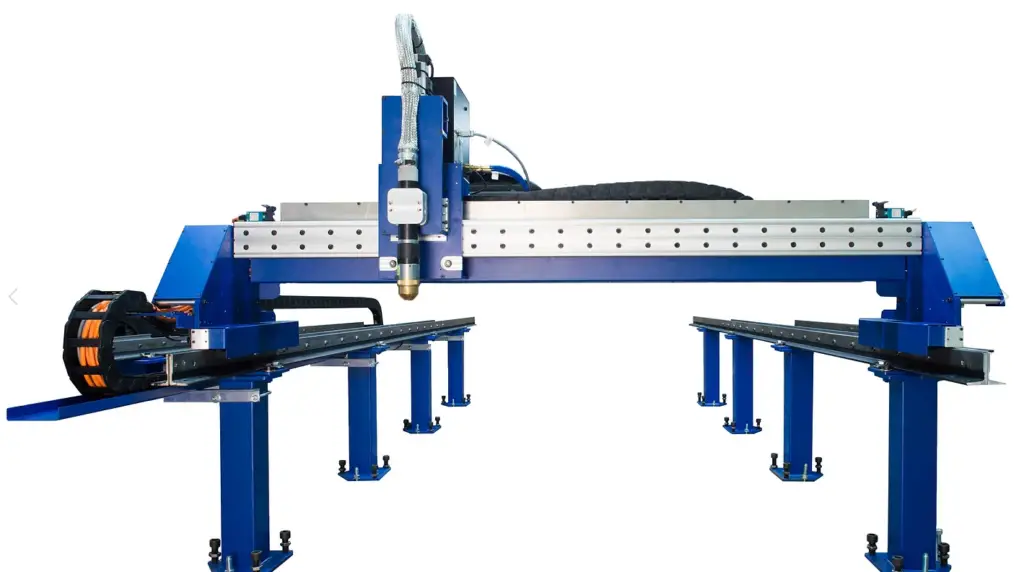 Finally, another machine we wanted to include is the Tizona from Cert Manufacturing in Oklahoma. This table has some really unique features, most notably the frame construction, which is actually made using T90/B elevator guide rails along with the added stability of floor-mounted posts.
For a "mid-sized" machine, this thing is a beast. Due to the added stability, it can handle all Hypertherm cutting systems, including the higher performance XD and XPR models, and runs on Bosch belt-driven motors, with max cutting speeds of 1200 ipm.
You can order the Tizona with an adjustable level water or downdraft table, and it comes with a 22″ touchscreen display.
All in all, this is one of the nicest tables we've seen for CNC plasma applications. You should definitely visit their site to learn more and check out other models like the Lobera and Cutlass.
Wrapping Up
Again, purchasing a CNC table designed for plasma cutting is a big investment. But, with one of these 5×10 machines on this list, the possibilities when it comes to seeing your designs and 2D metal fabrication ideas come to life are practically limitless.
If you know of another machine in this category that we should consider, send us a note and we'll check it out.