Creating the best Print Then Cut stickers on your favorite Cricut machine requires a quality printer with high resolution. The images you print depend on it. Vibrancy and sharpness are a must, especially if you plan on selling your creations.
Finding the best printer for your Cricut machine allows you to achieve a higher quality to make the most of your time and efforts.
While a laser printer is certainly a great addition to any office space, we focused on inkjet printers in this review. Inkjet printers move at a slower pace, which is more beneficial when it comes to photo resolution. Higher resolution photos tend to transform into more vibrant stickers.
With that in mind, I chose the HP OfficeJet Pro 8035e All-in-One Wireless Printer as the best overall printer for Cricut machines for the complete package it offers for your Cricut project.
HP built this inkjet printer for small businesses and home offices, where productivity is just as important as versatility. Printing, scanning, and copying are just the tip of the iceberg with this all-in-one printer.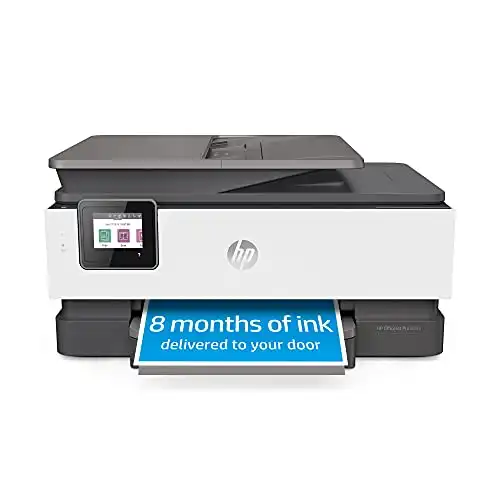 We earn a commission if you make a purchase, at no additional cost to you.
Besides the basics, the HP OfficeJet Pro also provides high-resolution photo prints, a color touchscreen, built-in security measures for the wireless connection, and plenty more to make the most of the Print Then Cut process.
However, if you're not sure the HP OfficeJet Pro All-in-One printer suits your needs, we've included 4 other printers for you to choose from.
Best for everything from value to premium, these picks represent the wide range of printers that best fit with the Cricut machine lineup. Each offers a unique set of features that optimize the ability to print and cut stickers you create.
Do you have a few sticker projects in mind but find yourself missing a critical component?
Keep reading to figure out which printer you can pair best with your favorite Cricut machine to make the most of your sticker-creation time.
7 Best Printers for Cricut Reviewed
There are plenty of printers out there to choose from, but here are 7 of the best printers for Cricut machine print then cut sticker making.
Which will you choose to help express your creativity?
Price: $$
Dimensions: 18.11 inches by 13.43 inches by 9.21 inches
Maximum Paper Size: 8.5 inches by 14 inches (legal)
Maximum DPI: 4,800 by 1,200
Premium Features: color touchscreen, voice-activated printing, print from USB, built-in security measures, high resolution
HP is a well-known printer company, and the OfficeJet Pro 8035e All-in-One Wireless Printer is no exception. In addition to the ability to print wirelessly, the OfficeJet Pro combines ease of printing with the ability to print from a computer, smartphone, or tablet. Speak to the printer with the HP Smart app, and you can even initiate a print with your voice.
This printer comes with a set of black, cyan, magenta, and yellow ink cartridges. Legal-size papers fit through this printer, and at a rate of 20 pages per minute, this printer is relatively speedy. Images print at about 10 pages per minute with a resolution up to 4,800 by 1,200 DPI – a nice range to produce high-quality graphics.
This printer accepts glossy photo paper, card stock, envelopes, and plain printer paper.
Navigating through the color touchscreen, you can choose from printing, scanning, copying, or faxing. There's an integrated USB port for image printing and scanning, a 225-sheet input tray, a 35-page auto document feeder up top, and built-in security measures to keep your printer safe over Wi-Fi.
With all these features in mind, we recommend the HP OfficeJet Pro 8035e All-in-One Wireless printer for anyone looking to make the most of their investment in the best printer for Cricut machine Print Then Cut processes.
Whether you print stickers occasionally or make a business out of it, this HP printer will help you in the creative process.
Price: $$$
Dimensions: 18.5 inches by 14.5 inches by 7.6 inches
Maximum Paper Size: 11 inches by 17 inches
Maximum DPI: 4,800 by 1,200
Premium Features: touchscreen LCD, SD card slot, oversized scanning, auto document feeder, built-in printable patterns, prints onto CDs, DVDs, and Blu-ray discs
While our first choice suits any sticker maker out there, those with deeper pockets should consider the Canon TS9521C All-in-One Wireless Crafting Photo printer. This is one case where spending a bit more could get you the functionality you're looking for, with a bit more in store.
For example, Canon pre-loaded this machine with built-in printable patterns you can choose from. This could save you time as you think of designs for backgrounds, card designs, or any other project you might dream up. Plus, the standard ink tanks included will save you enough money to fund even more creative projects.
Wireless printing and oversized scanning complement the auto document feeder operated via a touchscreen LCD. Besides the top document feeder, the input and output trays extend to capture your Print Then Cut stickers-in-the-making.
You can print from mobile devices and any computer via a wireless connection.
To help you on your sticker-making journey, Canon includes sample sheets of different paper types.
You can experiment with these different paper types to determine which works best for your individual projects. Additionally, you can print onto CDs, DVDs, and Blu-ray discs to create keepsakes of your memories.
Canon integrates an SD card slot into the printer body, and printing can be done via Bluetooth and USB. The chance to use the booklet layout copy might not pertain specifically to sticker-making, but it could come in handy for future projects.
If you're looking for the best premium printer for the Cricut machine, check out the Canon All-in-One Wireless Crafting Photo Printer.
Price: $$
Dimensions: 17.6 inches by 13 inches by 6.6 inches
Maximum Paper Size: 8.5 inches by 14 inches (legal)
Maximum DPI: 4,800 by 1,200
Premium Features: compact footprint, 2-line LCD navigation screen, flatbed scanner, prints borderless photos, custom size printing paper sizes
As the first tank printer on our list, the Canon PIXMA finds the perfect balance between an entry-level tank inkjet printer and a more expensive model.
Taking advantage of a hybrid ink system, this printer uses ink tanks instead of cartridges to save you money on one of the biggest expenses of a printer. That's why we've chosen it as our value pick.
Canon takes the printing, scanning, and copying game to the next level with this printer, which features a standard feeding and bed tray. Plus, the flatbed scanner adds to the small overall footprint of this printing machine.
Did we mention it prints wirelessly as well? This industry-standard feature definitely helps when it comes to saving counter space as well.
Print straight from your mobile device, tablet, or computer, or use the integrated 2-line LCD screen with tactile buttons to navigate the printer's menus. The integrated ink tanks can be filled with the set of ink bottles (PGBK, C, M, and Y) included in the purchase.
Canon reports you can expect to print up to 6,000 pages with the black ink well and 7,700 pages with the color bottle sets.
Though this printer doesn't feature an auto document feed tray, you can print borderless photos. The photo paper you print on can be up to 8.5 inches by 11 inches. Canon's Supertank printer spits out about 10 images per minute if they're black and white, or about 6 colors images per minute.
The feed tray on this Canon printer has a 100 paper capacity, and printable paper sizes include nearly everything from a 3.5-inch square piece to a legal, or 8.5 inches by 14 inches, paper size. Size #10 envelopes and card-size papers can be printed on as well. Additionally, you can program a custom size to print if necessary.
Check Latest Price on Amazon Price
Price: $$$
Dimensions: 13.7 inches by 14.8 inches by 9.4 inches
Maximum Paper Size: 8.5 inches by 14 inches (legal)
Maximum DPI: 5,760 by 1,440
Premium Features: PrecisionCore heat-free print technology, voice-activated printing, central color display, high-resolution flatbed scanner, 2-year warranty
The EPSON EcoTank Supertank Printer represents a higher-quality tank printer well worth the upgrade. For the short jump in price (compared to the Canon Supertank printer), you can take advantage of a better printing system that's almost guaranteed to bring your photos to the next level.
Printing, scanning, and copying are a breeze with this printer. The savings you'll enjoy as a result of the tank ink system should be plenty to elevate your sticker game. The EPSON EcoTank can print up to 10 pages per minute in black and about half that in color.
Interacting with this EPSON printer begins with a color display centered on the unit. Intuitive buttons to the right guide you through the various tasks this printer can help you accomplish. Speaking of which, the EPSON allows you to automatically print and scan 2-sided documents.
This wireless printer comes with black, yellow, magenta, and cyan ink tanks to start your printing processes as soon as they are installed. You can print from a smartphone, tablet, or computer. In fact, you can even print using your voice.
A high-resolution flatbed scanner effortlessly transfers printed images to quality photos you can transfer and cut on your Cricut machine. The PrecisionCore heat-free technology prevents warping.
With a 2-year warranty, you can rest easy so that your investment will be protected.
Price: $$
Dimensions: 17.87 inches by 6.34 inches by 16.14 inches
Maximum Paper Size: 8 inches by 10 inches
Maximum DPI: 4,800 by 1,200
Premium Features: Bluetooth, HP Smart app compatible, borderless printing, SD card direct printing, dynamic wireless security
Sometimes choosing a printer dedicated to photos makes more sense when an all-in-one printer seems like more of an investment than you want. After all, you may already be satisfied with the printer you've got for your home office.
Why reinvent the wheel if you only need a small upgrade?
This particular printer is HP Smart app compatible and prints wirelessly via Bluetooth from your computer, smartphone, or tablet. Plus, integrated dynamic security keeps your printer safe from any hackers.
Printing, scanning, and copying comprise the tip of the iceberg for this printer. You can also print borderless photos directly from an SD card via the integrated slot. Navigating the color touchscreen allows you to choose the appropriate process for your project needs.
The HP Envy Photo printer accepts standard letter paper sizes, along with 4 inches by 5 inches, 4 inches by 6 inches, 5 inches by 7 inches, 8 inches by 10 inches, or #10 envelopes. While it can't print in legal sizes, it will handle up to 14 pages per minute.
HP offers this dedicated photo printer with a 1-year warranty to protect your investment. If you plan on creating your own stickers and just need a dedicated photo printing machine, give the HP Envy Photo All-in-One printer a second glance.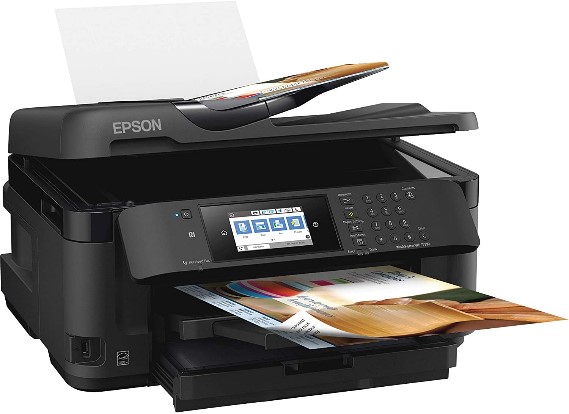 Price: $$
Dimensions: 22.3 x 19.1 x 13.4 inches
Maximum Paper Size: 13″ x 19″
Maximum DPI: 1200 by 2400
Premium Features:  PrecisionCore technology, wireless printing and networking, automatic two-sided print speeds, 4.3″ color touchscreen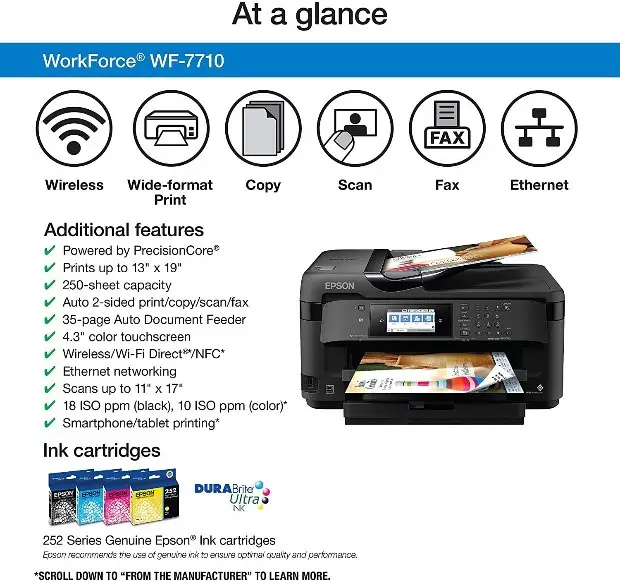 The Epson Workforce all-in-one printer can print, scan, copy, and fax. Even better? It is compatible with your Cricut and can print on cardstock and even vinyl, as long as you are careful. It is powered by Precision Core and can print shop quality borderless prints up to 13″ by 19″. It also features a 250 sheet tray and a rear feed tray for specialty paper.
You will also find that the Epson Workforce printer is a more economical option as it uses up to 80 percent less power than other color laser printer options. The intuitive 4.3″ color touchscreen display allows easy navigation and control when using the printer for all your projects.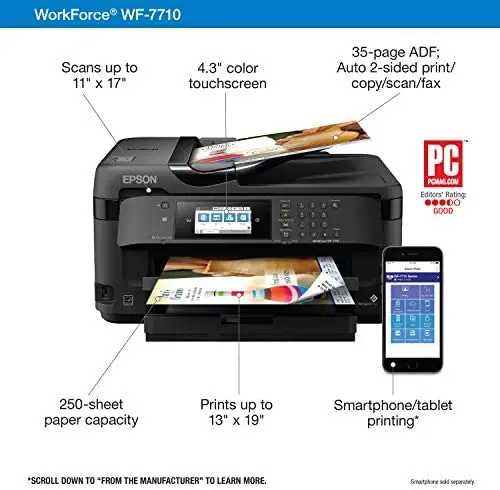 PROS
Wide-format all-in-one printer produces print-shop quality borderless prints
Color touchscreen allows for easy navigation
Both wired and wireless technology for ease of use
Economical option. Uses up to 80 percent less power
CONS
Only works with genuine Epson brand cartridges; not compatible with others
May take some time to get accustomed to the Epson interface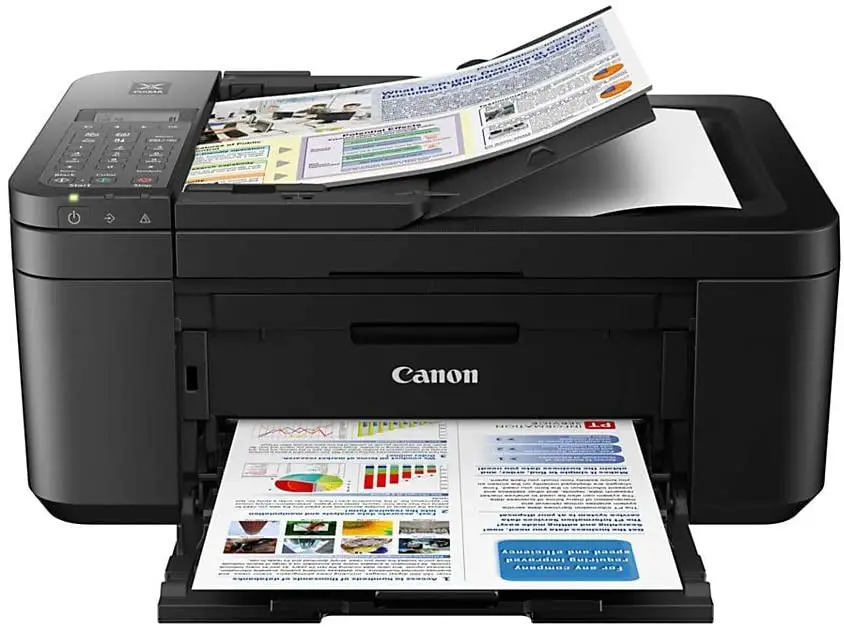 Price: $
Dimensions: 17.2 x 11.7 x 7.5 inches
Maximum Paper Size: 8.5 x 14-inch
Maximum DPI: 600 by 1200
Premium Features:  Wireless connectivity, all-in-one wireless home printer, comes with Canon Print app, works with Alexa
The Canon PIXMA TR4520 is a wireless all-in-one printer option for the home that offers immense value and premium features for an affordable price. With its wireless connectivity and access to the Canon Print app, you can use your smartphone or other mobile device to quickly and easily set up your printer. You can then print right from your device.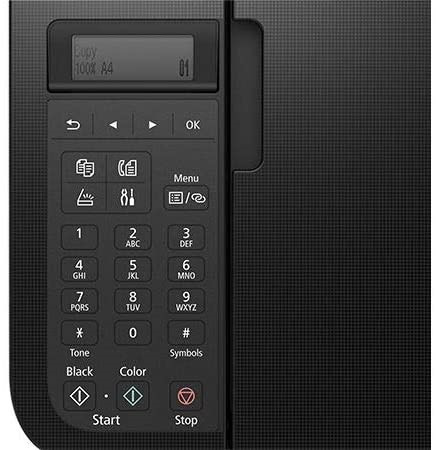 This printer also features AirPrint, Mopria Print Service, auto power on/off, a built-in ADF, and Wi-Fi capability, making this printer incredibly easy to use. With ADF compatibility, it automatically feeds multiple sheets one page at a time into your printer. It is also one of Canon's smaller options, making it ideal for both home and office use.
Additionally, with the Canon PIXMA TR4520, you can save up to 10% on all ink reorders through Dash Replenishment. Once you set up and activate the printer, it starts to keep track of the ink level and will place a smart order as the ink diminishes. There is no subscription fee, and you can cancel your ink orders any time you want.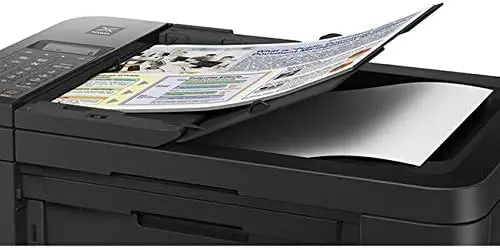 How does this compare to other similar printers on the market? The Canon PIXMA TR4520 is actually the upgraded version of the Canon PIXMA TR4720. The newer model offers exceptional output and is loaded with features, and still comes at a more than affordable price for those on a budget.
PROS
Affordable price point for high-quality and detailed prints
Convenient wireless connectivity
Sleek and modern design that is also space-saving
CONS
The ink cartridges can be expensive
Document printing can be slow at times
Guide to Buying the Best Printer for Cricut Machine
When comparing printers to complete the first step in your sticker-making process, there are a few features you should carefully consider. We've put together a list of common features below.

Print Type and Quality
Browsing through printers, you might come across 3 different types of printers: laser, inkjet, and tank. Each printer type has pros and cons, which may or may not align with your needs.
Laser printers are known for their printing speeds. Faster isn't always better, though, as inkjet printers move slower but turn out sharper photos. With simple black-and-white text, laser printers dominate; when it comes to quality pictures, however, an inkjet trumps all.
Tank printers are inkjet printers that rely on an ink well rather than a cartridge. Printers of this kind are more costly when it comes to the initial investment, but they save users a respectable amount of money when it comes to ink expenses.
Finally, print quality makes a huge difference as well. Quality is measured in dots per inch, or DPI. A higher DPI rating translates to a sharper, more vibrant image. Of the printers we chose, a quality of 4,800 by 1,200 DPI is common.
The days of pushing "Print," "Scan," or "Copy" buttons are nearly gone. Nowadays, most printers incorporate an LCD screen, which may or may not be a touchscreen. Fewer buttons mean you can take advantage of more options within various menus.
Navigating through the menus of a printer can oftentimes be a dealbreaker for some people. If you can't communicate with the printer, accomplishing your task of printing and cutting stickers could seem monumental.
The best printers to complement your Cricut machine are easy to scroll through as you choose the appropriate print/scan/copy operation. If you can figure out how to accomplish a task without consulting the manual, you'll spend more time creating and less time in frustration.
Noise Level
Sometimes side hustles, like sticker making, don't always follow typical business hours. You might want to consider a printer with a quiet mode if you're creating during the moonlight hours.
The clicks and whirrs of the machine before, during, and after printing could be enough to wake your family. The best printers complete their tasks quietly and efficiently.
Believe it or not, there are actually printers out there with a "Quiet Mode" built-in. As you research printers to use with your Cricut machine, consider whether or not a quiet printer fits your needs.
Print Speed
Speaking of efficiency, time is of the essence for most of us these days, including those with small businesses. Our favorite printers balance quality and quantity when it comes to print speed. A faster printer isn't worth anything if your pictures aren't vibrant.
Most print manufacturers measure print speed in terms of pages per minute (ppm) and images per minute (ipm). Pages per minute focuses only on black and white prints, while images per minute concern all colors.
In truth, images per minute is a more accurate way to measure speed "because it uses the same standard set of Word, Excel and Adobe test pages in its calculations." Comparing printers based on their ipm count should give you a more accurate representation of how fast you can expect them to complete your projects.
Materials Cost
The printer's initial cost might seem like a large investment, but supply costs can add up as well. Ink cartridges are one of the more obvious costly items, including paper products such as labels and envelopes.
Of course, the cost of these items links directly to how much you use your printer. If you plan on using your printer a lot, tank printers can save you a lot on ink costs. They are a larger up-front investment but can be worth it for the busy entrepreneur.
Depending on what type of printer you choose, research how much replacement ink cartridges or tanks cost before you buy. It could help narrow down your choices.
Versatility
Printing, scanning, copying, and faxing comprise the basic printer functions found in each printer we've mentioned. However, accommodating multiple paper sizes separates the good printers from the best.
On a higher level, the best printers can also print wirelessly from a computer, laptop, smartphone, or tablet.
Overall Size
Square footage is at a premium, so a printer that makes the most of the space it takes up will be worth its weight in gold. The best printers can easily fit on a desk surface or be put on their own shelf in an office.
The trays for input and output should be compact, so there aren't any leverage points sticking out that could be bumped into.
Can Any Type of Printer Be Used for Cricut Prints and Cuts?
Print and cut is slightly different than normal vinyl cutting and iron-on vinyl. So, you do need to find a printer that can be used alongside your Cricut Explore Air or Cricut Maker. Not every printer will work for your projects.
An inkjet printer like the ones we reviewed above is recommended for all print then cut projects you have. Laser printers are not compatible with Cricut printable materials.
A laser printer uses heat to melt the printer toner on the surface of the materials you are using. Inkjet printers, on the other hand, print with the ink at room temperature.
What Is the Difference Between a Sublimation Printer and a Regular Printer?
When looking at the differences between a sublimation printer and a regular printer, you need to look at what each is designed to do overall.
A regular printer is meant to print on photo paper or sticker paper and, in some cases, heavier cardstock. On the other hand, a sublimation printer prints on a special sublimation paper that can be used for a wide range of media, including fabrics and ceramics.
You will also discover that sublimation printing comes with much higher start-up costs compared to heat transfer vinyl and other printing processes. However, you can use your Cricut to cut your favorite designs and patterns to prepare for sublimation printing.
Our Verdict
As mentioned, we chose the HP OfficeJet Pro 8035e All-in-One Wireless printer as the best printer for Cricut applications. Priced affordably, this versatile model covers the basics in terms of printing, scanning, and copying.
Additionally, this HP printer pairs easily with any mobile device to print wirelessly. No more hooking up USB cables and tethering your computer to a printer.
The HP OfficeJet Pro also offers an auto document feeder with automatic 2-sided printing. A color touchscreen makes navigating through the menus easy. With the ability to print photos in high resolution, you won't have to worry about dull colors or fuzzy outlines.
No matter how big or small your photos are, the HP OfficeJet Pro handles anything up to legal size (8.5 inches by 14 inches).
When choosing which printer you will use with your Cricut Maker, be sure to think about your goals and what you plan to do. For example, if you want to print out vinyl stickers, you will need a laser printer or inkjet printer that can print directly to vinyl. If you just want to print out on paper, an inkjet printer with an ink cartridge is suitable.