Sometimes clamps just don't get it done when securing your workpiece to your CNC router, but luckily there is another option available.  Some would say it's the best option , that tool is double-sided tape.
Our Pick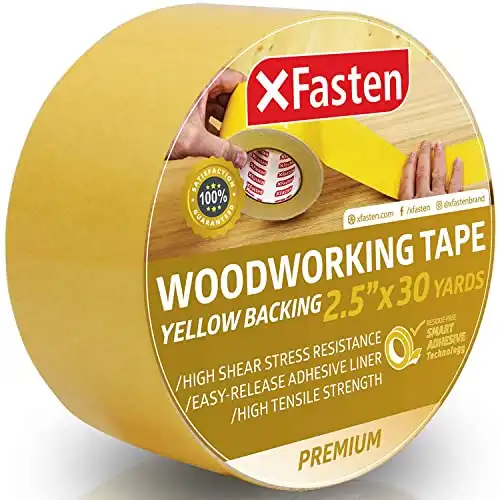 We earn a commission if you make a purchase, at no additional cost to you.
What is Double Sided Tape?
Double sided tape is a type of adhesive tape that has adhesive on both sides of each sheet. The inside sheet is that of a typical tape you would use packaging, masking, or gift wrapping.
The main difference is the outside layer has a masking layer that will be peeled off once your bottom layer has been applied to a surface, thus making it double-sided. Double-sided tape comes in a wide array of sizes, grades, purposes, and specifications. 
Why use Double Sided Tape?
Double sided tape is great for mounting items that you don't want to be permanently secured. There are many different application for using this versatile tape. If you are looking to not damage surfaces or just looking for a quick and effective bond that isn't permanent then double-sided tape might just be your go-to-tool of choice. 
These unique tapes are something new, they have been used for many years by carpenters and other skilled craftsmen.  These areas of expertise usually include hanging doors or laying carpet; however, those aren't the cases in which we will be talking about.
Next we will dive in to the best double-sided tape for a CNC Router and how to use it.
Best Double Sided Tape for CNC Router
Now that we've got the grasp of all the applications and purposes you can use this versatile tape for, let's dive right into the best ones for securing your work piece to your waste board.  There a few different variations and sizes of tape.  The tape that suits your situation best might be an excellent choice, but it's possible that product isn't as interchangeable as some other products.
Easy to use and versatile for a lot of materials.  One of the least expensive options for mounting tapes.  Not a very strong bond, but strong enough for most general applications.  The Shurtape double sided tape is perfect securing your workpiece to your waste board without damaging either part.
Professional grade strength.  Conforms to uneven surfaces and most materials.  Very strong bond makes removing your work piece from the waste board difficult at times.
Made specifically for woodworking applications makes this one of the best double sided tapes for your CNC Router projects.  Compatible to all wood types.
Well now you know one of the best ways to properly secure your work piece to a waste board or table.  For jobs that are too tough to clamp or pieces too large to secure, we definitely recommend using double sided tape.  To get the best possible result, you will always need the highest quality tools, cnc router bits, and projects.  For some of the best free CNC router projects, including dxf files, click here.
What do we recommend?
There you have it, those are the best double sided tapes for your CNC Router.  Any of these 3 tapes will work with most applications you will need for your CNC Router projects.   However, after an in-depth review, the best double sided tape for CNC routers we recommend is the XFasten Double Sided Woodworking Tape.