When it comes to jack planes, not all are created equal.  One of the worst feelings is ruining your project with a dull plane blade, so I know now not to be too stingy with my woodworking tools.
Just because it was cheap doesn't mean it is quality made.  So to help my readers avoid the same mistakes I made, I went through and tested the best jack planes available.
In a hurry… Here's Our Top Picks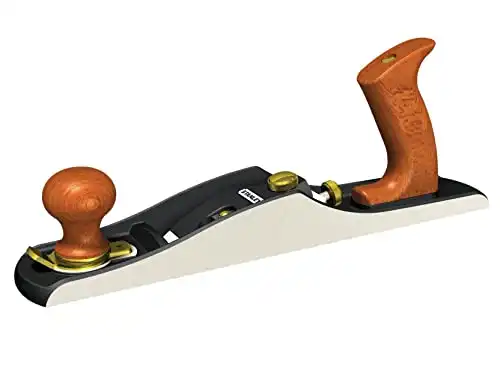 We earn a commission if you make a purchase, at no additional cost to you.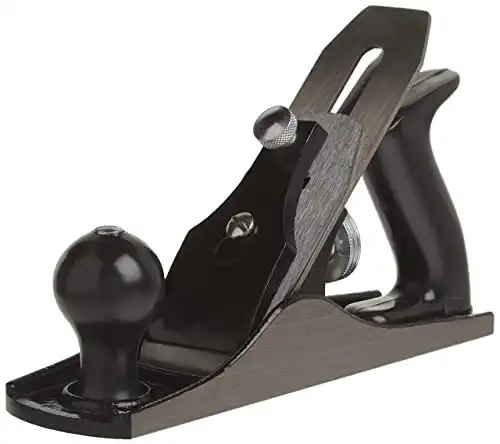 We earn a commission if you make a purchase, at no additional cost to you.
Like with any industry, it's very important to choose the right tools when you want to guarantee the best finish for a woodworking job. There are several different types of hand planes on the market, including shoulder planes, low-angle block planes, and smooth planes. The variety of hand planes is the result of some specific woodworking tasks being better suited for certain planes than others.
If you are looking for a Jack plane, you will want to look for good performance, excellent build quality, and something that is a good value for your money.
Here are a few tips and reviews to help you find the best Jack plane for your woodworking needs.
Best Jack Plane Reviews
1. Stanley Sweetheart Jack Plane
The Stanley Sweetheart Jack Plane features a one-piece base and frog that pretty much eliminates chatter and increases precision. Equipped with a patented locking feature that has a lateral adjustment, this jack plane also comes with ductile iron casting that adds to its durability and weight.
This is a substantial plane that has a nicely milled body. The Stanley Sweetheart Jack Plane also produces beautifully consistent shavings. Made out of an extra thick A2 steel, this Jack plane offers incredible edge retention.
Constructed with a Cherry wood knob and handle, the Stanley Sweetheart Jack Plane provides a comfortable user experience as you work. Equipped with the Norris type adjustment, the throat plate can be adjusted to work with several different types of wood. It also features a two-inch blade width and a 3/16-inch cutting blade.
Weighing only 5.9 pounds, the Stanley Sweetheart Jack Plane has a length of 14-inches and is ready to start working as soon as you get it.
Pros:
– This is a substantial plane with a beautifully milled body
– It produces consistent shaving right away
– The plane's low profile makes the center of gravity low so it feels stable
Cons:
– The edges were not chamfered or deburred
– The blade adjustment is a bit of a hassle
2. Shop Fox Jack Plane
With a long sole, the Shop Fox Jack Plane offers a lateral adjustment and a quick-release lever cap. It also provides a larger degree of lumber flatness once it's been smoothed. Ideal for any type of project, this jack plane is precisely milled and includes accurate adjustments.
The Shop Fox Jack Plane features cast iron construction, which allows it to trim across any grain well. This is an affordable and high-quality hand plane with good machine quality. And the high-quality steel used in this plane will retain its sharpness after a lot of use.
Pros:
– This is a high-quality plane
– It has good machine quality
– An affordable #5 plane
Cons:
– They ship the cap and blade loose in the box, which can nick the cutting edge
– It requires a lot of work to get the plane ready for use
3. Bench Dog Tools No. 5 Jack Plane
Versatile and comfortable to use, the Bench Dog Tools No. 5 Jack Plane is ideal for squaring, flattening, and removing mill marks.
Usually the first type of bench plane to treat rough lumber, the jack plane uses squaring and flattening for preliminary smoothing. Using solid construction, quality materials, and precision machining making it enjoyable to use.
Sometimes referred to as a fore plane since it's used to smooth planes and before the fine work done by a jointer, this jack plane is made with a 1.8-inch thick, hardened carbon steel creating incredible edge retention and reduced chatter.
This plane is made with solid Sapele for a comfortable knob and tote, which adds a little elegant touch. And every Bench Dog Tools No. 5 Jack Plane comes with a manual, case, and sock.
Measuring two-inches wide, the blade on this jack plane is 3/-16-inch thick and made of hardened carbon steel, which is also set to bevel low at 12-degrees and high at 25-degrees.
Weighing 4.85 pounds, the Bench Dog Tools No. 5 hand Plane is able to take rough surface cuts down to a smooth fine cut thanks to its adjustable mouth. With a low angle, this jack plane is ideal for the tricky end of grain work.
Pros:
– It is a high-quality Jack plane
– You can use it for a variety of projects including both smooth and rough cuts
– Overall a good tool investment
Cons:
– Some planes come shipped with a nicked blade
– Somewhat pricey
4. WoodRiver #62 Low Angle Jack Plane
Used as both a smoother and as a plane to remove heavy stock across the grain, the WoodRiver #62 Low Angle Jack Plane stays faithful to its original design but is about a pound heavier.
Weighing 4.6 pounds, this jack plane is made from ductile iron and has a bed angle of 12 degrees. The front knob and tote are made of Bubinga while the 25-degree bevel is made out of high-carbon steel that has a 25-degree bevel.
Equipped with square sides and a flat sole, the WoodRiver #62 Low Angle Jack Plane is two-inches wide and 14-inches long. This high-quality tool is built with very high standards and is a favorite among collectors.
Pros:
– This is an attractive looking Jack plane
– It's a high-quality jack plane that can do a lot of work
– While it has an original jack plane design, it does weigh a bit more
Cons:
– Customer service isn't very good
– The blade could be better for the price
5. GreatNeck C4 Jack Plane
This nine-inch plane features a two-inch cutter that can reduce or flatten a wood's thickness. The GreatNeck C4 Jack Plane is a handy woodworking tool that can adjust the control of the depth of cut. Made with a cast iron body, this high-quality jack plane also comes with wood handles.
Ideal for heavy-duty and professional applications, this jack plane comes with blades that you can adjust for use with either coarse or fine wood. Made with temperature and hardened steel, the GreatNeck Jack Plane also has an accurately machined body for durability and strength, plus it comes with two wood handles to provide more control. You can adjust the plane's depth of cut and its lateral edge.
Equipped with adjustable blades, it has a two-inch cutter that can be resharpened. Plus, the GreatNeck Jack Plane has a polished body for an ultra-smooth finish. Made with incredibly high-quality parts is backed by a Limited Lifetime Warranty.
Pros:
– It's a great value plane and has a razor-sharp blade
– The blade retains its edge even after a heavy amount of use
Cons:
– It doesn't appear like there is any quality control on this plane
– The frog sits so far back and is misaligned it obstructs the blade from seating
Jack Plane Woodworking Guide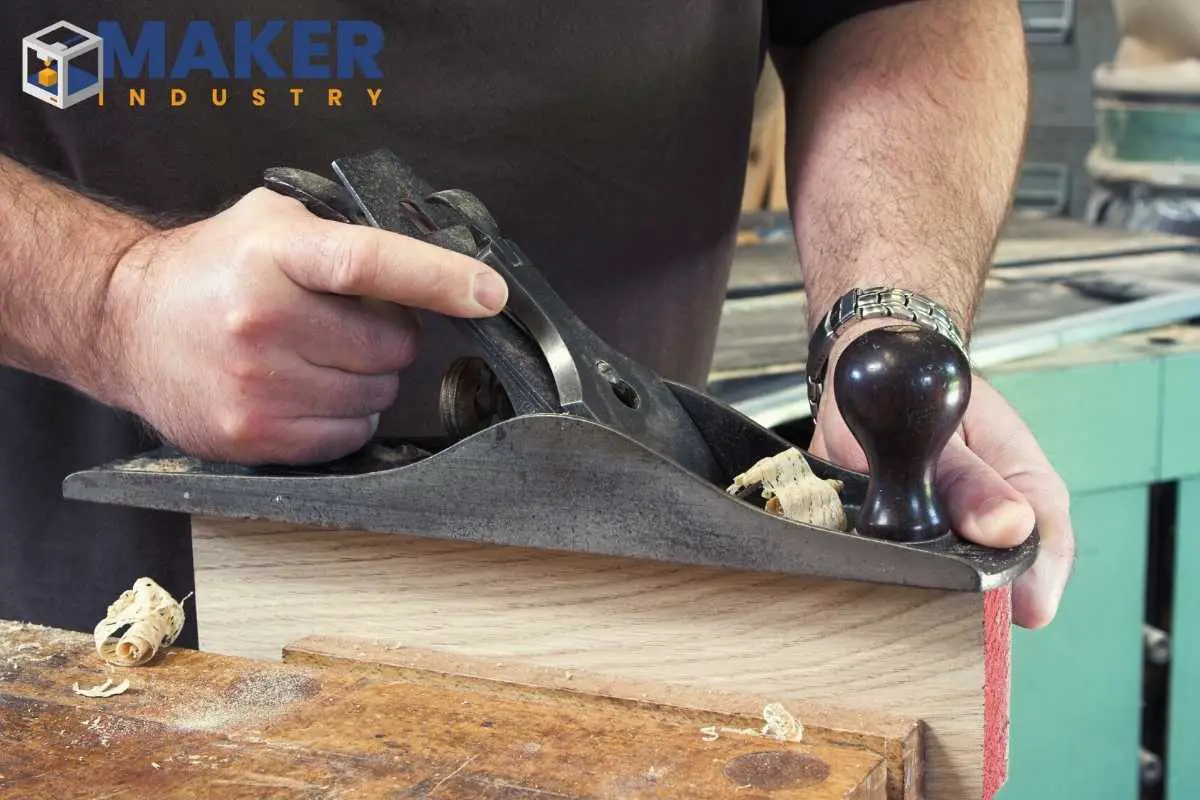 Why you need a Jack Plane
A general use wood plane, a jack plane can be used for edge jointing and is often the first plane that is used on rough wood. This is a versatile tool that makes it the most common plane used. It's awesome at removing material but is not a good choice for finishing work.
Used for the initial rough flattening of wood, a jack plane is sharpened with an extreme arc and features a wide-open mouth that allows for faster and easier removal of wood, particularly when your plane across the grain, which is called scrubbing. A jack plane is excellent at removing twists out of wood and gets it as flat as possible.
The blade on a jack plane is typically ground with a little more camber that allows for you to remove material without leave mars on the wood. You can also grind the blades on a jack plane giving it a straight edge and a slight curve on the corners, which is similar to a smoothing plane if you want a finer edge.
The "Jack" of all trades
Since the main purpose of the jack plane stock instead of gaining a good finish, the cut of the plane is typically set deeper than what is made by other planes. When working on wood, you will use the jack plane after the scrub plane and before the jointer plane. Usually, you will want to start to plane diagonal or across the grain to give the workpiece a rough leveling before you plane in the grain's direction.
You use a jack plane to smooth surfaces or the edges of the wood. It's an important tool for those that are working on DIY projects or carpentry projects. There is a little learning curve when learning how to use a jack plane, but it becomes easier as you get used to it. Here are directions that you can follow when you use a jack plane:
How to prepare wood for planing
First, you need to set up the plane's sole, which is the flat bottom part. You need to ensure that the sole on your jack plan is set on a flat surface, which will allow you to get accurate and clean cuts while you use the jack plane. You will need to use a permanent marker when setting up the sole of the plane to color the sole's surface. Then, take some sandpaper to sand the surface until you all the permanent marker has been removed.
Next, you need to replace all the parts of the jack plane. You need to ensure that the plates are on tight before securing them into place using a screwdriver. After you mount the components, it's important to test the blade on the jack plane. To do this, find a piece of scrap wood and smooth its surface. You should have thin and smooth shavings, but, if necessary, you can adjust the jack plane's settings by turning the depth adjustment on the plane. The adjustment determines how deep the blade will cut into the wood, and you can get thicker or thinner wood shavings depending on how you set it.
How to use a Jack Plane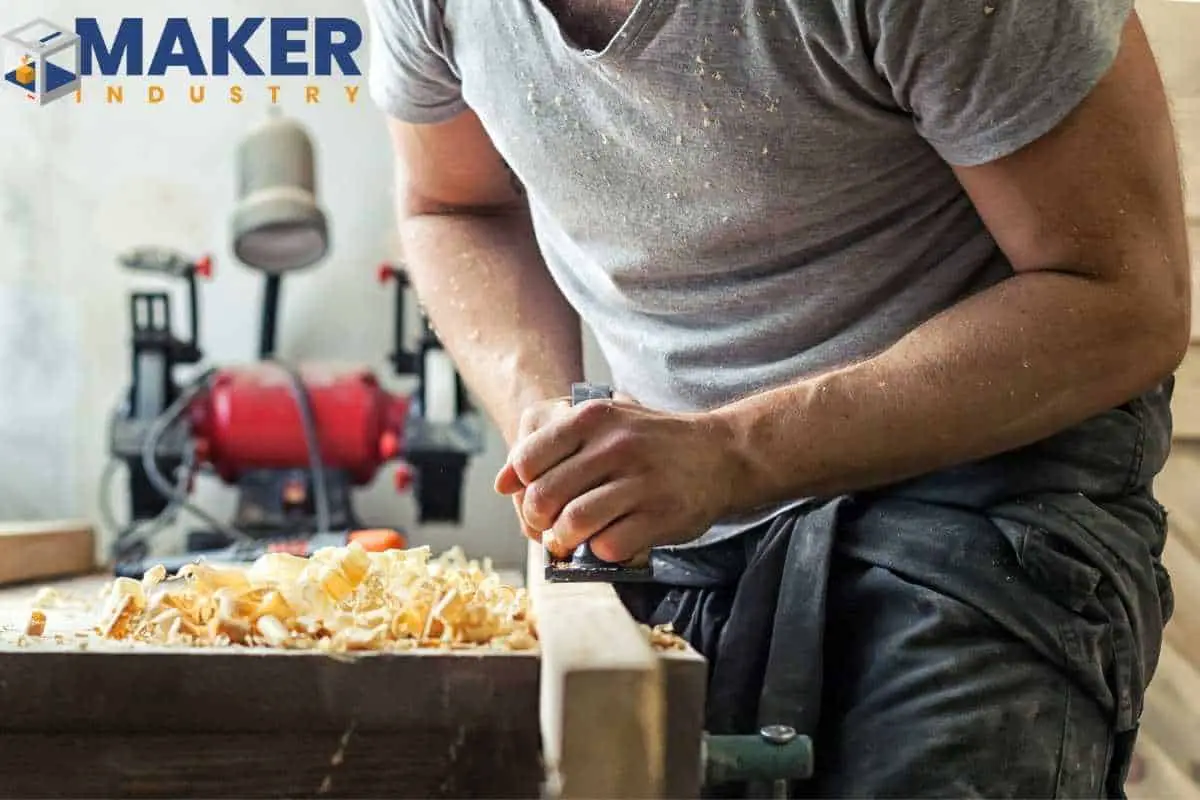 Now, to use the jack plane. When you are ready, secure the wood that you plan to work on into place on the clamp on your workstation. Make sure to test it to see if it will budge when you try to move it. Then, place your hand on the head of the plane and use the other to hold the handle that is located towards the back of the plane. At this point, you can start to smooth down the surface or the edges of the piece of wood that you are working on.
Remember that when you follow these steps to use a jack plane, you will want to make sure to use protective work gloves that can help you prevent wood splinters from getting into your skin when you handle rough wood that has not been smoothed yet. Also, make sure that the blade is sharpened well and that all the parts of the jack plane are in good condition so you can achieve a smooth finish on your pieces of wood.
The different types of hand planes
Jack plane – Typically a jack plane is used to remove material and sometimes for straightening wood.
Jointer plane – It is commonly used to straighten wood and can be used to remove material and prepare wood for finishing.
Smoothing plane – Used to prepare wood for finishing, a smooth plane can be used to remove small amounts of wood but is not good at straightening boards unless it's a shortboard.
Jack Plane vs Bench Plane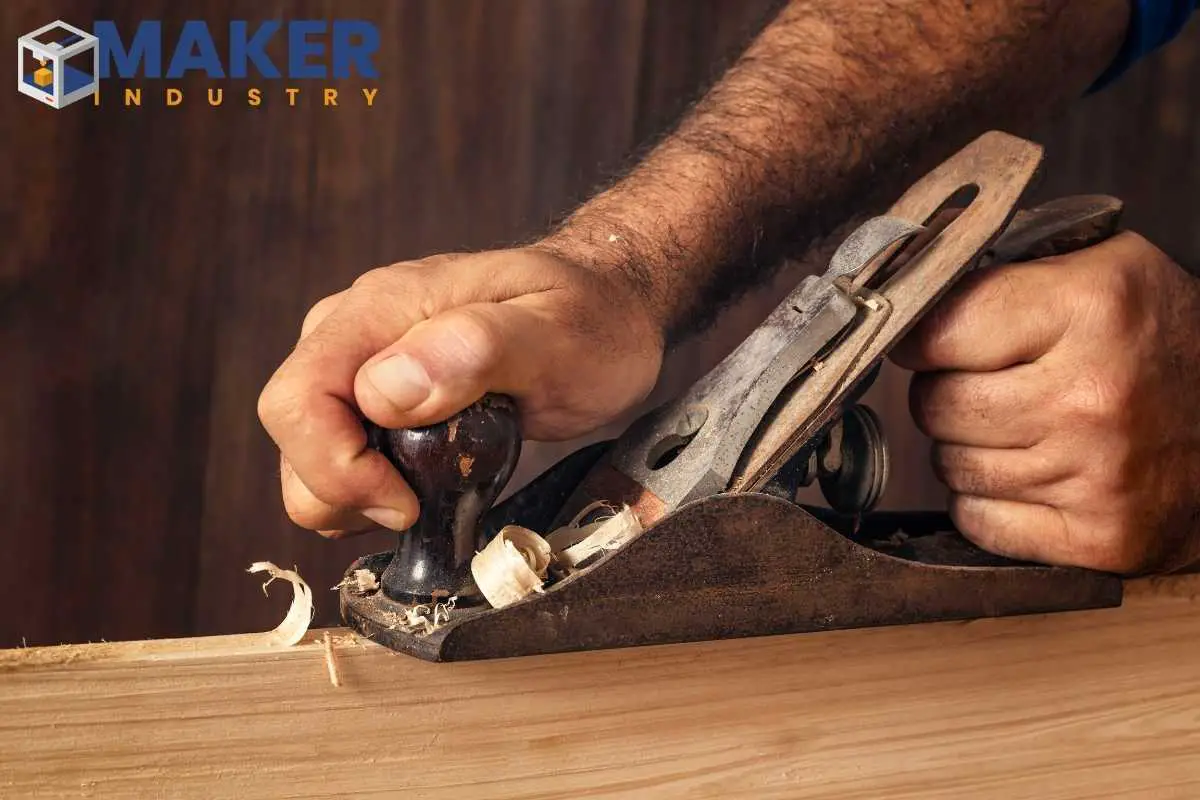 As a general use hand plane, the jack plane is capable of doing the job of the more specialized planes and can be used to reduce wood and for sizing. If you want to smooth wood, use a jack plane first and then use a smooth plane to fine-tune the results.  Longer than a smooth plane, a jack plane is a great choice when removing high points on a piece of wood while also giving you a straighter edge. It is often used to prepare the wood before a smoothing or jointer plane is used on it, and can also be used to smooth over a wood engraving.
In comparison, a bench plane is typically used at a woodworking bench. It's held with two hands and has an angle of 45 degrees. On top of the blade lies a chip breaker that directs the wood shaving up and away to reduce a skipping or stuttering movement that is called chatter which you typically will have when carving into wood. This plane is typically used on large surface areas while a jack plane is used on smaller surface areas.
Jack Plane vs Smoothing Plane
As we learned, a jack plane is a general use plane and typically used on wood before other planes. A smooth plane, in comparison, is used after a jack plane to smooth a piece of wood at the end of your task. While a jack plane can be used for reshaping or resizing a piece of wood, the main purpose of a smooth plane is to smooth the surface of the wood.
Jack Plane vs Block Plane
In comparison to the general use of the jack plane, a block plane is meant to be used for smoothing curved and straight edges, cleaning up saw cuts, trim miters, level corner joints, cut end grain, and chamfering. It is available in both low-angle and standard versions and has a blade with its bevel side up, which increases the angle of the blade and directs the shavings away from the blade.
Jack Plane Buying Guide
Size
Usually, you will want to choose a jack plane that measures 14-inches long. A smooth plane will be shorter while a jointer plane will run longer. That will give you a good length to straighten or prep wood for finishing. Jack planes will also run between 1 and ¾-inches to 2 and 3/8-inches while both jointer and smooth planes will be wider.
Handle
A jack plane comes with a handle in the back and a knob on the front. Both need to be grasped as you use the jack plane. Typically made of wood, it's important to look for a jack plane that uses good quality wood for these two parts to ensure the tool has a long lifespan.
Materials
Always choose a jack plane that uses stable materials. While jack planers may all look alike, there are different mechanisms on them depending on the model. Especially with the unique shapes and features you need for different projects.
Since you want your jack plane to last you many years, it's important to choose materials that will serve you well and last a long time. Cast-iron is a durable material that will endure a lot of use.
Finish
The finish that the jack plane leaves on the wood's surface will be smooth if you are using a jack plane with a good quality blade. Remember that the thinner the blade you are using, the rougher the surface will be on the wood.
Blade Quality
Make sure you look for a sturdy blade that is good enough to trim wood. Typically, a carpenter will work with a square-shaped blade that needs to be strong enough to trim wood. Remember that many blades are not very reliable and can become clumsy as you work.
Always look for a steel blade that will serve you for long periods of time. The comfort of the work will vary depending on the type of steel that you are using. Also, the blade's thickness will determine how rigid the blade will be. If you have a really thin blade, then it's possible that the blade will flex a little during cutting and cause chatter leaving a very poor finish on the wood's surface. A thick blade is more resistant to flexing and gives you a clearly smoother finish.
Finishing Things up
When you work on the finish on any woodworking project, you want to make sure you have the right tools. Having the correct hand planes helps you to complete the specific woodworking tasks needed to finish the job. A jack plane will help you prep the wood you are working on and help it achieve the finish that you are looking for. Just make sure you are using a jack plane with excellent build quality that offers good performance to help you meet all your woodworking needs.