The art of hand engraving is slowly gaining in popularity around the world. It is one of the most ancient forms of art and is used to create amazing masterpieces. However hand engraving has come a long way since our ancestors started.  We able to take advantage of today's technology to engrave works of art that would have taken artists years to create.
Today's tools have helped us make some of the most unique engravings in the history of mankind.  Here are some of those very tools, including pneumatic hand engravers and impact engravers.
In a hurry… Here's Our Top Picks
We earn a commission if you make a purchase, at no additional cost to you.
GRS Tools 004-995 GraverMax G8
Fully automated, highly professional, featuring a lot of options for industrial usage, the GRS 004-995 is an upgraded version of the 004-980 and is an amazing choice in terms of impact engravers.
Editor's Pick- Best Pneumatic Impact Engraver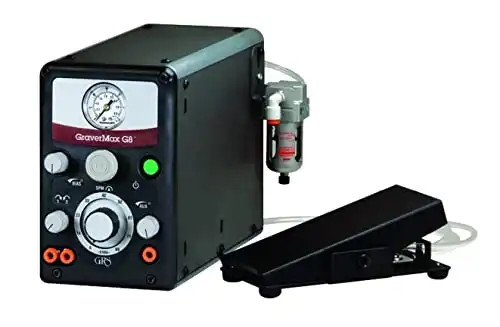 We earn a commission if you make a purchase, at no additional cost to you.
How does a Pneumatic Engraver Work?
Hand engraving involves using a sharp, hardened piece of metal and pushing it into different materials to engrave patterns, paintings, calligraphy, and many other things. If you want to understand how a hand engraving tool works, you need to know that hand engraving tools are usually pneumatic (use air or gas) nowadays and use air pistons with hammer and chisel methods for the engraving process.
Air is used to drive the piston into the engraving tool's chisel which enters into the material's surface with the air-driven hammer.  Unlike jewelry engraving machines or other engraver pens for wood, pneumatic engravers work much differently.
Types of Pneumatic Hand Engraving Tools
On the basis of engraving techniques, there are two main categories engraving tools are divided into.
Pneumatic Pen Engravers
Pneumatic Impact Engravers
Best Pneumatic Engraver Pen
As you know, pneumatic engravers use air or gas to move the pistons in the engraving tools, in case of pen engraving tools, the pen needles use air for engraving letters and other markings on materials like wood, metal, etc. There are many kinds of pneumatic engraver pens available in the market as of now, however, for your ease, we have gathered some of the finest products for use.
1. Chicago Pneumatic CP9160 Industrial Engraving Pen
Used for industrial engraving purposes, this pen is one of the finest and most durable out there. It is not very commonly used and therefore, is slightly expensive.
Features
This product features some amazing specifications. Some of the perks offered are shown here.
   Durability – The CP9160 is one of the most durable and ergonomically designed air engraving pens.
   Industrial Use – It is mostly used for industrial purposes and offers a lot of professional benefits.
   Speed – This product's features include the tremendous speed of 32,400 blows per minute.
   Length – The pipe hose provided with the product is 6.5-Feet long and offers ease of use.
2. Scribe and Engraving Pen Air Micro Die Grinder Kit
It is one of the best pneumatic engraver pens used professionally as well as commonly for engraving markings on glass, ceramics, metal sheets and other surfaces as well.
Features
There are many exciting features in this product. Some of these features are listed here.
   Variety of Using Surfaces – It is widely used in lettering and marking on the surface of the metal, porcelain, glass, plastic, marble, wood, stone and other sturdy materials.
   Needle – Pen needle is made with special alloy steel that offers amazing durability.
   Ease of Use – It is small in size, lightweight, and very easy to use.
   Warranty – It offers a 1-year warranty to customers.
3. Gison Air Engraving Pen/Stylus
One of Gison's finest, this stylus offers engraving facilities on extremely tough materials due to its hard stainless steel nature. It is also one of the more industrially used pneumatic engraver pens.
Features
The features of this product include the following.
   Body – The body of the Gison Air Engraver features heavy-duty stainless steel housing.
   Surfaces – It is super-efficient for engraving on metal and stones and other hard material surfaces.
   Speed – The speed of the pen is a whopping 34,000 bpm.
   Sizes – There are different sizes of tips available for ease of use. These tips include medium small and large.
   Length – The Whip hose included in this product is about 6.5 feet in length.
Best Pneumatic Impact Engravers
These types of engravers also use air, however, they're much more heavy-duty. Often used in jewelry engraving, impact engravers are mainly used for industrial work and engraving purposes.
The following are some of the best pneumatic impact engravers you can find in the market.
1. GRS Tools 004-995 GraverMax G8
Fully automated, highly professional, featuring a lot of options for industrial usage, the GRS 004-995 is an upgraded version of the 004-980 and is an amazing choice in terms of impact engravers.
Features
There are many superb features in this product. These features are mentioned here for your ease.
   Basis – This model 004-995 is based on the original GraverMach 004-960 which was also a revolutionary impact engraving machine.
   Power – The 004-995 engraving system gives each hand-piece an excellent range of power with perfect control throughout an expanded range of impact speeds.
   Compatibility – All of the standard hand-pieces are compatible with this machine.
   Cord – It features a U.S styled IEC electrical cord which is safe and offers high-quality connection.
2. T-king Double Ended Graver Pneumatic Jewelry Engraving Machine
This product is one of the best creations of the company T-king. If you're looking for a heavy-duty multi-feature jewelry engraver, then you need to get your hands on the double-ended graver.
Features
Here are some of the features available in this product.
   Efficiency – The product offers amazing efficiency with its low power consumption as compared to other engravers and a high speed of up to 4000rpm.
   Barometer – An adjustable barometer can also adjust the stroke per minute.
   It is Suitable for a variety of materials such as wood, metal, gemstones, and jewelry and is used in the engraving industry very commonly.
   Ease of Use – It features a foot pedal that allows you to free your hands, reduce fatigue and accelerate production.
3. CJC Premium Quality HH-G01 Pneumatic Engraver
CJC is one of the best manufacturers of impact engravers, and this product is no exception. It features high-quality engraving properties, can engrave on a lot of different materials, and is lesser expensive than other options.
Features
Here are the best features of this Impact Engraver Machine.
   The HH-G01 allows 400-8000 strokes per minute, a throttle bias adjustment valve for tailoring throttle response, and a dual-stage precision air regulator which makes it an extremely feature-heavy product.
   Ergonomically Designed – The Advanced ergonomics include front air pressure adjustment as well as an advanced valve pulse unit that operates with virtually no noise or vibration and is incredibly efficient and silent.
   Consumption – It uses a very small amount of power of only about 110V/60Hz.
   Weight and Warranty – It weighs about 9.5kg and offers a 1-year warranty.
Finishing Up
Whether you are looking to engrave jewelry or just interested in hand engraving wood, there are plenty of choices out there.  Make sure to share this article and let us know what you plan on engraving with your new Pneumatic engraver!