3D printers are products of great interest to any creative designer or teacher and even for amateurs. You can use them for either personal or professional purposes. They are useful for a variety of creative projects. However, the prices can get rather steep for them.
Snapshot
Official Creality Ender 3 Pro 3D Printer
Pros:
Great gift for kids and teenagers

High-quality build for years of use

Easy to use — even for beginners

Good price-quality ratio
Cons:
Instructions could be more clear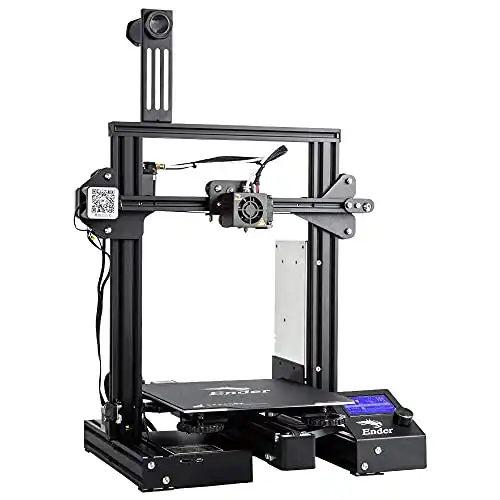 We earn a commission if you make a purchase, at no additional cost to you.
This is a review of the Ender 3 3D Printer, a product that has a lot of features that are great for any type of creative idea that you may have. So without further ado, let's take a look at what it has on offer for you.
Comgrow Creality Ender 3 3D Printer
The 3D printers that Creality produces are renowned for their great quality. The Ender 3 is an amazing 3D printer, as it can function even after a power outage. The hotbed only needs 5 minutes to get to 110°C.
Also, the printer has been upgraded with an extruder that reduces the risk of plugging. It also has a new V-shape with wheels that can help you move it without a sound, unlike its previous versions.
Who is This 3D Printer For?
This printer has many functions that are destined to satisfy a beginner in the creative field, as well as an expert. This would also be a great purchase as a gift for children.
In general, it can be used by anyone because of the high-quality construction and ease of use. Whether for a hobby or for projects you might have, this printer combines utility, value for your money, and a user-friendly interface.
What's Included?
The Ender 3 3D Printer comes with parts that have to be assembled by the user. The instructions it comes with are not very clear, so previous experience is desirable. If you want to start to print a project, you need filament, which is sold separately. This printer supports most filaments that are available on the market.
Overview of Features
What makes this printer stand out is the high-precision printing function, which allows you to print models with great accuracy. It also has a 'resume printing' function that works even after a power outage, in case you want to continue from where you were with the project.
The amazing ability to reach 110°C in 5 minutes and the fact that it is perfect for STEM projects make it one of the best models on the market.  After review, another thing that makes the Ender 3 3D Printer stand out is the fact that it's very easy to use, and it could be a great gift for children.
The material used for this printer is also a plus, as aluminum is very durable. Additionally, it is made in such a way that it reduces the noise created by the process of printing. Creality has a wide range of design plans, guides, and firmware available for anyone who purchases their products.
Unfortunately, in order to use it, you need to assemble it, and the manual is not that clear. The fact that it doesn't include filaments is also not that great, as you cannot start using it right away.
Overall, the printer has a budget-friendly price. It will take a minimum of one hour to set it up. Once you do, though, you will have a reliable, compact unit that is durable and made to last for a long time. If you have previously had 3D printers, this model will be extremely easy to use and convenient.
Otherwise, you might spend a bit of time looking over the instructions and searching for information, but it is certainly worth doing so. The quality of the product is outstanding due to its great hardware and consistent performance.
How to Use Comgrow Creality Ender 3 3D Printer
The Ender 3 3D Printer comes with instructions on the right way to assemble it. The process should take about two hours. You should first check the integrity of the parts and whether all of them were included in the package.
Alternative
If this product doesn't suit your needs, we recommend the FlashForge Finder 3D Printer as an alternative. It has Cloud, Flash drive, and Wi-Fi connectivity, as well as an excellent quality construction. The product also comes at an affordable price, and it allows for endless creativity due to the open-source software.
What's more, the operation is quiet and user-friendly. The touchscreen display offers helpful messages that help you set up and calibrate the printer, so you can start printing in no time.
Conclusion
To summarize this review, the Ender 3 3D Printer is a high-quality product with many features. Overall, it's a great acquisition with an amazing price/quality ratio. If you feel like you want the best in this price range, this printer is for you.