I tested many products and found the ELEGOO Saturn Resin 3D Printer to be the best 3D printer for cosplay in 2021.
Our Pick
ELEGOO Saturn 3D Printer
Versatile and user-friendly 3D printer for developing and printing your cosplay props with high-accuracy.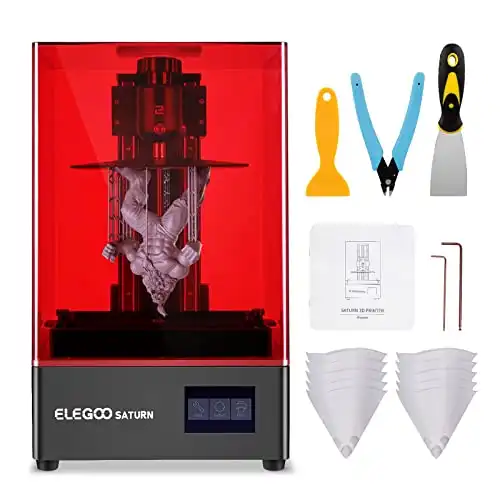 We earn a commission if you make a purchase, at no additional cost to you.
Creating objects from the world around you and your imagination is possible with a 3D printer. Not only can you print a million different things, but you can also be a part of that process for a lot less money than you might think. 3D printing isn't just for special research labs anymore. It's for cosplayers too!
If you're looking for the best 3D printer for cosplay in 2021, look no further than the list of five 3D printers we've gathered below. These printers will do wonders when it comes to representing your favorite characters and their clothes, weapons, and any other objects from their respective universes. No detail is too small for these 3D printing machines.
At the top of our list is the ELEGOO Saturn 3D Resin printer, the only resin printer to make our list.
Though extrusion printers that use filament are easier to work with and cost a bit less, resin printers are known for their ability to replicate detail well. Resin 3D printers may be more expensive, but for many, they're worth their weight in gold (or any other fictional currency).
Not ready for the commitment of a resin printer? We've got filament-extruding printers on the remainder of our list.
They're a bit more common because they're easy to use, which is why we've chosen these particular brands. But don't be fooled by their simplicity—the only limitation is your imagination.
Don't start designing just yet! Here are our top picks for the best 3D printer for cosplay in 2021.
Best 3D Printer for Cosplay (2021)
5 of the Best 3D Printers for Cosplay
Owning a 3D printer makes life that much more creative. You can print nearly anything you can think of and design! But when it comes to cosplay, only the best 3D printers make the cut. Which of the following best 3D printers for cosplay will you purchase?
ELEGOO Saturn Resin 3D Printer – Best Overall
Price: $$$$$
Build Volume: 192mm by 120mm by 200mm
Layer Resolution: ±0.05mm
The first 3D printer on our list won our top pick for its ability to print high-quality designs in a short amount of time. This resin printer works well for printing nearly any cosplay part and offers a 1-year warranty to protect your investment as well.
With a build volume of 192mm by 120 mm by 200mm, this resin printer handles printing anything that can fit in the palm of your hand. The exposure time is as fast as two to three seconds per layer, ensuring you won't be spending a lifetime waiting for prints to finish before you can dress up.
ELEGOO's Saturn resin printer uses an LED matrix made up of 54 units to uniformly distribute UV light. The print head moves at plus or minus 0.02mm while the accuracy is plus or minus 0.05mm. The 8.9-inch monochrome LCD display is covered by a screen protector. And with a compact design, it's easy to see why this is our top pick.
In addition to accuracy, ELEGOO has also improved stability with a double Z-axis linear railway. The shock absorption unit ensures the slightest movements won't ruin your print. The printer itself only weighs about 30 pounds, so moving it isn't a hassle if necessary.
Pros:
High accuracy when it comes to the finer details
Speedy printing times
1-year warranty
Cons:
Resin printers can be messy
Requires post-processing IPA wash
FlashForge Adventurer 3 Lite FDM 3D Printer – Best Value
Price: $$$
Build Volume: 150mm by 150mm by 150mm
Layer Resolution: ±0.01mm-0.04mm
Compatible Filaments: PLA, color change PLA, high-speed PLA, ABS, PEARL, metal-filled, wood-filled
If you want to get the most for your money, choose the Flashforge Adventurer 3 Lite FDM printer. It's a solid buy that should help you build the perfect cosplay outfit.
This 3D printer weighs just over 27 pounds and includes a 2.8-inch color touchscreen. The enclosed print bed can handle a 150mm by 150mm by 150mm build volume, with layer resolution between 0.1mm and 0.4mm. The compact design also includes a viewing pane for those who like to monitor their prints.
There's no leveling required with this printer, which works off wifi and includes free slicing software. The removable and flexible heated build plate takes less than a minute to heat up to nearly 400 degrees Fahrenheit. The nozzle is detachable and with a 45dB printing noise level, you can rest easy (literally) knowing your print won't interfere with bed time.
Pros:
Heats up quickly
No leveling required
Free slicing software included
Cons:
MakerBot Replicator+ FDM 3D Printer – Best Premium
Price: $$$$$
Build Volume: 193mm by 294mm by 165mm
Layer Resolution: ±0.1mm
Compatible Filaments: PLA, bronzefill, copperfill, woodfill
Some cosplayers might prefer to splurge a little when it comes to 3D printing their costume components. If that's the case, check out the MakerBot Replicator+. Did we mention it has an on-board camera with 640 by 480 pixel resolution and a full-color LCD display?
Besides the cool camera feature, this 3D printer also includes a Swappable Smart Extruder+. This extruder can detect jams automatically and pause the print, while also monitoring for lack of filament. The advanced automatic calibration features an automated Z-axis homing build plate that supports a build of 193mm by 294mm by 165mm.
This wireless 3D printer works over wifi and integrates a USB port as well. The unit includes MakerBot Cloud and MakerBot Print, a free computer-aided design (CAD) software so you won't have to convert files to STL format. Plus, there's a front-facing filament drawer so you won't have to move your printer to reload the filament.
Pros:
Integrated camera
Swappable Smart Extruder+
Automatic jam detection and pause extruder
Cons:
Related: See how the MakerBot replicator matches up against the Dremel 3D45.
Creality Ender 5 Pro – Best Beginner
Price: $$$$
Build Volume: 220mm by 220mm by 300mm
Layer Resolution: ±0.1mm
Compatible Filaments: PLA, PETG, ABS, TPU, wood
Sometimes, getting started with a 3D printer can seem like a monumental task. But if you're into cosplay and want to get into 3D printing, we recommend the Creality Ender 5 Pro. It's a great affordable buy that introduces you to the world of 3D printing without complicating life.
The Creality Ender 5 Pro features a silent motherboard that makes printing quiet. A metal feeder extruder and Capricorn Bowden PTFE tube ensure smooth prints and little to no clogging. An open design allows you to get hands-on with your prints as well.
This particular 3D printer has a bed that heats up to 110 degrees Celsius in about five minutes. The build volume is a respectable 220mm by 220 mm by 300 mm, which means you can print larger objects and won't have to piece together small pieces.
Weighing around 30 pounds, the Creality Ender 5 Pro has a removable Cmagnet build plate. To improve accuracy, the Y axis includes a dual shaft motor so the output is more stable during printing. There are dual Z-axis lead screws as well.
Pros:
Silent motherboard for a quieter experience
Open design
Comes fitted with upgrades from the factory
Cons:
Not the most capable machine when it comes to 3D printing
Creality CR-10 Max – Best for Largest Build Volume
Price: $$$$
Build Volume: 450mm by 450mm by 470mm
Layer Resolution: ±0.1-0.4mm
Compatible Filaments: PLA, TPU, ABS, PETG, copper, wood
With a build volume of 450mm by 450mm by 470mm, the Creality CR-10 Max is the best 3D printer for cosplay in 2021 if you're looking for a printer with enough room to house your projects. Besides the large build volume capacity, this printer also makes the most of Creality's reliability and quality.
A sturdy triangle frame, auto-leveling bed, and all-aluminum structure make this 3D printer a solid base for any project. Accuracy on this model is plus or minus 0.1mm, while the layer thickness can be changed to anywhere between 0.1mm and 0.4mm. Nozzle sizes include a 0.4mm and a 0.8mm.
Upgrades to the Creality CR-10 Max that come installed from the factory include a Bondtech dual-gear extruder, a Capricorn PTFE tube, and the BL Touch 16 for auto-leveling. In addition, the motherboard and hotbed are powered separately, so the electromagnetic interference is minimized for a better print. Resume printing also saves your print where you left off in case of an interruption.
Pros:
All-aluminum structure for durability and stability
Capricorn PTFE tube for smooth printing
Dual power supply for reduced electromagnetic interference
Cons:
Best 3D Printer for Cosplay in 2021 Buying Guide
With so many 3D printers out there, it can be difficult to choose between them. Here are a few characteristics you should pay attention to when considering the best 3D printer for cosplay.
Budget
Knowing how much you can/want to spend on a 3D printer is a good place to start. There are 3D printers for practically every budget, from a few hundred dollars to a few thousand. Price typically increases with improved functionality, but that's not always the case.
3D Printer Type
There are actually a couple different types of 3D printers out there. Two of the main ones we've focused on in this article are fused deposition modeling (FDM), also known as fused filament fabrication (FFF), and resin, or stereolithography (SLA). These are two of the most common types of 3D printers used for cosplay.
FDM/FFF
3D printers categorized as FDM gain recognition from the extrusion process. Certain printing characteristics can be found in FDM printers, such as build size, layer height, warping, layer adhesion, support structure, and infill, to name a few. There are also a lot of different filaments you can print with, from PLA and ABS to PETG, PPE, and PEEK.
While FDM printers can't necessarily rival the intricacy resin printers are capable of, they are good for beginners and anyone looking to prototype objects. The post-processing practices that can be applied to FDM-printed objects include sanding, painting, polishing, and smoothing.
Resin/SLA
Compared to FDM printers, resin or SLA printers implement a different process to create the desired form. Rather than melding layers from the build plate up, the resin printer inverts the design to cure resin via a laser into layers from above. Though the layers begin at the same place on the object (the bottom), SLA and FDM printers have their own pros and cons.
One of the best things about resin printers is the ability to remove a lot of the factors that negatively influence FDM printing. Since lasers cure the media, there's not a lot of movement that occurs. Plus, optimal conditions are at room temperature. Did we mention resin printers are light years faster than FDM printers as well?
There are a few drawbacks to SLA printers, however. Any uncured resin has to be removed via isopropyl alcohol after printing is complete and the resin itself isn't necessarily as affordable as filament. Resin printers do cost a bit more but they are that much more capable of producing intricate details that could mean the difference when it comes to cosplay.
Build Volume
If you plan on making small parts that fit in the palm of your hand, most of the printers out there should be more than enough for you. However, if you want to print larger objects, or want fewer pieces to form together when it comes time for assembly, a larger build volume is key.
Material Types
When it comes to cosplay, having objects made from the correct materials could make or break a costume. This is especially true if you can't necessarily replicate the actual material, but want to use a post-processing method to do the trick.
As we mentioned above, both FDM and SLA printers are capable of forming many different kinds of materials. As you look through our list of printers, be sure to note those that are compatible with the materials you're looking to use.
Upgrades and Consumables
As with any hobby machine, 3D printers have a wide array of aftermarket parts, no matter the brand. These parts can improve the functionality of your printer, doing everything from quieting it down to allowing it to print with more success.
Filament and resin are the most obvious consumables, but don't forget about nozzles and build plates. If you're on a budget or stuck between two 3D printers, consider how much it costs to fuel the machines and how readily available those supplies are.
Required Printing Environment
The environment in which you 3D print plays a key role, whether you choose FDM or SLA. One of the most obvious concerns about FDM is the consistency of temperature and lack of moisture. Imbalance in these aspects can wreak havoc on prints. Conditions make a huge difference.
At the same time, the physical environment matters as well. If you're printing multiple and/or large pieces that take hours to complete, having a quiet printer can mean the difference between a good night's rest and staring at the ceiling until morning comes. A stable surface can be a game-changer as well.
Compatible Software
3D printers require software to (a) design an object and (b) render it compatible with the 3D printer. Most 3D printers use computer-aided design (CAD) software to create whatever object you're interested in printing. Slicing programs take that CAD file and turn it into something the 3D printer can understand.
Having access to both of these types of software is key to a successful print. But being able to use the software can be a different story. The best 3D printer for cosplay integrates well with user-friendly software that makes designing and printing a breeze.
Company and Community Support
And when things go wrong and you can't figure out why, the best 3D printers for cosplay also have great customer service lines. There's a lot that's still being discovered about 3D printing, so helpful advice can keep you interested and passionate.
Plus, there's a large community of 3D printers willing to share their tips and tricks. Check out Thingiverse, for example, for free designs you can print on your very own printer. If you create something and want to share it, that platform is a great place as well.
Our Verdict
We chose the ELEGOO Saturn Resin 3D Printer as the best 3D printer for cosplay in 2021. This resin printer doesn't take a hole out of your budget and it can achieve high-quality prints with intricate detail. A 1-year warranty protects your investment. Plus you'll be printing, post-processing, and assembling in no time.
If you'd like to purchase the ELEGOO Saturn Resin 3D Printer, click the links above. That goes for any 3D printer on our list. Give yourself the ability to bring to life the best parts of your favorite universe. What will you 3D print for cosplay?