Nowadays there's no need to purchase an anime figure when you can get creative and make your own.  3D anime figures are no doubt very attractive and aesthetic, but are very pricey. But the good thing is you can create them by yourself and even start a business.
3D printing has made it possible to convert the ideas into reality. This is, in fact, an excellent business idea for the people who love to print 3D objects at home.
In this review, we have listed some of the best 3D printers for anime figures. We have specially created this guide for the beginners as well as the experienced persons who are looking for affordable 3D printers.
In a hurry… Here's Our Top Pick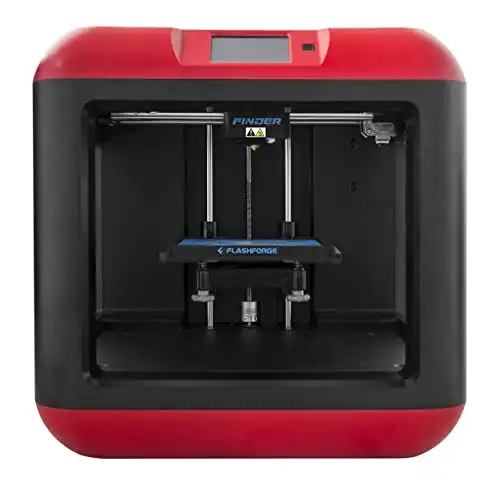 We earn a commission if you make a purchase, at no additional cost to you.
What To Look For In A 3D Printer For Anime Figures?
Before getting started with the review, let's first discuss the things you should look for in a 3D printer for printing authentic anime figures.
There are three main specifications you should consider while purchasing your 3D printer :
Speed
First and foremost, look for the printing speed. Generally, the lighter pens are speedy and easier to work with. Further, look for lower layer height and resolution. Also, for finer details, XYZ accuracy is very important.
Material compatibility
Next thing you should look for is the types of materials the printer works with. Most commonly, PLA is used for display figures but it is a bit brittle. Therefore, a good option will be to work with materials like PETG, PLA plus and nylon for better models. Make sure your printer is compatible with these materials.
Size
Finally, pay attention to the size of the printer. While most of the entry-level and DIY printers come with a compact size, the lack of workspace makes them a bit difficult to work with.
However, for printing anime figures, not much space is required. But still, give priority to the beds that have a bigger printing bed. Also, check if it supports dual extrusion and has a heating bed. The reason is that a heating bed is very important for materials like ABS.
Once you're satisfied with all the required specifications, you can purchase anyone that fits into your budget.
On the basis of these points, we have listed the best and affordable 3D printers along with their features, pros and cons to help you choose the right one!
Best 3D Printer for Anime Figures Reviews
1. Flashforge Finder
First on our list is Flashgorge Finder 3D printer. It is a budget-friendly printer that's not only inexpensive but is also very easy to use. Due to its simplicity, it is mostly recommended for beginners making it one of the best 3D printers for anime figures.
Although it doesn't have a big workspace and doesn't include a printing bed, it is still known for its ease of use and reliability.
Features
Comes with a touch screen and LCD.
Accept 1.75 mm PLA filament.
Doesn't require a heating bed
Supports WiFi, USB and SD card.
Suitable for kids and beginners
Pros
Easy to use
Smart touch screen
Supports WiFi connectivity
Size 6″x 6″x 6″
Cons
2. ROBO 3D R1 PLUS
It is another printer you can go for printing amazing anime figures at home. This printer was selling for a lot more but the good news is the company has dropped its prices.
The biggest selling point of this 3D printer is its large working area, auto-leveling and heating bed.
Also, it works with a wide range of materials like PLA, ABS, nylon and HIPS which makes it a good option for printing anime and action figures.
Features
Volume of 8″ x 9″ x 10″
Works with ABS, PLA, Nylon and HIPS
USB connectivity
Comes with heating bed and auto-leveling
Pros
Print a wide range of materials
Excellent heating bed
Cons
Single extruder
Prone to malfunction
3. Dremel Digilab 3D20
The Dremel Digilab 3D20 is another one of the best 3D printer options for making anime figures. It comes with an LCD screen which makes it very convenient to use.
Any first-timer can easily get his hand on 3D printing with this printer.
Further, it has a decent workspace. Apart from the advanced features, it also provides excellent online support.
Features
Has an LCD touch screen
Works with PLA and ABS
Doesn't have auto-calibration
Has a volume of 230 x150 x140 mm
USB, SD card connectivity
Doesn't have heating bed
Pros
Easy to use
Good quality prints
Excellent tech and online support
Cons
Printing software needs improvement
4. Creality Ender 3
This is perfect for DIY lovers. It has a bigger working space of 11″ x 8″ x 7″. In fact, it is the main selling point of Creality Ender 3.
Apart from a big volume, it also performs very well in its price range. Further, it also comes along an auto-leveling and heating platform.
Features
Easy to use a DIY kit.
Large volume of 11″ x 8″ x 7″.
Works with ABS and PLA
Offers SD card and USB connectivity
Pros
Large workspace
Comes with a heating bed
Offers auto-leveling
Up-gradable
Cons
No LCD touch screen
Lack of temperature settings.
5. ZYXprinting da Vinci Jr.
This printer is not as complicated as its name. In fact, it can be easily handled by your children for making their favorite anime characters. It is a compact, affordable and decently functional 3D printer available in the marketplace.
Expecting a lot from its price range will be a bit unfair. So, be ready to encounter some errors while using it. It is perfect if you're just beginning your 3D printing journey. In fact, one should always begin with an inexpensive printer if you're just starting out.
Features
Comes with a volume of 6" x 6" x 6"
Works with PLA 1.75 filament.
Offers USB and SD card connectivity
Doesn't include heating bed
Pros
Perfect for beginners as well as experienced ones
Kid-friendly
Closed printing structures
Cons
Only works with PLA
Doesn't include any heating bed and auto-leveling feature
Conclusion
There you have it!
These were our favorite 3D printers, especially best for printing anime figures. These are not only affordable but also perform really well. Make the right selection and get started with your printing journey!