When 3D printing first burst onto the scene in the late 1980s, it was a costly process that was mostly available to the industrial complexes. Over the next 30 years, technology evolved and now the best 3D printers offer precision production at a much more affordable price.
That is why many home hobbyists and craftsmen have begun using them. With the boom in technology, the market has become saturated with a wide range of options. Which 3D printer is the right one for you, though?
There is a good reason to feel a little unsure when it comes to making this decision. After all, there are different types and many factors that can affect performance. That is why we created this guide to help you out. Within it, we will discuss what you should look for in a 3D printer, as well as answer some pertinent questions.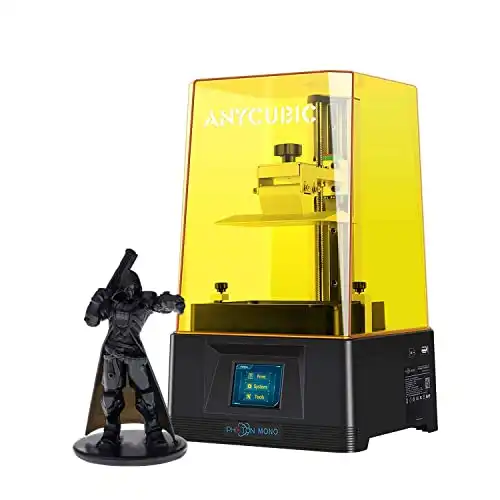 We earn a commission if you make a purchase, at no additional cost to you.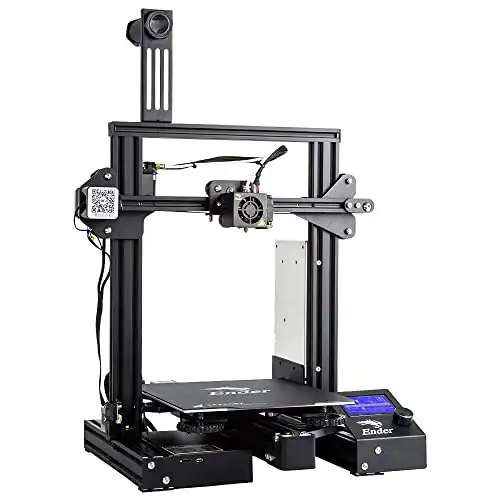 We earn a commission if you make a purchase, at no additional cost to you.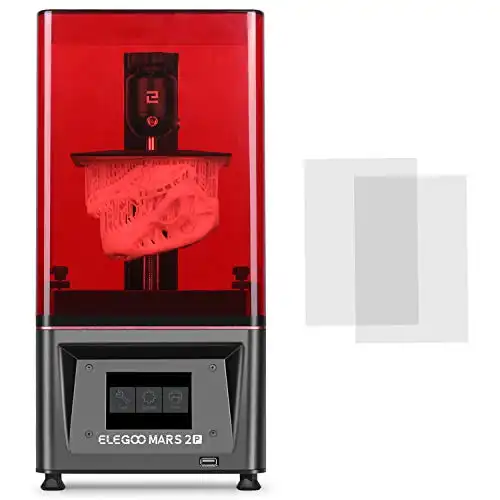 We earn a commission if you make a purchase, at no additional cost to you.
Along with all that, we have taken the time to curate a comprehensive list of the best 3D printers available. Let's dive into the guide, shall we?
Best 3D Printers in 2021
Comgrow Creality Ender 3 Pro 3D Printer
Our first entry is an amazing option for those that are a little more experienced in the 3D printing
game. It does take some manual calibration, but all in all, the team at Comgrow certainly has brought us a high-quality 3D printing option.
Product Highlights
Any time you deal with technology, there are going to be some standard features and attributes that you need to incorporate into the design. These standard features can be enhanced by using high-quality materials, much as Comgrow did with the Creality Ender 3 Pro.
The features and attributes that make this unit standout are:
Comes with a removable build plate
UL-certified power supply included
Designed with a resume print function
Comes partially assembled
40 x 40 axis frame included in the build
Enhanced Extruder design
The Good
When you really look at this simple yet efficient 3D printer, you soon see why it is one of the best on the market. It is an open-source model that gives inventive individuals a chance to improve its functionality. That means it is ever-growing and will continue to offer the latest technology for the foreseeable future.
The assembly is easy, and the use is just as simple. This makes it a perfect option for the beginner printer. Plus, unlike other models, this unit is not bulky, so it will not take up very much room in your workshop.
The Bad
The unit does have some design flaws that we feel you should be aware of. The first is that, unlike other models that offer electronic systems to calibrate them, this one will take manual calibration. This may make it a bad choice for those who suffer from a lack of patience.
There are also issues with the base. This model offers uneven base problems that will require consistent monitoring and adjusting.
PROS
Unit is an open-source model
Easy to assemble and use
Many upgrades are available
Doesn't take up as much room as other models
CONS
Will need manual calibration
Issues with an uneven base
CHECK LATEST PRICE ON AMAZON.COM
ELEGOO Mars Photocuring 3D Printer
This next entry is one of the best resin printers available today. It was crafted with care and uses the full breadth of modern technology. This printer uses UV rays to photocure and is even capable of offline printing.
Product Highlights
Designing a great 3D printer boils down to using premium materials and making sure that it focuses on everything a printer is looking for. The team at ELEGOO felt that meant making sure the following features were included in the Mars Photocuring printer:
Comes with CHITUBOX Slicing software
Designed with a 3.5" color display that is a touch screen
Fitted with 40W UV lights
Platform built with a steel ball balancing system
Uses a 2K HD masking LCD
Fitted with a USB port for offline printing
The Good
Versatility and ease are what come to mind when we look at the features and performance of this printer. The unit is crafted with high-quality materials and designed for durability and enhanced stability. This will ensure that your printer stays where it is supposed to be which will help with the precision of your print.
On top of that, the wide range of resins that can be used with it opens up a world of options that few other models afford you. On top of all of that, it is easy to use and comes with slicing software. Now, it should be clear why we knew it had to be included on our list.
The Bad
No unit is perfect, but there are some that are pretty close to it. This is one of them. With only two major drawbacks, it offers an elevated performance. However, you will have to deal with some odor issues, as well as be okay with a longer print time.
PROS
Easy to set up and use
Durable and stable for long-term use
Offers versatile resin compatibility
Comes with slicing software
CONS
Issues with some odor being produced
Has a slow print time in comparison to other models
CHECK LATEST PRICE ON AMAZON.COM
ANYCUBIC Photon 3D Printer
Anycubic has been centered around producing top-notch innovations both online and offline since 2015. This dedication has produced one of the most often recommended 3D printers, the Photon.
Product Highlights
The Photon is a 3D printer that can be used for making some finely detailed 3D models. In order to give it such an amazing versatility of use, the engineers knew they had to include select features.
These features include the following:
Photon system loaded onto a color touchscreen interface
Ability to preview model, as well as real-time display of the model process
LCD masking screen (2K) for precision detailing
High-performance slicer
Improved resin vat
The Good
There is a lot to love about this printer. The plug and play design of this unit is amazing and will save you a lot of time and frustration upfront. This quick setup means you can begin modeling within just a few minutes, as long as you have all the supplies ready.
It is easy to use and maintain, which is also a great time-saving aspect of the Photon. The ability to print offline is also a big bonus. That way, no matter your internet situation, you will be able to craft your products with ease.
All of those aspects combine to give you a 3D printer that offers a print quality that is far better than many of its competitors. That is the reason the Photon stands out above the rest.
The Bad
There are a few things that we should make known before you go with this as your final decision. The printer is not a great choice for larger products. Other than that, the materials used by this printer are not cheap. Therefore, make sure that you truly need everything this printer has to offer before investing in it.
PROS
Offers high-quality prints
Already assembled when you get it
Maintenance and use are quick and easy
Touchscreen interface is simple to navigate
Able to print when offline
CONS
Offers limited print size
Material used is expensive compared to similar materials
CHECK LATEST PRICE ON AMAZON.COM
Official Creality Open Source CR-10 3D Printer
Our next entry is an FDM printer that is designed for superior performance and precision. The team at Creality 3D has always wanted to deliver the best, and with this model, they certainly have outdone themselves.
Product Highlights
Every team strives to elevate their unit to be the perfect specimen. That is why an open-source unit like the Creality CR-10 is such a blessing. This unit is constantly being upgraded, and this model includes the following features:
Open source unit
Large build space (12" x 12" x 15.5")
Fitted with a Bowden extruder design
Crafted in premium-grade aluminum
Built with a glass bed
Designed with oversized leveling nuts
Made with Delrin plastic wheels
Uses a high-grade lead screw
The Good
If you are looking for a printer that offers superbly rendered fine details, then look no further. This printer will have those wrinkles looking sharp or those clothing details looking crisp. Plus, you don't have to worry about the size of the project because this unit can handle small to large projects.
It is easy to use and maintain. The intuitive control box doesn't hurt, either. These are all reasons that we think you should definitely consider this as one of your potential options.
The Bad
There are a few areas where we feel that this printer could be improved. The first is in regards to the heat bed. This unit's bed takes a bit of time to heat up. This could be frustrating for those who are working with a limited time frame of production.
It is also not great to use with materials that need a steady temp. Things like ABS will not work well when using this printer.
PROS
Able to produce fine details
Works well with large builds
Easy to maintain and troubleshoot
Comes with an intuitive control box
CONS
Will take a bit of time for bed to heat up
Not good to use with materials that need consistent heat
CHECK LATEST PRICE ON AMAZON.COM
Artillery Sidewinder X1 3D Printer
Our last entry is a quiet-running, precision-performance 3D printer that is great for any level of experience.
Product Highlights
This unit was designed with features that are state of the art, all of which were included to ensure optimal results and performance. These features include:
Designed with 3 inductive sensors on the XYZ axis
Features a Synchronized Dual Z system
Built-in thermal runaway protection
Constructed with a noise reduction technology
Large build volume (300 mm x 300 mm x 400 mm)
Able to reach print speeds of 150 mm/s
Direct drive extruder is built-in
The Good
The Sidewinder X1 is one of the best printers on the market today, hands down. Everything from its easy assembly to its interface is designed for optimal performance. The ease of use and precision makes this the perfect all-around printer for any experience level.
The simple-to-use navigation makes loading and calibrating prints simple and quick. The bed heats up really fast, unlike the previous model. Plus, it has a large range of build volumes.
The Bad
There are a few issues that could cause some to remove this from their potential choices. The first is that, when using a micro SD, the menu navigation has a tendency of being a bit awkward to use. Another flaw is that, at higher speeds, you will experience more warping and distorting of the prints.
PROS
Easy to assemble and use, even for beginners
Comes with a nice touchscreen for simple navigation
Bed heats up fast
Large range of build volume
CONS
Menu for navigation can be awkward when using the micro SD
Issues with warping and distortion at higher speeds
CHECK LATEST PRICE ON AMAZON.COM
BUYER'S GUIDE
When you get down to it, there are many factors that you can use to determine if a 3D printer is the right one for you. However, there are some key factors that simply have to be considered when in the midst of your decision-making process. Here are the five that we chose to use when researching our top picks.
Types of 3D Printers
There are many different types of 3D printers to choose from. Here are four of the most common types of 3D printers.
FDM
This type of printer makes models/products by warming fiber and feeding it through a cylinder. Then, the melted filament is expelled through an extruder nozzle into the chosen shape along the X, Y, and Z-Axes. An FDM printer is best known for its flat layer lines and the work required to deliver fine details.
SLA
With this printer, a procedure known as photograph hardening is used to produce your prints. In this process, photons are targeted at a particular point, causing the SLA sap to set. Since SLA printing can be very precise, you can anticipate smooth, top-notch prints with incredibly fine detail.
DLP
Fundamentally, this type of printer works the same way as SLA printing. Both use a vat polymerization system to make each layer of the model. This model uses light, and when the light is focused on a point, the polymers respond by solidifying it into place. Thus, it creates your 3D model.
SLS
These printers make new layers by centering a laser at a point inside a tank of powder. The powder then hardens as the laser moves to the following area. This procedure is perfect for printing complex mechanical parts and very detailed models.
Precision
3D printer results depend on the thickness of layers in microns. A lower micron level implies the printer can deliver tighter and smaller layers. This will deliver a much finer detail in the final product.
Most 3D printers offer a wide range of customization. This can include the ability to adjust your print speed and quality depending on the degree of detail required. That is why this is such a key factor to look at.
Speed
You may feel that quicker is better, but that may not be the case, depending on what you are looking for. It's critical to take note that the quicker a 3D printer prints, the lower the volume capability. Therefore, it is a smart idea to not let speed be the factor that solely dictates your choice.
Opting for a 3D printer that is a little slower is most often going to be the better choice. This is especially true for larger projects that need better detail. However, if you are mass-producing products with little to no detail, speed may be the better way to go.
The choice is all about your intent, so have that in mind as you check this factor out.
Design
When looking at the design, you will first have to choose between the two main builds — open and closed frame. Here is a quick look at each of these two designs.
Open Frame
This design is, as the name proposes, a building with no walls or enclosures. This can be advantageous, as it gives you better visibility of the creation process. It also permits fast access to the printer bed and the extruder. By having access to these components, you can troubleshoot more easily.
Closed Frame
With these 3D printers, the build area is completely encased in some sort of enclosure. The principal thing to note about this design is that they are safer to use — period. Besides keeping you, your kids, and your pets safe from accidentally touching some very hot hardware, this style also decreases odors.
Sooner or later, the plastic smell will get overpowering, particularly if you are working where there is little to no ventilation. Plus, this type of printer tends to run quieter, as well as offer better temperature control.
Features
The last factor you should look at is the extra features included in the design or programming of the 3D printer. Here are some of the features we suggest you look for as a starting point.
Safety features
Resume print feature
Premium quality user interface
Heated bed
Adjustable axis
Slicing software
F.A.Q.
Now that you have some idea of how to choose the right 3D printer for you and your needs, you are ready to begin your process.
Before you do, we have pulled together some of the most commonly asked questions for you and answered them. These answers may just help you narrow down your choices even more.
When was the 3D printer invented?
The wonderful world of 3D printing has its roots in Japan. In 1981, Dr. Hideo Kodama applied for a patent for a rapid prototyping device. This device was designed to use a laser to cure the resin.
Sadly, this patent didn't go through. Fast forward a few years and move across the world to France. Here, a trio of scientists applied for a patent, received it, but abandoned the project due to lack of funds.
Finally, in 1984, an American applied for a similar patent on a photosensitive curing system that used resin.
In 1986, Charles Hull received the patent for his SLA printer and the rest, as they say, is history.
Which 3D printer should I buy?
In the end, deciding on which 3D printer you should purchase comes down to a couple of factors. These include:
Your intent
Your space
Your experience level
Once you have thought about those things, you can use the guide we crafted above. It will help you determine which type and model will be the best for your artistic needs.
What materials can a 3D printer use?
This depends on the type of printer that you decide to go with. There are filament and resin printers.
Filament printers use spools of fiber that are produced using a wide assortment of materials, including:
PLA
Polylactic acid is a plastic created from plant-based materials.
PETG
Polyethylene Terephthalate Glycol is a plastic that is created to be food-safe.
ABS
Acrylonitrile Butadiene Styrene is famously strong plastic.
Resin printers, similar to SLA and DLP style, utilize resin to create 3D prints. This includes:
Regular resin
Tough resin
Resin that is medical grade
How long does it take to 3D print an item?
This is dependent on project size and detail. For a smaller project that doesn't require much detail, you could have a completed print in under ten minutes. On the flip side, if you are working on a project that is larger and requires a great bit of detail, it could take several hours or even days.
How much electricity does a 3D printer use?
Once again, this is dependent on the unit itself. However, on average, a 3D printer will use about 50W every hour.
FINAL VERDICT
We created this guide to help you. Understanding what to look for and having some in-depth knowledge will allow you to find the right printer for you and your needs. Hopefully, this information and selection of the best 3D printers have gotten you to a good place in your decision-making process.