Unless you plan on standing by your printer the whole time, adding one of the best cameras for 3D printing to your set-up can prove to be the most effective way of managing and monitoring your print projects.
After all, most prints take at least a couple of hours, and it's always a good idea to be able to keep tabs on them in case something should go awry.
Of course, while this may sound like common sense to even the most novice of makers, finding a camera that's perfectly set up to monitor those prints can be tricky, especially if you're looking for one with a high enough image quality to allow to you to make stunning videos or time-lapse recordings for sharing with the printing community.
If that's a problem you're currently facing, this guide is for you.
Our Favorite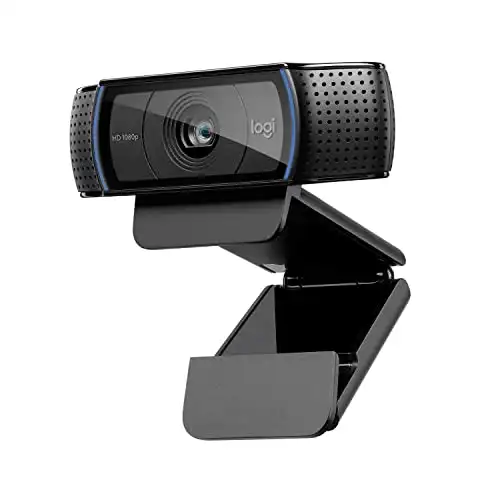 We earn a commission if you make a purchase, at no additional cost to you.
Below, we've rounded up the five very best 3D printing cameras currently on the market and explained precisely why they are the perfect choice for your existing 3D printer setup.
And if you read those reviews and still can't decide which one to buy? Don't worry; we've also included a detailed buyer's guide outlining all of the features you'll need to consider to ensure you purchase the one camera that's just right for you.
Top 5 Best Cameras For 3D Printing 
1. Logitech C920x HD Pro Webcam
Ask your fellow makers to recommend the best camera for 3D printing, and it's inevitable that the Logitech C920x HD Pro Webcam will turn up in the conversation sooner rather than later.
This is mostly due to the exceptional resolution quality. The Logitech monitors and records in crystal clear 1080dp at 30 frames per second (FPS). 
On its own, this makes the C920x a worthwhile purchase. After all, while there is a multitude of 1080dp cameras out there, most of them shoot at such a low frame rate that the resulting video quality is choppy at best and simply poor at worst.
With this one, that's simply not the case. Both streaming and recorded videos are smooth, crisp, detailed, and colorful.
The same goes for any still images you shoot, which -along with the excellent 78-degree field view- is why so many 3D printing pros also recommend the C9020x as the perfect choice for recording time-lapse videos.
Still, exceptional quality isn't the only thing this model has going for it.
The camera is also praised for its mounting options, with a built-in tripod mounting screw that makes it effortless to attach your camera to various printers or separate tripods.
Add in a much-welcomed motion detection feature that automatically starts recording when it senses your printer kicking into gear, and there's no question that this is the best camera for 3D printing currently around today.
Pros:
Compatible with OctoPrint.
Features variable focus with an autofocus option.
Features HD lighting adjustment and autofocus to ensure vibrant, sharp images in any environment.
Cons:
More expensive than other models.
The 1-year warranty is limited.
2. Microsoft LifeCam HD-3000 For Business
The Microsoft LifeCam HD-3000 for Business comes highly regarded as one of the best 3D printing cameras for beginners.
This is partly due to the cost. While this isn't the cheapest camera in our guide (we'll come to that next), it is still incredibly affordable, making it the perfect choice if you're just starting out and aren't quite ready to go all-out with expensive equipment.
Still, it isn't just the price that makes the Microsoft Lifecam such an ideal beginner-friendly model; it's what you get for that price.
Namely, you get a set-up and operating process that is just about as easy as you're going to get, ensuring you'll have no problem getting started with monitoring and recording those projects in no time.
In terms of technical features, the 720p resolution may not be the greatest compared to other models, but the combination of a 16:9 wide-angle record that helps you to capture your entire print area and a handy 4x zoom feature does ensure that you get consistently good images time after time.
Finally, we're also big fans of Microsoft's TrueColor feature, which ensures your colors remain bright and vibrant, even under difficult lighting conditions.
Pros:
It comes with an extensive 3-year warranty.
It comes with low light auto adjustment.
Allows for sharing from social media directly from the camera.
Cons:
Lower resolution than other models.
Doesn't come with a tripod holder.
3. Arducam Pi Camera
If you're looking for the best budget-friendly camera for 3D printing, the Arducam Pi Camera may well be the one to go for.
Clocking in at just a fraction of the price you'd pay for other models, this low-cost camera may be small, but it certainly packs in a lot of quality.
One of the few cameras designed specifically for 3D printing, the Arducam Pi is -as the name suggests- perfectly compatible with Raspberry Pi and the ever-useful OctoPrint software as well as OctoPi, Raspbian, and MotionEye, all of which allow for effortless, detailed monitoring and control of your print projects.
The camera itself is particularly impressive, especially at this price range. The camera records 30 FPS at 1080p, with a maximum of 8 megapixels, meaning you're always pretty much guaranteed high-quality images in any environment.
On the downside, the Arducam Pi does lack any official mounting equipment, but since it's one of the most widely-used cameras in the world of 3D printing, it's no surprise that inventive makers have come up with a host of third-party solutions which help make mounting that much easier.
Add in a small, lightweight design, a high-caliber fixed focus, and the all-important ribbon cable to connect to your Raspberry Pi, and you'll find it harder to get better value at this price.
Pros:
It comes with a choice of motorized or stock lense.
A large user base means plenty of options for support and advice.
Small, compact design.
Cons:
It lacks an official mount.
It doesn't have a wide enough depth of field to record larger printers.
4. GoPro HERO7 
From the least expensive to the most expensive next. The GoPro HERO7 undoubtedly costs a pretty penny yet delivers a superior quality, which will more than justify the cost for some makers, especially if you're looking for the absolute best image quality possible.
Since it's designed primarily for action sports, the standard of video and still images is superb. It offers 4K resolution video at a rate of 240 FPS and stills of up to 12 megapixels.
Elsewhere, we like the fantastic video stabilization feature, which ensures you're still going to get super-smooth, cinema-quality footage even when recording at the highest setting.
Pros:
A great choice for recording time-lapse videos.
It comes with a spare battery and case.
Voice-activated.
Cons:
Costly price tag.
It can be more challenging to mount.
5. WYZE Cam v3 with Color Night Vision
Last but not least, we come to the WYZE Cam v3 with Color Night Vision, a camera which, on the surface, may not seem all that special yet comes with a couple of incredibly useful features which more than earns it a place in our list.
Sure, the 1080p/30 FPS image quality hardly sets it apart from others on this list, but the very useful night vision mode certainly does.
Let's face it; whether you're using your favorite Delta 3D printer to make a larger-than-average product or using another printer to create those highly detailed anime figures, some projects are just going to take all night to finish.
When they do, you want to be able to still monitor them even in the dark, and this handy feature ensures you'll still be able to see everything in crystal clear detail, even if it's the middle of the night.
In addition, we love that the Wyze is voice-activated and fully compatible with both Amazon Alexa and Google Assistant, so you'll be able to get quick audio updates about just how your project is doing without having to venture back into your print room.
Pros:
Low cost.
It comes with 8x digital zoom.
Records to the cloud as well as SD card.
Cons:
Night vision is ineffective through glass.
Not as stable as other cameras.
How To Choose The Best Camera For 3D Printing: A Buyer's Guide
 
By now, you've read all about the five very best 3D printer cameras currently on the market, but if you're still struggling to determine which one is the best option to spend your hard-earned money on, the following buyer's guide should help.
Below, we've outlined all of the key features that you should be looking for when picking a camera and how each feature is likely to determine which model you ultimately buy.
Resolution
As with any regular camera, image resolution is going to be a major deciding factor when choosing which product to purchase.
That said, opting for the very highest resolution may not always be necessary, depending on what you plan to do with that 3D printer camera once it's set up.
Sure, if you want to make some of those awesome time-lapse videos or otherwise publish high-quality images to document the print process, then a high resolution is absolutely essential.
In this case, you'll want to be looking for at least 1080dp, though for even better quality, a 4K resolution print camera will be even better.
If you have no intention of doing any of that and only want to use your camera to check how your prints are doing, then a lower resolution may suffice. That said, 1080dp will still give you a much clearer vision of what's happening.
Raspberry Pi Compatibility
It's no secret that Raspberry Pi is the preferred hardware solution among makers everywhere as it's the simplest and most practical solution for monitoring and managing most of the best 3D printers.
It also makes it much easier to use popular software such as OctoPrint.
As such, looking for a 3D printer camera with Raspberry Pi compatibility will make your life that much easier when it comes to getting on with your next project.
Focus
The majority of cameras will either come with fixed or variable focus, and the one you opt for will largely be determined by exactly what you want to do with your camera.
A fixed focus model will offer a crystal clear view of your entire project and will prove to be a great option for general monitoring and creating documentation of your whole print.
However, if you want to check on or record the printing of specific details on your model, you're going to struggle to get a good view without going through the arduous process of moving the camera itself.
Meanwhile, a variable focus camera will prove much better at honing in on those fine details, albeit with the risk that a poorly adjusted focus will hinder the print quality.
Mounting Options 
Before you even begin to use your camera, you'll need to be sure that it's mounted in such a way as to give you the perfect view.
Spend time looking around, and you'll find that the most popular mounting options are those which mount directly onto the printer itself and those which attach to a separate tripod positioned outside the camera.
Again, the one you opt for will be determined by your own needs and preferences.
Mounting onto the printer itself will give you a closer view of the actual print and is ideal for simply keeping an eye on the print process in precise detail. In contrast, a tripod-mounted option will give you an overall image that includes the printer itself.
If you pay attention to the reviews above, you'll see that many of the best 3D printer cameras come with multiple mounting options, giving you the freedom and flexibility to set things up exactly as you want it to be.
Brand Recognition And Popularity
When buying a piece of high-end equipment, opting for a model from a reputable brand is always important.
Doing so will often afford you the peace of mind that comes from knowing you're getting a high-quality product from a trusted manufacturer, and also means that you're more likely to have better access to things like customer support and money-back guarantees if things don't work out.
That said, when it comes to printer cameras, there's an extra reason for choosing a well-known model.
The truth is that very few cameras are designed specifically for 3D printing. Most of the time, they'll have been designed for a different purpose and then adopted by the 3D printing community thanks to their suitability for monitoring and recording prints.
That means that while the manufacturer of your product may be able to offer general customer support about the camera features themselves, they'll be less well-equipped to offer any advice specific to 3D printing.
The good news is that the 3D printing community is incredibly supportive, so as long as you have a camera that is both well-known and well-regarded in that community, you'll always have other makers to turn to for print-specific troubleshooting and advice.
Frequently Asked Questions About 3D Printer Cameras
How Do I Connect My Camera To My 3D Printer?
Almost all of the best cameras for 3D printing come with a USB cable that simply connects to your printer. All you'll need is a tripod or other mounting attachment to hold it in place.
Can You Use A Smartphone To Monitor 3D Prints?
Absolutely. Digital apps such as EpocCam can be used to turn any compatible Android or iPhone device into a handy 3D printer camera.
What Does Octoprint Do?
OctoPrint is an open-source application that allows you to monitor and control your 3D prints. Along with showing you a visual of the print in progress, it also displays the print status and other key statistics so you can better keep track of your work.
What Is The Best 3D Printer Camera To Buy? Our Verdict
As you'll no doubt have deduced from the reviews above, any one of our top five products could technically be considered to be the very best camera for 3D printing, depending on your personal needs and requirements.
If you're used to printing overnight but still want to keep a close eye on your printer's progress, the night vision and voice activation features of the WYZE Cam v3 with Color Night Vision make it a perfect choice.
If you're looking to spend as little as possible, the high quality and low cost of the Arducam Pi Camera will undoubtedly hold plenty of appeal.
However, if your top priority is getting the all-around best 3D printer camera money can buy right now, look no further than the Logitech C920x HD Pro Webcam as the high-quality recordings, low cost, and excellent mounting options make it a clear winner.