Choosing the right filament for your project can leave you scratching your head and questioning the different options. Deciding on which material to use when you need to print is just the first decision you have to make.
Based upon how you will use your print, where it will be stored and if it will be moving frequently all play a factor into what type of filament you need. For many prints, that question is answered with nylon filament.
Once you have decided that nylon is the material that you need for your printing, you have half of your problem solved.
Choosing the best nylon filament for your needs is the other half of the dilemma. With so many nylon filament options available, this can be a daunting task and one that requires a thorough review so that you have the most success when you choose and finally start printing.
Before you can make this decision, you need to have a thorough understanding of nylon filament.
Our guide to the best nylon filament available will be sectioned off into the following to ensure that you know everything there is to know regarding nylon filament.
Best nylon filament on the market
What is nylon filament?
Benefits of the best nylon filament
Cons of nylon filament
Types of 3D prints that use nylon
FAQs regarding the best nylon filament
Are you ready to decide on nylon filament
Best Nylon Filament on the Market
If you are looking to purchase nylon filament soon, there are a few options available that are considered the leaders in nylon filament and will get you the most for your money.
ColorFabb PA Neat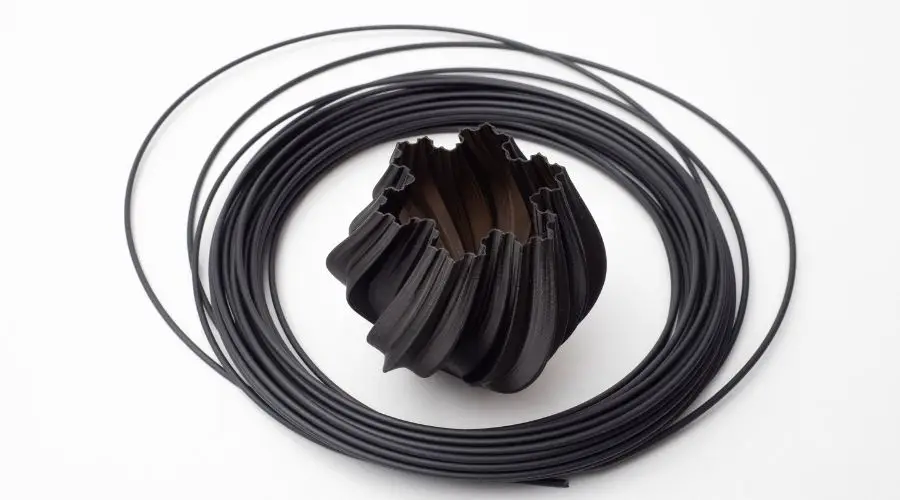 Looking to change the look of nylon filament and fight its tendency to warp, ColorFabb PA Neat is growing as one of the top filament options by industry experts. Because of its low warping properties, it is sought after by companies looking to make large prints and use those prints in action.
It has a higher heat resistance than most nylons, allowing it to perform all the way to 248 degrees Fahrenheit. You can choose to have a diameter of 1.75mm or 2.85mm, depending on the thickness you need.
In terms of affordability, this filament is on the higher end of the best nylon filament options and is often purchased by those who have a larger budget than most.
Nylon Filament by Overture
If you want nylon that has no smell or odor, then Overture's nylon filament may be the route you want to go. It does only have the black color, but it also guarantees no warping. When you receive this nylon filament, you will also receive storage back to protect it from moisture, keeping it sealed away until you need it again.
According to the manufacturer, it has an accuracy of 0.05 mm, and a heavy weight toff 1 kilogram.
While this nylon filament is not as costly as the ColorFabb, it is still higher than some of the other nylon filament options out there with cost.
Taulman3D Nylon Filament
If you need a budget friendly nylon filament that will give you a strong printed piece without breaking the bank, then the Taulman3D Nylon filament may be just what you need for your next purchase.
The weight of this nylon is over 2 pounds, giving it the strength that nylon filament is known for. It can also be used on any 3D printer, making it one of the more versatile nylon filament options out there for printers.
This particular filament is one of the preferred for the healthcare industry, used for different nylon essentials in the hospitals such as gloves and hairnets.
SainSmart Nylon Filament
Strength is at the core of the Sainsmart nylon filament that you can purchase online or through your 3D print supplier. Like other leading filaments, it has that desirable diameter of 1.75mm but its strength lies in its secret component; carbon fiber.
Together, a nylon filament that is one-quarter carbon fiber changes the strength and durability game significantly compared to other filament options.
On the downside, the price of this filament matches its quality, putting it at the bottom of the affordability list.
However, when you replace parts for your equipment with this nylon filament, it will be a long time before they need to be replaced again. It is ideal for prosthetics because it has a much shorter shrink rate than its counterparts.
If you do decide to make this purchase, make sure that you purchase stainless steel nozzles for your 3D printer because the carbon fiber will eat away at the brass.
LulzBot Taulman Alloy Nylon Filament
Get a filament with one of the largest diameters at 3 mm when you purchase the LulsBot Taulman Alloy Nylon Filament. Unlike most filaments, this reel comes in a natural color and is easy to use for beginners.
It is much stiffer than other nylon filaments thanks to its diameter, preventing it from bending easy and making it one of the best to use when printing.
It is a little more on the costly side, but if you need a successful print and just starting out, this filament may be right for you.
What is Nylon Filament?
One of the more common filament options for 3D printing, being able to find and use nylon filament is pretty easy. Nylon itself is a material that is composed of synthetic polyamides. When it is in its natural form, it has a feeling and texture similar to silk, which is smooth and allows it to be the base for a variety of things.
It can be used in so many things that you use, wear, drive, and walk past every day.
Once 3D printing became an option for manufacturers everywhere, it became essential to use nylon, something they had been using for years to continue creating and printing on because of its qualities.
It is readily available in most supply stores and online. Because nylon is a common material that has a variety of uses, the filament itself can be different based on several factors. When you are looking to use nylon filament for your print projects, it is critical to keep in mind that not all nylon is created the same.
Nylon filament is so popular that is used in private 3D prints and also commercial for large mass-produced prints. While nylon is pretty popular and definitely a dependable option, it is not always the best. The pros to nylon, however, are pretty significant.
Benefits of the Best Nylon Filament
When you choose nylon for your project, there are a few things that you can count on for it to do and do well. Nylon has been used in the past for creating so many different things that are used daily, which is why when 3D printing came around, it was a no-brainer to add it to the material list for filaments.
Easy to Use
So, not everyone is a 3D printing master. In fact, you may just be getting your bearings in the industry, or have spent some time around a 3D and know what you are doing. Whether you are new or experienced, you are most likely going to comment about how easy nylon filament is to use. There is not a need for either a heating bed to prepare the filament or a cooling bed after the print job is done.
No matter what you need to print, the nylon also has the ability to be molded into any position, shape, or thickness to fit your needs. Not all filaments have this flexibility and even have size restrictions. With nylon filament, this is not the case and is why many choose it, even among the other options.
Print Quality
If you cannot get the quality, detail, and smoothness for your prints, why even bother? With nylon, your prints come out much smoother than with other filament options and showcase the details in your print. In order to maintain your nylon's quality when it is printed, it should always be stored in an area that is dry without any potential to hold moisture or humidity.
The nylon finishes off the surface of the print with a sealer that needs no additional action. It is essential self-sealing and has an adhesive layer that allows it to mold to the print. This can reduce shrinkage on your print and keep it close to size, maximizing the overall print quality.
Moisture Absorption
Most nylons, no matter how good or bad the quality, are hygroscopic, and take in any moisture around them. This is why it is critical to keep it in a dry area when storing so that when it prints, the only moisture it is taking in is from the ink. Being able to paint on a printed model made of nylon is one of the easiest things that you can do.
Flexibility
When you need to do a 3D print and your final print will be used frequently in motion, you need a filament that is flexible. With nylon, you can get the flexibility you need so that once it is dry, your final print will be able to move as needed. This is why many manufacturers opt for nylon filament for operational parts like gears and other moving parts that have a job to do, creating heat friction and just moving consistently.
Durability
If you need a filament that is strong and can last any length of wear for a period o time, then nylon is the right option. Being able to break nylon compared to other filament options is difficult because it is durable and has the strength to withstand excessive use and exposure to elements that can break down a filament also. Other filament options like PLA and PTEG are more common, but their durability when it comes to nylon is no match at all.
Affordability
Unlike many of the other filament options for 3D printing, most nylon filaments are affordable, even if they are on the higher side of the budget. Nylon is pretty easy to develop, so even if you want to spend a little more on a higher quality with less odor and more durability, you are still not out at much as you would be with some of the other options.abs
Cons of Nylon Filament
Despite all of the different things that are great about nylon, there are some cons that you need to be aware of before you decide on which nylon filament you will be using for your print. There are some products that are cheap and not as safe or dependable as others that have been developed and have your best interest in mind when you go to use them.
Nylon Tends to Warp
One of the greatest things about nylon is its versatility to be molded into anything at all. This also has a downside, because it can bend if it is pressed incorrectly or make a bend during the printing process. This is enough to through you off of your success and can be very visible in the final stages.
If it has not been stored properly, it will often start to warp before you even use it in the print, so you know ahead of time that the quality will not be exactly what you are looking for. This can lead to you needing to purchase more filament and affecting your overall budget.
Absorbing Moisture
Yes, this was also on the benefits list, but there is also a downside to this benefit. Nylon being hygroscopic is an example of too much of a good thing. If it absorbs too much moisture from outside elements or anything that is not related to the print, it will not be able to absorb everything it needs when printing. This will impact the overall quality of your print. Sometimes nylon absorbs the moisture for long periods of time because it is stored in an area that does not have centralized air or a moisture build-up.
Not The Most Eco-Friendly Option
There are some filament options out there that are ideal for the environment and do not cause any harmful effects to those around them. Unfortunately, nylon is not one of them. Nylon is made with chemicals and actually releases fumes that are not ideal. When someone is printing with nylon filament, it will make the entire room smell where the printer is. Also, even months after the print has been done, the smell of nylon still lingers around the part or piece that was printed.
In addition to being harmful to the environment, they seem to have a negative effect on those who are working closely around the product once it is printed. Being around this nylon has been known to make them feel fatigued and keep a constant headache.
The headache usually starts shortly after the exposure and lasts until that person leaves the area and is free from the nylon. While the temporary exposure has some side effects, long-term exposure is expected to take an even larger effect on your body and could result in a more serious condition over time.
Specific Storage Needs
As previously mentioned, the nylon needs to be stored away from moisture. In order to truly keep its quality, keeping your nylon stored in an area that is air-tight and away from others is essential. This is not as much a con as it is a nuisance, especially if your space options are limited, and it is difficult for you to provide this type of environment while still needing to use the nylon.
Types of 3D Prints that Use Nylon Filament
Now that we know nylon is used for a variety of different things, there are a few examples of nylon parts that are printed regularly and used because of the benefits of nylon filament. Some of the things you are using right now may be made of nylon or have some version of it that has been replaced with nylon filament thanks to 3D printing.
Mechanical Parts
That's right. Whether you need a part for a machine at home or you are a manufacturer needing to replace multiple parts, nylon will show up and print the part you need It can be molded to have each and every groove that you are looking to include so that it fits accurately with other parts as though it were the original.
Hinges, nuts, and other moving parts that need to be replaced when they are stripped and worn out can also be made from the use of nylon filament. They can be printed to fit any size and shape, which is great if you have equipment or furniture that is out of circulation, and you cannot find the bolts or nuts you need for it.
Cable Ties
Being able to have quality cable ties that are both flexible and durable means that nylon is the right filament option. These are some of the strongest items to have around. You never know when you are going to need them and once you use them, you cannot get them off unless you cut them off. Their durability compared to other restraints is relentless. These nylon cable ties are able to last for a long time and make them highly desirable around the house or on the job site.
Toys
Some of the most popular toys that are used and printed for children have a foundation in nylon. In the past decades, you could tell the nylon was being used by the smell, but with more odorless nylon out on the market, it is easier to hide the nylon. Right now, fidget toys are all the rage for kids of all ages, and they are all made from nylon filament. Whether it is the simple dimple, pop it, or fidget spinner, it was once a design on a 3D printer that was printed on high-quality nylon filament and then distributed to your home.
Even the pet toys you have purchased for your pet in the most recent years are made from nylon filament. Your dog's favorite chew toy or tri star that they beg you to throw for them is nylon-based. These pet toys are often blended with rubber, but the amount of nylon is significant. With some of the higher-quality nylon options, these toys are safe for your children and for your pets.
Clothing
Using nylon in clothing is all too common in today's market. It is found in everything from fancy outerwear and business casual prints to comfortable jogging pants and shoes that are worn daily. Because there are safer nylon options available, it is safer to have more nylon around and wear it without significant health risks. Fashion rain boots that have various designs are also made from nylon. Nylon is most often found in rain jackets, and other water-resistant clothing to deter water from getting into the jacket or pants.
Healthcare Items
Working in the medical facility, there are some items that are needed for each patient that needs to be readily available, disposable, and affordable. With nylon, many of the hairnets, gloves, bean bags, nylon pouches, hampers, and surgical sutures used in healthcare facilities everywhere are made from these very same filaments that are used for other things. Nylon allows medical facilities to maintain their sanitation codes by offering these items in mass and at affordable rates so that they can dispose of and keep to their patients without interruptions.
Household Tools
Need a new hairbrush, holders, or even some durable pipe cleaners for your crafts? Nylon filament is able to make and construct any of these items that you need. There are so many things you have looking around your home that can be replaced with a nylon substitute, or you are using the nylon version now.
Art and Statues
Do you have beautiful 3D statues around your home that can be dropped but not break? It is most likely a nylon replica. Its durability and affordability allow the art to be produced in masses so that it is affordable. It is also ideal because it takes a lot to make it break, which is a great feature for homes with pets, small children, or just clumsy adults.
FAQs Regarding the Best Nylon Filament
There are a few questions to keep in mind when it comes to nylon filament. Those who are just getting started or may have worked with other filaments may have questions surrounding nylon and how it works when printing.
I stopped printing with my nylon filament hours ago, and I can still smell the nylon. Will it go away?
The severity of the nylon smell will start to wear away with time. After a few days, you may not even be able to notice the smell when you are around your print. However, if it get directly on the print, you will still smell hints of the nylon. It will not always go away altogether unless your print becomes old and the smell starts to wear.
Why do nylon filaments have different prices?
Although nylon filament is advertised as one of the most affordable filaments for 3Dprinting, you may find that different spools of filament have different prices. This varies based upon the brand and the quality of the nylon that the company is selling. Not all nylon is the same quality, so if you want a high-quality nylon filament for your piece, you will have to pay a little more than the bottom dollar at least.
If my nylon filament is odorless, will I still get side effects from being around the nylon?
Since better quality nylon has entered the 3D printing market in recent years, this question has started to surface more frequently, and considering the overall concerns of nylon and general health, it is a valid question. This nylon has often been stripped of some of the chemicals used in the odor, which means it is a little safer than cheaper nylon that still uses higher concentrations of those chemicals to make. Unfortunately, nylon is still not as safe because it is made and not an organic product.
I am new to 3D printing, is nylon filament right for me or should I start with something else?
You do not have to start with a different filament unless you just want to do so. Nylon filament is ideal for beginners, especially when they have learned about the pros and cons of nylon and know how to properly store it before using it for the first time.
Are You Ready To Decide On Nylon Filament?
Now that you have surfed through the guide for the best nylon filaments, you do have a few options to consider moving forward. If you know that nylon is the route you are going to take, consider different factors such as strength, durability, flexibility, and warping to determine what type of nylon you need for your next print job and make a purchase.