The best Delta 3D Printer allows you to make those creations and designs you've dreamed of a reality. The Delta models tall, quick, and simple to use, making them a favorite for artists and businesses. The printers come at various price points, offering options for everyone, whether you're a beginner or a professional user.
Choosing the best Delta 3D printer for your needs can be complicated, so we have compiled a list of the best options on the market and what to look for in a 3D printer.
Let's get started!
Reviews of the Top 7 Delta 3D Printers
Take a look at the following reviews for the seven best Delta 3D printers that will make you fall in love with Delta 3D printing.
This Delta 3D printer encompasses three things you'll love; It is fast, efficient, and easy to set up. The FLSUN SR is one of the larger Delta printers on this list, with an impressive 260mm by 330mm work surface. An all-metal structure gives this model complete stability and a solid feel.
This model comes with a small touchscreen that is magnet-attachable to the printer frame. You can take off the screen and move it around, but it remains attached to the SR with twisted elastic cords. The 3.5-inch size of the screen is not the largest, but the ability to move it around may be helpful for some creators.
The Super Racer offers an impressive maximum speed of 200mm per second, but the default speed is 150mm per second. A Bowden type two-drive extruder allows a reliable and stable flow of filament to the hot-end. The dual-drive system prevents issues such as jamming to ensure even feeding.
The FLSUN SR textured platform provides firm adhesion without using glue while allowing prints to peel off easily after cooling down. Platform heats to 100 degrees Celsius, enough for most filaments you will use in this printer. Plus, an auto-leveling feature makes sure you do not have to worry about shifting.
This SR model also has a hot-end volcano. The feature offers efficient and fast filament melting, providing enough molten filament for the SR's high print speeds. Using the hot end to experiment with different nozzle sizes and flow rates is the perfect opportunity to be more innovative in 3D hobby printing.
Pros
Large print capacity
Auto-bed leveling
Fast
Movable touchscreen
Filament detector
Print resume function
Cons
Small 3.5-inch touchscreen
No Wi-Fi printing or connectivity
Loud
Large
The FLSUN SR is an excellent option for the home or hobby creator looking for a fast Delta 3D printer. It is a robust unit that works well for professionals who want to create a few prototypes of small objects.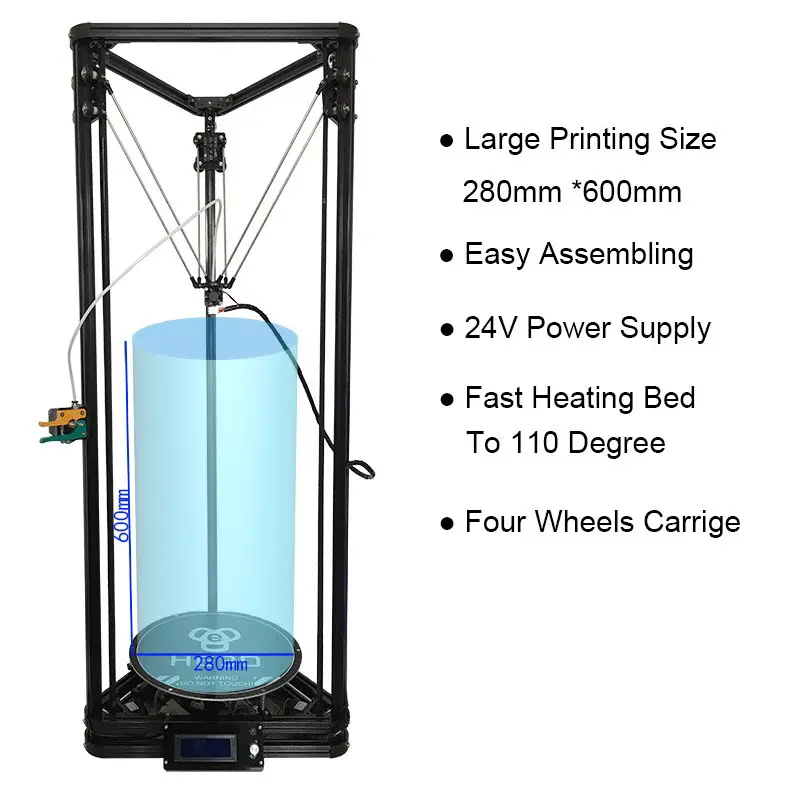 When working with massive prints, you need a bigger Delta 3D printer than most on this list. The K280 from HE3D is the ideal printer for big printing jobs. It features an aluminum and steel alloy build for strength and acrylic supports for stability. The overall structure ensures you get precision prints when building tall volumes.
The HE3D K280 comes as a kit for home assembly. However, it can be time-consuming because of the many parts involved. While the manufacturer includes instructions in the kit, the HE3D customer support can walk you through the assembly process.
This printer has an upgradeable extruder capable of supporting materials like flexible rubber. The extruder can handle high temperatures of up to 260 degrees Celsius, so you can work with materials such as nylon, PVA, ABS, and PLA. A built-in auto-Z calibration system allows automatic bed-leveling before each print job.
An included four-wheel carriage system controls the axis movements for added precision printing, stability, and error-free prints. A combination of a control board, LCD interface, precision motors, and dual print heads paves the way for ultra-high quality printouts.
This HE3D model can heat to 110 degrees in two minutes, so you can get started quickly. The Delta printer comes with lifetime support and a detailed video guide on the assembly and use of the product.
Pros
A large printer on a budget
Versatile and sturdy
Connectivity options of USB and SD card
Lifetime warranty
Prompt customer service
Compatible with Mac, Linux, and Windows
Cons
The initial assembly is time-consuming and complicated
Loud rattling sound
Fully customizable features and a robust design make the HE3D K280 Delta 3D printer perfect for huge prints. It is the ideal tool for design professionals and engineers who produce large projects.
Featuring a low price compared to many Delta printers on this list, the FLSUN Q5 is easily one of the best units on the market. The unit arrives in a small package, partially assembled. You will need to make a few adjustments before working, but the instructions included are straightforward and will have you printing in no time.
A TFT touchscreen acts as the single interface for reading and controlling all the Q5 features and settings. The interface comes in multiple languages. A glass lattice heat bed heats to 110 degrees Celsius, so you can work with PA, ABS, and other materials. The auto-leveling bed uses an auto-calibration system to adjust levels while printing.
An included Titan extruder is stable and works well to offer precision prints. A max heat of 270 degrees ensures uniform printing and smooth extrusion. Removing your printed product from the base is easy because of an instant cooling system.
The built-in cooling system also helps prevent the printer from overheating, but the fan can be noisy. This FLSUN Q5 Delta 3D printer will pause your printing and resume after power failure to avoid unnecessary material and time wastage.
The Q5 is a mini Delta printer with a print range of 200mm x 200mm, which is inadequate for larger projects. However, it is small for your smaller projects, such as making coffee coasters or bed levelers.
Pros
Easy to use
Auto-leveling base
Sturdy construction and operation
Affordable
Impressive cooling capabilities
Cons
Provides one-color prints
Long print times
Poor tech support
This FLSUN Q5 Delta 3D printer is an impressive option for students and first-time buyers. It packs a good range of features for its price range.
If you are on the lookout for a compact and sleek Delta 3D printer, the Monoprice Mini v2 is an excellent pick. The model also has a handle for easy carrying around. This unit is pre-assembled and ready for printing jobs after unboxing—after a few adjustments.
An anodized aluminum frame and all-steel build ensure durability and strength for years. This mini Delta has an auto-calibration feature for continuous bed leveling while printing, a helpful feature for beginners who find it hard to level printer beds before printing. You also don't need to use feeler gauges or hex keys to level the bed during the setup process.
The maximum build area of this compact printer is 110mm by 220mm. A Bowden extruder supports temperatures ranging from 180 degrees through 260 degrees Celsius, accommodating a wide range of materials, including PETG, PLA, and ABS.
This Mini Delta earns extra marks for using TMC2208 silent drivers, but a loud fan dilutes the silent operation gains. Print quality is as you would expect from a compact unit; complex objects do not come out as well as you might want. However, the overall printing experience is pleasant.
Other specs for this model include a 3.2-inch TFT color touch screen, 20 to 150 mm/second print speed, and a 100 to 400-micron layer resolution. The FLSUN Mini v2 Delta 3D Printer costs a bit more than some of our picks here, but it warrants the extra price tag because of its feature set.
Pros
Wi-Fi, USB, and MicroSD card connectivity options
Compatible with Mac and Windows operating systems
A full-metal body
Auto-calibration feature
Compact and portable
Cons
Slow speeds for a Delta printer
Poor print quality
Small build volume
The Monoprice Mini Delta v2 printer is an excellent option for a beginner or a family.
Another product from FLSUN, the QQ-S-PRO, boasts printing speeds up to 120mm per second. The printer offers you such speed with a printing layer thickness of 0.15mm.
The high-strength lattice bed has a composite coating that allows fast heating, a characteristic that you require improving print speed. The bed requires leveling once to prepare it for 3D printing. A titan extruder features an efficient design for smooth feeding of filament.
This QQ-S-PRO has a 0.4mm extrusion nozzle that holds 0.3 and 0.2mm nozzles for more delicate prints. The extruder can withstand temperatures up to 270 degrees Celsius, so printing with wood, PVA, PLA, and ABS is a breeze.
A 32-bit motherboard allows stable printing and manufacturing even at high printing speeds and temperatures. The printer comes with a filament detection feature and automatically turns off after printing your functional prototype or part.
The stainless steel construction of the FLSUN QQ-S-PRO does not permit wobbling for accurate printing, even at high speeds. Operating noise is fewer than 50 decibels, which is less than the 60 decibels of regular conversations. So the printer is suitable for your home and office use. However, there is no enclosed printing chamber.
Pros
Easy and timesaving assembly and handling
Fast printing
Easy leveling
High-quality touch screen
Adjustable height
Capable of printing intricate details
Quiet and seamless operation
Cons
Issues with the thermistor
Not suitable for beginners
The FLSUN QQ-S-PRO Delta 3D printer is an excellent professional-grade unit that will not break the bank. It comes with several features that help professionals get work done.
Finder is a nifty compact Delta 3D printer complete with various features and exceptional simplicity. As such, this is a strong contender as the best 3D printer for first-timers. The cuboid design of the printer has smooth edges, contours, and a tasteful array of blue LED strips that illuminate the build area.
The FlashForge Finder works only with non-toxic PLA, so you don't need to worry about the associated risks and toxic fumes that come with using materials such as ABS. All heated elements on the unit are covered to prevent accidents and wires hidden away.
This model comes with a 3.5-inch touchscreen that is easy to use and clear. Integrated Wi-Fi capacity means you can choose prints and send them to the printer wirelessly. Plus, it saves you the hassle of getting up and manually setting up the print. Other connectivity options include USB-to-PC and USB flash drive ports.
FlashForge Finder comes with FlashPrint slicing software, an intuitive tool that brings settings suited for beginners and versed tinkerers. These settings include infill amount, 2D to 3D conversion, cut, rotating, shell thickness, and supports.
Finder is also compatible with most third-party slicer software, such as Sli3er or 3DMax, for generating OBJ and STL files before porting them to FlashPrint. The included "Polar Cloud Enabled" features mean the model is compatible with FlashForge remote monitoring and printing features.
Pros
Good print quality
Quiet
Connects via USB cable, USB drive, or Wi-Fi
Start-up PLA filament included with the printer
Home-friendly design
Cons
Limited to PLA
Modest build volume
Poor documentation
The FlashForge Finder Delta 3D printer is a compact printer that works out of the box. The construction and design of the unit make it the ideal printer for curious students and beginners.
The Italian 3D printer company WASP has been making significant contributions to the world of 3D printing. The company claims their WASP 2040 PRO is the fastest 3D printer in the industry, offering a max print speed of 600mm per second.
The print volume of the 2040 PRO Turbo 3D printer is 200mm by 400mm. The printing chamber is heated and closed, and the maximum bed temperature in the printer is 120 degrees Celsius. The unit comes fully assembled, but you need to do a few things before printing.
While they built the 2040 PRO for speed, the manufacturer has ensured they sacrifice nothing else. The unit prints at an excellent accuracy of up to 50 microns. A strong aluminum frame ensures crisp-looking finished objects. And an auto-calibration system calibrates the unit.
This model also allows you to resume from the last exact working point in case printing is paused or stopped after a power outage. A built-in filament detector sounds an alarm and stops printing when you run out of material.
The WASP 3D printer works with various filaments, including carbon, PA, ABS, PLA, and you can upgrade it by adding a clay extruder add-on if you want clay printing. This unit is compatible with Simplify3D, Slic34, or Cura for slicing.
Pros
Fast printing speed
High print temperatures
The end-user can add a third-party filament for more printing options
Cons
The WASP 2040 PRO Turbo Printer is a popular choice for busy creators who value speed and small businesses that want to build fast prototypes.
What to Look for When Buying a Delta 3D Printer
You have gone through the best Delta 3D printers. Which printer do you choose? The choice depends on your requirements. Look for these features to make the most of your money.
Purpose or Need
Why are you looking for a Delta 3D printer? The answer is a critical step to choosing the perfect machine. There are many models of printers on the market, so ensure you know exactly what you need.
For example, if you are interested in 3D printing as a hobby or just learning the process, choose an entry-level printer that is easy to assemble and operate.
Assembly
Delta 3D printers come either fully assembled or pre-assembled. Manufacturers may assemble the complicated parts, leaving you to install the remaining pieces using the instructions included.
Installation of the parts should be easy and fast. However, if you are concerned about putting the machine together incorrectly, look for one that is already fully assembled.
The Volume
Delta 3D printers have varying build volumes. Some of the best printers are smaller units that can print tiny objects, while others can print massive projects.
It is best to consider the build volume as the base size. Each unit above has some considerable height, so a critical metric is the size of the circular base for broader and longer items. There is a correlation between the base area and price, so expect to pay more for units that offer more extensive bases.
Printer Filament Type
The filament materials are melted and extruded from the 3D printer's extruder for printing to create your model. Filaments come on spools that you can easily feed into the printer.
These spaghetti-like plastic strands come from different materials and are suitable for various uses. Choose a printer based on the filament you will work with the most.
Some filaments available on the market include:
Polylactic Acid (PLA)
Polyethylene Terephthalate with added Glycol (PETG)
Acrylonitrile Butadiene Styrene (ABS)
Polyamide (Nylon) filament
Flexible 3D printer filaments: These include Thermoplastic Elastomers (TPE) and Thermoplastic Polyurethane (TPU)
Polyvinyl Alcohol (PVA): It is a support filament for complex geometric prints along with PLA.
High Impact Polystyrene (HIPS): A dissolvable support material usually used when working with ABS.
Wood filaments: These are usually a mixture of PLA and wood elements such as bamboo, pine, or other woods. Best for creating precise wood models that look like the real thing.
Metal filaments: These filaments contain a percentage of metal powders mixed with PLA or other standard filaments. Metal filaments include copper, bronze, and stainless steel.
Carbon fiber filament: The filaments contain short fibers infused with ABS or PLA for extra hardiness and strength.
Glass filaments: These are glass fibers added to standard filaments to improve the strength and durability of objects for prototyping and industrial uses.
Accuracy, Reliability, and Precision
You need to think about the accuracy of a Delta 3D printer. Check the accuracy by looking for high-resolution printers that provide at least a 100-micron resolution rating.
If purchasing in person, ask the sales representative if they have a test product or two. Many printing shops will display test products to showcase the accuracy of a unit.
Some printers focus on the intricate features or lower costs, while others focus on the print quality. The level of reliability, accuracy, and precision of Delta 3D printers is a little different from model to model. Higher-priced units focus more on these three qualities.
Features
A unit's connectivity options determine how you can print projects. Machines with USB cable or Wi-Fi allow pairing with a PC and slicing software instead of importing STL or other file formats.
Keep in mind that the printers need significant power and may cause an outage – which would halt your printing project. It is best to choose a printer that recovers quickly from printing. Auto-recovery will also save you time from printing afresh.
Other features to look for include auto-calibration and auto-leveling of the print bed, auto-resume and pause in case of a power failure, and internal cooling systems. Consider what features are most important to you before ordering your printer.
Ease of Use
Purchasing a Delta 3D printer depends on how much experience you have. Excellent options for first-timers are plug-and-play printer models with easy start-up, minimal assembly, and easy printing processes.
Now, a seasoned user can opt for printer kits that offer an opportunity to experiment with features for the best print results.
Safety Features
Your Delta printer should come with safety measures. Exposure to the filament cutter can lead to severe injuries. Enclosed printers are the safest, while a cooling system helps ensure you do not burn your hands.
Your Budget
The cost of the unit is an important consideration. Prices vary greatly, so check your budget before falling in love with a Delta 3D printer. There are plenty of excellent printers at a more affordable price, so you don't have to compromise the quality to save money.
Delta 3D Printing FAQs
Many questions may come up while trying to understand delta printers. Here are some common FAQs regarding these printers.
What Items Can I Print with a Delta Printer?
Depending on your printer, you can create board games, toys, action figures, and even sculptures. Further, you can also build household items such as showerheads, organizers, scrapers, and much more. Your creativity and imagination are the only limitations.
Where Can I Buy the Best Delta 3D Printer?
Large-scale online retailers are reliable vendors. The online outlet also lets you evaluate reviews and compare prices to be confident in your purchase.
You can also buy your unit directly from the manufacturer's website. However, make sure the manufacturer offers prompt customer support and warranty. Also, ensure you compare the manufacturer's prices with those offered from online retailers. Buying directly from the manufacturer could be more expensive but offer you quality guarantees.
Are Delta 3D Printers Fast?
The exact speeds depend on the specific unit you have. While it may take some time to fiddle with the print settings, Delta printers are designed for fast productions. Printing speeds up to 300mm per second are possible, and the printouts come out looking fantastic.
How Do I Care for My Delta 3D Printer?
Regular maintenance and care keep your Delta printer operating and looking like new for ages. Perform these procedures periodically:
Use a lint-free, damp microfiber cloth to clean the printer frame.
Run cleaning filament through the printer after every few prints. The sticky filament pulls particles out of gears and the extruder head.
Clean the glass build area with rubbing alcohol or an ammonia-free solvent using a lint-free, soft cloth.
Use lithium or polytetrafluoroethylene (PTFE) grease to lubricate control arms once a month and wipe away the excess.
Printer carriages are factory calibrated to provide thousands of hours of consistent precision movement. Lubricate the wheels using silicone lubrication when they seem noisy after an extended period.
Clean the extruder teeth using a dry brush when they are clogged or when a gear slips.
Use a soft dry cloth to clean LCD touchscreens with the unit powered off.
Many manufacturers provide live, free, and online technical support if you have questions about installing, setting up, or troubleshooting their products. Check the instructions for documentation on how to get in touch with the manufacturer.
Wrapping It Up
We expect the use of these units to rapidly grow as they become a staple in any modern tech junkie's home. Delta printers are easy to use, fun, and you can use them in many professional fields. Now it is up to you to decide what features appeal the most and what unit works best for you.
Determine the best Delta 3D printer for your needs by evaluating how well it operates. This list has something to offer everyone, from the first-timer to a seasoned professional. Enjoy creating with your new Delta 3D printer!