Since writing this complete wood filament guide and my favorite 3D printers for woodworking I've received a lot of positive feedback from those who have used this guide to make some incredible projects.  Please feel free to share your unique and creative wood filament projects with me.
In a hurry… Here's Our Top Pick
FlashForge Adventurer 3 3D Printer
This beast is equipped with a built-in HD camera, the FlashForge Adventurer 3 3D Printer is capable of remote monitoring. This unit is super easy to clean thanks to the detachable nozzle that is easy to install and remove making it an excellent choice for wood filament.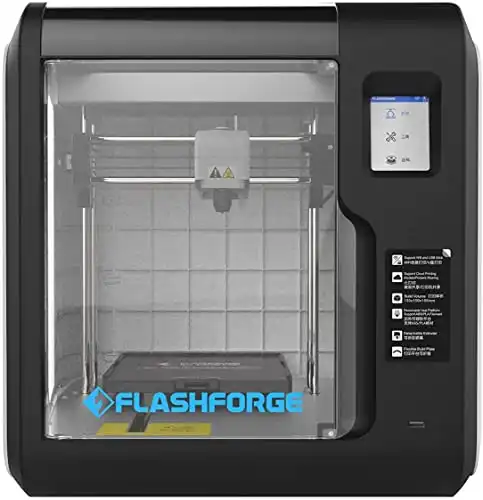 We earn a commission if you make a purchase, at no additional cost to you.
A Guide to Woodworking with 3D Printing
Did you know that 3D printers aren't just for printing metal and plastic? You can use them to print out wood projects as well. There are all kinds of wooden toys and decorative household items that can be made using a wood 3D printer.  The best part about this is you get the benefit of woodworking with out the need for more tools or a dust collector.
Not only can you print out wood projects, but you can print out tools that can help you with your woodworking projects. All you need is a 3D printer that works well with wood filaments, and you are ready to create a variety of woodworking 3D printing projects. Here are a few tips and reviews to help you find the best 3D printer for wood filament.
How to choose a 3D Printer for Woodworking
Whether deciding on a 3D Printer or the right filament to use it always nice to have someone to guide you through the process.  There are so many machines and options out there, so to help, we've created a terrific guide that we think you will find helpful.
Wood Filament Guide
Regular Woodfill
A basic polymer blend, a regular woodfill uses pieces of traditional wood fiber varieties as well as wood particles like birch, oak, and maple. In this type of blend, you get the visual properties and scent of the dominant wood variety that is blended into it. As you print though it will smell like burnt wood, if you have the correct temperature, the material will stay stable throughout the process of printing.
Bamboofill
Another polymer blend, Bamboofill works with bamboo wood fibers that are is more temperature-sensitive as well as sensitive to extruder clog than the typical wood fill. You will need to clean the nozzle before and after every print thoroughly when you use bamboofill. You also won't have as wide a variety of colors as you would get with typical woodfill, but you will see a smoother print product that has more flexibility.
Corkfill
This filament is a little porous and a darker color than typical woodfill or bamboofill filaments. This is a finicky product like bamboofill, but it produces products that are more rigid and lightweight.
Things to Print with a Wood Filament 3D Printer
The main benefit of using a wood-based filament is the incredible aesthetics that it offers, particularly when you compare it to a standard plastic filament. The prints that are made from a wood-based filament feature a finish that is super close to the naturally grainy look you see in real wood. You can sand down very lightly those layer lines that you normally see in 3D prints, and they blend well with the overall grainy aesthetic you will want.
Wood 3D Printer Project Ideas
Woodworking Jigs
Baby Groot
Knife Handles
Mini Tree Stumps
Mini Boxes
Dinosaur Bones
Coasters
Mini Guitars
One of the best things about wood filament is that it can give you a print with a wood-like finish that doesn't require the complexity, lack of tools, and lack of skills that are needed for a traditional woodworking project.
A wood-based filament is pretty easy to work with since they don't tend to shrink or warp, which allows you to maximize the cooling time while they are printing to produce a stronger build. If you have printer settings that work well with PLA, it should be fine to work with a wood filament. Also, wood filaments tend to be less abrasive in comparison to other composite materials like carbon fiber or metal.
When using a wood filament, you will also get a very pleasant woody smell during the printing process. Just make sure you are still using the printer in a well-ventilated area. This filament is also biodegradable, so anything you print with a wood-based filament can be broken down in a landfill or compost making these prints environmentally friendly.
With wood 3D printing, you have a whole range of applications that you can use it on. Some common items that can be made with wooden filament include toys, household decorations, and cosplay props. If you search the internet, you will most commonly see the direction for tree stump pencil holders, wands, and Baby Groot among other things.
Best 3D Printers for Woodworking
FlashForge Adventurer 3 3D Printer
Equipped with a built-in HD camera, the FlashForge Adventurer 3 3D Printer is capable of remote monitoring. This unit is super easy to clean thanks to the detachable nozzle that is easy to install and remove. With the quick heat-up nozzle, you can reach 200 degrees Celsius in just 50 seconds.
The FlashForge Adventurer 3 3D Printer also comes with a removable heated build plate that makes it easy to remove printed objects. The included 2.8-inch touch screen comes with an intuitive UI interface that makes it easy to operate and read the printer's status. The 45-decibel noise level gives you a super quiet operation, which is nice for offices, classrooms, and homes.
The auto filament loading system will suspend printing when the filament has run out or is broken. Once the filament is loaded and detected, printing will start again. There is also a bendable build plate that does not require leveling since it is leveled at the factory.   Overall, we believe it's one of the best 3D printers for wood filament.
Pros
Easy to use Touch Screen
WiFi Capable
Heated Bed
Built-in HD Camera
Cons
Printing times can be slow
Very large prints can become uneven
QIDI TECH 3D Printer X-PRO
Equipped with a dual extruder, the Qidi Tech 3D Printer is a high precision double color printing. This 3D Printer also has a WiFi function to offer high-quality prints from a high-performance printer. This super popular printer is ideal for schools and consumers thanks to its easy setup and operation.
Not requiring a lot of maintenance, the Qidi Tech 3D Printer provides pretty good print quality and can print more than one color or use multiple filament types. With its shiny colors, the Qidi Tech 3D Printer is a great choice for artists and hobbyists as well as designers and other professionals. This is a reliable and attractive machine is equipped with the latest dual extrusion technology making it a leading 3D printer for design, education, and engineering.
The X-Pro 3D Printer Kit includes conditional breakpoint printing and the high temperature resistant and durable build platform is made from aviation-grade aluminum can be heated up to 120 degrees Celsius. The curved metal plate can be removed to make it handier to take out the model when it's done printing.
Pros
Sturdy Frame
Versatile Material Printing Capabilities
Touch Screen
Dual Extruder
Cons
Plastic cover feels cheap
Dremel Digilab 3D20 3D Printer
Perfect for beginners and hobbyists, the Dremel DigiLab 3D Printer is an affordable 3D printer that has a simple design. Featuring a great support team, you will have all the help you need to succeed when it comes to 3D printing. This printer comes completely assembled as well as a 0.5 kg filament spool.
With the easy to understand instructions and fast-start guide, you can use the Dremel Digilab 3D Printer right when you take it out of the box. Equipped with a four-inch full-color touch screen, this unit lets you load your own files with the included Dremel 3D slicer software. This is an easy to maintain printer thanks to the simple design of the extruder.
The Dremel Digilab also features 100-micron high resolution and a 9 x 5.9 x 5.5-inch build plate. This is a super safe printer when compared to other printers on the market. It is also compatible with the new Digilab Slicer and comes with incredible customer service.
Pros
Easy to set up and use
Affordable and Dependable
Excellent Customer Service
Good Quality Prints each time
Cons
Included filament is poorly made
Required to remove nozzle to use other filaments
FlashForge Adventurer 3 Lite
Easy to clean and simple to operate, the FlashForge Adventurer 3 Lite comes with a detachable nozzle that is easy to remove and install. This unit heats up quickly and can reach 200 degrees Celsius in just 50 seconds. Plus, the removable heated build plate makes removing printed objects easy and hassle-free.
Equipped with a 2.8-inch touch screen, the FlashForge Adventurer 3 Lite has an intuitive UI interface that offers simple operation and is easy to read the printer's status. With a 44-decibel noise level, you get super quiet printing that gives you an enjoyable printing experience in your office, classroom, and home. And there is no need to level the build plate since it is leveled at the factory.
The FlashForge Adventurer 3 Lite also comes with an auto filament loading system that will suspend printing when the filament runs out or is broken. Printing will resume after the filament is loaded and detected.
Pros
Ready to use right out of the box
Easy to use included software
Relatively quiet machine
Auto Filament Loading System
Cons
No camera or filament included
Smaller printing area than most
ANYCUBIC Mega Pro 2-in-1 3D Printer
Allowing you to print with different colors, the Anycubic 3D Printer is a 2 in 1 filament 3D printer that comes with smart auxiliary leveling. It offers you the opportunity to pause operation at a particular level and print with multiple colors using the same nozzle. The included quiet drive can reduce noise significantly when it is printing.
The Anycubic 3D Printer will also resume operation when the power goes out. Easily continue to print from a pause or power failure saving filament and time. Using a high-quality power supply, this machine has several certifications including FCC, UL, and CE Marking Certification.
This printer also has a laser engraving feature that can inspire you to be creative in new ways. The Anycubic 3D Printer also has a large build volume along with optimized path orientation and extrusion torque making it compatible with some flexible filaments including TPU. The adjustment knobs have an ergonomic design that makes it easier to level the heat bed manually.
Integrating the functions of laser engraving and 3D printing, the Anycubic 3D Printer allows you to meet your creative needs while unleashing your creative potential. Using its modular design, this printer can be assembled in minutes.
The drive on the Anycubic 3D Printer is also quieter than other 3D printers offering a more comfortable printing environment. The sturdy and durable construction will minimize any shaking, which can also enhance its print quality.
Pros
Included Laser Engraver
Very quiet printing
Easy to operate and level
High quality build structure
Cons
Slow bed heating
Not an enclosed machine
Creality Ender 5 Plus 3D Printer
Featuring a touch screen and large print size, the Creality Ender 3D Printer comes with a BL touch glass bed and automatic leveling. Helping you to make high-quality prints, this printer comes already configured, so all you need to do is plug it in and start printing.
The auto bed leveling sensor can measure the tilt of the hotbed surface precisely and also gives the Z-axis leveling compensation saving time and reducing waste.
You can also add a glass plate to the heated bed making models easier to remove. With the added glass plate, you can make the hotbed flatter providing extra protection. Plus, with the stable Z-axis lead screw, the movement of the build plate is more stable with fewer points of failure.
With the included 4.3-inch touch color screen, you get fast and easy operation. Easy to operate and assemble, this unit comes with several partially assembled kits that let you learn about the basic construction of a 3D printer as you assemble them.
Pros
Stable Build Quality
Large touchscreen is easy to operate
Easily Assembled
Extra large print area
Cons
Not a plug and play 3D Printer
Manually change baud rate required
BIBO 3D Printer
The Bibo 3D Printer includes a sturdy frame, dual extruder, a touch screen, and WiFi-enabled. With the dual extruder, it's easy to print support structures and print different filament colors and types, which makes them easier to take out. A dual extruder can also print two of the same objects simultaneously helping to save tons of time.
With two-color printing, you can print two-color objects without having to change out the filament as it operates. The Bibo 3D Printer also has a sturdy frame made of 6 mm thick aluminum composite panel, which is more reliable and has higher precision than a plastic frame. The included full-color touch screen is user-friendly and easy to operate.
The Bibo 3D Printer also has a removable enclosed cover that helps to ensure that you have good temperature control in the printer while it is operating with ABS filaments. Plus, this acrylic cover can be removed to allow for better cooling when you use PLA filament.
This 3D printer also features Wi-Fi control allowing you to control the printing operation with your PC or phone. The filament detection function pauses the machine if the filament runs out during operation, which is pretty handy when running a big volume object print job. And, if there is a power failure, it will resume the print job right where it left it once the power is turned back on.
Pros
Dual-Extruder
2 Color Printing
WiFi Connectivity
Very Sturdy Frame
Cons
Slow printing compared to others
May require more tech savvy than most
QIDI TECH 3D Printer X-PLUS
For larger prints, we highly recommend the QIDI TECH X-PLUS, which offers a much larger build area compared to the X-PRO. Combining everything you want in a 3D printer, the Qidi Tech is a quiet printer with a Wi-Fi connection, air purification, and one-button quick leveling along with breakpoint printing. It is capable of printing advanced material like PC, carbon fiber, and nylon, plus it's compatible with any brand of 1.75 mm filament.
With a modern and efficient design, the QIDI TECH X-Plus 3D Printer is a great addition to an office or your home. This is also a good choice for an educational institution that teaches hands-on projects.
The Qidi Tech X-Plus 3D Printer offers two different ways to place the filament either enclosed constant temperature or ventilative printing. The double Z-axis driver helps to ensure there is more stable and precise printing quality for when you print larger model sizes.
Using QIDI software that is more convenient and smarter to operate, the print quality of the Qidi Tech X-Plus 3D Printer is faster by 20% and gives you print quality that is improved by 30%. The printer kit also comes with two different kinds of extruder assembly with one already installed on the printer and the other is free to you in case you need it.
Pros
It has a strong build
Larger than average build area
Plug and play ready
Works with many filament types
Cons
No software support for Linux based OS
WiFi only works with QIDI Software
3D Printing Buying Guide
Spending a small fortune on a piece of equipment you are not familiar with can seem a little scary at first.  That's why we have taken the time and effort to put together an easy to follow guide on 3D Printers.  Whether you are using a 3D printer for woodworking, cosplay, anime figures, or whatever you are interested in, there is no need to worry, we've got you covered.
3D Printer Types
Stereolithography
The stereolithography 3D printer uses an additive process with its 3D printing technology. In place of extruding plastics, this process uses UV light to harden models that are formed out of a photosensitive liquid. Through this process, you can create a high-quality print.
Selective Laser Sintering (SLS)
Like stereolithography technology, SLS differs by uses powders and lasers instead of ultraviolet and photosensitive liquid. Using a laser beam, the powder is melted creating a printed material layer. The benefits of SLS based 3D printers are the ability to print models made of metal, unlike the other 3D printing technologies.
Quality
There are two important factors that determine the quality of the 3D printed product are the print resolution of the 3D printer and its print speed. The print speed will tell you how fast the printer is moving the extruder, so the better the printer speed, the faster your 3D printer will print. The print resolution will tell you the level of detail your printed product will have. This is measured in microns, so the finer the print resolution is, the better the level of detailing your printed object can have.
Safety
Heat
One of the more important things to remember as you work with a 3D printer is that you are working with heated plastics. There are several parts of the printer that will be heated including the printing bed, plastics, and extruders. And, if you're not careful, you can get severely burned or injured if you aren't paying attention to what you are doing.
Also, these printers often do not have an enclosure around their print surface, so it can be a little risky for a beginner to handle the machine. If possible, have an individual experienced with a 3D printer help you handle the printer at first.
Fumes
Always install 3D printers in areas that are well-ventilated as you will experience fumes throughout the print process. This is particularly true when using ABS plastics. Fumes from the printing process can potentially be harmful to your body, so always use extra caution when you work with a 3D printer.
Finishing things up
When choosing a 3D printer for woodworking you will notice that most printers have unique qualities and benefits. Depending on your plans, certain printers will work better than others.  However, we believe any of the 3D printers listed above will be more than capable of making whatever your imagination can come up with.