The 3D printer manufacturer Creality is at the top of their game. They earned a leading spot in the 3D printer manufacturing industry by cranking out hit after hit, regaling their customers with the features they want and the capabilities they need.
At the moment, the company's two biggest printers are the CR 10 and the Ender 3.
Both are great products from a reputable company, but one will certainly fit your use case more closely than the other because they do have their differences.
So, let's compare the CR 10 vs Ender 3 to find out which 3D printer is best for you.
Which is Best: TL:DR Breakdown
The Creality CR 10 is the go-to 3D printer for those who want to create larger items for less money. This is especially true because no upgrades on the market can turn a smaller 3D printer into a larger one. If object size matters, buy big- and don't buy twice.
The Ender 3 by Creality is going to be an ideal printer for first-time 3D printing hobbyists. It has several valuable features that you may end up needing, depending on how you use it. It is more refined in many ways, making it a good choice for more serious users who will be satisfied with a smaller print area.
Both printers have newer versions that might fit your needs better after a close look. Before you buy, take the time to think about the size of the objects you want to make, and place extra weight on that part of the decision-making process.
CR 10 vs Ender 3: Commonalities
Both the CR 10 and the Ender 3 come with Bowden brand extruders. Both printers can print using TPU, PLA, and ABS. With a few common upgrades, users can eliminate many well-known flaws, particularly, the tendency of the filament to flex where it comes into close proximity to the extruder gears.
Both printers are open printers, which means you will need extra adhesives for your ABS prints to turn out well.
CR 10 Overview
The CR 10 runs on open source software, is built on a high-quality full aluminum frame and features all-metal construction. While it is not as refined at certain mechanical junctures as the Ender 3, this all-metal build may make it a better investment over the long term. Its frame is extra-large, unusually so actually, and it can print items of a size which most printers could not handle.
We've seen a lot of examples of 3D print hobbyists running headlong into print-size constraints. To tackle this, you either need a bigger printer, or you need modular design and run-out detection.
The CR 10's flat glass print bed is exceptionally stable and can handle even very small projects without tipping or rolling in most cases. This is because the non-porous glass surface tends to stick slightly to printed objects. It doesn't stick so much as to damage them on removal, with the possible exception of very delicate parts, but it makes them less likely to tip over.
The exceptionally large printing area coupled with the very stable glass bed means this printer can produce an unusually wide range of object sizes. The CR 10 lacks some of the internal refinements of the Ender 3, but its range of print capabilities make it a great choice for the price. In addition to this, it also comes with extra-large, oversized leveling nuts. This gives added stability to the base and more adjustment options.
The CR 10 comes partially assembled and can be started up much more quickly than the Ender 3. The early CR 10 does not have a power recovery mode. A more recent and more expensive iteration, the CR 10S does have a power recovery feature but is slightly more expensive.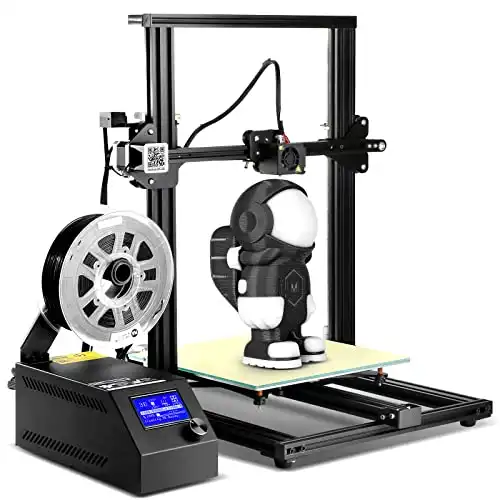 We earn a commission if you make a purchase, at no additional cost to you.
If spending a little money won't break the bank, the CR 10S is probably a safer bet. It has had some problems with loose couplings and the PTFE tube has been known to slip out of place occasionally. This mostly happens near the hot end after a long period of use, and when this happens it will usually cause the extruder to clog.
Specs:
Size: 12 x 12 x 15.5 inches, 30 pounds
Build Volume: 300 x 300 x 400 mm
Bed Size: 300 x 300 x 400 mm
Print Speed: 100 mm/
Pros
The all-metal build with aluminum frame makes it durable, at least on the exterior
The turn-knob interface system is simple and easy to use
May have the largest print-size capacity in the industry
The extruder design takes additional weight off of the printer X-axis, improving its performance
Thermoplastic wheels offer additional stability, especially for fine details
Glass print bed resists warping and is excellent for small objects and objects with fine details
The printer's safe operation is well rendered with a double-fuse electrical design, preventing the electronics from being damaged by a power surge or unexpected disconnection
The unit is easy to mount on a worktable
The glass bed is removable and easily replaceable
The overall design is simple, easy to use, and durable
The design gives you the ability to create large or small objects and to render fine detail
Cons
Thermoplastic wheels may wear down over time, but can be easily replaced
The unit takes longer to heat up, but this might be made up for in the beginning by the more complete out-of-the-package assembly
The placement of the extruder is unusual, and some users may find it awkward. However, with some practice, you are likely to find that you can get used to it
Alternatives to the CR 10
The CR 10 Mini
This popular alternative is a great choice for both casual and professional users looking to expand their capabilities. It's built sturdily, like the larger CR 10, and it delivers top-quality resolution. It features Creality's "golden triangle," an improved brace for the Z-axis that is connected at the top of the frame and is linked to the base of the unit.
Its small and simple design makes it a handsome addition to any workshop or hobby room. One of its most attractive features is its ability to be assembled without having to follow the manual. Anyone can just unbox it, set it up, and start using it. That makes it an overall superior experience, especially for anyone just getting into 3D printing.
Naturally, it won't be able to handle jobs as large as the CR 10 can handle, but it works flawlessly almost without exception. In many ways, it is more refined than the CR 10, and if you only intend to print smaller pieces, it might even be a better choice than its larger counterpart.
The CR 10S
Larger than the Mini, and lighter than the original CR 10, the CR 10S strikes a comfortable middle ground between these two extremes. It is an upgraded version of the CR 10. It is not less capable than the original CR 10, but it has more refinements that make it a strong contender for the best professional-grade 3D printer on the market.
It's noticeably more expensive. But if you're turning out print projects for sale, then it is an excellent investment.
What makes it special is its run-out detection sensor which alerts you before you run out of filament. This prevents filaments from coming into contact with the lead screws and the z-axis. If you do a lot of printing, that will save you time and repairs over the long haul, for certain!
Suppose, for example, you're building something large in size that will have to be assembled after all the parts are printed, like a puzzle. A lack of run-out detection could make such a project impossible! If you make pieces that need to fit together, this feature is a must-have!
Creality tests the print resolution before they ship it out to you, and that's just the start of the terrific customer service they are known for.
Ender 3 Overview
The Ender 3 is built on a quality aluminum frame. It has a built-in motherboard and offers stable operation. It may come partly assembled, but not as close to full, out-of-the-box assembly as the CR 10. In addition to the tools needed to complete assembly, you also get tools useful for mounting it to your worktable such as screws, modeling snips, screwdrivers, and the like.
There's nothing worse than not having the tools you need on hand. You end up going back and forth to and from the garage, just bleeding enthusiasm the whole time! So it's nice to find everything necessary to start right in the box.
It is large enough for most types of projects, but some people will prefer a larger printing area. It has a valuable power-failure-continue feature which enables it to start from the point where it stopped should the unit lose power during a print. It works with most major operating systems including Windows and Mac OS.
The Ender 3 takes A LOT more time to assemble and set up, but they do provide all of the tools you need to do the job. The Ender Pro 3 version comes with a magnetic build plate. This means that you will not be able to use it at high temperatures above 176 degrees Fahrenheit. Despite this, the Ender 3 has a voltage rating 12 volts higher than the CR 10.
Specs:
Size: 8.7 x 8.7 x 9.8 inches, 17.21 pounds
Build Volume: 235 x 235 mm
Bed Size: 220 x 220 x 250 mm/s
Print Speed: 150 mm/
Resolution: 100 microns
Pros
Heats up to 230 degrees Fahrenheit in just five minutes
Power failure continue feature which enables it to start from the point where it stopped should the unit lose power during a print
The high quality 3500-watt power supply adds stability for long term printing
Upgrades wheels offer smooth, quiet operation and improve durability
Advanced extruder technology reduces the risk of extrusion and plugging
Cons
The biggest drawback is the fact that the bed needs to be re-leveled frequently since the base is not even
The smaller print area will hold you back from producing larger objects
Alternatives to the Ender 3
Ender 3 Mini
This Creality product is a budget version of the Ender 3 and may be the best choice for beginners and casual 3D printing hobbyists. It turns out reasonably good quality prints for the price with smooth movements and minimal vibrations. One of the best things about it is its ability to work with the most flexible filaments while retaining a high level of efficiency.
Full assembly will be required, which can feel like a hassle if you're not ready for it. The good news is that Creality made sure the assembly manual is accurate and easy to read. But it might be even easier to find an instructional YouTube video.
The Ender 3 Mini is also well known for its broad hackability. You can get a lot of extra functionality by following tips in 3D printer forums and YouTube videos. If that sort of thing appeals to you, get ready for endless hours of creative printing!
Ender 3 Pro
This upgraded version of the Ender 3 is bigger, more expensive, and more capable than the original. It comes with a host of features not available on the Ender 3, and the elevated price point reflects this.
It comes partially assembled, so it's easier to get started than the Ender 3, and the included instruction manual will help walk you through the 12-step process to get it up and running.
In short, it has all the refinements of the original Ender 3 with all the added capabilities of the CR 10. This makes it a pleasure to use and a great investment for the professional home 3D printing entrepreneur.
Our Budget Pick: The Creality CR 10
At the end of the day, the larger build capacity, high detail capability, and especially the glass print bed make this the stand-out printer- at least between these two top-of-the-line 3D printers. The CR 10 is pretty reasonably priced, especially for a printer of this size.
Creality may be cutting a few corners with the plastic wheels, but those can be easily replaced. Maybe the best thing about it is the fact that it requires the least attention from the user during operation, and its accuracy is excellent. Those two final benefits rarely go together!
Our Professional Pick: The Ender 3 Pro
For those willing to go to the extra expense, the Ender 3 Pro is easily the most capable, most stable, and the most reliable of the CR 10 vs Ender 3 lineups. It's still not as large as the CR 10, which is important to keep in mind if you're printing large objects. But the Ender 3 Pro is easily superior in almost every other regard.
It achieves its added smoothness with larger bearings and a more powerful motor. With its faster heat-up time, refined movements, and its ability to use the more flexible filaments, you'll be able to turn out projects with surprising speed.