Do you think it's time to color your life, to give a new soul to your home, to surprise the loved ones? Perhaps, it is just time to manifest your creativity! Even if you are not an elite artist, it is possible to do that yourself without much trouble.
All you need is a Laser Cutter, which can help you make all those dreams reality. If you are just starting out with Laser Cutter, this might be the exact product you need as we review the Glowforge Plus.   Let's check it out!
CHECK LATEST PRICE ON AMAZON.COM
Glowforge Plus 3D Laser Printer Review
The Glowforge Plus is an excellent 3D laser printer, which is why we specifically chose to review it. It is specially created and perfectly designed to create gifts for your friends or personalized items for yourself. You can even create different objects that you will find suitable for selling.
Who is This Laser Engraver For?
If you're afraid that the Glowforge Plus is too high-tech for you, it's time to set your fear aside. There is nothing complicated about installing and using this printer, as you basically don't have to install anything. Your phone, your PC, your tablet, or your Mac will become best friends with the app.
What's Included?
Besides the printer itself, the package contains an exhaust hose that can be vented to the outside through a dryer vent or a window. The dimensions of the hose are 8 feet long and 4 inches wide.
Overview of Features
The main advantage of the Glowforge Plus is the laser precision down to the width of a human hair. With it, you can print different things, including wood, metal, glass, paper, leather, and even chocolate! It is ½" deep, 11" tall and 19½" wide.
The top-class action provided by the printer produces over 1,300 lines per inch. The 40-watt laser is in the control of your hand. The only thing you have to do is to push the button.
Also, the Glowforge Plus is simply automatic. All you have to do is select your photo or your drawing, add one of dozens of household materials, and then just click on 'print.' The Glowforge Plus has autofocus, material detection, and automatic print settings. The independent tests from UL, CE, FDA, and FCC certify that the Glowforge Plus is safe.
Another advantage of the Glowforge Plus is that it offers you the freedom to create. With only a pen, you can let your vision take control by drawing directly onto the materials. The rest is up to the Glowforge Plus, which, with its onboard cameras, turns your drawing into a real product. Also, these onboard cameras allow you to check a preview of your future product in different materials.
The rest should be simple, especially if you take into consideration the tutorials available on the app. Also, don't worry about the internet because the Glowforge Plus works fine with a Wi-Fi connection. This offers you wide access to lots of models and ideas to implement in your projects.
How to Use Glowforge Plus 3D Laser Printer
The first step is to make your design. You can use Adobe Illustrator, CAD, PowerPoint, or basically anything you like. The Glowforge Plus is compatible with any software. Also, you can simply rely on just your pen.
After that, it is time to select your materials. You can print on hundreds of materials, practically on anything. Also, as an easier choice, you can look into using the Proofgrade materials, which are already encoded with automatic settings. Push the print button and then wait a few minutes. The last thing to do is to admire your finalized product.
Alternative
Now, you may be looking for a cheaper alternative to the Glowforge Plus. If so, a very good solution could be the Orion Motor Tech 50W Co2 Laser Cutter Engraver. You can now turn all of your projects into reality using a low-cost laser engraver.
It works beautifully with bamboo, wood, cork, leather, rubber, and any other non-metal surfaces.
This product embeds an advanced system that ensures 23.6 inches per second for graving and 15.7 inches for cutting. This ensures both accuracy and efficiency. Make sure you check it out.
Conclusion
Glowforge Plus 3D Laser Printer
The Glowforge Plus is our top pick as the best laser cutter for beginners.
Pros:
Includes Wi-Fi connection

Works with a wide range of materials

Extremely easy to use

Compatible with any software
Cons:
Works only with flat surfaces

Might be quite loud for some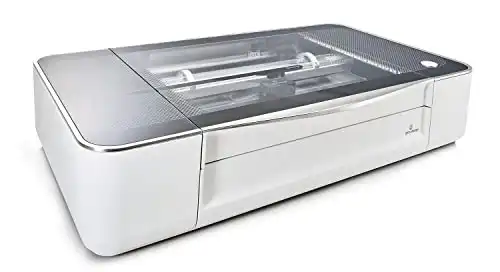 We earn a commission if you make a purchase, at no additional cost to you.
After review, beyond all the technical details, the Glowforge Plus is a way to re-create your world. You can make a custom décor scheme that transforms your home, or you can discover new ways to furnish your space. You can build a personal boutique or a launchpad for your business.  We've also written an aritcle on our comparison of the Dremel LC40 vs the Glowforge Plus.
Additionally, you can surprise your friends with unique items as gifts for them. You can even start a new business, considering that you could sell the unique items you choose to create. All of these things are offered in a very easy way, without sophisticated knowledge or ability in the technical field.  If you have any questions or suggestions for products for us to review like the Glowforge Plus, please contact us!