Similar to a Swiss Army knife, the best 3-in-1 3D printer features 3D printing, laser engraving, and CNC machining. These printers are fabrication tools intended for hobbyists, entrepreneurs, professionals, and makers. Only a few manufacturers have attempted this remarkable feat.  Now that it is becoming more common we can finally review these all-in-one machines for the first time.
In a hurry… Here's Our Top Picks
DT Creality 3D CP-01 3in1 Printer
Editor's Pick - Best Budget All-In-One Machine
Creality successfully merged CNC machining, laser engraving, and 3D printing into a compact single machine at an affordable cost. The overall looks of CP-01 are tidy, with a jumble of wiring along with a power unit and integrated control box.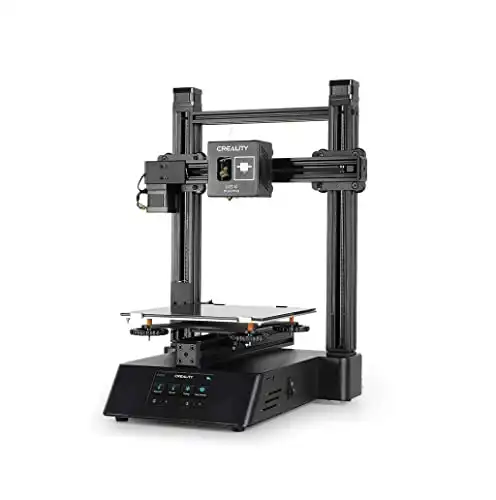 We earn a commission if you make a purchase, at no additional cost to you.
ZMorph VX Multi-Tool 3D Printer
Editor's Pick - Best Overall 3-IN-1 Machine
ZMorph VX is the ultimate productivity powerhouse. Using different tools and handling different materials, this device features a distinctive prism in a triangular shape that comes from the architecture of the famous RepRap MendelMax.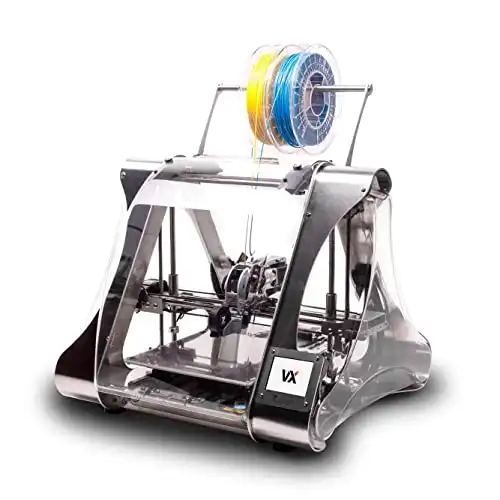 We earn a commission if you make a purchase, at no additional cost to you.
What is a 3-IN-1 Machine?
As the name suggests, a 3-in-1 machine consists of three functionalities. These interchangeable functional modules include 3D printing, laser engraving, and CNC machining. Being able to interchange modules will ultimately save you money and space while owning just one state-of-the-art machine.
You can upgrade them by buying the add-on modules to get more features out of these devices. These machines are good for in-house production and developing prototypes with high precision. Here are its main functionalities.
3D Printing
It is the process of making 3-Dimensional objects from a digital file. To create a 3D print of an object, you need additive processes. An object is developed by laying successive layers of material until the final object is crafted. Each of the layers is a thinly sliced cross-section of the object horizontally. 3D printing allows you to produce different shapes by using less material than ordinary methods.
Laser Engraving
It is the strategy of making use of the laser to engrave an object. 3-in-1 machine provides laser engraved objects using plastics, wood, and other delicate metals including aluminum. Laser engraving works with efficiency because the laser head is designed for heavy-duty. It is better to buy an all in one machine to get the best-desired result.
CNC Cutting
It is a manufacturing process where pre-programmed software directs the movement of tools and machinery. With the help of CNC machining, 3-dimensional engraving tasks are carried away in a set of prompts. The entire process runs in contrast to the manual control, where operators are needed to guide the commands of the tools through wheels, buttons, and levers.
Best 3-IN-1 3D Printer with Laser and CNC:
3-in-1 3D printers are quite unusual, with a handful of manufacturers trying their hands at developing lots of software programs and merging them into a single bundle. Here is a complete list of the best 3-IN-1 machines available.
1. Creality CP-01
The multifunctional 3D printer company that introduced many budget 3D printers, has unveiled the Creality Cp-01. The company successfully merged CNC machining, laser engraving, and 3D printing into a compact single machine. After review, overall looks of CP-01 are tidy, with a jumble of wiring along with a power unit and integrated control box.
All the input and output connectors are situated at the rear of the machine, which can cause a headache when changing the tool heads. Yet, using the easy release connectors, you can communicate between tool head and controller despite being difficult to reach. To achieve CNC machining, laser engraving and 3D printing, this 3d printer with CNC has several tool head options.
Each module has the same connector, which is easy to swap out. Hence, configuring the machine to switch between different modes isn't a hassle. Constructed from industrial grade aluminum extrusions, this 3-in-1 machine has a strong build.
The materials that the 3d printer with laser is stated to be compatible with include TPU, ABS, and PLA. This means you can print with a variety of filaments besides some materials. These may include abrasive materials like chopped carbon fiber and materials that need high temperatures like polycarbonate.
Switching on the machine, you get to see the Creality logo on the screen. You would find some cool looking icons after the firmware gets loaded. Another important thing you'll notice is the memory card slot, wherein you can slip a Micro SD card. Also, there is a USB port and scope for Wi-Fi connectivity.
Features
Exchangeable toolheads
CNC module
Laser engraving standard module
3D printing standard module
Power failure protection
Rigid construction
Pros
Universal connector for easy swapping
Compatible with different kinds of materials
Safeguard against power failure
Includes Creality Workshop software
Cons
Laser engraver is entry-level
Final take
Embracing new ideas is one of the strong points of this all in one machine. The Creality CP-01 provides new technology and ideas to the masses.  It appears that CP-01 is cost-effective as well as any we reviewed. If you are looking for an all in one 3D printer to take care of small projects, you can buy this amazing machine.
2. Snapmaker 2.0
The Snapmaker 2.0 is the improved version of the original and popular 3-in-1 3D printer Snapmaker. This new version of the machine surpasses the old one in many ways by smashing records and raising the expectation level pretty high. The machine is available in three different sizes.
The three main toolheads, CNC milling, laser engraving and 3D printing making use of the company's modular architecture, is considered as the main show. The smaller version of Snapmaker 2.0, which is A150 appears to be the replacement of the original one. Also, the larger A350 variant is quite slick and has lots of potential.
All the Snapmaker 2.0s functions come packed in the Snapmaker Luban software. The Snapmaker 2.0 is undoubtedly the best 3-in-1 3D printer, especially the A350 that provides a staggering build volume intended for 3D printing, CNC milling, and laser engraving. While the original Snapmaker was good enough, the new version makes the device even better.
In general, the hardware is of the top-notch, and it can handle whatever you put at it. The device provides enough to suit the needs of the maker who is looking at their game without sacrificing much desktop space. The Snapmaker 2.0 uses an arrangement of modules and each of them contributes some elements of the device's functions.
The device comes with ball-end and flat-end mill bits, which are suitable for clean and smooth engravings. Luban has tool profiles that make the job a simple affair by configuring the details, depths, passes, similar variables, and lead in speeds.
Features
Improved and better than the original one
Advanced CNC machining abilities
Luban software included
Sturdy construction
Pros
Larger work area than previous model
Well-built structure and design
Andriod powered control panel and touch screen
Slick and elegant hardware design
A proven system with additional upgrades
Cons
Sometimes difficult work flow
Linear modules can be somewhat loud
Final Take
There is no question that Snapmaker 2.0 provides something quite unique with the 3-in-1 functionality and big space. However, the 3D printing of this device is a bit inflexible compared to contemporary slicers.  Our review of the Snapmaker 2.0 is one of the more intriguing to-date.
3. ZMorph VX Multi-Tool 3D Printer
Based in Poland, ZMorph VX is one of the best 3-in-1 3D Printers. ZMorph VX is the ultimate productivity powerhouse. Using different tools and handling different materials, this device features a distinctive prism in a triangular shape that comes from the architecture of the famous RepRap MendelMax.
With a series of interchangeable tool heads, the ZMorph VX can function pretty well on the fly. The 3D printing heads for 3mm and 1.75mm filament gives the device an upper hand over most of the machines. And, the dual-extrusion single-nozzle tool head allows for multi-material and color-mixing 3D printing.
The tooling capabilities of ZMorph VX are further pushed with the Laser PRO and CNC PRO tool heads. The Laser PRO tool head packs in a blue laser diode of 2.8-watt capable of engraving plastics, leather, and woods without overburn. The CNC PRO tool head works with the tank-like frame of ZMorph VX and high torque to engrave glass, acrylic, woods, and other materials.
Undoubtedly the least advertised feature of ZMorph VX is the Thick Paste extrusion tool. The tool head consists of a large syringe and a large stepper motor that drive the plunger through the core. You need to use homogeneous paste, or else the nozzle gets clogged.
Intended for use with 3D printers, a license of the software Voxelizer is available with every purchase of the ZMorph VX machine. The software processes the tasks by voxelizing the models it is associated with. It doesn't operate like conventional approaches like the MRI scan data and the use of 3D filters.
Features
Interchangeable tool heads
Powerful and fast laser engraving
Error prevention measures
Reinforce the motion system
Pros
Superb 3D Print Quality
Effortless Tool Changing Ability
Voxelizer 2.0 Handles Production Techniques Masterfully
Structurally Rigid
Cons
User Manual Needs Work
A Bit Pricey
Final Take
ZMorph's machines are long being praised for their capabilities in the all in one category. In ZMorph VX, there are small touches that appeared after the company's own use of machines and user feedback.  Overall, the quality is unmatched.
4. STEPCRAFT M-SERIES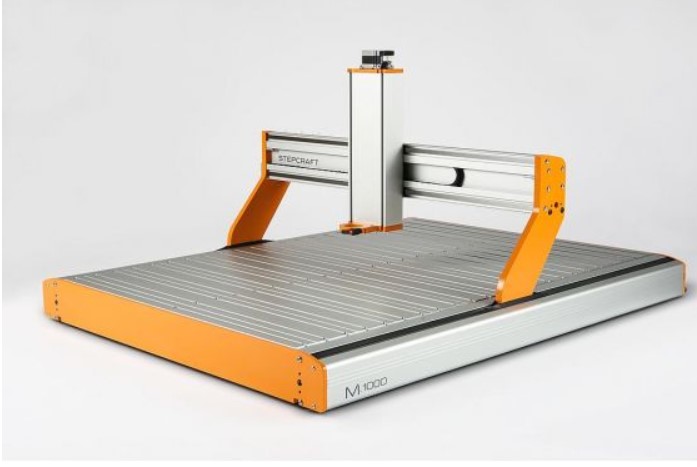 Stepcraft has made several improvements by launching the brand new M-Series CNC machines, which has lots of improvements over the D-Series. This way, the M-Series boasts of several new abilities. Stepcraft is well-known for its varied capabilities and the new M-Series is compatible with all the attachments that are used to mill 3D objects, lasering, engraving, and so on.
The Stepcraft M-Series has the form of a benchtop CNC, (wide, long and short) the M-Series machines put emphasis on productivity and carrying forward the legacy of the machining capabilities of the famous D-Series with a total of 12 tool heads. The M-Series has three different variants, and M1000 is the top of them with over 1 meter long.
Besides the bundle of tool heads, the functionality of the M-Series machines stretches even further. These machines are available with the vacuum table mounting, which is optional and allows the machine to mount virtually anywhere. The system has a dual-height table that enables you to work through the floor of the machine.
What it means, you can mount the machine to a floor or wall and use it as a feedstock. The M-Series comes with a 1000W spindle as standard equipment. Apart from this, the systems are made available in different configurations, better-equipped setups with high power ball screws, semi-closed loop stepper motor drive, and complete aluminum table.
Coming to the software part, the Stepcraft M-Series CNC machines come along with UCCNC as standard, which is the machine control software. The X-profile of the M-Series is quite unique in terms of the stability and design of a CNC Router with laser.
Features
Multi-function capabilities
X-profile improves the design and stability of the machine
Semi closed-loop system
Highly engineered technology
Pros
The Best Overall CNC Router on this List
Powerful Drive System and Spindle
Large Work Area
Freestyle Milling allows you to work almost anywhere
Cons
3D Printer quality may be low
Needs an improved user's manual
Final take
In review, one of the remarkable features of the STEPCRAFT M-Series is the ability to work anywhere it is needed. Place the machine in vertical or horizontal directions to get the result you want.  If your main focus is on the CNC machining side of things, then this machine is for you.
5. DIABASE H-SERIES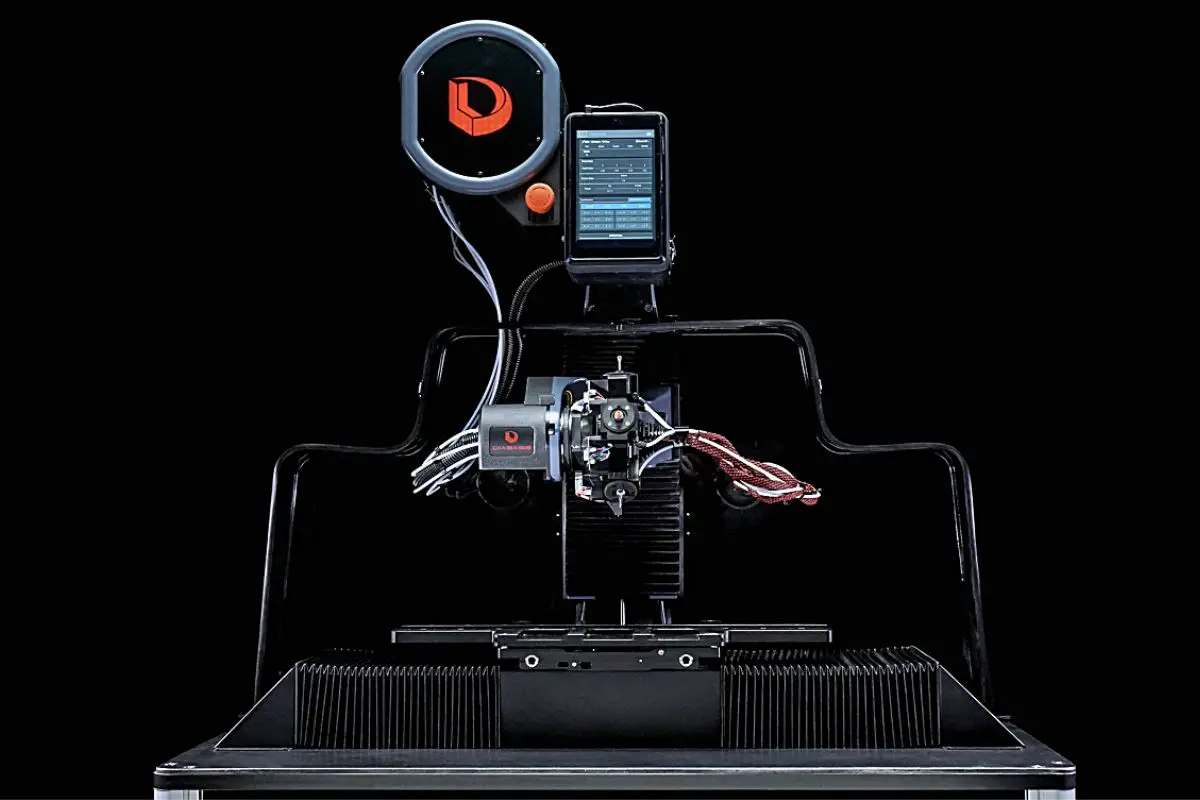 The H-Series is an all in one machine produced by Diabase. Based in the United States, Diabase is one of the biggest 3D printer manufacturers. Launched in 2018, the Diabase H-Series uses extrusion 3D printing technology. The all-in-1 3D Printer provides a build volume of about 400 x 180 x 180 mm.
A compact solution from the company that developed the Flexion extruder, the famous H-Series is a benchtop machine that is pretty fascinating to see it performing. The device has plenty of features that you can count upon. The key features of this machine lie in the tool holding system.
The tool holding system, which is rotary, can be outfitted with about 5 3D printing, metrology tool heads, or CNC machining. The H-Series is designed to combine the latest technologies and provide robust benchtop manufacturing. Also, the Diabase H-Series is capable of combining different types of 3D printed materials into the same printing job.
With the innovative new technology, it is quite possible to print 3D objects in a solid feedstock. It is then CNC milled into a net single part along with other configurations in between. Looking at Diabase's experience with different kinds of flexible materials, it is pretty sure that the H-Series is capable of handling the widest range of materials.
With a variety of materials available, the machine can engrave different metals such as aluminum, brass, and industrial-grade plastics like acetal. The Autodesk Fusion 360 is the popular CAM/CAD software used with this machine. The company provides post-processing scripts for the software too.
Features
Hybrid printing technology
Five extruders compatible with a different type of materials
Automatic nozzle cleaning
3D scanning module
5-axis platform CNC mill
Pros
Elite Versatility
Can Process Filaments up to 300 Degrees Celcius
Great for Prototypes and Workshops
Rigid Structure
Cons
Limited Material Capabilities
Final Take
The H-Series has the ability to incorporate 5 flexion extruders, a heated filament cabinet, rotary and linear scanning, and a building enclosure.  With lots of innovative features, this machine can be the right 3D printer for you.
6. 5Axismaker
The 5Axismaker is one of the best 3D printer and CNC mill combos manufactured by 5Axisworks, which is a manufacturer based in the United Kingdom. This professional and intuitive 3D printing machine is available in a bigger version with a build size of about 600 x 600 x 600 mm.
The 3D printer 5Axismaker is an all in one machine renowned for its multifunction tool head. As the name suggests, the 5Axisworks 5Axismaker tends to make things in 5 axes. A gantry that is movable along with interchangeable tool heads, is only the beginning of something very exciting.
However, the key to its free movement lies in the rotary tool head that is mounted at the end of the Z-axis arm. With such a setup, you can expect radical tasks like the 3 dimensional curved with 3D printing and improved CNC engraving of materials. The intuitive tool head design of this machine is praiseworthy.
Out of the box, this wonderful all in one machine comes with 3D printing heads and CNC milling tool heads. For 3D printing, the tool heads come with a nozzle of about 0.6 mm. But, if you request additional tool mounts, it can be made available to you. Also, there is a provision for you to order a touch tool head.
When it comes to the variety of sizes available in this machine, the smallest size has a working volume of about 400 x 400 x 400 mm. if you want to engrave serious objects, the 5Axismaker is the best machine for all your 3D printing projects. There are reports that the company is working on a 3-axis CNC machine, which would be more impressive.
Features
Interchangeable tool heads
3D printing module
5-axis CNC machining
3D scanning with measurement
Hotwire cutter
Pros
Affordable subtractive and additive CNC machine
Improved fabrication right to your desk
Automated positioning and calibration
Built-in sensors for safe and reliable performance
Swappable tools for an easy and fast workflow
Cons
Low variety of materials when using 3D printing
Final take
With the new 5Axismaker 3D printing machine, you can bring the most improved and desirable fabrication right to your desktop. The machine works on Autodesk Fusion 360 Ultimate, which is the software behind the amazing designs from this machine. The machine is equipped with plenty of features. Hence, it could be the best machine if you are looking to buy one.
7. BoXZY CNC
The BoXZY CNC machine is a complete desktop 3D printer manufactured in the United States by the company BoXZY. This CNC machine features a 3D printing area of about 165 x 165 x 165 mm and a machining area of about 203 x 283 x 260 mm. This all in one machine features laser engraving and CNC milling functionalities.
Also, this 3D printer machine can be bought in a simple version where you won't get the CNC mill and laser engraver. As you have seen that the company provides the machine with the best build area. The milling work area is quite decent as well. Apart from this, the company has introduced a new feature in this machine called the E-Stop power station.
This amazing technology acts as a fail-safe or a key-switch when certain issues are encountered during the processing phase. This way, the technology provides safety both for the equipment and the operator. The technology is very rare and it is rarely found on other milling machines.
One of the interesting aspects of the BoXZY machine is that it can do more than simply printing 3D objects. CNC machining and laser engraving are the two features that provide flexibility to the machine.
Features
Sturdy stainless steel frame
Easy swapping between the different modes
CNC milling and laser engraving
Works on a variety of materials
E-Stop power station
Pros
Sleek and elegant looking
Proficient all in one 3D printer
Spindle speeds between 10,000 rpm and 30,000 rpm
Equipped with a 0.4 mm nozzle
Cons
The laser needs to turned off through G-Code command, or else it can burn the part
Final Take
Getting a "jack of all trades" in your workshop may come handy when there is a need. And, if you have enough resources to get a remarkable 3D printer in an affordable price range, why not get the machine that can make you feel good about your investment? Although the machine can make improvements, it appears to be an exciting machine for your printing tasks.
Conclusion
Everyone knows the trouble while buying the best 3-in-1 3D printer. That's because there are a few models available on the market and making a decision is the hard part.  Even the perfect ones sometimes don't have a normal feature.  We hope you are able to enjoy your new machine and all the extra space and money you've saved.