Since writing this article on the best 3D printers under $1000, I've received a lot of positive feedback from readers like yourself.  Many are enjoying the endless possibilities and joy that comes along with owning a 3D printer.  I hope to hear from more of you as you start your journey as a Maker.
In a hurry… Here's Our Top Picks
R QIDI TECHNOLOGY 3D Printer
Along with the ability to print advanced materials, the QIDI TECH also has air purification, quiet printing, breakpoint printing, WiFi connection, one-button quick leveling, and double Z-axis driver to provide more stable and precise printing.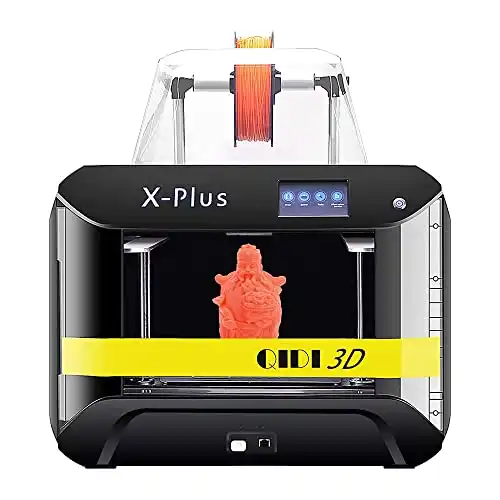 We earn a commission if you make a purchase, at no additional cost to you.
Dremel Digilab 3D20 3D Printer
Dremel considers this to be an ideal builder for brand new hobbyists and tinkerers. Dremel does an excellent job of making it as easy as possible for beginners.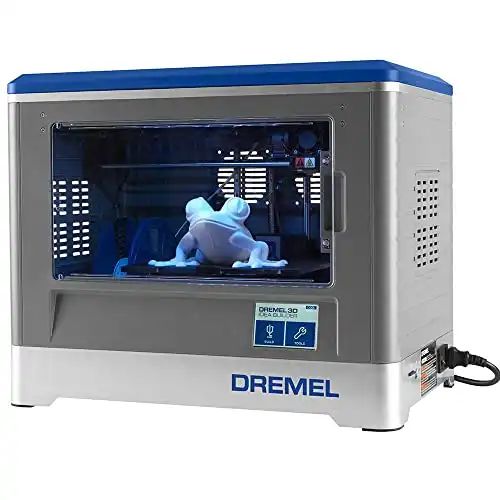 We earn a commission if you make a purchase, at no additional cost to you.
ANYCUBICSE Resin 3D Printer
The upgraded LED array increases the accuracy and resolution in the printing giving the printing an amazing look while many other printers in this price range can't.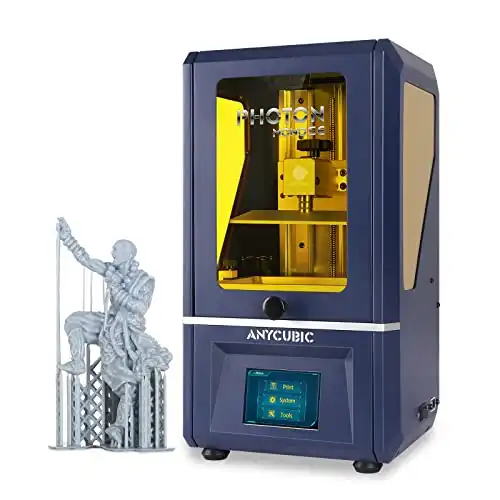 We earn a commission if you make a purchase, at no additional cost to you.
Best 3D Printer under $1000 Reviews
It wasn't that long ago to where it was next to impossible to find a decent 3D Printer without spending a fortune. Thanks to the advancement of technology, you can find 3D Printers at a price that is even less than that of a phone.
If you are on a budget and are looking for the best 3D Printer under a grand, read through the article to find which printer is right for you. As a nice little bonus, a lot of these printers are currently discounted. So if you are serious about buying a 3D printer, make sure to act quickly in order to save as much money as possible.
Side note: all of these printers are available on Amazon in order to make viewing these for yourself an easier process.
BIBO 2 Dual Extruder
As you can tell from the name of the printer, it has a lot of features. The BIBO comes in different models but the BIBO 2 usually runs you about $850 but at the time of writing this, it's on sale for less than usual.
This is a mid-range 3D printer but it gives you a lot for the price which makes it feel like a higher-end kind of printer. On top of that, this model can also perform laser engraving. That means you get a 3D printer and a laser engraver for less than $1000.
It's made of aluminum, metal, and plastic. Coming in at a little over 40 pounds, so you may need someone to help you bring this inside.  Overall, that is a positive. With a metal exterior, this makes the printer less prone to breaking as well as providing better stabilization during printing. Having a printer that wobbles around reduces the outcome of the prints.
Features
The WiFi module (USD 6) and the laser engraving module (USD 17) both come pre-installed. With the inclusion of dual extrusion, two-tone and multi-material prints are made possible.
Buyer's Guide
Here's some more information on the product so you'll know just what your money is getting you.
Volume: 214 x 180 x 160 mm build volume
Material Capabilities: The included 500 mW laser engraving addition increases the number of capabilities this printer has. Cutting through paper, cardboard, and engraving wood can be done with relative ease. Dual extruders allow the BIBO to print two of the same objects at one time, reducing the printing time in half.
Software: recommended to use are Repetier-Host, Cura, and Simplify 3D
User Friendliness: One of the reasons this is great for people who are new to 3D printing is because of how user friendly it is. The full-color touchscreen is easy to operate and connects to the WiFi. Professional support for this last a lifetime so if you ever have any questions, you can always have a professional provide assistance.
When purchased, there are two options available. The printer can come pre-assembled or come in a kit. Pre-assembled can make it cost more but makes the job easier which is always a bonus. But if you know what you are doing, then you can put it together yourself and save a few bucks.
Resolution: The XY-axis has a positioning accuracy of 0.022 mm and a Z-axis positioning accuracy of 0.0025 mm.
Pros and Cons
Pros
3D printer and laser engraver
WiFi compatibility
Great Value
Removable glass bed
Filament detection
Lifetime Support
Cons
Can take around 7 minutes to warm up
Nozzle is prone to clogging
Final Take:
While there are some issues, such as the nozzles being prone to clogging up and a longer heat-up time than most 3D printers at 7 minutes, I still think this is a great buy because it is also an engraving machine.
For less than $1000 you can get a two in one 3D printer and laser engraving machine. That's something you just can 't pass up. Sure there are some issues, but nothing too serious that it will make this purchase a waste of your hard-earned money.
When you look at the other models out there, almost none of them have lifetime support. Most only have one or two year support.
To a certain degree, this is understandable. After having a product for a year or two, you usually understand the product pretty well and know how to fix certain issues. Still, there may be an issue that happens one day that you've never come across before leaving stuck not knowing what to do.
Not being able to call support to ask for their assistance is the last thing you want to happen when being faced with a challenging issue. Knowing that you have lifetime support can make a lot of people very happy. Plenty of features, easy to use, and the lifetime support that comes with this printer makes this an excellent buy in my book.
ANYCUBIC Photon S 3D Printer
It's not the biggest printer out there but it makes up for that by having a low noise level while printing objects. No need to bring out a whole bunch of tools either as this comes almost entirely pre-assembled. For better printing results, there are dual linear rails installed to keep the printer steady while printing. This means it won't wobble as much as other printers resulting in a finer detailed print.
Arguably the greatest thing about the ANYCUBIC is that it's priced so affordable. That price alone is why this printer is in the category of the best 3D printer under $750. Many printers can cost thousands so to have one have as many features like this one for less is an exceptional offer.
Features
The upgraded LED array increases the accuracy and resolution in the printing giving the printing an amazing look while many other printers in this price range can't.
As mentioned before, there are more rails installed, and these dual linear rails that are installed help stop the Z-wobble that many other printers tend to have.
A double air filtration system helps prevent some of that nasty odor 3D printers make.
This is something that most 3D printers should have but unfortunately, that's not that case. Unfortunately, only the pricier printers are the ones that have a double air filtration system installed.
Luckily, with this one, there is an air filtration system. Now you don't have to worry about a room smelling awful for hours or have to grab some Febreze to get rid of the scent.
One thing you may notice in a lot of 3D printers nowadays is that they need WiFi in order to work. This isn't always ideal because not everyone has access to WiFi and some people may be inside a building that has such poor reception that it makes it hard to access WiFi.
The ANYCUBIC takes this problem away by not needing WiFi to run. If you have no access to the internet or if your internet randomly goes out, you can still continue to work on projects as if nothing happened.
Buyer's Guide
If you are still on the fence about buying this, hopefully, this extra bit of information will assist in the final decision.
Volume: 115 x 65 x 165 mm
Software: Photon Workshop and uses STL files
Material Capabilities: 405nm UV resin
Resolution: 47-micron X- and Y- resolution. Recommendation for Z- layer: 10 microns
User Friendliness: This printer has been dubbed as a beginner's printer due to the great user-friendliness. With a less complicated UI and the printer coming mostly preassembled, it makes everything simple for newbies to get settled into the 3D printing world.
Pros and Cons
Pros
Great detail to prints at a low cost
Produces little to no odor
Mostly Pre-Assembled
Simple UI
Wi-Fi isn't required
Great for Beginners
Cons
Can be prone to poor leveling
Lack of upgrade capability
No Material Library
Final Take:
While the upgrades to this ANYCUBIC printer are great, it would be preferred if there were a little bit more improvements. So, it's best to keep in mind that this is a budget printer. As with many budget items out there, you can expect them to have all flaws taken care of.
Being on a budget means you are willing to sacrifice certain features in order to save money. With the ANYCUBIC, the features that are sacrificed are nothing too serious and saves you a lot of money while still being able to create nice prints.
Probably the biggest upgrade is the improvements on the UI but if someone already owns the original ANYCUBIC, it's hard to justify spending money on an upgraded UI unless they really aren't a fan of the old UI.
However, if you don't have the original ANYCUBIC or if you do but are looking for an upgrade, this is most definitely worth the buy. It's slightly more expensive but it is newer so it should last you longer than some of the other models that have been around for a few years. Unfortunately, the workshop is missing a materials library meaning experimenting with cure time will require you to repeatedly re-enter the settings into the software. This may not seem like that big of a deal, but having to constantly enter the same settings can get tiresome after a while.
Of course, you can always write down the settings on a piece of paper or take a picture that way you can remember the settings easier, but not having to do this would be more convenient and time-saving.
Related: See how this printer stacks up against the Elegoo Mars (listed below) in our head-to-head comparison. 
QIDI TECH 3D Printer, Large Size X-Plus
Now this one is barely under a grand, but it still fits the bill as the best 3D printer under $1000. Obviously, this is a very large printer with its x-plus size. What makes it great is that it can print even some of the most advanced materials out there such as Nylon, Carbon Fiber, PC, and best of all, it's compatible with any brands of 1.75 mm filament. That's a pretty big bang for your buck at it's price level.
Now, there have been some reports with the touch screen. Some users have reported that the screen freezes on them but this does not happen often. Still, it can be a cause for concern for some people. This printer does come with a one-year warranty so if this were to happen, you should be able to return the printer and get your money back or have it fixed for free.
Fun fact: Did you know someone 3D printed a replica of a Lamborghini using this printer? Imagine being able to print your very own sports car! Now I'm not saying the day you get this printer, you will have a fleet of sports cars outside your house. This is just to show you the versatility this printer has.
Features
Along with the ability to print advanced materials, the QIDI TECH also has air purification, quiet printing, breakpoint printing, WiFi connection, one-button quick leveling, and double Z-axis driver to provide more stable and precise printing.
Some other notable features and specs about this printer
Heated and removable plate
Filament diameter: 1.75 mm
Single extruder
Layer thickness: 0.05 mm- 0.04 mm
Fused deposition modeling
Filament types: Nylon, PC, Carbon FIber, ABS, PLA, TPU, PETG
Buyer's Guide
Volume: 10.6 x 7.9 x 7.9 (270 x 200 x 270 mm)
Material Capabilities: Can print Resin, Nylon, and PC.
Software: QIDI software (can download newer versions on their website)
Resolution: 100 – 500 microns
User Friendliness: This isn't the most user-friendly printer in the world and part of it is because of the wide range of abilities this printer has. Fortunately, it can become easy to operate after some time being used. This printer is used a lot in education so if you plan on taking a class about 3d printing, you may run into this one. There's only one-year infinite customer support which is somewhat underwhelming but after a year with this printer, you shouldn't need much assistance.
Pros and Cons
Pros
Numerous Features
High-Quality Prints
Reliable
Great Structure
Cons
Touch Screen can be funky
Final Take:
The Best Overall 3D Printer we reviewed.  While it does test the budget a little bit by being on the higher end, this printer is well worth every penny. It performs like a high-end printer and produces quality prints. There are some issues with the touch screen but this happens rarely but it can still be frustrating to deal with. Since it's one of the larger printers, it weighs more and is a little over 50 pounds so don't go expecting to be able to set this up on your own.
It can be a bit overwhelming trying to learn everything this printer can do, but more features are a good thing. With more features, you now have the option of being able to create different and better-looking designs. Sure this increases the learning curve, but having more creativity is never a bad thing to have. Overall, if you have the patience and dedication that is required to learn and are looking to create some amazing and detail-oriented projects without breaking the bank, the QIDI TECH can get the job done for you.
ELEGOO Mars UV Photocuring LCD 3D Printer – Best 3D Printer under $500
Two colors are available in this model, silver, and black. The black model costs a little more while the silver has one of the lowest costs you'll find for a 3D printer. Just think about that. You can get a 3D printer for less than the price of a 4K TV! It's hard to find a better price than that. If you are comfortable to buy a used one, you can get it even cheaper. This is without a doubt one of the cheapest printers out there. Personally, I would recommend getting the silver model and spending the money you saved on materials.
I should say that although every penny counts, I wouldn't recommend buying a used printer unless you know for certain it's in great condition. Buying a used printer offers the chance of buying a possibly damaged printer. You don't want to pay for something that has scratches on it. I would recommend investing the extra cash and getting a silver model that is brand new and damage-free.
This is an excellent printer if you are going to be working by yourself. It only weighs a little over 17 pounds so you should be able to set everything up on your own. Speaking of which, setting this printer up only takes 5 minutes. That means you can get started on creating your very own project as soon as it arrives at your door. And since it's lightweight, it gives you the ability to take this printer with you wherever you go.
If you want to visit a friend and start working on some fun projects, you can do so. Or if you are moving into a new house. You don't want to worry about if your printer will fit in the car or not. Due to the tiny size, you can just plop this printer in the back seat or the trunk and you are good to go.   Overall, it's one of the best 3D printers under $500.
Features
Although it's tiny, there are a lot of features to this printer. Here is what this printer has
3.5-inch touch screen
UV integrated with a wavelength of 405 nm
Printing Speed of 22.5 mm/h
Buyer's Guide
Volume: 4.72 x 2.68 x 6.1 inches
Material Capabilities: Resin
Software: CHITUBOX
Resolution: XY Resolution of 0.047 mm (2560 x 1440) and a Z-axis accuracy of 0.00125 mm
User Friendliness: Extremely user friendly. Probably the best user-friendly printer out of all the printers. It only requires 5 minutes of your time in order to set everything up which is extremely fast. That and the price is why I think this printer is arguably the best 3D printer under $1000.
Pros and Cons
Pros
Lightweight and Portable
Great for on a tight Budget
User-Friendly
Quick to Set-up
Cons
Prone to Cracking
Long Print time for large items
Final Take:
Besides being more prone to cracking, this is an excellent printer to have. It can be bought as a birthday or Christmas present or you can buy it for yourself. Very easy to get set up, and if you take good care of it, this printer should last you a long time and make great projects for you at a very generous price.
Now it's worth mentioning that since this is a tinier printer, it will take longer to print objects due to not having as much space. It can print at a good speed, but you will run out of room faster compared to other printers. It's best to not expect this to create some huge projects for you. That's not to say you can create big projects with this printer, it will just take some more time. If you are okay with that and have the patience to wait, then I feel this printer is a steal for it's low price.
FLSUN QQ-S Pre-Assembled Delta 3D Printer
The FLSUN QQ-S is the newer edition of the FLSUN QQ and comes pre-assembled; which is always a bonus.  With a modest price, the FLSUN QQ-S is made entirely of metal. This is to allow this delta 3D printer to have more precision, resulting in a better-looking print. Each one was factory tested for 48 hours before it was packaged in order to ensure only quality products were being shipped.
One of the things that separate the FLSUN QQ-S from the FLSUN QQ is that the FLSUN QQ-S uses a 32-bit motherboard. This allows the printer to stay stable even while it is printing at high speeds. The amount of time this saves you will add up quickly especially if you are the kind of person who is always working on a new project.  A great 3D printer under $750.
Features
Lattice Bed
Titan Extruder
32-bit motherboard
Quiet printing
Auto-leveling touch screen
Buyer's Guide
Volume: 255 x 360 mm
Material Capabilities: It can work with 3rd party materials. Other materials it can print are PLA, ABS, HIPS, PVA, flexible, and wood. The material size is 1.75mm
Software: G-CODE, OBJ, and STL
Resolution: XY precision: 0.0012mm and Z precision: 0.004 mm
User Friendliness: Simple to operate, but the bed can hinder projects, but can help on some projects.
Pros and Cons
Pros
Power Out Recovery
Affordable
One-Click Auto Leveling
Can Pause and Resume Prints
Cons
No multi-extrusion
Cannot remove bed
Final Take:
While the price is very low and affordable, the non-movable bed raises some concern. This can make projects more difficult to work on. But on the bright side, having a non-movable bed can actually help with certain projects.
Despite all of this, the FLSUN QQ-S does everything you could ask for a 3D printer at this price range. It can resume printing from the break point in case of a power outage and even detect filament outage. Then you throw in the quietness of this printer. It has a noise level that is below 50 dB. This is some good stuff for a cheap printer. If the bed doesn't bother you, this is a good purchase.
Dremel Digilab 3D20 3D Printer
Dremel considers this to be an ideal builder for brand new hobbyists and tinkerers. As a nice gesture, they included a 0.5 kg spool of filament. This is another printer that comes pre-assembled but this does come with set up instructions to make it even easier for the customers. Dremel does a good job of making it as easy as possible for beginners.
This printer is actually aimed at schools as well as universities. If you are going to get into 3D printing, you most likely are going to take a class. on it. Dremel knows that too much complexity can drive away new people, so they have made everything very simple.
It is true that the looks of a printer aren't as important as the function of the printer, but just now that this printer isn't the most pretty looking thing. Gladly, it can get the job done for you while making everything as simple as possible which makes up for the appeal.
Features
The Dremel Digilab 3D20 has a lot of features but not all of them are good. For example, this is a PLA only printer. This means you can't use other materials like Carbon Fiber and Nylon. Since this printer is aimed at schools, this does make sense but it still is unfortunate to be limited to only PLA.
Fully enclosed for extra safety
PLA only
Single extruder
Full-color touchscreen
FDM technology
Buyer's Guide
If you are thinking about getting this printer, it'll be helpful to know about some of its other qualities/characteristics.
Volume: 230 x 150 x 140 mm
Material Capabilities: Limited to Dremel PLA unless tinkered with (not recommended)
Software: Dremel software and Simplify 3D. Uses STL, AMF, DAE, and OBJ file types
Resolution: 100 microns
User Friendliness: Great for beginners although leveling can be a nuisance to deal with. The most important factor is that it's safe and helps protect you from dangers by having an enclosed design. The only positive to this being PLA only is that the fumes aren't harmful which makes it even safer to use.
Pros and Cons
Pros
Great for Beginners
Enclosed Structure
Filament Included
Customer Support
Cons
PLA Only
Can be difficult to level
Final Take:
If you can look past the fact that you can only use Dremel PLA, you have a pretty solid printer on your hands. It does have some limitations but it is a great printer for people who are being introduced to 3D printing. It's safe, reliable, simple to use, and not too expensive. These are the most important traits you look for in a quality printer and a quality printer is what you get with the Dremel 3D20 3D printer.
Note: Some people have found ways to get around the limitations of only being able to use PLA by making some modifications. This is not recommended because if the printer gets damaged, the warranty won't cover this, leaving you stuck with a busted printer. It's best to leave the printer the way it is. Your wallet will thank you later.
TRONXY X5SA 3D Printer Rapid Assembly DIY Kit
The TRONXY X5SA was made to improve on the issues the TRONXY X5S struggled with. With outdated firmware, problematic DIY kit, a heated bed suffering from temperature issues, the TRONXY X5S has a lot of problems that people didn't like.
Now it's time for the TRONXY X5SA. This model fixes the current issues the TRONXY X5S faces including the broken acrylic Z mounts. The TRONXY X5SA has metal Z-axis mounts to prevent the Z-axis mounts from breaking as they did in the previous model.
There is a saying that goes, "If it ain't broke don't fix it." Well, the TRONXY X5S was broken and it has now been fixed. Now we have the TRONXY 5SA for us to use.
Features
Again, there are a lot of upgrades to this model over the previous one in order to improve function and performance. Of course, there are some similar features brought over to this model because they didn't cause problems in the older one. Here are some of the features included in this model.
Metal Exterior and less thermoplastic to improve durability
Double-axis guide rail
DIY kit
Auto-leveling sensor
Detachable print bed
Print resume function
Titan extruder
Updated 3.5-inch touchscreen
USB and SD cards can be used to upload 3D models
Filament run-out detection
Buyer's Guide
Volume: 330 x 330 x 400 mm
Material Capabilities: PLA, PETG, PC, ABS, PVC, HIPS, and Exotics
Software: Repetier-Host/Cura
Resolution: XY- axis: 0.0125 mm and Z- axis 0.02 mm
User Friendliness: This printer can provide issues with taking a while to assemble yourself, but it is pretty simple to use. If you are willing to put in the time and patience required to assemble the rest of the printer, you will have a nice printer.
Pros and Cons
Pros
An Upgrade from Previous Model
Easy DIY Kit Assembly
Detachable Bed
Cons
WiFi Module Not Included
Assembly Required
Final Take:
The main thing people want in a company is for them to always try and improve their products. TRONXY knew where the TRONXY 5S failed and fixed those mistakes with the TRONXY 5SA.
For them to be able to admit their flaws and fix them is a great characteristic for the company to have and you can see their hard work in the new model. While it still does have certain shortcomings (have to purchase the WiFi module), this printer can excel in a lot of areas that make it worth the investment.
FlashForge 3D Printer Creator Pro
Currently, you can save a lot of dough on this printer due to a lot of discounts going on, making it available for a great low price. The FlashForge 3d Printer Creator Pro was made by FlashForge who is one of the largest 3D printer manufacturers in all of China.
This product came out in 2016 and as you can imagine, there are other models of the FlashForge with the previous one being the regular FlashForge. With it being made by one of the biggest manufactures, it has a reputation of being one of the better ones in China and arguably the best 3D printer under $1000 here in America.
Not only that, but this printer is also extremely sturdy due to the metal frame it has, and not to mention this printer has a high user base. This is expected due to it being so popular in China and America. Pointed at hobbyists this printer can be great for many different people ranging from beginners to experts and even small companies working with 3D printers.
Features
If something is going to be used by small companies, there has to be a wide range of features. Rest assured, there is no shortage of features with this printer. Let's take a look at what this printer has to offer its users.
Versatile dual extruder. This means that the nozzles move independently from each other. This allows for faster dual extrusion prints.
Enclosed printing chamber
Removable cover
Metal frame
60% faster than the previous model
Heated print bed
Open source technology
100 mm/s printing speed
Buyer's Guide
While there is a lot of information provided, there's no such thing as too much information when trying to buy a product.
Volume: 227 x 148 x 150 mm and the filament diameter is 1,75 mm
Material capabilities: PETG, PLA, ABS, PVA
Software: Compatible with multiple Softwares such as FlashPrint, Simplify3D, ReplicatorG, and Cura.
Resolution: XY position accuracy: 11 microns and the Z position accuracy is 2.5 microns
User Friendliness: The system is very easy to operate which is one of the reasons why many people use this printer. Despite the simplicity, it's great for people of all levels and can be used in education.
Pros and Cons
Pros
Encased Design
Dual Extruder
Sturdy Structure
Cons
Final Take:
There's a lot to think about when considering whether or not to purchase this printer. With that being said, there is a lot of value that you will get out of this purchase. The high user base is always a great sign due to the fact that it means that the system is constantly being updated. The more the system gets updated, the longer its lifespan will be.
It's compatible with Windows, Linux, and Mac which can be great for many users. Many printers make it difficult to be compatible with certain operating systems which can be a pain. With a lot of compatibility and a high number of users, this printer is worth the price tag.
LONGER Orange 30 3D Printer
An improvement from the LONGER Orange 10 3D printer, this is another printer that is new and received funding from supporters. The Orange 30 had a campaign back in 2019 and was able to get $150,000 in support.
This all happened while having under 500 supporters. To have that kind of support means that this printer has to be really something. Especially considering the fact that it's a budget MSLA printer in which there is already a whole bunch of these on the market.
While I will say, this printer does have a nice looking design to it. But even. the, an appealing design doesn't cause this much support.
So why did this receive so much support from people? Well when you have a price tag of below $500, a lot of people will support a printer that is that affordable.
This is especially the case when there are a lot of quality printers that are much more than $300.
But there's much more to it than a nice-looking design and a cheap price. Don't get me wrong, that is something we all love. However, in order to truly see what so many people saw in this printer, we have to look at the features and specs.
Features
2k LCD screen resolution
Efficient slicer capable of slicing quickly and easy to use
Touchscreen
Can have a printing speed up to 30mm/h
USB connectivity
Includes gloves, USB disk, cards to level the bed, steel spatula, and much more
A fast cooling system and a temperature warning system
The last one is extremely important. Obviously, if the temperature gets too hot during the printing, this can cause great damage to any 3D printer. All systems will tell you the maximum temperature it is allowed to reach, but to have a warning system reduces the chances of a catastrophic accident.
To see a company take care of the customers by providing warning systems as well as other objects such as gloves and a USB disk, it becomes easier to understand why people thought so highly of the LONGER Orange 30 and decided to help support it.
But it's important, to be honest. And if I'm being honest, this printer is like all other printers in the fact that it has its own set of pros and cons. Let's take a look at these.
Buyer's Guide
Are you still looking for a little bit of extra information? No need to worry. Here is everything you need to know.
Volume: (also called bed size or build volume): 120 x 68 x 170 mm
Material capabilities: uses 405 nm UV resin but can also work with third-party materials
Software: LongerWare or ChiTuBox
Resolution: 2560 x 1440 pixels, XY- axis resolution of 0.047 mm, and Z-axis positioning accuracy of 0.01 mm
User-Friendliness: Very simple to get everything set up and started. Not being compatible with Linux stings, but this is still a very simple printer to operate.
Pros and Cons
Pros
Fully Assembled
Very Affordable for most
Great Temperature Monitoring
Third-Party Material Compatible
Cons
Doesn't come with Material
Final Take:
With all of the information that's been provided, this printer shows why it can be a great go-to budget printer in today's world. However, not being compatible with one of the most popular operating systems in Linux, this hurts the appeal of the LONGER Orange 30, at least it does to Linux users.
If you are fortunate to have Windows and Mac OSX, then this printer can do wonders for you.
You may have to go out to purchase the resin needed, but with all of the other supplies that are included, this makes that less of a burden to bear. To make it all simple, this is a printer you should definitely consider purchasing if you can afford and if you aren't a Linux user.
Eryone Thinker SE Quiet 3D Printer
All you have to do is look at the name of the printer and you will know that it is quiet. This is an underrated aspect in regards to 3D printers. We all love creating cool projects, but no one wants to hear the printer making a bunch of loud noises.
Once you hear how quiet the printer is, you will begin to appreciate quieter printers even more. What makes the printer so quiet is the Eryone 2560 Motherboard along with the TMC2208 stepper motor driver and quiet fans.
Moving on from the noise level, this printer is currently discounted and available for less than usual. Who doesn't love to save money? Another question that can be asked is, who doesn't also love to save time?
Well with the Eryone Thinker, you can save time and money. Assembly only takes 3 steps and there's essentially no need for you to do any sort of calibration. This allows you to get right to work as soon as you receive the printer.
But there's much more to this printer. Here are some of the other features that puts this on our top 3D printers under $1,000 list.
Features
Glass heated bed surface
Very quiet 49dB noise levels
Compatible with auto-leveling sensors
Power failure resume ability
Fused Filament Fabrication
Printing speed 30mm/s – 145mm/s
Dual bed rails
Default Nozzle Diameter of 0.4 mm
It's very clear that there are a lot of features with this printer which is always a good sign when you want to buy a printer. Although, in order to make an even more informed decision, you need to know some of the pros and cons associated with the Eryone Thinker SE Quiet 3D printer. Let's take a look.
Buyer's Guide
It's understandable to be curious about other parts of this printer and what it has to offer. Luckily, all the information you need is right here. Use this information to see if all your requirements are met.
Volume: 300 x 300 x 400 mm
Material Capabilities: PLA, TPU, PETG, and more
Software: Cura, Repetier-Host, Prusa Slic3r, Simplify 3D, and others. GCO and Gcode are the print file types.
Resolution: All of the XY and Z-axis have an accuracy of 12.5 mm. The print precision is 0.05 mm along with a filament diameter of 1.75 mm
User Friendliness: It supports all operating systems so no one has to worry about missing out on this printer if they choose they want it. Very easy to operate as well and with a quick assembly, this printer takes little to no time to get started.
Again, the quietness is most likely going to be the most appreciated part from the users. Having less noise pollution in the background can make it easier to concentrate on the task at hand which is crucial for when you are 3D printing. The additional option of the auto-leveling is the cherry on top.
Pros and Cons
Pros
Very Quiet
Easy to use for Beginners
Heated Bed Surface
Good Printing Speed for price
Cons
Slow heating bed compared to others in this price range
Final Take:
With knowing all of this information about this printer, it becomes easier to fairly evaluate it. When you think about the budget friendly price tag and the features it includes, it's easy to understand why this is one of the highest-rated 3D printers on the market. Its main selling point is the very quiet noise level it has which can be great for a lot of people, especially to those who are extra sensitive to noises.
Now with all of this and the ability to be compatible with auto-leveling sensors, this printer can bake a great addition to anyone's project.
If you are looking to become familiar with the 3D world and all of what it has to offer, this should undoubtedly be one of the first printers you should consider looking at if you are on a budget.
You get to experience the beauty of 3D printing all at a modest price. This is an amazing deal that should be capitalized on if you get the chance.
Final Thoughts
Overall we believe there are a lot of amazing products in the Best 3D Printer Under $1000 list.  Now that we have done the research for you, we hope you are able to make an informed decision that best suites your needs.  If you have any questions or suggestions please feel free to write us in the the comment box below.