After writing this article on the Best 4×8 CNC Routers I've received a lot of positive feedback and comments from readers.  Please continue sending us updates and we would love to see what projects you are currently working on.  Thanks to everyone!
Having done the research, you may have an idea of just how challenging it is to find a solid 4×8 CNC router for your business or home, but at an affordable price. This it is important to do your due diligence before making such a large purchase.  There are few factors you may want to consider, before selecting your new machine.
There are many hobby CNC Routers out there that are just too small for creating large scale products.  That is why 4 x 8 CNC routers have become so popular over the last decade.
If you have the space and budget then we highly recommend a bigger more user friendly machine. To make it easy for you we've reviewed our top 8 CNC routers and listed them below.
In a hurry… Here's Our Top Pick
Best 4×8 CNC Router Reviews
MakerMade Maslow 4×8 CNC router kit
If you want to look for bigger projects on wood, the Maslow 4×8 CNC router is the perfect device for your specific needs. With this amazing router, you can successfully create engravings to be used on houses, boats, furniture, and many more. Maslow is designed to be an open-source program.
This 4 X 8 router is a perfect introduction to a large form of CNC machines. The device includes features like Z-Axis, which eliminates manual adjustment and engraves deep during the whole project. The software that controls the device is called Ground Control. You can install the program on Linux, Windows, and Mac computers.
These operating systems help you calibrate the machine and manage your engravings. Maslow's CNC router is driven by a chain system. The chain drive system has many benefits including that it is much stronger than belt-driven machines. The device can be easily scaled up and down by altering the size of the structure and length of the chain.
This machine tool can engrave different kinds of wood, plywood, plastics, and so on. The machine is known for its high-performance abilities. When you have little space for putting your creativity at work, this machine is perfect for you. Using this router will have limitless possibilities because you can create projects that are functional and practical.  Overall one of the best budget4x8  CNC routers we've reviewed.
Features:
Great value for money
Open-source software for more creativity
Chain drive system with many benefits
Can make shallow passes to engrave through thick materials
Committed to consumer satisfaction
A high-performance tool capable of engraving hardwoods
Patriot 4×8 3-Axis CNC router
The Patriot 3-Axis 4×8 CNC router table features precision motion, all-steel structure body, professional training or installation, and lifetime technical support. The company produces these machines where they handle each and every detail from installing the electrical system unit to welding the steel structure. The patriot machines are built to deliver sheer performance.
The Patriot 4×8 routers provide rigidity that is necessary to process different kinds of materials such as wood, composites, aluminum, foam, plastics, and many more. Now you don't have to worry about what materials you are working with. This CNC router table can configure and create amazing engravings and get your job done.
The Patriot 4′ x 8′ CNC router is one of the most popular products available on the market. This machine is perfect for everyone. Whether you are a beginner woodworker with less experience to handle these machines or a busy production manager at a corporation center, the Patriot 4X8 CNC router serves you best.
When it comes to performance and productivity, this router stands on its own in this regard. This is the perfect device for your needs like creating a single custom concept or producing 5000 pieces for a commercial purpose. It has precision motion components, absolute encoders, and a steel structure body.
Features:
Moving gantry design 3-Axis CNC router
Dust collection hood made for spindle
Ball screw assembly
3-phase power 220 Volt
Serial port and USB connectors
Parts warranty
Stinger III CNC router 4X8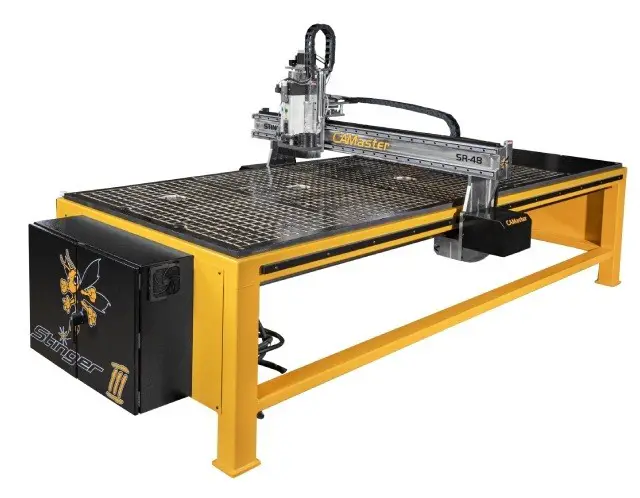 Designed with a small footprint, the Stinger III 4 x 8 CNC router provides a generous work environment. The machine is perfect for a small shop looking to engrave full-size sheets. Because the machine is built over robust steel construction, it is rigid and produces less vibration.
Stinger III is equipped with a pinion drive and helical rack system. As a result, the device has high acceleration, runs smooth and effectively, and engraves with high dimensional accuracy. This CNC router table is considered an industrial-grade router. It opens many opportunities for your business. The unit is constructed with a welded steel.
It has high-quality precision bearings along with hard steel rails on each of its axis. As such, it gives the machine a rigid and smooth trip even at top speeds. With an open table design, the Stinger III gives you unrestricted access from all the sides of the machine.
The 4×8 CNC router comes with a 19 inches LED monitor and a computer that runs on Windows 10 Pro. WinCNC, which is a control software, is preloaded on this computer. The machine and the software are checked with the CNC router table before it gets shipped.
Features:
High torque motor NEMA 34
Digital Microstep high definition drive system
Makes the machine on or off through the control computer and G-Code
Strong precision rails and bearings on each axis
WinCNC controller
StyleCNC STG1224 CNC router table 4 x 8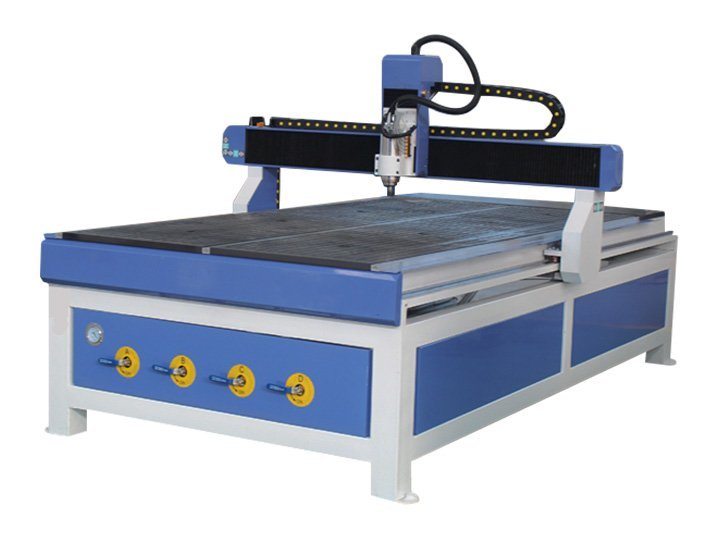 The Affordable CNC Router from StyleCNC is a budget-friendly 4X8 CNC router. This machine is mainly used for woodworking, cabinet making, decorations, furniture, sign making, arts, and many more. If you want to show your creativity by engraving on wooden materials, this machine can serve you better.
On top of that, it comes with a low price compared to other products on the market. The machine is built on a cast-iron. This makes the unit robust and durable. Another advantage of having heavy machinery is that the entire unit will vibrate less. The machine engraves with accuracy.
The rolling ball screw incorporated in the StyleCNC CNC router machine comes from Taiwan TBI. Because of this, the unit has high accuracy and ensures that the structure has better precision while working. This CNC router machine is compatible with many CAM or CAD software like Artcut, Artcam, TYPE3, etc.
The Affordable 4 X 8 CNC router can be used in landscapes, portraits, seal carving, basso relief, calligraphy lettering, and other plane surface engraving. The machine has its application both in the woodworking and advertising industry. These include redwood jewelry boxes, wood carving, antique and classic furniture, fine jewelry carving, display panels, badge, building numbers, and so on.
Features:
Build with cast iron for more durability and stability
High precision engraving for smooth objects
Compatible with many CAD software
Vacuum pump absorbs the materials
DSP Handle controlling, several machines can be controlled by a single computer
SketchNBuild Pro Kraft Series SBS-C2 CNC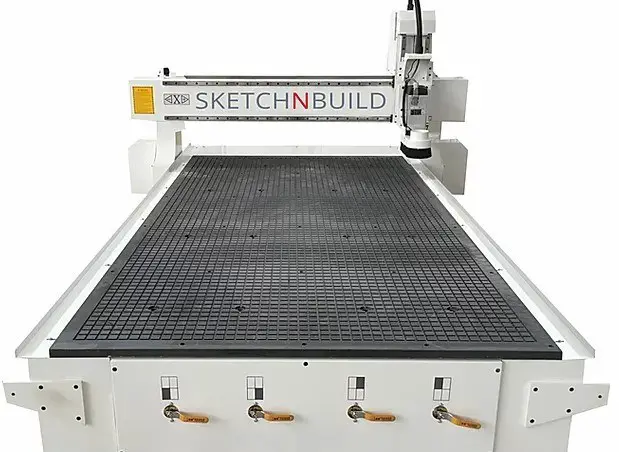 If you are working in certain wood projects and looking to buy a 4X8 CNC router, the SBS-C2 by SketchNBuild can be the one that can serve you best. The Pro Kraft SBS-C2 Series is a 3-Axis CNC router that comes with a 4X8 working space. It has a vacuum table along with a 10 HP vacuum pump.
With this CNC router, you can show your creativity on all kinds of wood. Whether you are engraving kitchen cabinets or routing artwork, you don't have to worry about them. With the new and improved Pro Kraft Series SBN-C2, your production line would become more efficient in a whole different way.
Because of the latest developments in technology, this router machine takes fewer hours to perform the task and helps to lower the cost of doing business. With this CNC router table, you can engrave through the hardest of materials including hardwood. The machine ensures that your production line doesn't stop.
Although some CNC router gives a computer with the unit, the Pro Kraft SNB-C2 series doesn't include a computer with the standard equipment. The highest rapid travel rate is fixed at 25000 RPM per minute, while the maximum working speed of this unit is fixed at 20000 RPM per minute.
Features:
Rack and pinion drive for X and Y structure
Steel body makes the unit durable
Vacuum table included with vacuum pump of 10 horsepower
Inclusion of emergency stop switch
NC Studio Controller included
ShopSabre RC Series CNC router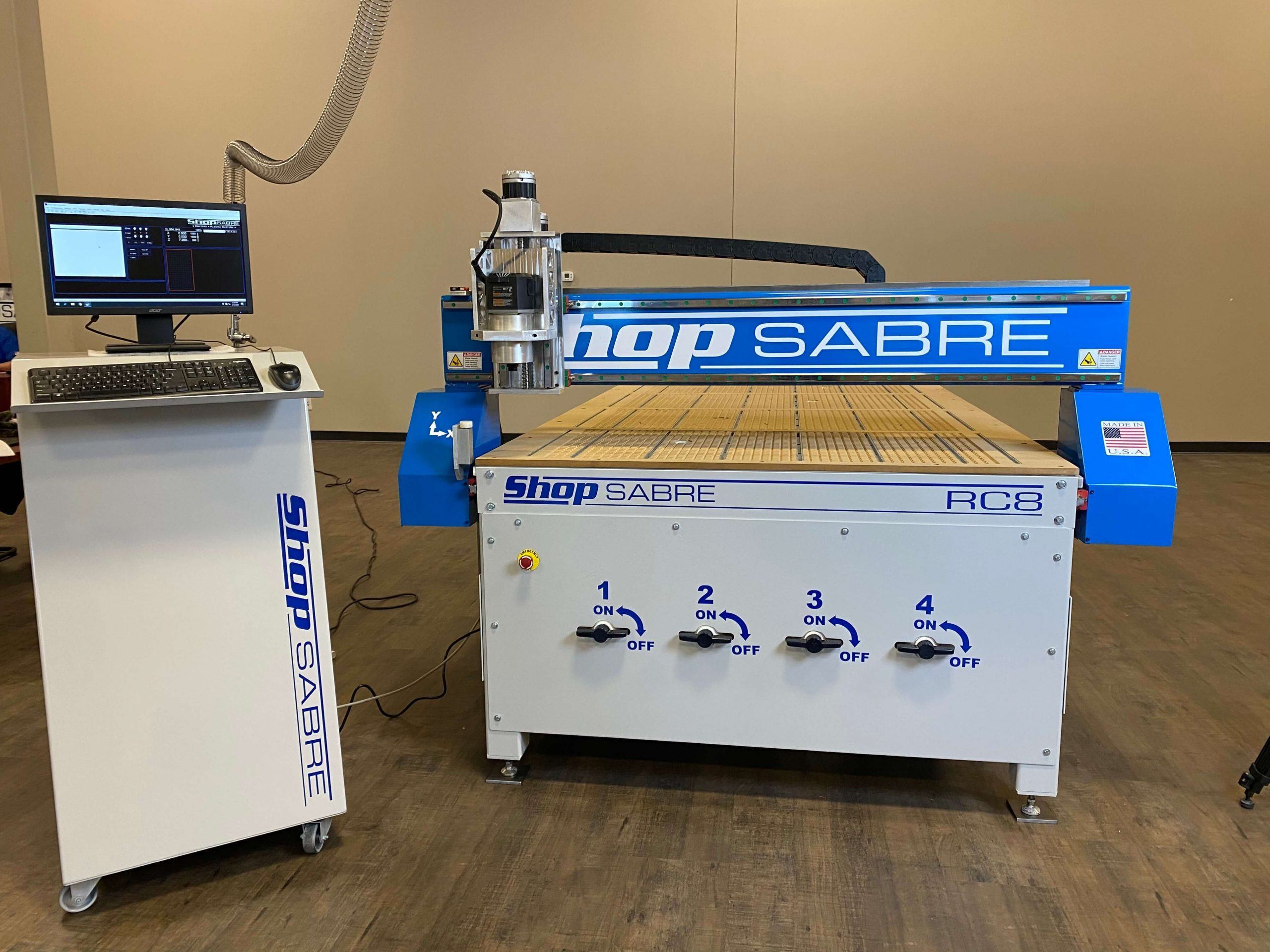 If you are looking for a less expensive 4 x 8 CNC router, you may buy the ShopSabre RC series. These routers are the most innovative machines that fall on the entry-level solutions available on the market. Despite being less expensive, they are equipped with great functionality that can be seen on some high-end models.
With the latest rack and pinion, this machine is perfect for lower accuracy applications, hobby, and small production houses. The RC series consists of heavy steel construction in its class and has fitted Servo motors. It gives you reliability and durability that you can't find in other low-cost solutions or Chinese imports.
The structural steel parts are welded to have better rigidity of the unit. With six legs, the unit has better floor contact and vibration control. The Servo motors ensure higher accuracy, higher speeds, and less maintenance. The "Floating Drive"' technology allows the rack and pinion to decrease debris contamination.
ShopSabre CNC routers use the upgraded bearing technology with its 25mm linear guide bearings and rails on all of the axis. This way, the surfaces stay clean and increase the machine's rigidity. It increases performance and reduces maintenance. The gantry uprights on this unit are of the industrial grade.
Features:
Floating Drive Technology that improves XY motion
The motors deliver smooth motion with accuracy
Effortless installation
ShopSabre CNC software and controller
Lifetime technical support
ShopBot PRS alpha CNC router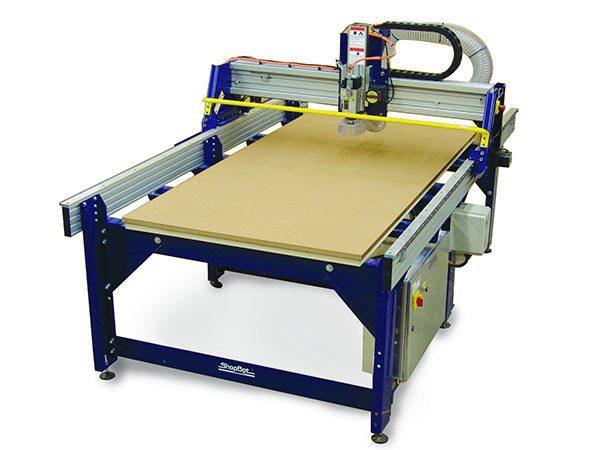 When you are looking for solutions that deliver high volume, high performance, reliable power, and speed for all your engraving tasks, ShopBot's PRS alpha series of CNC routers is what you need. Capable, innovative, and affordable, these machines will be your ultimate choice when it comes to showing your creativity.
With production capability similar to a medium-sized factory, ShopBot PRS alpha tools are some of the sophisticated, toughest, and amazing CNC router tables available on the market. These machines are capable of engraving, carving, machining, and drilling with accuracy. The tools have a rapid transit speed of about 1800 inches/minute.
Also, they have an engraving speed of around 600 inches per minute. Easy to configure, the PRS alpha delivers full production performance in engraving wood, aluminum, plastic, and other materials. There are endless possibilities when it comes to using the ShopBot CNC routers.
If you are into cabinet making, load the sheet on the machine and give some time. It will cut the parts you need. You can use this machine to make 3D carving, profile contouring, fluting, and engraving. Millwork and high-volume furniture companies are embracing the CNC technology.
Features:
Hardened steel rails intended for the x-axis
Industrial certified control box
ShopBot Control System to run the unit
Emergency stop switch
Reliable power transmission on every axis
CAMaster SignPro Series 4×8 CNC router –  Best CNC Router for Signmaking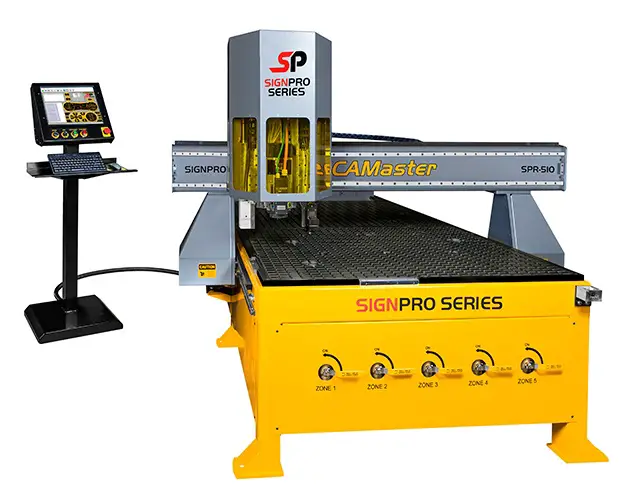 The SignPro Series CNC router by CAMaster is intended for Signmakers looking for routers that are capable of handling digital finishing, digital engraving, and CNC machining. The SignPro is developed with performance and productivity in mind. As such, it gives you the ability to engrave wood, fabrics, foam, plastics, vinyl, coroplast, and so on.
This CNC router is made of steel and comes equipped with digital servos. The SignPro combines high precision gearboxes to deliver accurate cuts at higher speeds. Among the other standard features of this router are the oscillating tangential knife and 4 horsepower quick charge spindle.
This machine is customizable. Several options include Optiscout Vision that uses software and camera to reduce errors while working, automatic tool changer while machining, misting system used while engraving aluminum or other non-ferrous metals, 5-zone vacuum table, and many more.
With maximum engraving speeds at 1500 IPM and a rapid transit speed of about 2500 IPM, this CNC router's performance is what everybody is looking for. When you buy this machine, you get a lifetime tech support and a 2-year warranty. The presence of online diagnostics makes it one step forward from the other models available on the market. A great entry-level CNC router for woodworking.
Features:
25 mm precision bearing and rails on each axis
Steel structure
Motor brake system
Cutting tools enclosure
Touchscreen monitor
Buying Guide: 4 x 8 CNC Router Tables
Choosing the best 4 X 8 CNC router from a wide range of brands on the market could be an overwhelming task. To make things a little easier when looking for a machine, you should consider certain factors that we have listed below. This buying guide will help you in purchasing the right CNC Router that would suit your specific needs.
Power
In general, it means the working capacity of the CNC router machine you are planning to buy. Consistency is the name of the game. Hence, the power of the machine is of the utmost importance while buying a CNC router. Having strong motors to give power to each axis is very crucial when cutting harder materials.
Whether you are producing a hundred pieces or a single one, remember that the quality of work is the same. It is wise to choose a machine that can complete your task with ease and the way you want. A machine with the right capabilities is what you need.
Also, have a clear understanding of whether the machine is for a small purpose or intended for a commercial one. This will help you determine what kind of power and capacity you need for your machine. In short, buy a router that matches your goals.
Spindle
The spindle is a critical aspect of every good CNC machine, so it's best not to be too cheap with this. These are the motors that help engrave through the metals using the tool. There are plenty of models out there on the market available for CNC routers. Each brand has its own set of options, and it differs from the others.
Before buying a 4'x8′ CNC router, ensure that you have the right kind of spindle that will last. Check the horsepower you need to have for your projects. Because that's the only way you can buy the right machine for your needs. Buy a router that has a few spindle options for different types of projects.
Also, you need to check its cooling system. Choose either air or water cooling depending on the projects you undertake. Ensure that the spindle design matches with the product and the manufacturer have put in quality components. It is important for increasing its lifespan.
Accessories
These things are pretty handy and increase your productivity. There are lots of accessories associated with these machines. But, all of them aren't necessary, and some of them are even combined with the original equipment sometimes. This relieves you from the additional cost of buying them separately.
The automatic tool changer changes the tool very fast and reduces the time of tool functions. If your projects require using many tools one after another, choose a CNC router that has an effective automatic tool changing system. It ensures the safety of the user while changing tools during operations.
A vacuum table is another useful accessory. The vacuum pods are used when handling workpieces related to wood processing such as particleboard, MDF, floorboards, furniture parts, etc. the entire vacuum system may be expensive. Check out the actual vacuum pressure of the machine and how well the vacuum table can hold the material.  Having the proper dust collection system is critical for machine shop safety.
Build and Construction
The size of the machine is crucial before you make the purchase. The build and construction of the CNC router play an important role in your kind of business. If the machine is intended to undertake constant work, you need to choose a robust and durable one.
Some of the older CNC router tables are quite heavy and occupy a lot of space. But, the newer generation of CNC routers is sleek and small. Yet, they pack amazing performances with them. A sturdy build machine may cause trouble if your business needs frequent transportation.
Hence, it is better to select a model that has a good build and construction. A steel-structured body is favored more. Remember that a sturdy body makes less vibration and the work is completed with much comfort.
CAD/CAM Software
Software compatibility is another important aspect you need to consider before buying a CNC router. Ensure that the model you are looking to buy has software for your work projects. Keep in mind that the software should be compatible with your computer system. Some CNC machine manufacturers will have a software package included or have a recommended CAD/CAM program for use with the router.
One of the important software used in these routers is called CAD or Computer Assisted Design. This is a design software program. This software is responsible for creating program codes that are run on the machine tool. Without the software, the engraving on the materials won't take place.
When you are doing simple 2D engraving, the basic G-code design software serves the purpose. But, if you are creating complex parts, you should invest in an advanced software program to improve your creativity level.  A well equipped CAD/CAM software increases your creativity, control, accuracy, and efficiency to your projects.
Warranty
Buying a CNC router is not similar to other purchases you make. It is a big investment. The best machines have the latest technologies and work efficiently giving you the desired result. So, it is wise that you have a clear understanding of the warranty policies of the company from where you would buy the product. Almost every reputed brand gives a 2-year warranty on their products. But, look out specifically on what item or component has the warranty been given.
Support and Parts
Since you would be working alone in the machine, sometimes it may encounter difficulties. This is when you need some expert advice. And, other than the executives at the consumer support system, you won't get help.
A good consumer support system is one who takes good care of the machines. They provide important tutorials to their valued consumers. They dedicated themselves to their work and assist people who are having issues with their devices.
It is natural that because of wear and tear several parts of the machine may need servicing or replacement, like your spindle or bearings.  Add in the cost of cutters, end mills, and router bits that require replacement due to wear and breaking and the costs can add up quickly.
Hence, before buying a router make sure that you can order spare parts from the manufacturer. Make sure to be in frequent contact with your sales rep for the best overall experience with your new machine.
Wrapping things up
The best way to choose your  4X8 CNC router is the one that fits your budget, space, and needs. There are a lot of machine options available to purchase. If you are looking for a machine a little smaller, then we highly recommend you check our articles out on 2×4 and 4×4 cnc routers.  In the end, make sure your budget matches your wants, before making a major purchase.