Updated JULY 2020.  Thanks to everyone who has reached out after I posted this article on the Best CNC Router 2×4 Kit.  I am very excited for those who have purchased their new machines and are even starting to make money with their CNC Router.  If you are still in the process of searching for a quality machine, please read our reviews below.
In a hurry… Here's Our Top Picks
Next Wave 10024 Shark HD520 CNC Router Now with Two Year warrenty
Best 2x4 CNC Router for the Money
Before the Shark came the popular Piranha series by Next Wave Automation. It was one of the best machines we reviewed due to it's low cost, size, and versatility. Now they have taken it to another level with their newly upgrade machine.
We earn a commission if you make a purchase, at no additional cost to you.
Axiom Precision ARPro CNC Machine (AR8 24" X 48")
Great for More Advanced Users
The Axiom Precision AR8 Pro V5 offers just about everything you will ever need from a hobby cnc router kit. This machine offers the most effective and powerful spindle performance and also the capability of a rotary machine.
We earn a commission if you make a purchase, at no additional cost to you.
So what can I do with a 2×4 CNC Router?
CNC routers are generally used by woodworkers and hobbyists to perform all the complex designs they don't want to spend time and effort on. The days of carving every little detail by hand are gone.  We now have computerized machines dedicated to cutting the most intricate designs we can think of.  Having a large cutting area of 2'x4′ (24" x 48") gives you all the necessary space for most carves.
So, you may ask yourself what can a CNC Router kit do?  Well, CNC routers can engrave a surface, carve out a design, flatten a surface, drill holes, round edges, and make complex 3D designs.
With the help of these tools, everything has changed and turned out much easier. The way we design something, make jewelry, and manufacture bits and pieces of metal, plastic, stone, and wood. Everything is now made with advanced technology like CAD/CAM Software, that is easily created and transfered from your laptop computer to CNC machine.
Since you are reading this article, it is a good indication that you want to know what the best 2×4 CNC Router kits are. So, here are the reviews of some of the best CNC machines. Let us start with the stepcraft M-1000 review.
Best CNC Router Kit 2×4 Reviews
1. STEPCRAFT M.1000 36 x 48 CNC router kit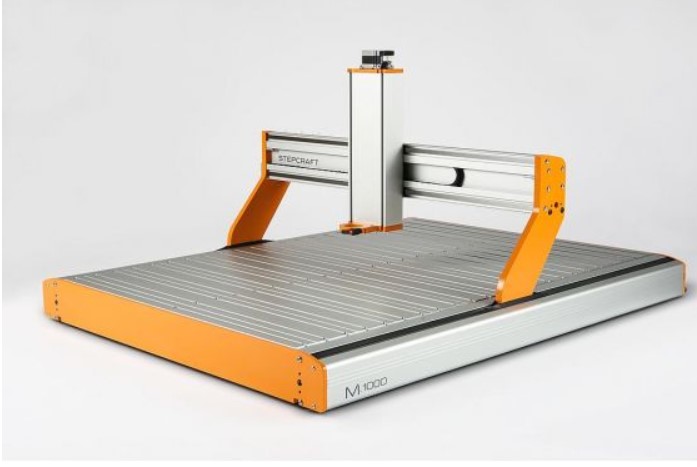 STEPCRAFT does it again with the M.1000.  Possibly the best machine we reviewed due it's low cost, size, and versatility. They are quickly becoming the CNC Router Industry leader with their wide range of machines at affordable costs.  Although it's a little bit bigger than your typical 2 x 4 kit, we couldn't leave it off the list because of it's quality build.
With this larger cutting area, you will be able to put much larger work pieces on your waste board without any clearance issues.  Avoid the unnecessary stop and go of working with a smaller machine trying to measure out your cuts.  Get all your cuts done in just one carve.  Be sure to check out all the unique accessories you can add-on to the purchase of your machine.
The weight of Stepcraft M 1000 is around 92 kgs and it already comes up with a 110 USA plug and requires 180 watts, 110 volts to 240 volts of power. The dimensions of the machines are 36 widths, 48 lengths and 25 height. Most importantly, it's maximum feed rate is 120 mm per second. It also comes up with igus dry spin lead ball screws and Bosch Rexroth ball bearing linear drive guides. Furthermore, I've listed down some of its salient features, have a look at them.
Features
The Stepcraft M 1000 kit includes a manual and Wera tool set which contains a torque screwdriver. In addition to this, it includes all the tools and needed features.
It offers plenty of videos and online demonstrations to assemble the machinery correctly.
The Stepcraft M 1000 includes a CNC machine control software that performs all the operations needed. Along with this, it also comes with a table of two sizes.
Pros and Cons
Pros
No need for customization with the Aluminum T-track option
Optional Ball Screws
An Automatic Tool Changer option is available
Optional Pre-Assembled Machine
Larger than average cutting area
Cons
Overall price is low, but can add up quickly with accessories and options
Conclusion
After reviewing the STEPCRAFT M.1000, we believe this may be the best overall option for most diy and hobbyists.  It even has some capabilities that even a CNC Machinist would love to have.  We think you can't go wrong with this machine.
2. Axiom Precision AR8 Pro V5 CNC
The Axiom Precision AR8 Pro V5 offers just about everything you will ever need from a hobby cnc router kit. This machine offers the most effective and powerful spindle performance and also the capability of a rotary machine. Axiom Precision also offers a V5 series CNC routers that are no less. They have a 3HP electric spindle that is powerful and comes up with an updated liquid cooling system. Most importantly, it is already wired to accept the extra and an optional rotary kit.
Other than this, it proffers a number of extra accessories and tools along with it such as ball screws, strong frames of steels, or any other metal, prismatic guides, an aluminum table which can be interlocked easily to make your work even more comfortable and effective. Along with this, to achieve more accuracy and exactness it comes with integrated MDF spoil boards. The MDF spoil boards can conveniently work with the spindle.
One of the most important features of the Axiom Ar8 PRO V5 is that you can work completely offline. All you need to do is to transfer all the data and files to the DSP RichAuto B18 controller by using any USB storage device.
The controller of this kit is powerful, light in weight, and convenient to use. The controller is the most effective and gives the desired results. Moreover, Axiom Precision ARPro CNC router kit 2×4 can be delivered to your shop or your business at a low cost.
Features
The kit includes a heavy aluminum table that can be interlocked easily. In addition to this, to offer stiffness and efficiency it includes the MDF spoil board.
For the better and smooth movement of the machine, the kit contains guides and screws on all the axes.
It comes up with a liquid-cooled electronic spindle that can be used when the power is being consumed highly and when the time extends.
Pros and Cons
Pros
A computer is not needed because it includes a stand-alone controller named DSP RichAuto B18 which performs all the required operations.
Strong Spindle with optimal stepper motors
4th axis rotary option attachment available
Great Customer Service
Cons
This kit doesn't come with the stand or software
Conclusion
After review, we believe this an overall great machine for most users.   Also, you don't need a computer system, it comes up with a handheld RichAuto B18 controller which performs all your tasks easily. Along with this, you can also purchase extra accessories like a rotary kit and more.
Besides, it doesn't offer a toolbox and a stand and also the software as well. So, if you can bear these shortcomings then you surely should buy this.
3. Axiom Precision Iconic CNC Router
Another great Axiom Precision machine, the Iconic CNC Router is bundled up with the latest and greatest maker tool technology. If you have just made an entry in the field of cutting and designing, then this router is perfect for you. It has been designed after considering everything and also it is tested.
These features not only make your work smooth and exact but also make it quick and easy. It doesn't need any complex and tough software as it already comes up with a handheld DSP controller that is so convenient to use and gives the best results. Most importantly, the router is built using the best quality components and materials, which makes it a tough, heavy, and strong CNC router.
Furthermore, it comes in three different sizes and all the three sizes function just so perfectly. Along with the three sizes come all the other tools like prismatic guides, balls, screws, DSP controllers, and many other extra accessories.
The DSP controller makes the work easy and quick without having to worry about a computer system. Not only this but also they can be used with larger sized editions of the CNC routers. You know what? It comes with user guides and video tutorials just to make it easy for you to assemble the router.
Features
The design of the Axiom Precision Iconic router is just so great that it can fit perfectly in your shop or your work area.
The quality of the material used is great and high which makes the machinery best.
Pros and Cons
Pros
It's a rare combination of price and advanced features.
It is available in three sizes in the market just to make it easy for you.
The customer care service of Axiom Precision Iconic router is just so good, the owners are so helpful, they always are there to help you in case of any emergency.
The design of the router is quite simple and easy to use.
Cons
Not the strongest of machines on this list
Conclusion
Overall, it is the perfect choice for you at an affordable price. Along with its features, it also provides great customer services to its customers. Most importantly, you can buy any size of router you want as it offers three different sizes of machinery for more convenience.
4. i2R CNC Router kit, 8KW Spindle
Another interesting option is the i2R CNC Router kit.  While it's not the most popular machine on this list, it still deserves the review.  Overall, If you are looking for a good budget machine that has a strong build quality, then the i2R CNC 2×4 machine is a great option for you. It includes a powerful and air-cooled spindle along with the kit, the spindle is extraordinary and capable of performing each and every job.
Furthermore, it offers plenty of brilliant tools to make your work easy and effective. The kit contains a strong and powerful aluminum table along with an MDF spoil board which makes your work smooth and easy. Just because of the rigid aluminum table, the machine can work effectively. Most importantly, it makes your work so easy and quick. This is not the end as it offers plenty of other features which we have listed down.
Features
It offers a strong and powerful aluminum table. This Flat surface makes your work smooth and fast. Also, it comes with MDF spoil boards that ensure the flatness and rigidness of the table.
The rigid and accurate aluminum frame comes along with the kit. It can handle heavy weights easily.
Pros and Cons
Pros
Aluminum T-Slot Table
Ball-Screw drive system
Air cooled Spindle
Includes a Z-Axis probe for touching tools off
Cons
Relatively new product, needs long term testing
Conclusion
We have reviewed this product and found out that it's a great choice for you if you're looking for affordable and simple machinery. Most importantly, if you're searching for your first CNC router then the i2R router range is just perfect for you.
It also offers full customer support and helps you whenever you have any queries. Not only this but also it comes up with user guides and video demonstrations to make you understand it's the usage and for assembling purposes.
5. Powermatic PM-2x4SPK CNC Kit with Electro Spindle
If you have a hunger for perfection then this machine will eradicate your hunger as it gives perfect and precise results. Powermatic PM 2×4 kit is perfect for the professional craftsmen as it gives precise and accurate results. The heavy-duty steel frame provides rigidness and toughness and also it gives accurate results.
Furthermore, it's ball screws come with ball bearings and they make the movement quick and easy. Other than this, it comes with a handheld controller using which you can keep an eye on any of the projects from different angles. Not only this, but it also offers numerous features as machinery.
Features
It includes ball bearings which make the movement of the spindle smooth and precise.
It comes with a DSP handheld controller.
Pros and Cons
Pros
Sturdy Steel Frame for rigidity on the toughest of cuts
Precision ball screws
MDF Spoil board with an Aluminum T-track, the best of both worlds
Cons
Although it packs a lot of features, it is also quite expensive.
Conclusion
If you're a professional and experienced craftsman then this router kit surely is the perfect choice for you. It gives precise, accurate, and exact results time and time again. If you have a relatively high-budget and want the best quality option, then we think this might be the one for you.
6. Shapeoko XL CNC Router kit
Carbide3D has done it again, with their newly expanded Shapeoko XL Router Kit.  A great addition to any small shop. Moreover, it is the most brilliant option available for you in the market. The design of the Shapeoko CNC router is simple and practical. Just because of its design and a huge cutting area you can totally carry out all your projects to another level.
Now, let us talk about the real thing that is, it's price and quality. So, stay chill because this is great value for money. The Shapeoko XL is one of the lowest priced 2×4 router kits on this list.  In addition to this, it works perfectly fine for everyone from the business owners to the people who do it generally.
Features
It offers the 3D designs of Carbide and control software named Carbide Create and Carbide Motion.
The Shapeoko CNC router offers a huge cutting area to create 3D designs.
Shapeoko is a large kit and has abundant features. Also, it comes with guides and demonstrations which makes it easy to use.
Pros and Cons
Pros
A very affordable price
Includes Carbide Control Software
Includes Dust Boot
Cons
Poor Rigidity.  Not the sturdiest of structures we have reviewed
Does not include tabletop for machine
Conclusion
Overall it's the best CNC router kit available in the market. It's most suitable for the hobbyists and newbies who are looking forward to dealing with manufacturing and cutting. Most importantly, it is the choice of many people around the globe because of its extraordinary features. So, we would recommend Shapeoko to all the hobbyists as it's perfect for them and provides desktop access. Other than this, if you wish to buy a more budget-friendly machine, then it also comes in two small sizes.
2×4 CNC Router Kit Buying Guide
Choosing your first CNC Router for your small shop can be frustrating, which is why we have written this buyer's guide just for you.  We know that time is money, and you don't want to waste all your time trying the perfect machine when you really just want to get down to carving.  Luckily we will go over all of the most important features to look for when buying a 2×4 CNC Router.
Since going to the manufacturer and testing out a tabletop CNC Router is just about impossible, we are left trusting the words of manufacturers who all want us to buy their product.  We hope to shed some light on who really deserves your money and what is the best product out there.
After all this investigation and research, if you still wish to buy a CNC router kit, then below here is a list of a few that you need to consider before making a perfect choice. Go ahead and go through the list to know about those few things to consider.
Power
The very first thing that you should look for in your machine is its power. The more the power, the more effective it will work. The best motors for high speed, high torque applications that involve continuous load changes too are Servo motors. Whereas, if you are looking for the best low and medium speed motors with high torque applications, then Steppers motors would be perfect for you.
Spindle
The spindle is also another significant thing that your CNC router kit should include. But what exactly are spindles and what do they do?   A powerful spindle will make sure your CNC Router bits are doing their best. That's why the spindle in your CNC router kit should be perfect. So, when you buy a kit, make sure to check all the features and quality of the spindle, make sure if it includes torque, power requirements, RPM, load ratings, spindle motor type, collet type, and size, etc.
Accessories
You cannot buy a CNC router kit that just includes machinery and machinery. There must be some other different equipment and features too included in them. The most important extra accessory should be a dust hoe. Generally, CNC Routers generate a lot of sawdust. Having a CNC Router dust collection system is important.  Cleaning of that dust becomes a tiresome job, so make sure you have a good dust collector. They help us to clean the entire sawdust and the entire area where the machines are being operated.  Another thing to consider is if CAM software is included with your CNC Router.
Build and Construction
Before you buy a CNC routing kit, you must check its overall quality, weight, the material used, and the rigidness of the machinery. Weak, low-quality machinery would neither last long nor will it serve you the best.
So, always go for a routing kit that includes quality materials along with the accessories. Along with this, heavy weighted machinery is preferred by most of the people because the heavier the machinery, the longer it will stay.
Not only this but also a heavy and strong machinery gives much better services than lightweight and weak machinery.   Sometimes you may need a bigger machine like a 4×8 CNC Router.
Warranty
Buying machinery or a CNC router  isn't an easy and cheap task. It requires your precious time and effort. Never in your dreams, you would want to let your efforts and money go in vain. That is why it is so important to buy a CNC routing kit that offers a full warranty.
Support and Replacement parts
When you buy an expensive item from a shop, be it anything you like. Don't you expect that the company should provide certain after-sales services to you? A CNC router kit must come with full customer support and services. In case, any of the material from the kit needs to be replaced, the buyer must have total freedom to do so.
There are certain other things that you should consider before buying a perfect CNC router for your company. Price, size, quality, the material used, weight, and features should be considered before buying a CNC router.
Conclusion
Here, we are done! Now, you have six different options in front of your eyes, you can choose whichever you prefer the most. Buying a 2 x 4 CNC router can be confusing but you need to buy it anyway. For that, you can take the help of the buyer's guide that we have made, it includes everything that you need to know, which router kit to buy and how to buy it.
I hope you would have surely made your decision of buying the most preferred kit. We would recommend you to go for a CNC router kit 2×4 that is not only full of features and specifications but also it is not much expensive.