The best 2×4 CNC routers are perfect for those who want a small format machine that can still deliver cutting power, speed and accuracy for a wide range of projects.
If you're on the hunt for one of these machines, you'll need to consider several factors, including budget, machine size, build quality, speed and power specifications, and more.
Luckily, to help you out and make things a little less complicated, we've done the research to select some of our top picks for 2×4 CNC routers on the market today.
We put together this complete guide that includes everything from product reviews to essential factors to consider while shopping for a new router.
Best 2×4 CNC Router Reviews
1. Stepcraft Q.204
If you're a hobby-level maker, having access to a CNC that can process 2×4 materials opens up a ton of opportunities for working on larger projects. And the Stepcraft Q.204 offers one of the best 2×4 CNC systems in its class.
There are some great options in this category, so you might be wondering why we think the Q series stand out.
Well, first, the Q series routers use NEMA 24 stepper motors to control all axes on the machine, resulting in better control and accuracy than average CNC routers at this price point.
And, with a footprint of 39" x 59" x 29" (not including the 68" height with the work stand), you'll find this is one of the smallest routers in the 2×4 class. You'll appreciate this smaller footprint if – like me – you're running your projects in a smaller space.
The manufacturer states an accuracy of better than .001", with speeds up to 395 in/min, along with a host of other features.
Like all its CNC systems, Stepcraft applies German engineering to produce a low vibration, highly rigid machine with modern features. We've highlighted a couple of favorites below, but it's just scratching the surface.
The Q-series comes in two larger editions (the 404 and 408 series) as well as several add-on options, such as a floating dust collection boot and tool length gauge.
Stepcraft offers excellent customer support and quality certified machine assembly. If you need more info, they also include some helpful instructional videos on their site, like this one:
Highlights:
Integrated aluminum T-slots to easily secure your workpieces
Precision ball screws for high accuracy
Included UCCNC control software, runs G-code for full software compatibility, including Vetric, Autodesk, Fusion 360, Solidworks, and Master Cam.
Travel:
X-Axis: 24.5"
Y-Axis: 48.5"
Z-Axis: 5.7"
Table Work Area (Y,X): 59" x 31.5"
2. Axiom Precision Iconic CNC Router
The Axiom Iconic is one of the best entry-level 2×4 CNC routers on the market. With a lower price tag compared to the AR8 model listed below, the Iconic series gives you the same rock-solid build, with a solid steel base, rigid aluminum frame, interlocking table, prismatic guides, and quality ball screws.
However, there are a few differences between the Iconic and V5 series worth pointing out.
For example, the Iconic Series, which comes in 2×2, 2×3 and 2×4 build sizes, features a 1 Hp (800W) electro-spindle, compared to the 3HP spindle with the V5 series.
Also, the Iconic does not have an integrated cooling system. And, unlike V5 AR8, it does not come with the 4-axis capability with the rotary attachment option.
Instead, you get a very well-built 3-axis machine, with the RichAuto B11 DSP CNC controller and USB port, which still allows you to easily transfer G-code and vector files and control the unit offline. And recommended software includes Vectric Aspire, VCarve Pro, or VCarve Desktop.
(Related: Learn about the difference between VCarve Pro and Aspire)
Despite the added bells and whistles, this is still an industrial-strength router that fits perfectly in a small workshop environment.
There are plenty of upgrades and add-ons available as well, including the dust shoe, LED lamp kit, stand, and tool-box, plus a range of Amana starter bits.
This machine is designed specifically for new CNC users.
Axiom even offers support, training, and an extensive product manual to help you get started.
Highlights
Economical and sturdy CNC unit with essential features for a small workshop
Auto tool touch off plate and RichAuto B11 controller
Interlocking aluminum table with MDF spoil board
Travel:
X-Axis: 23.81"
Y-Axis: 47.63"
Z-Axis: 3.937"
Work Area: 28.4" x 61"
3. Axiom Precision AR8 Pro V5 CNC
Next on our list of top 2X4 CNC routers is the Axiom AR8 Pro V5 CNC Machine, which is part of the Axiom Pro V5 Series.
The Pro V5 is an industrial-level router that comes in three footprint options, 24 x 24 inches, 24 x 36 inches, and 24 x 48 inches. This AR8 model has a footprint of 24 x 48 inches, which is the maximum footprint offered in the Pro V5 series.
While the software is not included, the manufacturer recommends using either Vetric VCarve Pro, Desktop, Aspire, or Photo VCarve.
The router has an ER-20 collet that supports bit sizes from 0.015 to 0.512 inches. It comes with a ¼ inch and ½ inch collet chuck that provides accuracy and firm support to the collet and the bit attached.
The AR8 Pro V5 CNC machine also comes with a high-speed and quiet spindle with a power rating of 2.2 Kilowatts (3HP) and can reach a maximum speed of up to 24000 RPM.
To keep the spindle cool, there is an integrated electro spindle cooling system with a circulating water pump. You'll need to feed the system with a few gallons during use, and flush the coolant every 4-6 months to keep things running smoothly.
This CNC machine can be easily placed in a small shop or a garage since the recommended machine area is approximately 62.99 x 37.36 inches with a maximum height clearance of 30.27 inches.
The working table on this CNC machine is made from 'High Rigidity Interlocking Aluminum' and features an integrated MDF Spoil Board.
Highlights:
Electro spindle water cooling system
Sturdy and mobile structural steel frame and base
RichAuto easy-to-use handheld controller for easy G-Code file transfer and offline use
Travel:
X-Axis: 24" (610mm)
Y-Axis: 47.63" (1210mm)
Z-Axis: 5.9" (150mm)
Table Work Area:  28.4" x 63"
4. i2R A Series CNC Machine (2×4)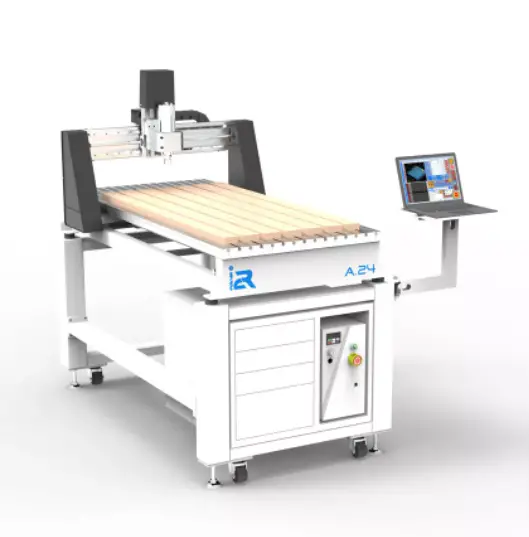 The i2R A Series is a new machine from the company iR ("Imagine to Reality").
This 2×4 CNC model features a 3HP spindle for plenty of speed and power compared to similarly priced models, such as the Iconic from Axiom.
We're looking at the A24 version, which features a 24 x 48″ work space, but the I.2 R also comes in A22 and A23 series. So, you have some options with this CNC router depending on your ideal size and configuration.
The A-series is built from highly rigid aluminum extrusion. Combined with a robust and durable steel frame, this router can take a beating. But, with a footprint measuring 63" L x 37" W x 30" H, it's still a good compact size for smaller home DIY  workspaces or even commercial workshops.
The iR2 also includes MDF spoil boards to allow for precise carving while protecting your table surface.
Like other machines in this list, we also like that this reasonably priced router is still built with precision ball screws and linear guideways. Yup, it has all the hallmarks of a well-built, user-friendly CNC machine for hobbyists and even the pros out there.
What sets this one apart from other entry-level routers in the 2×4 class is the 4th axis. With this optional C-axis, you can carve on a 360-degree rotational axis for working on round objects, which opens up a ton of options designs and project ideas.
Like the AR8 series, this unit also includes an integrated cooling system.
However, the iR2 does not come with an offline controller.
You'll need to use a laptop (PC only) for importing files from recommended software programs, including V-Carve Pro, V-Carve Desktop, PhotoCarve and Aspire
Highlights
Rigid construction with aluminum extrusion table, steel base, and MDF spoilboard
Precision ball screws and linear guideways, with +/- .001″ (0.02mm) positional accuracy
Small footprint and reasonably priced machine for home or commercial workspace
Travel:
X-Axis: 24"
Y-Axis: 47.63"
Z-Axis: 5.9"
Table Work Area:  28.4" x 63"
5. Powermatic PM-2×4 SPK CNC Kit
The Powermatic PM-2×4 is a large sturdy CNC machine made using aluminum extrusions. This machine is specifically designed for modern craftsmen and hobbyists.
The machine requires a floor space of 52 inches x 69 inches (1321 x 1753 mm), so it's definitely designed for medium-sized workshops or an average size garage. The table has a work area of 62.99 x 28.39 in. (1600 x 721 mm) which is plenty for wood carving and other applications.
The work area also features an MDF spoil board used to protect the body of the CNC from cutting tools. The X-axis can travel a maximum of 24 inches (610 mm), the Y-axis can travel a maximum of 48 inches (1220 mm), and the Z-axis can travel a maximum of 6 inches (153 mm).
The spindle on the Powermatic PM-2×4 supports the collet size ER-20, with 1/4 and 1/2 inch collet chuck
Like the AR8, this CNC uses a high speed 3 HP spindle that can reach a maximum of 24000 RPM. Now, with such a high speed this spindle is bound to get super-hot, and for that the Powermatic PM-2×4 uses forced cooling method, with RV winterizing (pink) as rthe recommended coolant.
This CNC has a dust collection capacity of minimum 300 cubic feet per minute, while at least 400 CFM is required for removing wood chips and other hard materials.
For controlling the Powermatic PM-2×4, the RichAuto B11 DSP CNC motion control system is used. The display on this controller is a 128 x 64 resolution LCD display and has an internal memory of 256 MB.
This controller supports standard G-code, PLT format instructions; domestic and international mainstream CAM software, such as Vectric, Type3, Art cam, UG, Pro/E, Master CAM, Cimarron, and Ucancam. The controller features USB communications port with FAT32 format and supports SD cards.
Highlights
Powerful, precise and smooth 2×4 industrial CNC machine for shops
Includes dust shoe for clean surface and easy connection to dust collection unit
Integrated casters for easy mobility
Linear guiderails for precise toolhead positioning
Travel
X-Axis: 24"
Y-Axis: 48"
Z-Axis: 6"
Work Area: 63" x 28-1/2"
2×4 CNC Router Kit Buying Guide
Choosing your first CNC Router for your small shop can be frustrating, which is why we have written this buyer's guide just for you.  We know that time is money, and you don't want to waste all your time trying the perfect machine when you really just want to get down to carving.
Luckily, we will go over all of the most important features to look for when buying a 2×4 CNC Router.
Since going to the manufacturer and testing out a tabletop CNC Router is just about impossible, we are left trusting the words of manufacturers who all want us to buy their product.  We hope to shed some light on who really deserves your money and what is the best product out there.
After all this investigation and research, if you still wish to buy a CNC router kit, then below here is a list of a few that you need to consider before making a perfect choice.
Go ahead and go through the list to know about those few things to consider.
Power
The first thing you should look for in your new CNC machine is power. The more power it has, the more effective it will be.
If you are looking for high speed and torque motors, then Servo motors would be perfect for you. Stepper motors are good if you have a low or medium-speed motor with high torque requirements.
It is also important to get independent axis motors for better precision and control. Most machines in this class have 1 to 3HP spindle motors.
Spindle
When looking to buy a CNC router, one of the most important factors to consider is the spindle.
The spindle is what powers the router bits and therefore it's important that it be both powerful and reliable. There are many different factors to consider when choosing a spindle, so make sure to do your research before making a purchase.
For example, you'll want to consider the torque, power requirements, RPM, load ratings, spindle motor type, collet type and size. By taking all of these factors into consideration, you can be sure that you're getting a high-quality spindle that will power your CNC router bits perfectly.
Accessories
When you are choosing accessories for your 2X4 CNC router, there are a few things you will need to keep in mind.
The most important accessory is a dust shoe, which will help keep the sawdust under control, which is important to reduce particulates in the air that can be inhaled and cause damage to your parts.
You may also want to consider a dust collector, CAM software, and other extras like LED lamps, rotary attachments, and casters for mobility. Make sure to choose the accessories that best fit your needs so you can get the most out of your 2X4 CNC router.
Build and Construction
When choosing a 2X4 CNC router, it is important to select one that is made with high-quality construction. This will ensure that the machine is durable and can withstand frequent use. In addition, quality construction will also result in better performance, making it easier to work with various materials.
For example, a machine that is made with aluminum extrusion and steel frames is going to offer superior strength and stability. This is true whether you're looking at a 4×4 CNC router or 4X8 router for your workshop.
Furthermore, it is also important to select a machine that comes with precision ball screws and linear guide rails. This combination will allow for smoother operation and more accurate results.
Warranty
Most people don't realize the importance of a good warranty when buying a new CNC router. This is because most people think that warranties are as simple as just getting your money back if something goes wrong with your machine.
But in reality, there can be much more to it than that.
For example, some warranties will cover all shipping fees if you need to return your machine for repairs. Others will include free technical support for a certain period of time.
The bottom line is that a good warranty can save you a lot of money and headaches down the road. So, if you're looking to buy a new CNC router, be sure to find one that comes with a good warranty. Otherwise, you may end up regretting your purchase later on.
Support and Replacement parts
When purchasing a new CNC router, it is important to consider the quality of customer support and service that the manufacturer provides. In addition, it is important to have access to replacement parts in case any part of the CNC router kit needs to be replaced.
As mentioned, a good 2X4 CNC router kit (or any size for that matter) should come with a warranty and be backed by a customer support team that can be easily contacted in case any problems arise.
Of course, it is important to consider the price, size, quality, weight and features of the CNC router before making a purchase.
By taking all of these factors into consideration, you can be sure to find the perfect 2X4 CNC router for your home shop or makerspace.