Are you looking to produce factory-grade metal or woodwork engraving in a small home shop? Then, opting for a Tabletop CNC would be your best bet.
CNC routers are a perfect addition to any maker's workshop.
Although CNC manufacturers mostly build large-sized CNC routers for industrial applications, they also make an affordable, small-sized Tabletop, Desktop, or workbench variant for hobbyists and newbies who are looking to start their small, medium-sized business.
The best tabletop CNC router will let you work with plastic, foam, wood, and soft metals and produce incredible decorations, furniture, frames, molding, carvings, and more.
With the right CNC router, you could explore a new world of woodworking where your imagination is the only limit.
Nowadays, it's easier to find an affordable CNC router with excellent precision and speed for a DIY craftsman's desktop. However, it's completely understandable to be confused considering the vast amount of brands and models available.
In this guide, we will help you narrow down your focus with these best Tabletop CNC routers on the market and a list of features you should look for in them.
Related: An overview of CNC machines for makers. 
In a hurry… Here's our Top Picks
Genmitsu CNC Router Machine
Editor's Pick
SainSmart has done it again with another incredible desktop router. The 4030 PROVerXL proves once again you don't need to spend a fortune to get the highest level of quality. With a large cutting area and a easy to use software, this machine truly is a no brainer.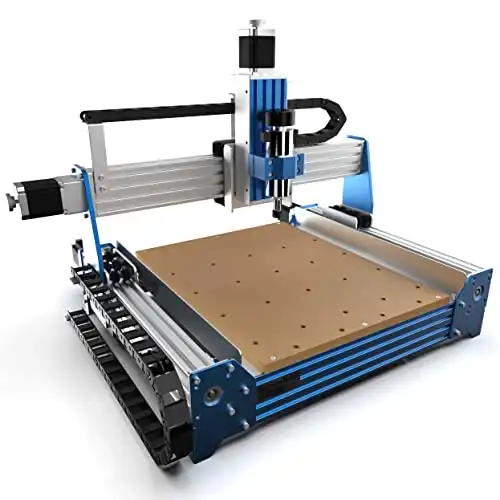 We earn a commission if you make a purchase, at no additional cost to you.
BobsCNC Evolution 4 CNC Router Kit
DIY Pick
A Tabletop CNC that is capable of handling larger projects, BobsCNC Evolution 4 is the most trusted and praised router by the customers. The unit features a lightweight, elegant, and robust design with a cutting area of 610 x 610 mm and depth of 85mm.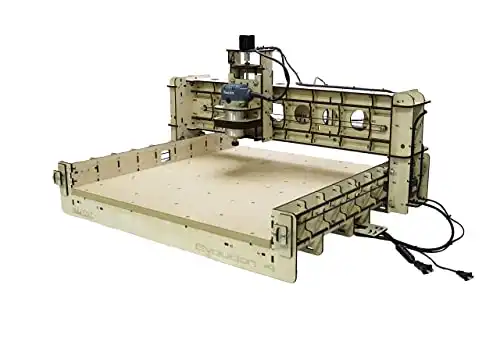 We earn a commission if you make a purchase, at no additional cost to you.
SainSmart Genmitsu CNC Router Machine 3018-PROVer with GRBL Offline Control
Budget Pick
Genmitsu CNC is the most budget-friendly CNC router you can find. It features a simple, intuitive design that is easy to learn and get used to. Compatible with a variety of materials such as wood, plastic, acrylic, PVCs, PCBs, and even soft aluminum, you can create new and unique projects easily.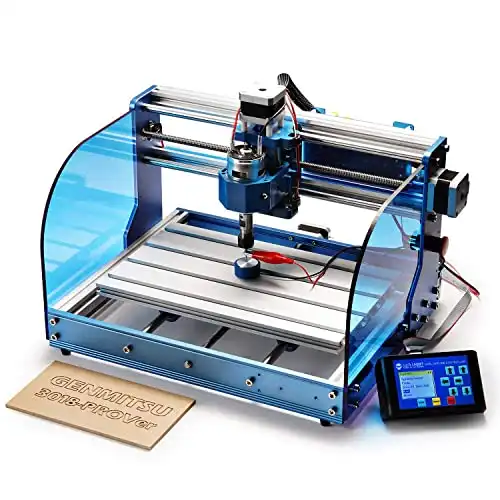 We earn a commission if you make a purchase, at no additional cost to you.
What is a Tabletop CNC Router?
Tabletop CNC or Desktop CNC is a smaller, lightweight version of big and popular CNC machines. Build for DIY hobbyists and newbies; it allows you to hone your art of drilling, cutting, and milling in a small workspace.
These routers are capable of delivering high-quality and consistent work with great reproductivity and precision. A Desktop CNC may not be as accurate as a large, expensive CNC milling machine, but it will shape you to handle larger CNC machines for complex operations.
What should you look for in a Tabletop CNC?
As there are several brands and models of Tabletop CNC available, deciding on the right machine for your workspace becomes a difficult task.
The CNC machine in operation directly correlates to the quality and efficiency of the product produced. For high-efficiency and smooth operation, you must carefully evaluate some critical aspects of a CNC router as well as choose a brand you can trust.
Here are the features to consider while picking the best Tabletop CNC router for your small business,
Complete Desktop CNC Buyer's Guide
Size and weight of the machine
The size and weight of a CNC router should play a vital role before making a purchase. Older CNC routers used to take substantial space to accommodate.
Fortunately, tabletop routers are compact and can be set up quickly on a workbench.
However, they come in various sizes and weights. If it's too large, it would be impossible to fit onto your table, despite being advertised as "desktop."
If you are only looking to do smaller projects, there's no point in going for large bulky routers that are more expensive. A smaller router will take less space and provide you with similar quality results for smaller projects.
Versatility
Before deciding on a desktop router, it's imperative to understand the type of work you need it for. Not all machines are capable of working with the same materials.
Some desktop routers will only allow you to work with wood and lighter materials like plastic, foams, etc. while some will let you make soft metals, acrylic, and PVC related items.
If you want to work with soft metals, make sure your machine can handle that. If you need something that can dabble in everything, you can add in a little bit more and opt for a more reliable router that works with various types of materials.
Price
Tabletop CNC Routers comes with a variety of price points, from a few hundred dollars to tens of thousands of dollars. When it comes to the price of a CNC router, your level of experience, and your goal determines the price range.
Although more expensive routers may indicate a better quality router, beginners may not need a top-notch machine.
If you are just starting with your first CNC router, then it's perfectly fine to look for lower prices. If you intend to handle simple tasks, you can easily find the best CNC router within your budget.
But when looking for the best CNC machine for a small business you will want at CNC Router with a little more versatility.
Durability
The durability of a CNC router goes hand-in-hand with its price. Some Desktop machines are built to withstand a lot of wear than others, so its always worth throwing in some extra cash for them. Paying a little bit more for a durable machine now is better than paying for spare parts and frequent repairs later.
Availability of spare parts
It's intimidating to even think about not getting spare parts when your machine is down. Like any other appliance, your CNC may wear down and require a change of parts.
You must ensure that the device you purchase can be easily repaired, and the spare parts are readily available. This is one of the prime reasons why you should go for a trusted and popular brand. Having spare parts will reduce the downtime between the time of your machine breakdown and the time when it's back up running.
Software Compatibility
Software compatibility is another crucial aspect to take into account. You don't want a CNC router that is not compatible with your operating systems. Sometimes the software that comes with a router works only for a specific OS, so make sure you choose the one that supports the OS you have. Also, ensure that your machine is GRBL supported for seamless G-code communication.
Speed
The speed of your machine is the feed rate of your device. It determines the rate at which it can cut materials and complete the job. The Motor system of a Router plays an essential role in defining its torque and cutting speed.
Look at the motor speed while buying a router. Higher motor rating will offer faster cutting but could cost you more.
CNC router is a rather expensive investment. So, there's nothing wrong with taking your time and choosing a machine that will last long and serve your need. If you select the right CNC router, you will never have any problem with accuracy and consistency.
What can you make with a CNC router?
There is an array of projects you can make with a CNC router without high precision and minimal error. Tabletop CNC routers are extremely useful in crafting precise materials and producing various pieces of art and engineering prototypes.
The best CNC machines will give you a ton of versatility for your small business.  Numerous CNC routers allow you to work with plastic, wood, copper, aluminum, PVCs, PCBs, Acrylics, Brass, and more.
From beginner projects to advanced, a router will help you make anything you can think of. Even a mini Router will let you be creative and transform your ideas into something tangible. Here are some of the top applications of CNC routers.
1) Instrument bodies
Music lover? You can make a new guitar body using CNC machining. Even professionals use CNC routers to make the outer body for instrument protection. Body, neck, inlays, fretwork – everything is possible. Making an instrument bodies for guitars, ukuleles, and others may take some time, but the end result would be "music to your ears".
2) Intricate 3D carvings
An inlay is mostly 2D, but to step up the complexity, you can start with 3D carvings. 3D carvings are found on antique furniture and various beautiful artworks. You would need a 3D CAM software as well. Dragon or Lion carving, 3D models from photographs, an elaborate family crest for a wall display – there's a lot of things you can make.
3) Woodworking
From small and delicate wood toys to intricate furniture or artwork designs, everything can be performed with a CNC router. Wooden Calendar, exquisite showpieces, challenging jigsaw puzzles, lifelike animal sculpture are a few examples of woodworking with CNC routers.
4) Cabinet components
A CNC router allows you to mill, cut everything from cabinet doors to shelves and interior boxes. From building face frame cabinets to remodeling your entire kitchen, you can do anything with a CNC router.
5) Sign Boards
A simple 3-axis Tabletop CNC router is enough to carve unique signs on everything from Copper, Aluminum, to plastic and foam. You can make elegant Signboards for your shop or family name sign for your house.
Aerospace, Architectural Millwork, Exhibits, and Acrylic Foundation are some other applications of CNC machining.
Best Tabletop CNC routers of 2020
Simple to use and super effective, these CNC routers will help you bring your ideas to life in minutes. Let's take a closer look at some of the best Tabletop CNC routers on the market.
1) BobsCNC E4 CNC Router
A Tabletop CNC that is capable of handling larger projects, BobsCNC Evolution 4 is the most trusted and praised router by the customers.
The unit features a lightweight, elegant, and robust design with a cutting area of 610 x 610 mm and depth of 85mm. Although it requires a significant amount of assembly during set-up, you can easily self-assemble with its detailed guide and start working on exciting woodworking projects.
BobCNC e4 is slightly expensive and may not be ideal for absolute beginners, but it's an excellent grab for someone who has used any desktop CNC router before.  The rigid laser cut frame induces an extra layer of durability and sturdiness for more prolonged operation. It incorporates an Arduino based microprocessor and Dw660 router, supports GRBL, and comes with a USB port support.
You can't use it on tough materials, but it would work incredibly well with wood, plastic, foam, MDF, and other lighter materials. The highlight of the unit is the high motor speed in excess of 30,000 Rpm. This means it can cut through several materials quickly without any hassle.  This one of the best CNC machines we reviewed for a small woodworking business.
Key Features
Complete DIY router kit with milling motor, software, and electronics
Rigid laser cut frame with laser-cut plywood
GT2 belt drive on X. Y-Axis and ACME TR8 on Z-axis
SG20U Supported rail system for cutting head and gantry
Works with all operating system – Windows, OSX, Linux, and Raspberry pi
Pros
Easy to assemble
Larger work surface than other Desktop models
High Longevity
Superior work results
Highest motor speed among Desktop CNC
Cons
Slightly expensive than others
Cannot engrave metal
One of the most effective Desktop CNC routers kit, BobsCNC E4, will surpass your expectations when it comes to durability and quality of work it can produce.
2) Genmitsu CNC 3018 – PROVer
Genmitsu CNC is the most budget-friendly CNC router you can find. It features a simple, intuitive design that is easy to learn and get used to. Compatible with a variety of materials such as wood, plastic, acrylic, PVC, PCB, and even soft aluminum, you can create new and unique projects easily.
Despite a relatively low price point, it offers decent quality cutting and is perfect for those who are not yet ready to invest a lot of money into an expensive professional CNC.
Genmitsu works with a wide range of open-source software options, and it functions using GRBL. The router comes with an offline controller allowing your machine to move anywhere you want. It doesn't include a laser, but you can purchase it separately and integrate it with a completely new experience.
With a dimension of 300 x 180 x 45 mm, it will fit your desktop well. Basic CNC operations will feel effortless as it is easy to use, sturdy, and capable of delivering decent results.
Key Features
Premium Power Adapter with safety improvements for heavy-duty usage (CE/ FCC/ UL approved)
Offline Controller allows you to freely adjust the x, y, z-axis without connecting to a computer and downloading program files.
Seamless integration with high-performance open-source software and Arduino support
Pros
Works with all types of woods, plastics, soft aluminum, PVCs, Acrylic, and PCBs
Swift assembly time
Offline controller for manual operations
Uses GRBL open source software
Cons
A beginner model, quality is limited
Small work surface – Not for larger projects
Lack of additional information to work with this machine
If you are a beginner looking to purchase your first Tabletop CNC router, Genmistu CNC is the best model for you. Budget-friendly, excellent cutting quality, seamless software compatibility, Genmistsu's Desktop CNC has loads of features to make it an ideal purchase.
3) CNC Piranha FX
Piranha FX is the entry-level CNC router by Next Wave Automation. If you want to start small and then proceed on bigger CNC machines, Piranha FX is for you.
It's a little smaller than other models with a dimension of only 305 x 458 x 76mm, but it will easily fit one of your benches. If small-scale projects like plaques, carvings, ornamental boxes, precision parts are what you are looking to create, you can save a sizable amount of money by avoiding bigger alternatives.
Although it is small, it is capable of delivering excellent results, just like its larger cousin, CNCShark. It features a convenient touch screen interface and comes with a 3D carving capability and 3D model library.
As it is accurate, you can also create Custom circuit boards, cut intricate inlays, and carve expensive corbels.
It connects with your computer and gets programmed using USB 2.0 Port, but it can also be used offline for manual operations. You can start with this router and move your way up to a better router when you are ready.  A great desktop CNC option for any woodworker or beginner.
Key Features
Compact 12 x 18-inch table design 
Convenient touch screen interface. 
3-D carving capability with an extensive library 
Software compatibility for all Operating systems – OSX, Windows, Linux, and Raspberry Pi
Pros
Beginner Friendly
Extremely affordable
Comes with various software for operations
Can be used offline
Works with metals like Aluminium and prints 3D models 
Cons
Small work surface – Not for larger projects
Quality is limited
Although it's not the most accurate CNC router available, it is a great starting point for beginners that prepares them to handle precise operations. If smaller 3D projects are your thing and you don't want to break the bank, Piranha FX will be an excellent choice.
4) MySweety CNC 3018
MySweety is another affordable desktop CNC router for novices who want to work on a variety of projects that includes wood, Ivory, Leather, Stone. Plastics and Foam.
MySweety is a robust machine, well-packaged, and comes with extra accessories for setting up. It uses GRBL or spindle control of CNC milling and an old version of ARTCAM for excellent 2.5D milling. A smaller CNC machine with an effective engraving area of 300 x 180 x 45 mm, you can easily accommodate smaller projects. There is a range of open-source software compatible, and it works well with all Windows OS.
As it is controlled offline, you don't need to connect it to a computer and download files; you can manually alter the X, Y, Z axis as per your operations. Mistakes during cutting will be easier to repair and cost significantly less than computer controller output. You can also use it online and integrate it with an external laser for increased effects.
Unfortunately, it doesn't work with OSX or Linux. It features protective baffles on either side of the machine to keep you safe while allowing you to see the progress it's making.
Key Features
Engraving machine that handles plastic, acrylic, wood, PCB, and PVC
Offline controller for manual adjustment of all three axis 
Relatively large working area with GRBL and Spindle control 
Supported Systems – Windows XP/ Win 7/ Win 8/ Win 10. 
Safety Driven design with two 5mm acrylic baffles on each side of the machine
Pros
Robust Build design
Reliable pace for quick, precise cutting
Aluminum sheet for toughness and stability
Can be used offline
Cons
Simple to set up, but instructions need to be strictly followed.
Not compatible with MAC OS
Cannot engrave metal
MySweety CNC is a simple, robust, and reliable Tabletop CNC router with the latest version of GRBL built (version 1,1). It is undoubtedly the best low-cost DIY mini CNC router for high precision small project work.
5) Next Wave Piranha XL
The CNC Piranha XL is a premium, relatively expensive tabletop CNC router for more advanced users. It offers an extended work surface of 305x 610x 102 mm, auto-sensing and auto-edging abilities, virtual zero workpiece mapping software, Vcarve Desktop V9.0, Vector Art 3D support and a lot more.
The XYZ axis can run Bosch, Porter-Cable, Dewalt, and various other palm-style routers and can cut soft metals, woods, plastic, acrylic, and more. Even at 75-pound weight, it can be installed on a table for carrying our larger and complex project with finer details. Operation and Installation are super easy with a plug-and-play feature allowing even beginners to use it and create stunning projects.
It works both offline and online, with an accuracy that is impossible to match for any other Tabletop CNC routers. If you are looking to make a concrete purchase, you can skip the lower-end machine and move right to Piranha XL for an unmatched experience.
Key Features
Aluminium Interlocking Slotted Track for customizable clamping 
Includes VCarve Desktop V9 Design software 
Packed with Vector Art Sampler pack 
Includes V-router bit 
Exclusive auto edge and center detection system for high accuracy 
Excellent Virtual Zero technology
Pros
High-quality machine
Touchscreen controller with Auto-sensing capabilities
Large workspace
Ultra-high accuracy
Advanced features and software integration
Cons
Next wave Piranha XL is a premium purchase for advanced DIY users who want heavy-duty reinforced gantry, a sleek touchscreen pendant controller with smartphone functionality, and maximum accuracy for impeccable re-productivity rate and lower error portability.  If starting a small business this would be one of the best CNC machine options available.
Summary
When looking for your next tool for your workshop, we recommend taking a look at a tabletop CNC router.  The flexibility and features will make an excellent addition to any workspace.  Good luck and keep making!