Vinyl cutters are now a staple in the crafting community.  With better cutting machines that are more affordable than ever, it is no surprise to see the rise of vinyl cutters.  Now some of the highest quality industrial like vinyl cutters are available for a fraction of the price.
No longer will you need to break the bank to get a high quality machine, you can now get a professional grade machine for under $500.
To help our readers we have reviewed and thoroughly tested the following vinyl cutters under $500.  We will go into great detail on why we chose each one for this list and what features really make each machine stand out from the rest.
First let's go over some of the items and crafts you will be able to make with your affordable vinyl cutter.
In a hurry… Here's Our Top Picks
Vinyl Cutter USCutter MH 34in Bundle
With a feed width of 34 inches and cut width of 30 inches this product has everything starting from a hobby knife, vinyl cutting blades, magnetic blanks, and more!
We earn a commission if you make a purchase, at no additional cost to you.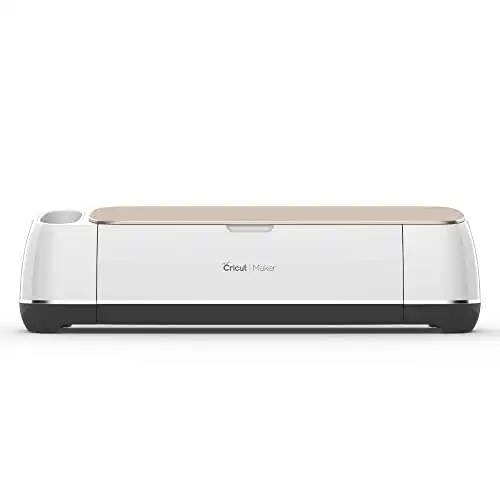 We earn a commission if you make a purchase, at no additional cost to you.
What to make with a vinyl cutter
Well, you can work on almost every kind of craft project with the right vinyl cutter. The following is a list of one of a kind items you can make with these machines.
Vinyl Cutter Projects
Signboards
T-shirts with graphics
Motifs for your home
Cup, mug, and t-shirt design
Decorative laptop/smartphone covers
Fancy greeting cards
Interactive educational charts
Stencils
Best Vinyl Cutters Under $500 – Reviews
Following is a list of the best vinyl cutter machines under $500. Read on, for a quick sneak peek of the pros and cons of some of our favorite cutting machines.
USCutter 34in MH – Best Vinyl Cutter under $500
US Cutter has established their reputation as one of the leading vinyl cutter makers across the globe, and this product from their MH 34 series truly lives by its reputation. With a feed width of 34 inches and cut width of 30 inches this product has everything starting from a hobby knife, vinyl cutting blades, magnetic blanks, and more!
Features
One of the defining features of this product lies in its high durability. With three pinch rollers, one hobby knife, and one squeegee, this device gives you complete control over the speed setting and the pressure. The dual roller system is powered by a ball bearing unit and it feeds the vinyl just the right way.
Featuring five rolls of the iconic Greenstar vinyl, two sheets of magnetic blanks, one advanced grid application tape, and one paper application tape, this kit has everything you would need for making signage, posters, banners, or graphic designed apparel. After review, we believe this is the best vinyl cutter under $500.
Pros
Extremely versatile with five units of Greenstar rolls in a range of colors like black, white, and red to name a few.
Comes with advanced tutorial software that helps you grapple with the nitty gritty of using the product.
Features a free software for cut and vectorizing.
Complete 24*7 phone and email support.
Multiple freebies like a hobby knife, squeegee, and more.
Cons
The Vinyl Master software requires improvement in terms of topic coverage.
Cricut Maker
If you're looking for an advanced vinyl kit that will help you undertake a diverse range of projects, the Cricut Maker might just be your best bet!
From paper crafts, decals, leather items, or crafts made from sewing- the expandable range of tools can help you create almost everything.
Features
One of the defining features of this product lies in its exclusive tool suite. Unlike similar products, the tools here are extremely efficient and powerful. We were especially impressed by the blades and the scoring tool that helps you work on complex crafts.
The newest model of this product also comes with a rotary blade for your fabric based crafts. Thanks to its solid gliding action, this blade can easily pass through anything with absolute accuracy. The best part: it doesn't even require an extra backing material.
Another major takeaway of this product lies in its diverse range of digital projects. Yes, once you buy the kit, you can enjoy unlimited, lifetime access to free sewing projects.
All you need to do is choose from the hundreds of patterns and then use the Cricut maker to build them.  Overall, this is one of the best cheap vinyl cutters on the market.
The free design applications and the docking slot are the final highlights that make this kit truly stand out.
Pros
Lets you access a wide range of tools for diverse and complex craft projects.
Loaded with free apps for design and sewing.
The handy docking slot will hold your device as you are busy working on the crafts.
Backed by powerful blades that can cut through anything.
Cons
Doesn't come with a knife blade.
Silhouette Portrait 3
Silhouette's Portrait 3 vinyl cutter is one of those rare products that can cut through just about anything. The device is handy, efficient, and loaded with some of the best tools. Since it also comes with free designs, craft enthusiasts will have an amazing time using it!
Features
The biggest feature of this product is its Portrait 2 tool that is Bluetooth compatible and backed by an auto blade. You can use this device for cutting through anything ranging from cardstock, transfer items, vellum, and even magnet paper.
The device comes with free installation software that is compatible with Mac and Windows. The best part: you also get unlimited access to 50+ unique designs.
Pros
Comes with Bluetooth compatible advanced Portrait tool.
Blades are efficient enough to cut through diverse surfaces.
Let's you access more than 50 design ideas.
Extremely durable.
Cons
Does not come with sewing-friendly tools.
Brother ScanNCut Vinyl Cutter
This is yet another excellent product that can cut through multiple drawings and a diverse range of materials. It doesn't require any manual millimeter selection and can cut with a thickness of up to three mms.
Features
As previously mentioned, this electronic vinyl kit is loaded with some of the best features. Backed by a built-in scanner that lets you cut stickers, and add designs, this device takes customization to the very next level.
Another major takeaway is the built-in craft designs, quilt patterns, and fonts. The products also have an exclusive range of tools including (but not limited to) tack mat, pen, touch pen, pen holder, spatula, and auto blades. In review, this is one of the best affordable vinyl cutting machines.
Pros
Comes with multiple cutting and drawing tools.
Doesn't need any manual material selection.
Loaded with quilting and crafting designs.
Features wireless capability and compatibility with USB ports.
Cons
Blades aren't as powerful as advertised.
Silhouette White Cameo 4
With four tool adapters, cameo guides, and an advanced tool detection system, this is one of the best budget-friendly vinyl cutters out there. The product is not just efficient, but also easy to use, thanks to its comprehensive manual.
Features
This vinyl cutting tool lets you cut through massive rolls ranging from twelve-inch to up to a whopping 60 ft. What's more, it has a built-in roll feeder, advanced tool adapter, touch panel, transfer tape, and more.
Since the tool also comes with a detailed instructional manual, using it will be a breeze! The device will automatically detect matte cutting and will also help you cut through thicker textures.
Pros
Extensive range of tools for DIY sewing and cutting projects.
Consistent assistance for 3D model designs.
Extremely easy to operate, thanks to the instruction manual.
Four dedicated tool adapters with cameo support.
Cons
Users can experience connection issues when connected via WIFI or Bluetooth.
Cricut Explore Air 2 Mint
If you are looking for an efficient vinyl cutter without compromising on your budget, this is one product that will certainly exceed your expectations. Backed by some of the best tools, this device comes with everything you'd practically need.
Features
The biggest feature of this product is the versatile cutting tool it comes with. Thanks to this tool, you can now cut through hundreds of materials including almost every type of vinyl. Plus, unlike similar products, it also comes with a fine point blade along with cutting mats and adhesive.
With this tool in place, you can make your designs without paying a penny. With its advanced design software, you can now develop any kind of image. The best part: it comes with a free membership program for a community of art lovers.
So, if you thoroughly enjoy art, crafting, and DIY, then this is one product that will not disappoint.
Pros
Backed by a range of cutting tools.
Can cut through 100+ types of materials.
Comes with free design software.
Cutting mat and adhesive are included free of cost.
Cons
The design tool appeared to be buggy for some users.
USCutter 28″ SC2 Vinyl Cutter
This versatile vinyl cutter comes with every single tool for creating and protecting your art and cutwork. The advanced model is not just super-fast, but it also operates quietly.
Features
This feature-rich model is backed by every tiny tool you would need for your home-based art and craft businesses. Whether it's creating apparel or designing cups, everything is simpler with this efficient and user-friendly cutter.
Key takeaways include the fully adjustable pinch rollers, customizable speed settings, free vinyl and blanks, and stand-catch baskets. The manufacturers offer 24*7 US-based support and it's an excellent tool for creating promotional products.
Pros
Quick and noiseless operation.
Comes with free vectorizing software with preloaded designs.
Includes plenty of freebies like vinyl, blanks, and more.
Unwavering 24*7 support from experts.
Cons
Some users experienced glitches while trying to adjust the speed settings.
Note: USCutter also makes commercial quality vinyl cutters with servo motors, including the Titan 2.
Vinyl Cutter under $500 – Buyer's Guide
Finding a great cheap vinyl cutter isn't always an easy task, especially if you are doing it for the first time. So, here's a list of features, you need to look out for while making that first buy.
Durability
This is one department where you can't absolutely compromise on. Unless your vinyl cutter is durable enough, you won't be able to undertake a complex project that requires cutting through textured or solid materials. So, before making the final purchase always check if the blades are as powerful as advertised.
Tool Suite
The right vinyl suite will come with an exclusive tool suite that will help you undertake a diverse project. Ideally, the suit should include cutters, blades, cutting knives, vectoring, and sewing tools to name a few. So, before making your first pick, always ensure the product is backed by the tools you need.
Blades
Every vinyl kit will come with vectoring tools and other cutting tools with wide and powerful blades. Before making your pick, check the efficiency of the blades and make sure they are wide enough. While there is no general rule of thumb regarding the blade width, the products with 30 to 34 inches width can usually cut through everything.
Free Software
While many undermine the role of free software, we think it's an excellent tool to get you started with your DIY project. This is especially useful for newbies who are using the product for the first time. So, while exploring your options, always check for demo videos that don't just cover guidelines about using the product but also offer tips, tricks, and new design ideas for your craft projects.
Bottom Line
Well, now that you have a clear idea about the things to consider before buying your first vinyl cutter, wait no further and make your purchase right away. Since we also listed the top brands with the best vinyl cutting equipment, you'll have a much easier time zeroing in on the best vinyl cutter under $500. So start exploring to find that one product that'll double the fun of your DIY projects.