Approaching the vinyl cutter market without enough information on how these machines work can be tricky since you can easily end up with a model that doesn't offer much in terms of tracking or accuracy.
Vinyl cutters with servo motors are your best option since models equipped with stepper motors lack the accuracy to make intricate cuts. But, with so many options to choose from, it's hard to know which one you should get.
So, in this article, we're going to walk you through the advantages of vinyl cutters with servo motors and suggest several models you can use for commercial or DIY projects.
You should also take a look at our guide to the best vinyl cutters under $500 if you're searching for an affordable machine you can use for DIY projects.
What is a Servo Motor?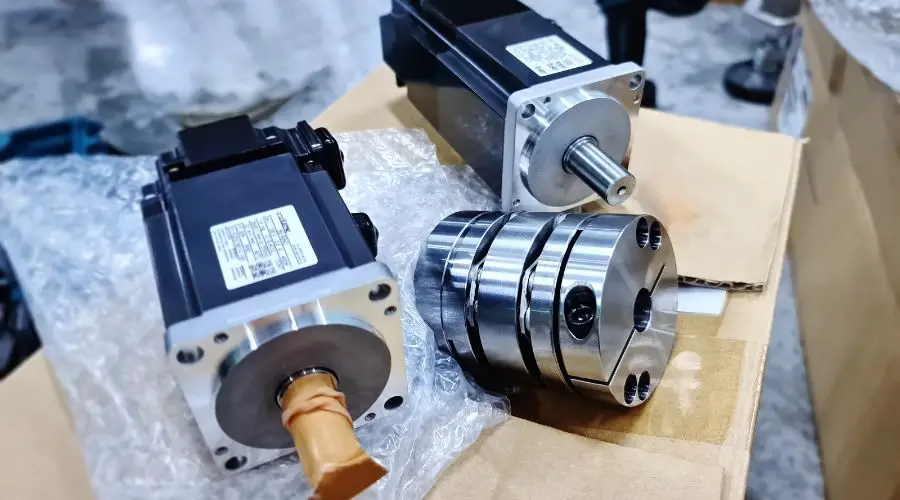 Servo motors are becoming a standard for all machinery that processes a material based on programmed input data. They contain a closed-loop servo-mechanism that utilizes error-sensing negative feedback to correct the machine's actions.
These motors are coupled to a sensor that provides them with position feedback and allows them to drive the cutter's blade in accordance with the input data.
Vinyl cutters equipped with servo motors utilize commands supplied by a computer system, and the user doesn't have to adjust the machine's settings manually.
Tracking Ability
Stepper motors have limited tracking capacities, resulting in difficulties creating outlines or correcting the blade's path without crumpling the material.
The position sensor that comes with a servo motor allows the machine to keep track of its current position and move the material together with the blade.
Cutting Power
The servo motor's closed-loop mechanism allows a vinyl cutter to continue to operate normally under a heavy load. Consequently, machines equipped with servo motors can cut through thick materials without jeopardizing their level of accuracy.
Accuracy Level
Models that come with servo motors can cut vinyl at 1/8-inch accuracy, which allows you to cut out images that contain a high amount of details. In addition, these machines always hit their programmed stopping point as their motors eliminate the system drag.
Noise Level
Quiet operation is also among the advantages servo motors offer, as it is hard to hear the motor during the cutting process. You can use vinyl cutters that have this type of motor at home or anywhere else without having to worry if they're going to make too much noise.
Browse through our guide to the best hobby vinyl cutters to explore options that will enable you to make car stickers or decals from home.
Vinyl Cutter Servo vs. Stepper Motor
A stepper motor features built-in output steps that allow them to control the blade's position, but they can easily miss their stopping point if the system experiences a drag. As a result, vinyl cutters that use stepper motors can't process graphics smaller than half-inch accurately.
These motors have mechanical gears that prevent the machine from following the path smoothly, and instead, they often create rough edges that lower the quality of the product.
Besides, stepper motors generate a lot of noise, which makes vinyl cutters powered by these motors less than the ideal option for residential settings. Most importantly, stepper motors are not as durable as servo motors because their components tend to fail if they're exposed to heavy loads continually.
The maximum cutting speed of a vinyl cutter depends on the motor it uses, so opting for a model equipped with a servo motor can save you a little bit of time during the cutting process.
7 Best Vinyl Cutters With Servo Motors
Despite being more expensive than models that use stepper motors, vinyl cutters with servo motors are a more reliable option for DIY enthusiasts and seasoned professionals.
The high degree of precision, durability, or noiseless operation is just some of the reasons why designers so highly praise these vinyl cutters. We've shortlisted some of the best vinyl cutters with servo motors on the market, so let's take a closer look at their features.
USCutter Titan 2
The aluminum frame ensures that the USCutter Titan 2 remains perfectly balanced during the cutting process, while four carriage wheels make it easy to move the machine. This vinyl cutter can apply up to 750g of downforce pressure on a media it is processing which allows you to work with thick materials.
The model's maximum tracking length is 360-inches, and you can use it to process media that is up to 28-inches wide, but keep in mind that its maximum cutting width is limited to 24-inches.
The Titan 2 comes with VinylMaster Cut software that grants you access to a variety of tools you can use to create logos, shapes, or different types of typographies. This software supports manual and automatic contouring, but it is only compatible with the Windows OS.
Pros
Features three Titan blades
Pen holder supports plotting
Compatible with a wide range of media types
Wide cutting area
Cons
The VinylMaster Cut isn't compatible with macOS
Setting up the machine can be difficult
Cricut Maker 3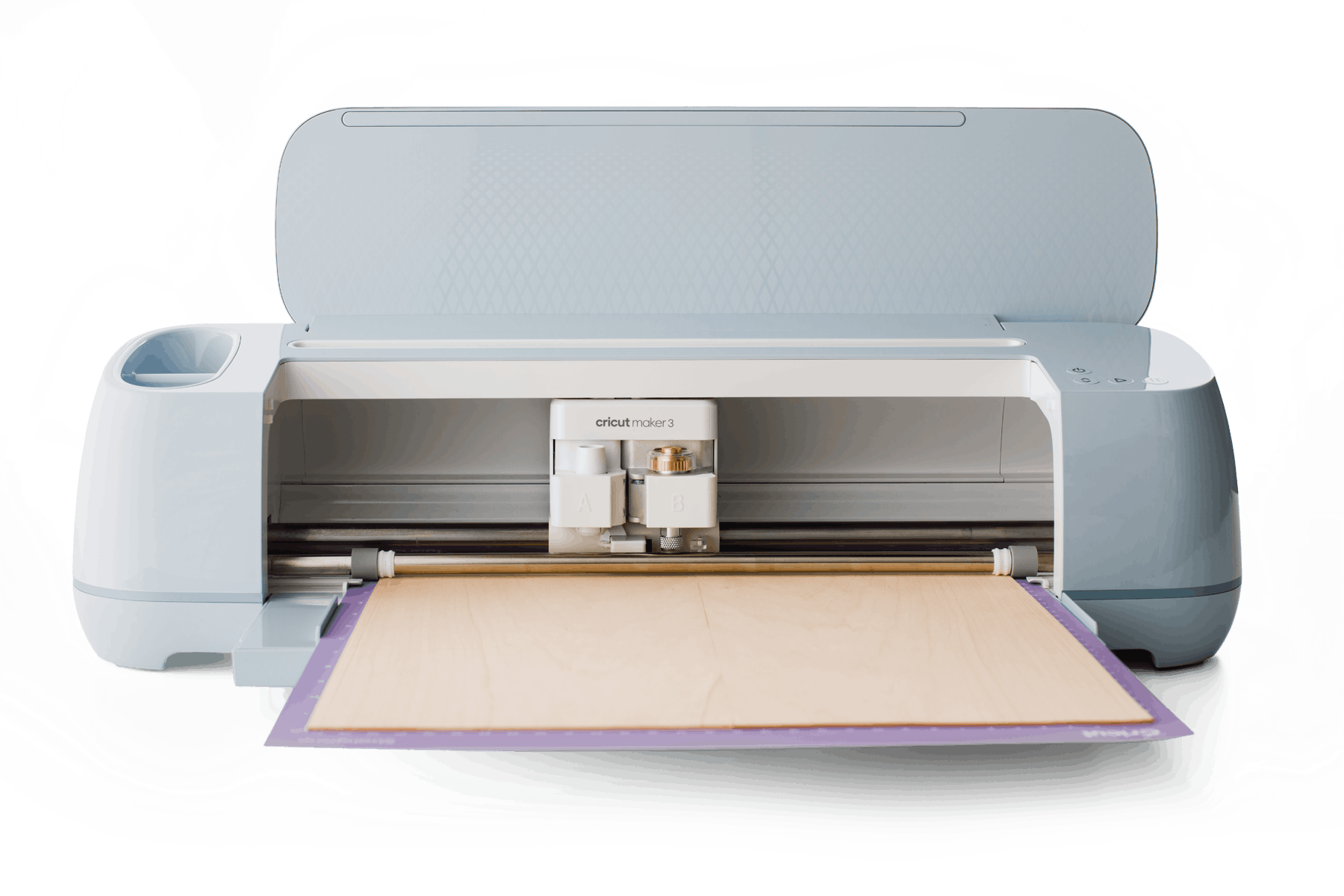 A desktop vinyl cutter like the Cricut Maker 3 can be a great choice for novice designers. This model is compatible with more than 300 media types, including regular vinyl, but you must check if the version of the Circuit Marker 3 you want to buy ships with the tools you need to cut vinyl. Plus, it's built with a servo motor, one of several improvements to previous models to make it faster and more precise.
Note that you cannot process media wider than 13-inches or longer than 12ft or 75ft if you're working with smart materials with this cutting machine. The maximum thickness of media this model supports is limited to 2.4mm2.
In addition, you can pair the Cricut Maker 3 with a home printer if you want to print your design before you cut it.
The free Design Space app that is compatible with iOS, Android, macOS, and Windows operating systems is bundled with all Circuit's products, but you must pay a small monthly fee if you want to use this app to create designs.
You can read our Cricut Make 3 review for more information about this cutter.
Pros
Quiet operation
USB and Bluetooth connectivity
High cutting speed
Compatible with smart vinyl media
Cons
Narrow cutting width
Some tools are sold separately
Roland GS24
The ability to apply between 30 and 350gf of force to the media it's cutting makes the Roland CAMM-1 GS24 one of the most powerful desktop vinyl cutters on the market. This cutter can process materials that are 2 to 27-1/2-inches wide or 984.25-inches long, but only if they're thinner than 0.4 inches.
Its maximum cutting speed is 20 inches per second in all directions, while its optical registration system detects crop marks and aligns media to ensure all cuts are made accurately.
You can control this vinyl cutter from the Roland DG CutStudio, but keep in mind that the base and CorelDraw plug-in versions of this software are only compatible with Windows OS. So, you must get the Roland DG CutStudio Adobe Illustrator plug-in if you have a Mac computer.
Pros
3-year warranty
Wide operating temperature range
Creates highly detailed cuts
Generates less than 70dB of noise
Cons
Works only with blades made specifically for models from the CAMM-1 series
The stand for this vinyl cutter is sold separately
Graphtec CE7000-60
With a maximum cutting width of 24-inches, the Graphtec CE7000-60 is best suited for medium-sized projects. The brand's CE7000 series also features a model that offers 50 inches of cutting width in case you need a vinyl cutter that allows you to create large designs.
The CE7000-60 has a grit roller with a digital servo drive system and two push rollers, while its maximum cutting speed is 36-inches per second at a 45-degree angle. The model's cutting area with guaranteed accuracy is 23×79-inches, while the minimum character size you cut with this machine is 0.016-inches.
Graphtec's vinyl cutter is compatible with macOS and Windows operating systems. In addition, the machine comes with Cutting Master 4 software that features plug-ins for Adobe Illustrator and CorelDraw and Graphtec Studio versions for Macs and PCs.
Pros
Excellent automation options
ARMS 8.0 system ensures smooth contour cutting
Cutter's blade is made of steel
Compatible with vinyl, fluorescent, and reflective media types
Cons
Not aimed at inexperienced users
Very expensive
GCC Puma IV P4-60
Functionalities like the test cut, curve & arc smoothing, or overcut are some of the reasons why GCC Puma IV P4-60 is so highly regarded by industry professionals. This vinyl cutter utilizes the roller-type operational method and features the DC servo drive control.
The P4-60's maximum media loading width is 28.3-inches, but the machine's maximum cutting width is 23.6-inches. This GCC's model can apply up to 500gf of downforce to a material, which enables you to work with media that is thinner than 0.03-inches.
Its maximum cutting speed at 45-degrees is 40.2 inches per second, and its distance accuracy is 0.01-inches. The P4-60 is compatible with GreatCut, FlexiSign 19, SignPal 19, Sure Cuts a Lot, and Sure Cuts a Lot Pro apps and software products that are compatible with Windows, macOS, and iOS.
Pros
Triple port data transmission
Features a tangential mode
Intuitive LCD control panel
Excellent tracking capacity
Cons
Blades can become blunt quickly
Decreased efficiency when processing media that isn't approved by GCC
Graphtec FC8600
A brief look at the features the models from the Graphtec FC8600 offer reveals how powerful and versatile these vinyl cutters are. The Intelligent Scan Mode or the Segment Area compensation are some of the options that improve the machine's precision.
The size of the cutting area depends on the model, and it is between 2 to 5 feet wide and 164 feet long. Hence, the maximum mountable media width spans from 30 inches to 73 inches.
The cutting area of guaranteed accuracy also depends on the model, and in most cases, you won't be able to use materials longer than 50 feet or wider than 40 inches. These vinyl cutters can apply as much as 600gf of downforce to material, and they allow you to work with two tools simultaneously.
Pros
Compatible with multiple blades
It cuts different types of media efficiently
Fast cutting process
Features a 32-bit CPU
Cons
Not a budget-friendly option
Only suitable for commercial use
GCC Jaguar V J5-61LX
You should take a closer look at the GCC Jaguar V J5-61LX in case you're searching for a 24-inch vinyl cutter. GCC's Jaguar V series features six different models and LX versions of these models that are equipped with auto-rotation and automatic aligning features.
The J5-61LX has three pinch rollers that allow the machine to move the material smoothly during a cutting session. You can use various media with this vinyl cutter as long as they don't exceed its 0.03-inch material thickness limit.
All models from the Jaguar V series, including the J5-61LX, have a tangential mode, a section cutting option, as well as copy and repeat functions that allow you to create multiple copies of the same design.
Also, the maximum cutting speed at a 45-degree angle Jaguar V vinyl cutters can offer is 60 inches per second.
Pros
Users can acquire plug-ins for Adobe Illustrator and CorelDraw
Offers up to 32 feet of tracking capacity
Adjustable media support system
Quick and easy setup
Cons
The J5-61LX can't accept media wider than 24-inches
Performance capabilities of this vinyl cutter exceed the needs of most non-professional users
How to Pick the Right Vinyl Cutter With Servo Motor
Although servo motors offer a broad spectrum of advantages over stepper motors, there are other criteria you should pay attention to while deciding which model to choose.
We've shortlisted several aspects you should take into consideration during your search for a vinyl cutter with a servo motor, so let's take a closer look at them.
Consider the Context
Where are you going to use your vinyl cutter? Knowing the answer to this question will make it much easier to find the vinyl cutter with a servo motor that fits your needs.
In case you're planning to use this machine at home for your artistic projects, you should aim for a relatively compact model since you're probably not going to process large materials.
On the other hand, if you're starting a new business or looking to extend the range of services your business offers, you should search for high-end models equipped with features that can improve the quality of cuts you can produce.
Software Compatibility
Almost all vinyl cutters come with bundled software products that grant you access to the tools you need to design a banner or offer a preview of the cutting path.
However, these apps don't always have plug-ins for vector graphics editors like CorelDraw or Adobe Illustrators that are commonly used to design signs, banners, or decals. That's why you need to check if the vinyl cutter model you'd like to get comes with a plug-in for either of these design programs.
Vinyl cutters usually come with one of the following software products:
Browse through our guide to vinyl cutter file formats to find out which file formats you can use to cut your designs.
Maximum Cutting Depth and Speed
The choice of materials you'll have at your disposal can be limited by the thickness of media the machine can accept. Most models allow you to use materials that are between 0.01 and 0.03-inches thick, although in some cases, you'll be able to process media that is 0.07-inches thick.
The maximum cutting speed depends on the cutting angle, and it usually varies between 20 and 60 inches per second.
Blade's Downforce
The amount of pressure or downforce a blade can apply to a material affects the machine's cutting abilities. So, if a vinyl cutter doesn't offer a lot of downforce, you won't be able to use it to cut thick materials.
Ideally, the model you choose should be able to generate more than 350gf of force during the cutting process.
Range of Materials
Vinyl cutters with servo motors are often compatible with more than just one type of media, and they allow you to cut rubber or pounce paper. Checking which type of materials you can use with a particular vinyl cutter will enable you to know if you can work with plastic, leather, and various other materials.
Entry-level models are usually compatible with a handful of media types, and you must invest in a high-end model if you're planning to cut different materials.
The Overcut Feature
This option is offered almost exclusively by vinyl cutters with servo motors, but it is far from being a standard feature on all models that have this type of motor. The overcut ensures that the machine goes through the material properly whenever it needs to turn a corner, and it eliminates poor weeding.
Getting a vinyl cutter that has this feature will make it easier to process thick media.