Imagine creating 3-dimensional objects with a writing device, and you've got the concept of a 3D printing pen.
These pens manipulate filament to allow you and your children to bring practically anything to life, from animals and characters in this world to the kinds of things that live only in our minds.
Easy 3D Pen Ideas You Can Create
To help inspire you and your children, we've compiled a list of easy 3D printing pen ideas that should get the creative juices flowing.
These projects don't require a lot of time or technique to create. Instead of worrying about details, you can focus more on the process—and having fun!
The many projects below are great for beginners. However, you shouldn't limit yourself to what you see on our list.
Create your own 3D design and share it with the 3D printing community to inspire others as well.
Ready for some fun 3D printing? Let's get started.
Some 3D Printing Pen Fundamentals
There are many shapes you might try when you first get your 3D printing pen. After all, you've got to get acquainted with it before you can really put it to use.
If you haven't used a 3D printing pen before or it's just been a while, here are a few fundamentals you can practice before you start a project. There are many 3D printing pen tutorials available online as well.
Operating Your 3D Printing Pen
The beauty of 3D printing pens is that they allow us to create hundreds of thousands of projects with filament that comes out of the tip of the unit. However, these printing pens can also stand in the way if you're unfamiliar with how to use them.
Every 3D printing pen has its own features, but they all basically do the same thing. Filament feeds through the pen to extrude out the tip. Some 3D printing pens heat the filament, while others do not. It's once inside the pen that the filament can become a problem.
Filament fed too fast through the printing pen can clog at the tip. After completing a project, it's also important to retract the filament and remove it from the pen for next time.
If you leave the filament in the 3D printing pen, it could harden inside and make it very difficult to remove.
With a black or dark-colored piece of filament, simply try operating your 3D printing pen.
Use this time to get acquainted with the speed of the unit, as well as what other features it might have built-in.
Having these operations down pat will aid you in focusing on printing rather than operating the pen itself.
Printing Basic Shapes
Another great way to learn your 3D printing pen is to create simple shapes at first. Lay down an old T-shirt or piece of scrap paper and begin printing circles, triangles, squares, and rectangles. Move on to diamonds and free-hand shapes as you gain confidence.
This can be a great way to teach your children how to draw as well. Print a shape with your pen, and then allow them to do the same. Letters and numbers take on a new life when they're 3-dimensional and colorful.
As you become more comfortable printing basic shapes, give them some dimension.
Print upwards, downwards, and sideways to create depth. This will allow you to practice how fast or slow you need to print and move your hand to create 3D shapes.
Once you've got the hang of that, move on to some of the simple projects we've listed below.
Start with Templates
One of the best things about 3D printing pens is that they make stenciling such an easy process.
Rather than having to come up with intricate designs and shapes yourself, you can use a template to lay down basic structures that you can then use later on to build larger and more extensive projects.
For instance, one of the projects we've included below is a model of the Eiffel Tower.
Templates allow you to break down the components into manageable prints you can be sure will stand up as well as the actual Tower itself.
Search for 3D printing pen templates on Google Images to find inspiration as well.
You can add phrases like "car" or "zoo animal" to the phrase to customize your results.
Consider creating your own templates as well.
Best 3D Pen Ideas
As you scroll through the projects we've listed below, keep your eye out for these characteristics. They'll enrich your experience with 3D printing pens to keep you creating.
The best 3D pen ideas:
Include step-by-step instructions with illustrations
Are made of vivid colors
Don't require lots of technique or extra materials
Can be functional as well as art
Inspire more designs
The designs below are both flat and free-standing.
Typically, flat 3D printing pen designs are easier to achieve, but that doesn't mean you should be afraid of printing in 3D. After all, it just takes some practice and a little perseverance.
Try your hand at these fun and functional 3D printing pen ideas.
Share your experiences with the 3D printing community and see what inspiration you can provide to other creative thinkers like you!
Inspirational and Beginner Projects
If you're looking for an easy shape to create, check out this 3D printed cube. You can make your cube as big or as small as you want. Cube shapes are a great way to add structure to designs once you get into more complicated shapes.
Maybe you're looking for a few easy projects to try your skills with.
There's a YouTube video with 5 easy 3D printing pen projects you can watch to help you get started and inspire you to create your own designs. You might even recognize some of these featured shapes.
Sometimes all you need is a video montage of inspiring DIY 3D printing pen projects.
Check out this video as well for ways you can mend, repair, and create objects in your own world. You may even see the world around you a bit differently with a 3D printing pen in your hand.
Functional Designs
The world of 3D printing isn't just confined to art. In addition, you can also create objects that help you in your daily life, from your home to school and the workspace.
You can create pen holders for your desk, change boxes, or any items we mention below.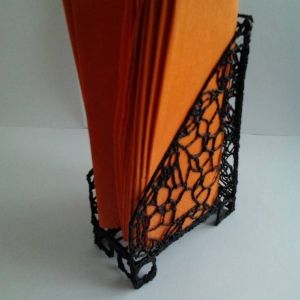 For example, this file folder holder is a great way to spruce up a dull office. There are plenty of traditional writing utensil holders and abstract pencil holder designs out there.
You can also create a dish shaped like a hedgehog (or any other creature, depending on how creative you are). Phone cases can easily be customized with a 3D printing pen as well.
Doodle your own personalized phone case for a durable and functional 3D printing pen idea to last.
Just be sure to print on a template of your phone rather than the actual device. The hot filament could damage the phone itself, especially fragile components like camera lenses.
Figurines
Here are a few 3D printed figures you can create with your own 3D printing pen.
Try your hand at 3D printing your favorite animal, whether it's a flat rendering or a 3D model.
Dragons and snakes are some of the simplest animals to start with. The basic tube form is easy to achieve and can result in some really awesome figurines or statuettes.
Don't be afraid to let your imagination go wild!
Jewelry and Accessories
Most of the jewelry and accessories you can 3D print can be worn for extended periods of time. Filament isn't necessarily as strong as metal, but it can add a fun element to any outfit.
Take these glasses, for example. The design itself is simple and requires few lines and a small amount of filament.
You can easily build off the base of this design to customize your own glasses, even for Halloween costumes like Harry Potter.
Speaking of customizations, you can also 3D print a vast array of rings. These could be rings you typically wear on your fingers or those you put on your toes.
The best thing about these 3D-printed ring designs is that you can size them according to your very own fingers.
Some filaments are flexible, so you can create rings that will grow with you.
Filament can also fit on your feet, as seen with this design for 3D printed pumps.
These shoes may not hold up to extended use, but they're a cheap and simple way to design heels you won't find anywhere else.
Finally, customize your earrings with these 3D printing pen earring designs.
You can buy earring bases at your local craft store. Print the filament onto these bases for earring designs that say as much about you as your outfit.
Plus, you can easily 3D print earrings for Christmas or birthday presents customized for your loved ones.
Models and Buildings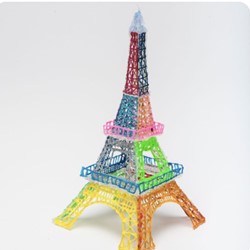 When you choose to make models and buildings with your 3D printing pen, you will find that the designs to choose from can be simple and basic or much more complicated.
A 3D structure like the Eiffel Tower also makes a good practice statue for those looking for more 3D pen inspiration.
The Eiffel Tower is one of the more popular building designs you can try out. You can find several free 3D pen templates online, along with templates for the Tower of London and Big Ben.
All four sides of these designs are also the same shape, making them a great choice for beginners looking to improve their 3D printing skills.
Artwork
As with jewelry, you can use your 3D printing pen to create artwork of your own or put your own spin on your favorite art. You can make your artwork in any design, style, or size.
Print out the design you want, cover it with clear plastic, and trace the design with your 3D pen. It is a great project for beginners.
Depending on how good your tracing skills are, you can also trace out photographs or create your own abstract and creative artwork.
Once you get used to creating artwork with your 3D pen, you can start making personalized holiday cards or invitations.
Accessories
To go with your newly 3D printed jewelry and artwork, why not create a clutch purse!
A clutch purse is actually a simple design you can do, and you can add any artwork or pattern you like. Watch the video from 3Doodler Create+ to see how you can doodle your own clutch purse.
Miscellaneous 3D Pen Ideas to Try
You can create many other objects with a 3D printing pen and flexible plastic. Here's a list of just a few projects you'll find out there in the 3D printing universe:
What 3D printing pen ideas can you come up with? Turn your 3D printing pen on and let your creativity be free.
Make the Most of Your Creativity
You might feel like making everything on this list in one afternoon; there's so much creativity and inspiration when it comes to 3D printing technology. However, don't get too carried away by 3D printing ideas.
Keep the following in mind as you work through these designs to make the most of your creative process and your 3D object:
Many of the projects we've included below incorporate multiple colors in their designs. If you're unsure about printing with different colors, try making the design out of a single color first. Then, you can repeat the process with as many colors as you want.
Parents concerned about how hard a project might be should also consider trying their hand at it before introducing their child to the concept. This will allow you to head off any issues your child might have before starting.
Don't get stuck recreating what you see on the screen. Instead, let your own style show through! The best 3D printing pen ideas are those that come from your creative spirit.
It is possible to recycle your discarded 3D printed projects to regain the filament. However, the process is not necessarily simple if you only 3D print as a hobby. But if you know of a serious 3D printing enthusiast, consider donating your scraps.
Like anything else creative, 3D printing pen ideas flourish when many minds are present. Consider throwing your own 3D printing pen party to help your friends and their families experience the joys of 3D printing.
How Do Filaments Work on 3D Pens?
When you use your 3D pen, the plastic filament in the pen is fed through until it melts and comes out of the pen nozzle. The temperature will vary depending on the materials used to create the filament. During extrusion, the 3D pen plastics do melt quickly and solidify.
Most 3D pens will print in PLA plastic, ABS plastic, and/or PCL filament. Always check the size of filament your specific 3D pen uses.
Most will use 1.75mm filament for drawing, but some manufacturers use a larger filament. For example, 3Doodler filament is 3mm.
What Is the Best 3D Pen for Beginners?
When looking for the best 3D pen for beginners, the 3Doodler Create+ definitely came out on the top of our list. It feels great in your hand, has consistent extrusion quality, is accurate, and is simple to use when creating your 3D printed object.
There are also child-safe 3D pen options available if you have a young one at home that wants to learn how to create their own 3D model instead of just drawing with an ordinary pen.
A child-safe 3D pen design contains no hot parts. The pen nozzle and plastic parts can be touched without the risk of burns. These pens are suitable for children ages six and up.
The best 3D printing pen ideas pair well with the best 3D pens for kids to keep you and your child occupied for hours.
Are you inspired by what you've 3D printed with your favorite 3D printing pen?
Create your own projects and share your 3D pen art to inspire others as well. The best 3D printing pen ideas make your life and the lives of those around you a more fun and happy experience.
Why not share that with others?