There is no shortage of cleverly designed machinery on the market these days. Some equipment is more useful than others, and each one can ease your workload and can provide shortcuts in some way or another. Some can also prove to be valuable tools to accomplish your goals, from designing a gift to decorating your house with your engravings.
It could even be used to start a business. In this article, we review the Orion Motor Tech Laser Engraver, and we will investigate whether it deserves your attention and money!
CHECK LATEST PRICE ON AMAZON.COM
Orion Motor Tech Laser Engraver Review
The Orion Motor Tech Laser Engraver is, as the name implies, a laser engraver and cutter that is very versatile. This laser engraver boasts many features that will help you create stunning patterns and engrave beautiful images on numerous surfaces.
Who is This Laser Engraver For?
This laser engraver is the perfect choice for those who love to see their creativity flourish. It is great for those who want to turn their ideas, imaginings, illustrations, and patterns into reality. People who love making images and printing or engraving breathtaking gifts would love this item.
It is excellent for making ornaments to display in homes, and it can even help someone who would like to start a business. This is probably not an entry-level engraver, nor is it compact, so keep that in mind if you consider buying it.
What's Included?
The package comes with the laser engraver itself, as well as a 50W Co2 laser tube, a water pump, and three water hoses. There is also an air compressor, ventilation fan and tube, bearings, and belts.
Additionally, you will receive a manual with a USB cable and a software CD, as well as a power cord and an accessories bag. This package includes a bag of Allen wrenches, a network cable, silica gel, and a roll of double-sided tape.
Overview of Features
The laser has an impressive power of 50W, which makes it easy to turn your projects and creativity into reality. This engraver can create professional designs, personalized gifts, and unique items that will brighten any birthday or celebration.
The laser is a 50W Co2 laser that engraves and cuts a multitude of surfaces and objects. This includes bamboo, wood, acrylic, cloth, and much more. It cannot cut or engrave metal-based surfaces, only anodize-coated or non-metal ones.
The working area is sufficiently large, at 12 inches by 20 inches, and it boasts an impressive engraving speed of 23.6 inches per second. It also has cutting speeds of up to 15.7 inches per second. It's featured with a red dot pointer that will make it easy to figure out exactly where the laser will fire.
The high-resolution standard optics and the extremely precise stepper motor greatly increase the precision of the engravings and cuttings. The engraver also features a stop button to ensure safety. The package comes with a cylindrical attachment to engrave such objects like mugs.
The laser engraver supports a wide range of formats from different software thanks to the highly advanced and easy-to-use system. Those of you who love CorelDraw or other design software will have no problem using this laser engraver. It is compatible with all Windows OS from Windows 8 and above.
A complaint that some users have is that this laser cutter can sometimes read the USB flash drive incorrectly. A common fix for this issue is to insert the flash drive before you power up your machinery.
How to Use Orion Motor Tech Laser Engraver
Laser engravers can sometimes be dangerous if improperly used, and this engraver is no different. Be sure to use this laser engraver and cutter with the right exhaust ventilation, as well as an air compressor. Follow the manufacturer's instructions when setting it up and using it.
Alternative
After review, the Orion Motor Tech Laser Cutter is a fine choice of a laser engraver and cutter. However, if you prefer a more professional, stylish, and powerful machine, the Glowforge Plus might just be the best for you.
This laser cutter is perfect for professional use, featuring a very sturdy build and incorporating cutting edge technology. It offers an easy-to-use interface, as well as a beautiful, stylish, and professional design.
Due to the numerous features and build quality, this machine comes with a substantial increase in price over the Orion Motor Tech Laser Cutter.
Conclusion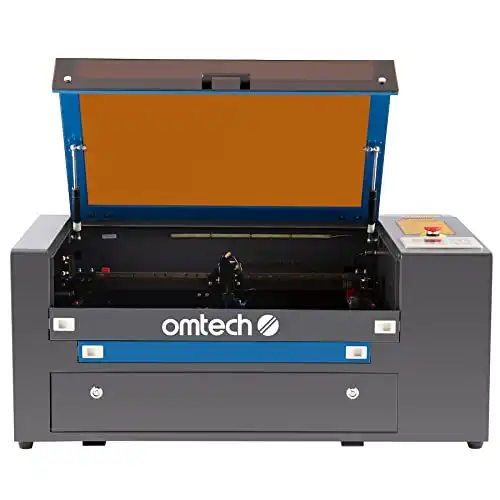 We earn a commission if you make a purchase, at no additional cost to you.
In short, this laser cutter and engraver is very versatile and very powerful. It provides the ability to be used on various materials and has numerous useful features and more.
All of this comes at a reasonable price that is lower than most laser engravers of this caliber available on the market.