The Shapeoko 4 is a new product from Carbide 3D and it includes some features from the Shapeoko 3 and the Shapeoko Pro. One difference you will certainly notice when comparing the Shapeoko Pro and the Shapeoko 4 is that the Shapeoko 4 is more affordable. However, there are other changes, as well.
The Shapeoko 4 is a CNC router and it is capable of cutting a number of different materials effectively. There are plenty of differences between it and the Shapeoko 3.
The Shapeoko 4 includes a hybrid table, faster assembly, new wheels, and plenty more to make the process of cutting materials even easier.
Shapeoko 4 Review: Key Features
There are plenty of features that make this particular CNC router an excellent machine. The hybrid table is a good place to start, and it gives you a foundation that is both rigid and stable. It consists of a grid made from a number of custom extrusions that are created by Carbide 3D themselves.
Carbide 3D created those custom extrusions with precision machining. The built-in t-slots and a total of 12 Teez-nuts help give you flexible workholding. You can also choose to get the Gator Tooth or Tiger Claw clamps from Carbide 3D. This helps you hold any sort of material securely.
You might like to add additional features to the MDF. If so, you can drill the MDF into place to do so. Alternatively, you can remove it and add the features you want, such as threaded inserts. It is also possible that you might require additional MDF slats, as well.
You can use a table saw to cut replacement MDF slats if you need them. This process doesn't take too much time, either. This is not all that the Hybrid Table of this machine has to offer, though.
The Hybrid Table Includes Fully-Supported Extrusions
Another benefit of the Hybrid Table is that it provides full support for the Y extrusions. This support is front-to-back. The additional support means that the material is also less likely to flex, as well. These extrusions make cutting materials an even more simple task.
The Shapeoko 4 Machine Comes With New V-Wheels
The v-wheels have remained the same on Carbide 3D Shapeoko models, even though there aren't many similarities between the Shapeoko 3 and the Shapeoko 1 and 2. However, these new v-wheels are approximately twice as rigid on this product's X-axis compared to the v-wheels on the Shapeoko 3.
The fact that these wheels are more rigid means that the machine as a whole performs better and can cut materials more effectively as a result. Another change to the v-wheels is that their diameter is a bit larger now. This increase in diameter means that these v-wheels enjoy a greater amount of durability.
One other thing to note about this new feature is the fact that these wheels are not compatible with the Shapeoko 3. This is as a result of their larger diameter, which was previously mentioned. So, you cannot use these wheels on a Shapeoko 3 model, and it would not be a good idea to attempt to do so.
It Includes New Wiring and Better Electronics
The Shapeoko Pro includes the new Carbide Motion V3.0 PCB. However, this feature is also included in the Shapeoko 4 model, as well. This new feature comes with a variety of important improvements to the product.
New connectors in addition to improved EMI protection and ESD protection are a few things that the Carbide Motion adds to the Shapeoko 4 model. Additionally, you get a new wiring harness. This makes the assembly process go much more quickly and smoothly.


Carbide 3D Shapeoko Maintenance Kit
A New Spindle Mount Is Also Included
Carbide 3D designed a new spindle mount for the Shapeoko Pro. However, the Shapeoko 4 model also includes this new mount, as well. One thing to note about this new mount is that it is a thicker mount than that of the Shapeoko 3.
The added thickness of the mount also means that it grips the router more rigidly, too. You also might find that you prefer the new look of the new spindle mount compared to the older mount. This new spindle mount is a 65-millimeter mount.
As a result of this, it does not fit every machine on the market. Naturally, it does fit the Carbide Compact Router from Carbide 3D, though. However, this new spindle mount does not fit a DeWalt trim router, so it is best not to use it with one of those models.
15-Millimeter Belts Are Another Feature
Another feature that is part of the Shapeoko 4 is its 15-millimeter belts. These are the same belts that Carbide 3D uses on the Shapeoko Pro model. For comparison, the Shapeoko 3 used 9-millimeter belts. As a result, the new 15-millimeter belts on the Shapeoko 4 provide you with approximately 65% more stiffness.
Quicker and Easier Assembly
Carbide 3D wanted to make the assembly of the Pro as well as the experience of using the Pro better. The Pro does seem to be fairly easy to assemble. Some users were even able to assemble the Shapeoko Pro before Carbide 3D posted the assembly videos.
You should be able to assemble the Shapeoko 4 fairly easily as you would be able to do with a Shapeoko Pro. This is a change from the previous model, the Shapeoko 3. You will likely find that the assembly process is far easier with a Shapeoko 4 than it was with a Shapeoko 3.
In total, you will have to spend approximately five hours assembling this machine. That is less time compared to some other similar products. The ease of assembly is one benefit that this machine provides.
One Quick Note About Shipping
One common comment from Shapeoko Pro users is that they would prefer if the model shipped in a single box. However, that is not possible. The same can be said for the Shapeoko 4, as well.
Both of these products are heavy and large. Major shippers like FedEx and UPS will not ship these models in a single box. As a result, the Shapeoko 4 does ship in two different boxes and that is unavoidable, unfortunately.
Shapeoko 4 Applications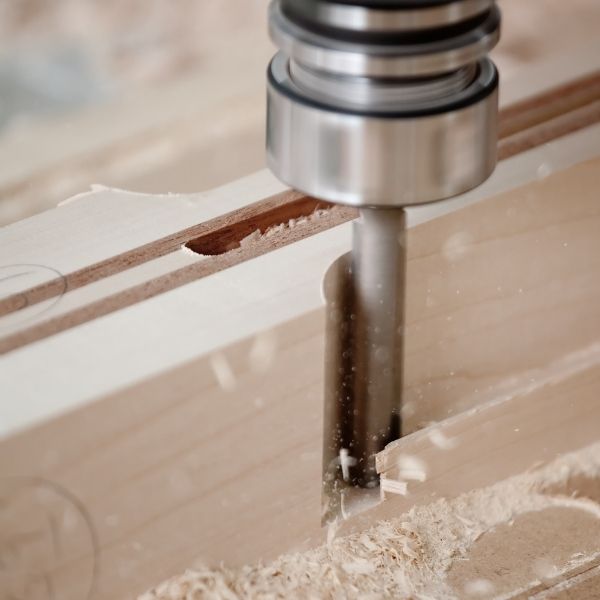 You can use this machine for a variety of different purposes and with a variety of different materials. The main purpose of this machine is to allow you to utilize subtractive manufacturing to make a 3D object from a variety of different materials. The three main materials that you can use with this machine are aluminum, plastic, and wood.
You can also choose from three different sizes, depending on how you are going to use the machine. The first size is standard, the next size is XL, and the last size is XXL.
Additionally, you can use this machine to carve PCB and MDF, as well. When it comes to aluminum, you can cut aluminum sheets using this machine. However, you do have to cut at a somewhat lower speed when you cut aluminum compared to when you cut wood.
You can also use the Shapeoko 4 to cut thicker materials as well. The maximum material thickness for this machine is four inches. You will see that this is greater than the maximum material thickness for other similar products.
If you intend on cutting thicker materials, the Shapeoko 4 might be a good choice for you. Carbide Create is the software that controls the machine. This software is free forever, so you don't have to worry about that.
Pros and Cons of the Shapeoko 4
One of the pros of this machine is that the Carbide Create software you use with it works very well and it is free. Another pro is that this machine performs well and you get especially good results if you use wood. One more pro is that it does not take up too much of your desk.
The major con is that you do not get a dust collection system with this machine. This means that you have to clean up the dust carefully yourself so the machine doesn't get damaged. You also have to adjust the machine somewhat for the best accuracy.
Buying Options for the Shapeoko 4
You can purchase this machine at a number of different websites.  One of the best places to look is ToolsToday.Com, as they incldue a number of buying options, configurations, and fast shipping. You can purchase the machine from Carbide 3D itself if you so wish.
You have other options, as well. You can purchase the Shapeoko 4 on eBay, too. You have plenty of buying options.
Shapeoko 4 Alternatives and Competitive Products
The main alternative to Shapeoko from the Carbide 3D company itself is the Shapeoko Pro. You can purchase this on the Carbide 3D website instead of the Shapeoko 4. However, you should know that it is a bit more expensive than the Shapeoko 4.
Another product that can compete with the Shapeoko 4 is the X-Carve. One good thing about the X-Carve for experienced users is that you can customize it. It is also fairly straightforward to figure out how to use the X-Carve's software.
Additionally, the X-Carve does include a dust collector, unlike the Shapeoko 4. However, the X-Carve is more expensive than the Shapeoko 4. They are both good machines, so it comes down to what you value in a CNC machine.