The X-Carve by Inventables has gained more and more popularity over the last decade.
While the popularity has increased, so has the price, which now has users looking for cheaper alternatives to the X-Carve.
As Inventables continues to make upgrades to their machines and Easel software, you can expect prices to gradually increase as time goes on.
A prime example of that is with the recently announced X-Carve Pro, which will offer a much large work area, but comes with a hefty price tag.  This again leaves users and beginners in the CNC router community looking for alternatives.
Luckily, there are plenty of options in today's marketplace.  Not only are there more affordable options, but some machines with better features and larger work areas included.
We've put together what we consider the best list of X-Carve alternatives available today.
In this list, we'll include cheaper options and CNC machines that we consider better overall options as well.
To save you some time we have added our top 2 alternatives first, if you want to see the entire list and reviews, please continue reading.
In a hurry… Here's our top X-Carve alternatives
Our Pick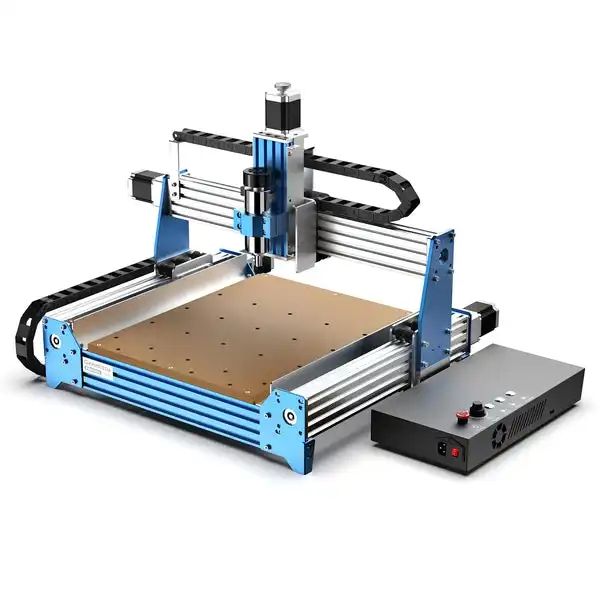 We earn a commission if you make a purchase, at no additional cost to you.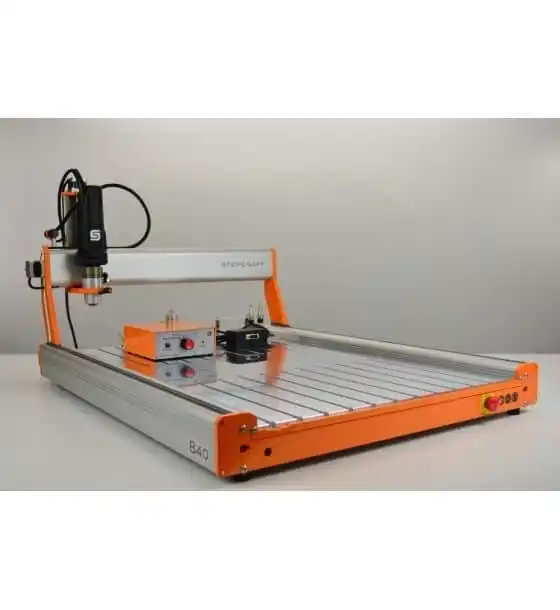 We earn a commission if you make a purchase, at no additional cost to you.
Best X-Carve Alternatives
When it comes to affordable quality CNC Routers, SainSmart leads the way.
Expandable up to 40"x 40", the 4030 PROVerXL is a well-built machine, with similar features compared to the X-Carve.
Included are NEMA23 stepper motors along with the Dewalt 611 router spindle, making it very similar to machines made by Inventables.
Equipped with a rigid C-Beam frame and ball screw lead-driven axis, this machine is an actual upgrade compared to previous models of the X-Carve.
Grbl controlled software included with the Genmitsu CNC makes this an ideal CNC router to use with Easel Software.
Overall, if you want a cheap alternative to the X-Carve, we highly recommend you first take a look at this machine.
X-Carve vs SainSmart Genmitsu
Comparing these two CNC router brands wasn't very easy.  Because they both offer high-quality machines with advanced technology, it was difficult to really pick a winner.
When it comes to affordability, we will give the edge to the Chinese made Genmitsu routers.
 If you are looking for similar quality, but with a larger work area, then the X-Carve might just be right for you.
This German engineered CNC router covers all your bases as an X-Carve alternative.
The 33" x 23.5" work area is ideal for most CNC router projects.  Equipped with precision ball screws, the overall accuracy of this machine is unmatched in this price range.
The rigid build and construction of the STEPCRAFT D-series are as high quality as they come.
 Included with the machine is an easy-to-use aluminum t-track base, making clamping workpieces as simple as can be.
One of the main features included with this machine is a tool-length sensor, making multi-tool carves easy and efficient.
The enclosed rails protecting the ball screws will make sure your machine continues to run smoothly without ever sacrificing accuracy.
Overall, this compact CNC router has many more features compared to the base level X-Carve.
X-Carve vs STEPCRAFT
When we compared the X-Carve to machines by STEPCRAFT, we found that STEPCRAFT offers much more overall flexibility and control with their machines with available options.
For example, the STEPCRAFT includes lasers, 3D printing heads, and fully assembled machines.
So, while the X-Carve is slightly lower in price, it offers much fewer features compared to its main competitor in this case.
Next Wave Automation is another leader in the CNC machine industry, boasting a great lineup of CNC routers.  Specifically, the SHARK HD510 is one of the latest models to come from this company.
Boasting a 28" x 36" work area, the HD510 has plenty of room for large projects such as signs and furniture.  And it includes the highly-advanced Vectric V-Carve Software, used by thousands of CNC users worldwide.
Although a bit pricier than the X-Carve machine, the SHARK HD510 includes many features that would only be found with industrial routers; it's not your typical hobby machine.
Equipped with steel reinforced gantries for extra stability, this machine has excellent accuracy and is capable of long detailed carves.
Included with your purchase is a one-year full warranty, putting your worries a bit at ease.  And, of course, it will handle all the same X-Carve projects you would expect.
X-Carve vs SHARK CNC
The machines built by Next Wave Automation offer a bit more overall support and rigidity.  When comparing these two machines, it really just depends on what you really want to carve.
For intricate and detailed carvings, you definitely want to choose the SHARK CNC with its included VCarve software.
However, if you're looking for just a fun new hobby, but not ready for the financial commitment, then we recommend going for a cheaper option.
The main rival to the X-Carve for the last decade has been the Shapeoko by Carbide 3D.  With similar features and overall design, it is no surprise to see this machine as a great alternative to the X-Carve.
With 3 sizes available, including the Shapeoko XXL, there are plenty of options for whatever machine you are looking for.
The XXL boasts a large 32"x 33" work area, giving you an ideal space for your average workpiece.
Similar to other competitors on this list, this machine is equipped with NEMA 23 stepper motors, while also including Grbl firmware control.
Designed and manufactured in the US, the Shapeoko includes its own design and control software, comparable to that of Inventables.
As with other CNC routers on this list, it is ideal for cutting wood, plastics, and soft metals such as aluminum.
Overall, we believe this is a quality option over the X-Carve.
X-Carve vs Shapeoko
When it comes to comparing these two industry titans, there are a lot of similarities.
The price ranges are similar, along with the controls, build, and software.  This may be a decision that can just come down to preference.
One advantage the Shapeoko may have over its rival is that it comes partially assembled and, because of this, can even be fully assembled in under 2 hours in some cases.
On the other hand, the X-Carve has a notoriously long assembly time, and adjusting the belt tension can be very tedious at times.
How to Compare CNC Routers
There are many factors to consider before getting a CNC router, especially if this is your first machine purchase.
The price alone can be intimidating to those new into this hobby space.
CNC routers are not particularly difficult to learn, but there is definitely a learning curve just like with everything else.  Be sure to plan ahead of what you want to make and carve with the machine, to give yourself enough room for your workpiece on the machine.
The 3 main factors to consider before choosing your machine are size, price, and software.
Many of the machines on this list are quite large and require a large worktable or bench to be placed on.  Make sure to plan ahead and know all of the measurements of your machine.
Price can play a significant role in your purchase, so always make sure to check around for the best price for the quality and features you are receiving.
All of the machines on this list include their own form of CAD/CAM CNC software making these ideal to go with.  Some require a little more effort to learn, while others such as Easel are very user-friendly for beginners.
Bottom Line
As long as you are comfortable with any of the machines on this list, then that is the most important thing to take away from this article.  There are plenty of X-Carve alternatives to choose from, many of which are affordable and built to last.
We recommend finding an online community of users of each machine and asking good questions surrounding each one.  Determine if there are any major issues from users, to help you make the most informed decision possible.