Planning to purchase the Stepcraft D.600? Check out whether or not it is worth buying! Read the below section to know about the complete Stepcraft D.600 review!
What is the STEPCRAFT D.600 CNC?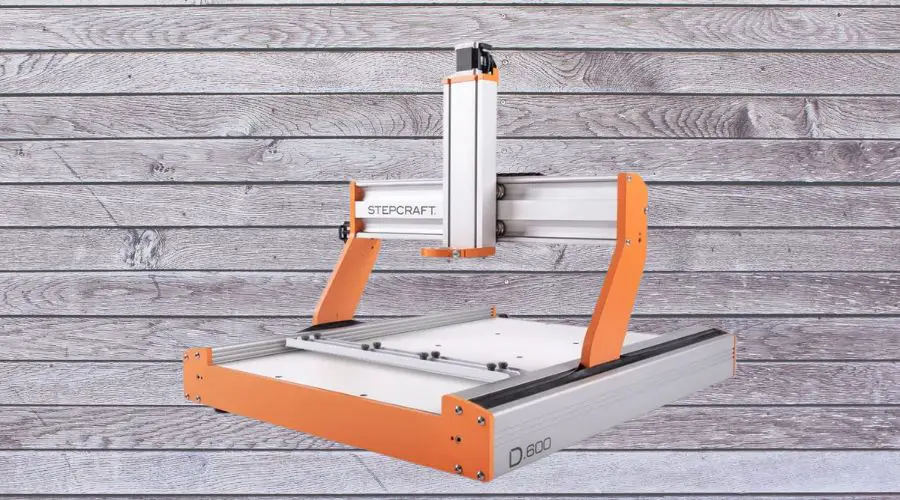 The Stepcraft D.600 is a highly professional CNC Machine designed and manufactured by Stepcraft, a US based company.
This is an all-in-one cutting machine. The Stepcraft D.600 is a professional all-in-one machine that offers CNC milling, carving, laser engraving, foam cutting, vinyl cutting and more.
You can either get an individual product or a complete kit. There are several additional options available on the official website of Stepcraft. This makes the product suitable for people who like upgrading their equipment frequently.
This​​ can be used by the hobbyist or the professionals to convert their ideas into the real designs in a matter of some time.
This machine is perfectly designed, sleek, compact, easy to assemble and highly functional. Also, the construction kit doesn't take much effort to get assembled. Anyone can do it without putting much effort or wasting much time.
It comes with a step-by-step manual which is easy to understand and to be followed. On top of that, you can find a number of demo tutorials and other videos to help yourself getting started. Those are really helpful as well.
Because it is self-assembled, it saves a lot of money which would be spent otherwise if done by a professional.
Additionally, we will eventually review Stepcraft's other models in this series which include Stepcraft D.210, Stepcraft D.300, Stepcraft D.600 and Stepcraft D.840.
STEPCRAFT – A Brief Background of The Company
Stepcraft is named among the most reputed and popular companies in the US that offer powerful and efficient CNC systems. All the Stepcraft machines are proven to be highly beneficial to the systems. These machines have a 43mm collar on Z-axis that allows the machine to be used with a number of compatible tools and adapters.
STEPCRAFT D.600 REVIEW
Overall Rating:
4.5 / 5
What We Like
The Stepcraft D.600 is a good machine that can be used easily by a beginner or a professional. You don't need any experience to work with it. Another thing we like about this machine is its easy assembling and compact size which makes it very convenient to use.
Here are the pros :
Comes with all the components that are required for smooth and effective working.
Compact size.
Easy connectivity through USB
Well-designed
Suitable for beginners
Highly functional
Offers accuracy and detailing
What We Don't Like
Here are the things that we don't like about this product :
Overall the machine is mostly positive, the only negative being it smaller than the Stepcraft D 840.
STEPCRAFT D.600: Pricing and packages
You can either get the D.600 CNC machine individually for $1799 or can purchase the complete CNC package.
Stepcraft D.600 offers four different types of packages as follows :
1) D.600 CNC Kit : The Automatic Tool Changer Package
This is the highest package that includes :
Fully assembled D.600
MM-1000 Milling Spindle and an automatic tool changer for it.
Remote Power Controller
Controller Tool Length Sensor
1 ER 11 1/8″ and 1 ER 11 1/4″ collet
2 SK15 ATC Tool Holders
Aluminum T-Slot Table
2) D.600 CNC Kit: The Starter Package
Next is the basic starter package which includes the following :
Fully assembled D.600 along with RouterDewalt DW611 Mounting Bracket
Great for those on a budget
Best for beginners
3) D.600 CNC Kit: The Milling Package
Editor's Top Pick – Best Overall Value
Milling package includes the following :
Fully assembled D.600
MM-1000 Milling Spindle
Release Lever
Remote Power Controller
1/4 " and 1/8″ collets
4) D.600 CNC Kit : The Mill & Laser Package
Finally, there is a Mill and Laser Package which includes the following :
Fully assembled D.600 machine
MM-1000 Milling Spindle
Highly Functional Tool Length Sensor
1 Release Lever
1 Remote Power Controller
1/4″ and 1/8″ Collets
1 DL445 Laser Engraver
Tool Length Sensor
STEPCRAFT D.600: Applications & Uses
It is one of the most powerful CNC machines which can be used for milling, carving, engraving, 3D printing, laser engraving, cutting etc. Basically, it can make the toughest job very quick and easy.
Let's discuss the application areas :
1] Carving
Using it along any spindle such as Proxxon, Dremel or HF 350/500, it can easily perform carving functions smoothly.
You can use any 3D software to carve anything you want for your next project. If focuses on accuracy and fine detailing.
2] Finest Wood Cutting
If you love working on wood then you will surely love this machine. It is capable of offering highly finished and detailed wood cutting which you can never achieve through other traditional equipment.
3] Detailed Engraving
This CNC machine works fine for engraving a number of materials like wood, plastic, aluminium and brass.
Basically, you can scratch any surface you want by following your ideas and creativity.
You can engrave a variety of things like product codes, serial numbers, names, IDs and many more.
Alternately, you can also use your spindle to create artistic patterns.
4] Milling
One of the biggest advantages of Stepcraft d.600 and the 840, is that it is a rigid and durable milling machine. In just a few minutes you will be able to convert the CNC router into a milling machine. The ability to engrave, mill and 3D carve makes it a one-of-a-kind woodworking machine for a novice as well as a professional.
5] Foam Cutting
By incorporating a hot wire attachment with your d.600 machine, you will get a highly functional foam cutter. This cutter can be used to cut a variety of foam materials to create artistic designs for nameplates, signage and for crafts.
6] Other Craft Uses
Apart from the above-mentioned uses, this machine can be used for a number of craft projects. So, you can easily help your kids with their school projects by cutting beautiful designs and patterns. You can make different types of board games, puzzles, DIY decors and many more things.
That's about it!
[Note: The Laser attachment should not be used on soft plastics and PVC materials because they emit gases which can be highly toxic. Basically, the laser segment has an inbuilt blower that has a filter in it and you need to vent it outside. Apart from this, always place some filters on the output of the laser unit to remove as much smoke as you can. Use it carefully.]
STEPCRAFT D.600 Key Features
First and foremost, it offers CNC milling and is suitable for milling copper, aluminium and also brass.
Comes with a sturdy frame which not only lowers the vibration but also makes the machine durable.
Can be used for 3D scanning.
The hot-wire cutter can be used to cut the objects accurately.
Offers fast and precise construction.
Can be used with a variety of accessories and add-on tools.
Works on a variety of materials such as woods, aluminium, brass, copper as well as plastics.
Easy to use.
Offers USB connection.
Aluminium extrusion that is manufactured by Stepcraft itself, offers excellent functionality and torsional rigidity.
Stainless steel and aluminium elements.
8-point ball bearing carriage
Lead screws from Switzerland which offer higher precision.
Offers free movement: accessible externally without disassembly and freely adjustability.
Offers working speed of 50mm/sec or 3000mm/minute.
Silicone seals for protection from dirt and debris.
Wear-resistant worktop made from HPL. Also offered an aluminium T-slot table.
Quick change system, which allows the user to switch from one application to another in no time.
Offers a flexible tool holder via a clamping collar
Optional adapters for Bosch Colt, Dremel Proxxon and Dewalt DW611.
No need for any additional wiring. Requires only a supply cable and a USB cable to the PC.
Suitable for workbench or desktop: Highly compact
Can be used for rotary machining with the help of an additional 4th axis.
Perfect for beginners as well as professionals.
STEPCRAFT D.600: Product Specifications
Clamping Space : 432x680mm
Working Area : 420x600x140mm
Height of Passage: 175mm
Repeatability: +- .05mm
Resolution: .005mm
Approx. Backlash dimensions : .001-003″
Max Speed : 3000mm/min
Spindle Type : Stepcraft MM-1000 1.4HP, 1000 Watt AC backed with Variable Speed Control
Tool Holder Diameter : 43mm
Laser Power (DL445) : 3 watt
Laser Filtration (DL445) : HEPA integrated filter
Overall Dimensions: 730 x 570 x 510mm)
Overall Weight: 200 lbs.
Machine Table Type: Aluminum T-slot
Required Input Voltage (AC): 100-240V
Required Output Voltage (DC): 30V
Overall Power Consumption: 90W
Interface Type: USB
Included Software: UCCNC
The Bottom Line
To review, in general, the Stepcraft CNC D.600 machines are very functional and easy to use. The best part is, these machines are capable of performing a number of tasks such as milling, carving, engraving, 3D printing etc. very easily. Comparing the Stepcraft D 600 compared to the 840, they are both a quality product which is highly recommended from our side. We have provided everything you need and we hope you will be able to make an informed decision.
Looking for a larger CNC Router:​  Best 4×8 CNC Router