The right tool is crucial for a project, so it's important to know which CNC machine type is most suitable for your plans and budget. This article will explain what a CNC machine is and cover the key characteristics of a CNC router vs. mill, including:
How they work
Suitable materials
Project ideas
Price comparisons
Popular brands
And more
Overall, CNC routers are less expensive and for projects with larger parts, less rigid materials, and three-dimensional cuts. In contrast, a CNC mill can create smaller and accurate parts, handle harder materials, and come in various cut dimensions, but it is more expensive.
What is a CNC Machine?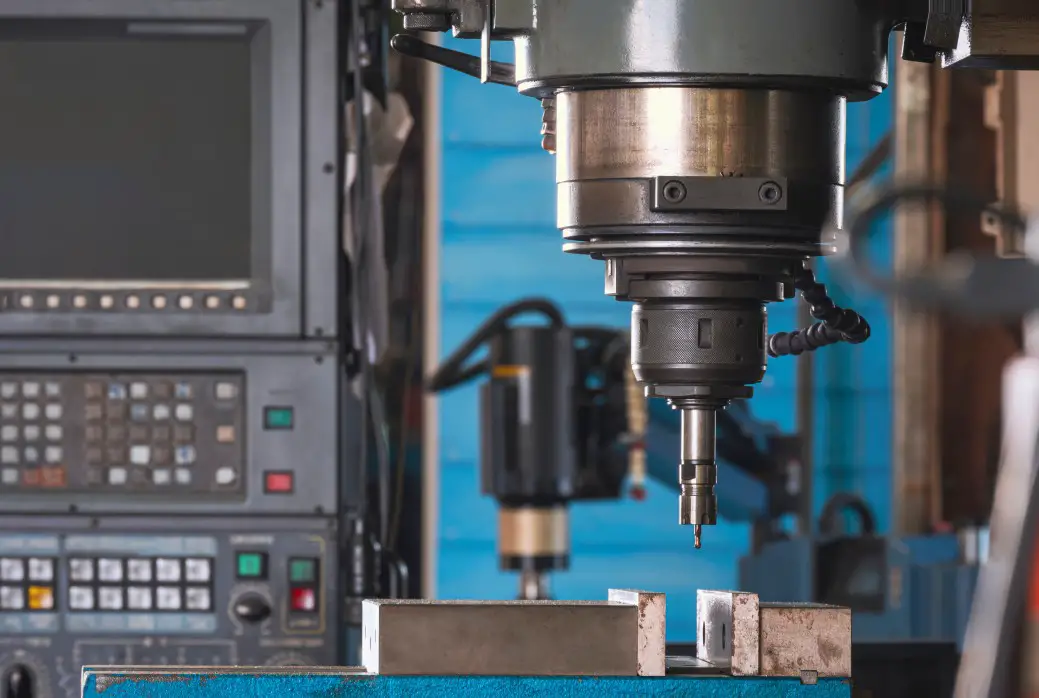 CNC stands for computer numerical control (CNC), which is coded instructions programmed to direct machines to carry out precise movements.
It allows you to convert a virtual design into a real one by creating, producing, or transforming solid materials into shapes. CNC machines usually get their digital instructions from computer-aided design (CAD) or computer-aided manufacturing (CAM) software.
A Brief History
We have John Parsons to thank for the machine that inspired the modern CNC. He is considered the "father of the second industrial revolution" for pioneering numerical control when he realized that connecting machines to computers was the future of manufacturing.
Numerical control is the process of controlling a machine using programmed numbers and symbols. This technology gained popularity in the mid 20th century and has evolved significantly since.
Common Terminology
Before diving into the article, here are definitions of common CNC machine terminology:
Axes: the number of planes of movement for different dimensional cuts (the singular term is axis)
Torque: the force or power that an object rotates about an axis
Revolutions per minutes (RPM): measurement of how fast a machine operates
Spindle: a rotating assembly with an area for tool holders to be installed
CNC Router vs. Mill: How They Work
Both a CNC router and mill create parts by removing material from a piece, also known as subtractive manufacturing. This process is different from CNC machines, such as 3D printers, that add materials to create a shape or part.
CNC Router
A CNC router will move the spindle-head across the X, Y, and Z axes with the solid material staying stable on the table. You can commonly find routers with three axes.
However, 4, 5, or 6-axis routers are also available for more complex projects. They have cutting tools (or router bits) that work similar to a drill bit and come in different sizes and shapes. For example, you can have straight bits, chamfer bits, and beading bits for different cut designs.
These machines have faster RPMs, typically between 12000 and 24000. However, since they use this rotational speed to drive the tool, the torque is much less.
CNC Mill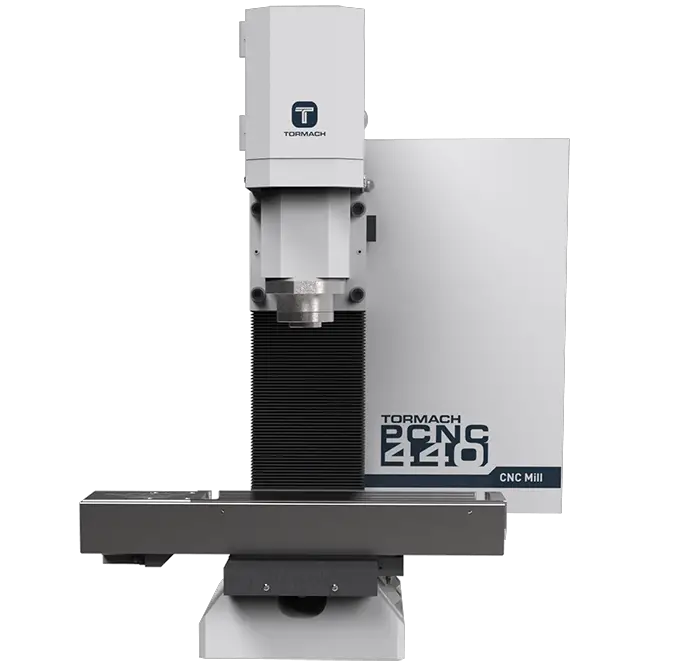 The CNC mill machine offers better cutting angles and a wider range of axes since it moves both the solid material and spindle heads.
For instance:
The cutting tool handles the X and Y axes
The table controls the Z-axis
Over five additional axes can be added
These machines have RPMs between 60,000 to 80,000 but offer higher torques for heavy-duty projects. It uses an end mill as the cutting tool, which comes in different configurations and shapes. Examples include flat end mills and ball end mills that create different quality scalloping.
Accuracy and Quality
Compared to cutting or engraving by hand, both types of machines offer higher quality and consistent results. However, there are some differences in what they are designed to specialize in.
CNC Router
The CNC router is less accurate than a CNC mill. CNC routers are better suited for basic cuts for larger parts. However, the different shapes and speeds of the router bits provide increased smoothness and stability when cutting materials.
CNC Mill
With greater tooltip configurations and axis selections, a CNC mill can create more complex shapes and cuttings. You get better clearance along the Z-axis, so intricate designs and thicker cuts are easier to achieve. End mills used to create cuts can rotate horizontally or laterally with high accuracy so they can handle precise cuts and engravings.
An example of a CNC mill designed heavy-duty, high-precision projects is the Nomad desktop CNC mill from Carbide 3D.
Suitable Materials
CNC Router
These machines have less torque and rely on speed to cut, so they are more suitable for softer materials, such as:
Plastic
Acrylic
Wood
Foam
Soft metals, such as aluminum
CNC Mill
While you can cut plastics and wood with these machines, they are also suitable for industrial-grade materials. The higher torque means they can handle harder materials, such as:
Project Types and Ideas
Both machines are simple to use for a wide variety of projects. However, some projects are better suited to specific machines, especially depending on the cutting tools you use.
Our Pick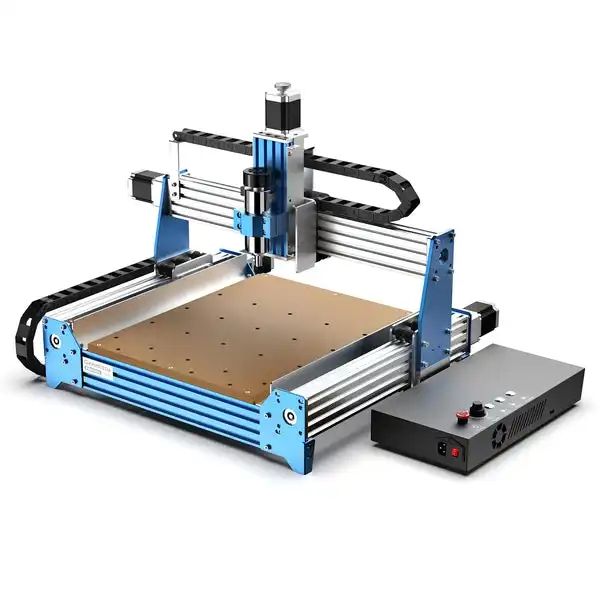 We earn a commission if you make a purchase, at no additional cost to you.
CNC Router
CNC routers are ideal when you need consistent parts repeatedly since they have faster RPMs to reduce the cutting time for duplicates. They are also suitable for any project with larger parts and less intricate designs. Typical projects you can create with a CNC router include:
Wood carvings
Signs
Cabinets and drawer fronts
Large-scale plastic parts
Paddleboards
Wooden puzzles
Containers and holders
Cutting boards
Wall panel art
Drink coasters
Wooden clocks
Phone holders
Common Router Bits:
The common CNC router bits and their uses are:
Straight bits: to cut straight down, create a groove, or hollow out an area
Chamfer bits: to create an edge or angled edges for box construction
Roundover bits: to create a rounded curve on a square edge
Round nose bits: to create a groove or flute in the middle of a material
V-groove bits: to create a v-shape into the material
Related:
CNC Mill
If you want to cut or engrave heavy materials, such as metal, you will need a CNC mill. They are also ideal for intricate parts with any material since they can make precision cuts within 1,000th of an inch.
Examples of projects you can make with a CNC mill machine include:
Intricate wooden or metal clocks
Metal signs
Wall panel art
Jewelry, such as rings, bracelets, belt heads, necklaces, cufflinks, earrings, and tie clips
Medical equipment parts
Phone cases with intricate designs
Keyholders
Bike pedals
Ashtrays
Common End Mills
The common end mills and their uses are:
Flat end mills: to cut 2D shapes like a circuit board or engraving and flat-sided 3D shapes
Roughing end mills: with numerous serrations to remove large amounts of materials for a rough finish
Ball nose end mills: are rounded tips to create smooth 3D surfaces
V-bits: to create sharp corners and v-shaped carvings in narrow spaces
Machine Sizes
While you can find both machines ranging from bench top sizes to massive industrial ones, you can expect most CNC routers to be smaller than CNC mills.
CNC Router
CNC routers are designed for lighter materials, so they don't need to be large or bulky. However, there are models that offer larger cutting areas to accommodate the type of materials it is designed for, such as blocks of wood or foam planks.
CNC Mill
CNC mills are larger and made from sturdier materials because they need to hold hard metals steady. However, the cutting area can be smaller since these materials don't require as much space. Also, note that a CNC mill usually has a deeper Z-axis than a router if you want deeper cuts.
Price Comparison
The price of a CNC router or mill varies depending on the brand, size, and quality of the machine you purchase. However, you can typically expect CNC routers to be less expensive than CNC mills at comparable quality.
CNC routers cost as low as the $200 range to as high as $100,000 for industry-level capabilities. CNC mills are typically over $1,000, even for the most affordable brands, and can cost as much as $150,000.
Popular Machines for Hobbyists
While most industries use CNC routers or mills that are large and expensive, there are also brands that make quality products for hobbyists, schools, or small shops. Here is a list of 5 notable brands to purchase from.
The best budget options with solid construction for CNC routers are SainSmart Genmitsu machines. Their CNC 3018-PRO Router Kit is under $300, comes with ten router bits, and has a 1.8-inch engraving depth. For a newer version that's still under $400, the 3018-PROVer comes with added features, such as an option to upgrade it with the laser module kit add-on.
The Evolution 4 CNC router by BobsCNC is more expensive than SainSmart at around $1,230 but also provides a bigger work area. It has a plywood frame and works great for 2.5D and 3D carving projects.
Grizzly Industrial
One of the brands producing the best benchtop CNC mills that also come at affordable prices is Grizzly Industrial. Their G0704 model comes with its own stand and is great for anyone starting off or using it for dedicated purposes.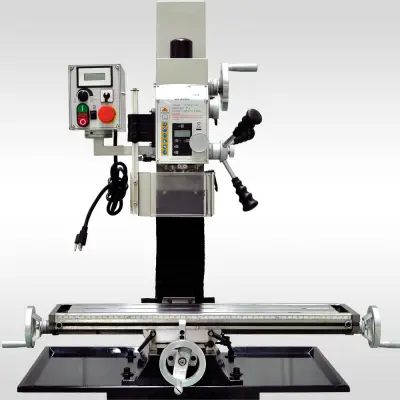 The Bolton Tools BF20VL is known as one of the most powerful yet still affordable CNC mills for home use. This 27.5 x 7-inch benchtop machine offers variable speeds, digital read-outs, and a strong dovetail column.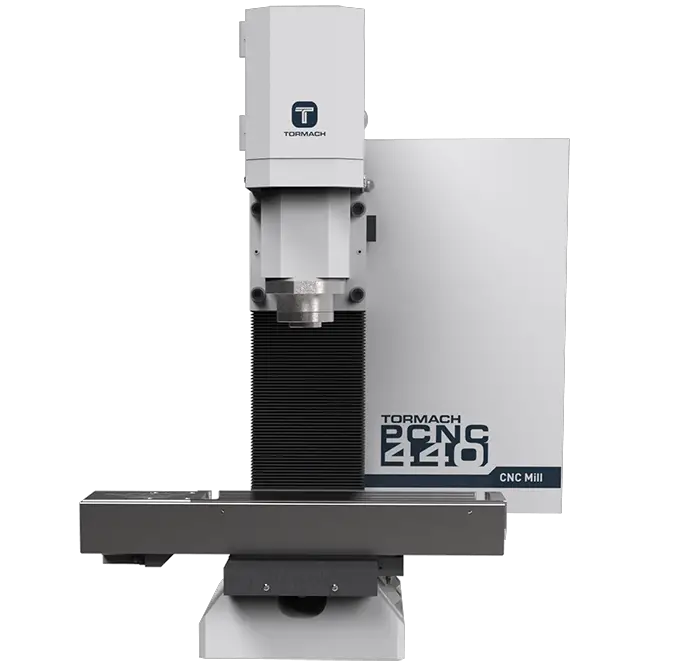 Tormach provides affordable CNC machines for home or educational use. Their xsTECH CNC Router is a pre-assembled desktop machine that comes with 16 cutting tools. If you are looking for a compact CNC mill, they also have the PCNC 440, which fits basements, garages, offices, schools, and machine shops.
Choosing Between CNC Router and CNC Mill
It's important to have the right tool for the project you are completing that also fits within your budget range. Generally, a CNC router is more affordable than a CNC mill and works better for basic projects.
However, you won't be able to use hard materials with your CNC router and will need to get a CNC mill for heavy-duty and high-precision metalwork. Generslly, a CNC mill works better for detailed and precise designs, regardless of the material.
There are also benefits of having both a CNC router and mill to combine large parts with intricate designs. At the end of the day, decide what materials you use most and what your budget range is for the best selection of the machine that's most suitable for you.