Creating one-of-a-kind crafts with Cricut's lineup of cutting machines brings creativity to a whole new level. The days of fiddling with tiny shapes are over. No more cutting intricate designs with scissors! You've got everything you need at your fingertips.
Getting started with a Cricut machine can seem a bit intimidating. After all, how do you know what else you need to begin cutting and designing? Investing in a cutting machine is one thing, but the world of accessories and materials is a whole lot bigger.
We've chosen the Cricut Maker 3 Everything Materials Bundle as the best overall Cricut Maker bundle. With this purchase, you'll have everything you need to design, cut, and assemble your first project. Rather than surfing through numerous websites trying to compare prices and build your own bundle, simply add this one to the cart and be done.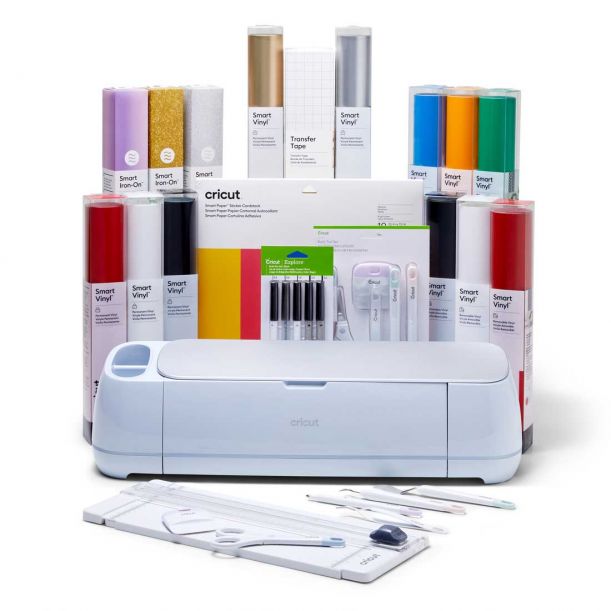 The Cricut Maker 3 Everything Materials Bundle won our top pick because it offers both beginners and seasoned Cricut makers everything they need to design and cut like a professional. The Maker 3 is the latest model released by Cricut. Besides a cutting speed twice that of the previous model, it can cut with ten times the force. Plus, you don't need a mat to cut!
We've also chosen bundles for those who want to spend a bit more to get the very best. Spending a bit more on Cricut materials in one go can maintain your creative streak. It's never fun to interrupt the process for a trip to the store for more vinyl.
At the same time, our value bundle pick can make the most of any money you want to invest.
Beginners will rejoice with our pick that allows you to get started without intimidating yourself with rolls and rolls of vinyl. Once you've got the basics down, consider purchasing our pick for the best gift. Share your joy of Cricut-cutting with a friend for even more flowing creative juices.
Ready to check out what all is included in these best Cricut Maker bundles?
Keep reading for more details and suggestions on what to look for when shopping for a Cricut Maker.
Best Cricut Maker Bundles
Shopping for Cricut supplies in bulk can be a great way to save money on materials and tools. Here are five of the best Cricut Maker bundles on the market today. Which one will you choose to get started?
Cricut Maker 3 Everything Materials Bundle – Best Overall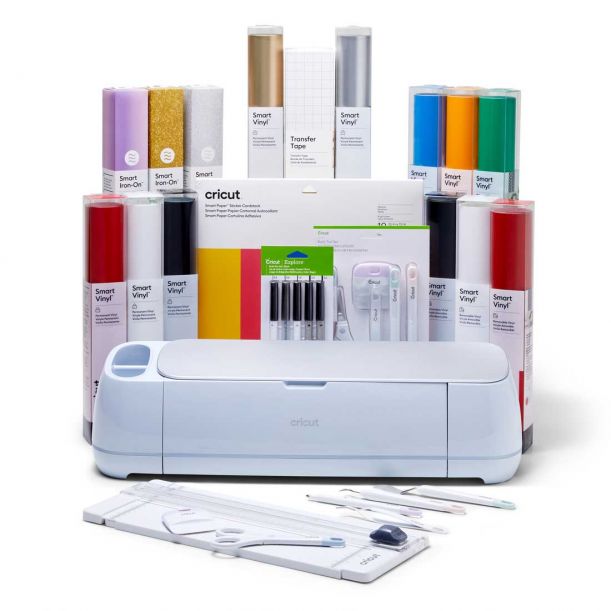 Price: $$$$
Highlights: mix of vinyl and iron-on materials, latest Maker 3 machine, starter pen set, large stock of transfer tape, both essential and basic tool kits
The Cricut Maker 3 Everything Materials Bundle sits at the top of our list for a number of reasons. One of the biggest reasons is the Maker 3 machine. This particular model is the latest iteration of the cutting machine from Cricut, and includes a variety of upgrades other cutting machines (including Cricut's own lineup) don't offer.
Compared to earlier generations of the Cricut Maker, the Maker 3 runs twice as fast when cutting. This may not mean a lot for the beginner or even a part-time crafter, but for those looking to make the most of their time, a faster cutting speed can translate to higher efficiency and therefore bigger profits.
Cricut machines can also cut a variety of materials, but the Maker 3 offers ten times the cutting force to perform a number of processes. The Smart Set dial allows you to manipulate the cutting power, while the ability to cut without a mat can also save you time as well. Mats work well in holding material down, but can become a pain in some cases.
Besides the machine itself, you'll also receive a power adapter and USB cable. This cable allows you to connect a mobile device or tablet, which can charge while you're cutting. A premium fine-point blade and housing comes installed in the machine. With this particular blade, you can cut a variety of materials at set depths.
Cricut also offers a mix of materials for you to cut. As the name implies, this Everything Materials Bundle includes vinyl, iron-on, cardstock, and transfer tape.
The vinyl sheets allow you to create stickers, templates, or stencils, while the transfer tape brings those designs from the mat to your project surface. Iron-on materials do require something to iron your designs onto, but you'll have a choice between gold, silver, and holographic blue.
Drawing with your Cricut machine is possible with pens, which insert into the machine similar to the cutting blades. This particular bundle comes with a multi pen set, including black. Plus, there are plenty of tools necessary to the particular processes in creating Cricut projects, from weeding and smoothing to cutting and scoring.
As you can see, this particular Cricut Maker 3 bundle offers you everything you'll need to get started. In fact, it might inspire you to invest further into different materials depending on what projects you have in mind. Let the creativity flow!
Pros
Start cutting as soon as you receive the Cricut Maker bundle
Tool investment sets you up nicely for most projects
Mix of materials allows you to experience all the processes the Cricut Maker 3 is capable of
Cons
A large investment for some budget-minded crafters
Variety of materials may not be necessary if you're focused on specific projects
Cricut Maker 3 machine only comes in the pictured color
Cricut Maker 3 Essentials Materials Bundle – Best Value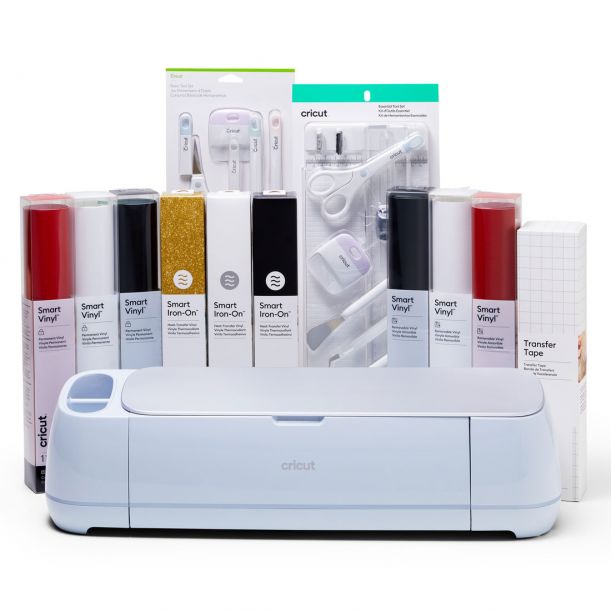 Price: $$$$
Highlights: glitter iron-on sample, large amount of transfer tape, latest Cricut Maker 3 cutting machine, dual tool set
If you're someone who just wants to get started with Cricut Maker 3, this bundle is the best for you. There are a lot of great accessories and materials that come with the latest machine from Cricut in this particular bundle, including both sets of tools that make using the cutting machine that much more of a fun experience.
At the forefront of this bundle is the Cricut Maker 3 machine. As we've discussed, this machine gives you the best of what Cricut has to offer in terms of their cutting machine lineup. Plus you'll also receive plenty of materials to allow you to begin a project.
This bundle includes two sets of vinyl in red, black, and white. The first is a permanent set, which typically is used for stickers or decals. The second set is removable, which can be used for projects that require stencils. With 21 feet of transfer tape included, moving the vinyl from one location to another is much easier.
The two tool sets included in this bundle create a handy foundation for any processes you may perform on the Cricut Maker machine. You'll use the tools for smoothing vinyl, weeding out stickers, scoring, and plenty of other processes. Tweezers can also help with the most delicate designs.
Finally, this bundle includes three feet each of black, white, and gold glitter iron-on sheets. Iron-on vinyl allows you to customize clothing items, from shirts and hoodies to hats and even pet clothing. These iron-on vinyls will require a separate machine to apply, but can help you get started in a different process that Cricut also supports.
Pros
Build your tool arsenal from the get-go
Enough transfer tape for learning curve in how to transfer stickers
Ability to experiment with different materials
Cons
Included basic colors mean you'll have to invest in additional materials
Iron-on materials will require clothing to practice on
Cricut Maker 3 Machine Smart Vinyl & Iron On Bundle – Best Premium
Price: $$$$$
Highlights: Maker 3 machine, 48 feet of Smart Vinyl, seasonal designs, different colored iron-on sheets, helpful eGuide
Though this Cricut Maker 3 bundle is the most expensive on our list, it's definitely a price worth paying if you plan on using your Cricut cutting machine often. Besides the machine itself, this bundle offers practically everything you might need to get started with your cutting journey. If you want to make the most of your time with the Cricut machine, choose this bundle right here.
The machine included in this bundle comes fitted with the premium fine-point blade. This blade works best with most materials the Cricut can cut, but you'll likely want to invest in separate blades for thicker materials. At the same time, there are plenty of materials within this bundle that you can try out.
In terms of materials, you'll receive 12 feet each of Cricut Smart permanent vinyl in four different colors. Plus, you'll be able to use the included 12 feet of transfer tape to make sure your stickers move successfully between the mat and their final destination. If you want to practice a few designs, there's plenty of (21 feet exactly) black removable vinyl to get you started.
When it comes to the iron-on vinyl, this bundle gets you started with a small variety. Included are red, white, gold, and silver. Cricut offers seasonal designs you can take advantage of for inspiration or to try your hand at a project.
The Cricut community is always a great place to stir up your creativity. There are over 100 ready-to-make projects online available with instructions and pictures. Plus, the tool kit and smart materials eGuide is a PDF you'll definitely want to download for reference.
Pros
Cricut community to offer inspiration, advice, and support
Vinyl and iron-on materials of different colors
Cricut Smart Materials eGuide (PDF) available
Cons
Significant initial financial investment
Transfer tape may run out before your vinyl supply does
No pens or tools included
Cricut Maker Machine Bundle (Rose) – Best Beginner
Price: $$$
Highlights: Maker 3 machine, FabricGrip and LightGrip mats, two blades, mix of cutting materials
The Cricut Maker 3 machine comes in a blushing Rose color for this particular bundle, which best suits the beginner. We chose this bundle specifically for the beginner because there are plenty of materials, accessories, and tools here to get anyone started on their Cricut cutting journey.
The rose-colored Maker 3 machine comes fitted with the premium fine-point blade and housing. However, the rotary blade and housing are included as well. As you perform cuts on different materials of various thicknesses, you'll find the two blades come in very handy. The Cricut Maker 3 cuts over 300 different materials, so you should be pretty set there.
Speaking of setting, the FabricGrip and LightGrip mats have your back when it comes to cutting materials that require a bit of grip. Though the Cricut Maker 3 doesn't need a mat to cut, fabrics in particular are hard to cut precisely without a bit of help.
There are eight sheets of vinyl included in this bundle, in various colors. You'll have two sheets of transfer paper to work with, which might not be enough for those just learning how to cut and place stickers. At the same time, there are also four sheets of iron-on glitter in various colors you can experiment with as well.
This bundle also includes a fine-point pen, which allows you to draw with accuracy. Fitting the pen to the head of the Cricut cutting machine takes a few adjustments, and then you're set to create elegant designs without having to learn calligraphy.
If you find yourself stuck, or just have too many ideas to get started on one, Cricut also offers a welcoming online community. Here, you'll find digital guides, instructions, and advice on how to make the most of your Cricut Maker 3 machine and included materials, accessories, and tools.
Pros
Basic tools and mats included
Two blades for various cutting processes
Diversity of materials allows for a good sampling of available uses for the Cricut machine
Cons
You're paying more for the machine than an array of materials to cut
Small amount of transfer tape that may require replenishing
Cricut Maker Champagne Machine Bundle – Best Gift
Price: $$$
Highlights: Maker 3 machine, tool kit, FabricGrip and LightGrip mat, premium fine-point and rotary blade, 12 heat transfer vinyl designs
Giving can be better than getting, especially when it comes to sharing the Cricut Maker 3 experience. If you're looking for a Christmas or birthday present that keeps on giving, this bundle right here is the one you'll want to put in your cart.
The Cricut Maker 3 machine comes in a beautiful champagne color in this bundle. Fitted with the premium fine-point blade and housing, it can also accept the included rotary blade and housing. These two blades will have your loved one cutting hundreds of materials with ease.
The FabricGrip and LightGrip mats are a great find in this bundle, which also includes 50 free projects. Half of those are sewing patterns, which your loved one can create with the FabricGrip mat to design and create tons of projects. The included tool kit features the sharp hook tool, needle-point tweezers, spatula, scraper, and scissors.
The five-piece pen set in this bundle will get your loved one familiar with drawing/writing with the Cricut Maker 3. Plus, the iron-on sampler roll of three sheets will introduce you to customizing fabrics as well. With the 12 included heat transfer designs, along with the digital books to get started, this bundle makes a great gift for the crafter in your life.
Pros
50 free projects, 25 of which are sewing patterns
Two mats of various gripping power
Mix of materials for a number of projects
Cons
You may need to invest in additional tooling
Sample kits may not be enough for more complicated projects
Why Should You Buy a Cricut Bundle?
Basically, if you're looking to get started with this type of crafting machine, the bundle option gives you everything you need to start creating. But there are a few different bundles that you can choose from when you purchase a Cricut maker.
For example, the Maker's Essentials Bundle includes the Cricut Maker machine, a standard blade, a deep-cut blade, and a keypad overlay. The Design Space Essentials Bundle includes the Cricut Maker, a standard blade, a deep-cut blade, the Design Space software which you can download from Cricut's website, and a keypad overlay.
So, as you peruse through the choices we've suggested for the best Cricut Maker bundle, there are a few characteristics you'll want to pay attention to.
Keep these in mind as you shop to make the most of your time and financial investment.
What's your crafting purpose?
Cricut advertises that you can perform a number of processes on their cutting machines. At the same time, you'll want to carefully consider what processes you'll need the cutting machine for. Besides the blade, what else will you need to do in order to complete your project?
For instance, iron-on projects will of course require something for you to iron the design onto. This will not only require an item of clothing, for example, but a heat press as well. There are certain hacks you can use to avoid having to purchase additional Cricut products, but they're to be followed with caution.
Having the Cricut Maker cutting machine with the premium fine-point blade will work for most projects, but you might need to invest in a different type of cutting blade as well. This is particularly crucial if you are cutting thicker materials such as leather or wood. The wrong blade can destroy a project before you even begin, so keep this in mind as you consider the above bundles.
Budget
The biggest question whenever you're looking into crafting is how much you want to spend. You could invest hundreds of dollars on materials and machines, but will your budget allow it?
The other question that goes hand-in-hand with budgeting is your level of commitment. If you plan on turning your creativity into a part-time or even full-time job, spending a bit more could get you further in terms of start-up costs. At the same time, if you don't want to feel intimidated, curbing your spending could allow you to be creative without any expectations.
When it comes to the Cricut machines, you'll be spending the majority of your investment on the Cricut Maker machine itself. The supporting materials, such as the vinyl, cutting tools, and mats, are relatively affordable compared to the cutting machine. That means once you have a Cricut cutting machine, the material costs are much more manageable.
Personalization Options
Cricut machines enjoy popularity for their cutting ability, but they're also customizable in certain ways. That is, you can choose in which particular color you'd like to purchase your Cricut Maker machine.
Some of the Cricut Maker bundles above come in different colors, such as blue, lilac, rose, or champagne. However, certain bundles will only include a single color choice. If this is something that's important to you, consider looking for that color machine specifically as you cruise the interwebs. You should also consider the recipient's color tastes if you plan on giving this cutting machine bundle as a gift.
Similarly, cutting tools have a particular color as well. While these are a bit more limited, consider what color these tools come in if you plan on purchasing a bundle that includes them.
What materials are included in the Cricut bundles?
Speaking of tools necessary for specific projects, the materials you use are just as crucial. Each of the Cricut Maker bundles we've included consists of a mix of material types, from vinyl and iron-on to pens.
Depending on what type of projects you want to work on, you may want a bundle that's got more of one type than another. It's good to have a mix of materials to experiment with, but in most cases, you'll need to purchase additional material to supplement what comes in the bundles. Basic materials can at least get you started and jump-start your creativity.
What tools are included?
Cricut offers branded tool sets that come with most of the bundles we've included in our list. These sets include such tools as a scraper, scissors, needle-point tweezers, and a sharp hook tool. This hook tool allows you to weed with greater ease, so you can grab those small edges to separate your materials.
There are also additional tools you may need to support your Cricut Maker projects. These include a paper cutter, a ruler, a large amount of working table space, and quality lighting. Owning a comfortable chair isn't a bad idea either.
Do you need a printer for a Cricut bundle?
Yes, in addition to the included tools, you may also want to invest in a quality printer. Cricut's designing software allows you to print and then cut stickers if you'd like, so having a machine that will deliver quality prints can be invaluable. We recommend checking out our post on the best printer to use with your Cricut.
Inkjet printers perform the best when it comes to working with the Cricut Maker machine. A better quality print is especially critical if you plan on using your Cricut cutting machine to earn money.
Our Verdict
We chose the Cricut Maker 3 Everything Materials Bundle as the best Cricut Maker bundle based on the fact that it allows you to begin creating as soon as you can get everything unpacked. The machine itself represents the latest-and-greatest from Cricut, cutting materials faster and with more force (if necessary) than previous generations.
Cricut also offers a valuable mix of materials with this bundle as well, from vinyls and iron-ons to pens and cardstock. The amount of tools included in this bundle sets you up well for many projects to come. Plus, the many projects listed online can help get your creative gears turning and offer inspiration when necessary.
This bundle will cost you a pretty penny when it comes to finances but you do get quite a lot for the price. And if you plan on moving forward in your Cricut Maker journey, there are plenty other supporting machines you can invest in as well. You never know, the Cricut Maker could be the first of many purchases from Cricut.
If you'd like to purchase any of the bundles we've mentioned above, simply click on the links listed. Begin your cutting journey right with the best Cricut Maker bundle possible. Invest in a quality bundle to give yourself the best chance of bringing your creations to life.