Since writing this article on the Best CNC machine under $500, I've had a lot of positive feedback from people like yourself.
Many have gone on to purchase their very own CNC router and our making one-of-a-kind items for friends and family.  Some have even started making money with their CNC routers.
So without further ado, let's get into our favorite budget CNC machines.
In a hurry… Here's Our Top Pick
SainSmart Genmitsu CNC Router Machine 3018-PROVer with GRBL Offline Control
Budget Pick
Genmitsu CNC is the most budget-friendly CNC router you can find. It features a simple, intuitive design that is easy to learn and get used to. Compatible with a variety of materials such as wood, plastic, acrylic, PVCs, PCBs, and even soft aluminum, you can create new and unique projects easily.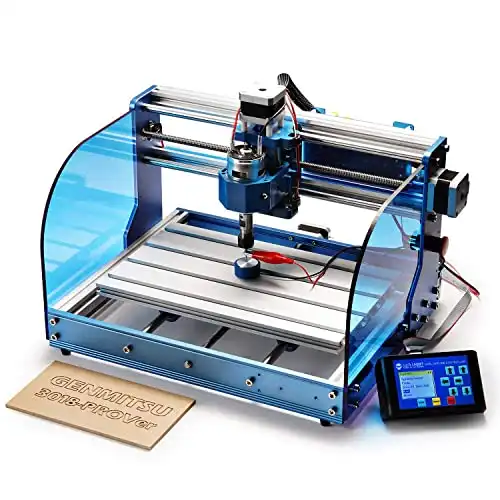 We earn a commission if you make a purchase, at no additional cost to you.
Why should I buy a CNC Router?
CNC routers are one of the most popular and useful machines in any workshop. It combines the power of technology, software, and machinery in a single equipment.
This machine is very similar to the regular handheld routers which are used to cut wood, metal and plastics.
You can do almost any kind of cutting, carving and engraving on materials such as wood, steel, aluminium, plastics, foam and composites.
Similar to the CNC mill, you can connect it to your computer and control the machine for whichever function you want to do.
The biggest advantage of a CNC router is that you can increase productivity by reducing the amount of waste. Another benefit is that it is very quick and time-saving when compared to other machines.
So, for converting your ideas into reality, you should definitely consider buying a CNC machine.
But wait? Are you worried about the high price? Say no more!
We have narrowed down some of the best CNC machines that are highly functional and super affordable. We have made sure they fit into your budget, so go ahead and have a look!
Best CNC Machines under $500 Reviews
1) Sainsmart Genmitsu CNC 3018 – Best for Beginners
Our first recommendation is Sainsmart's Genmitsu CNC 3018-PROVer. It is one of the most affordable CNC kits you can have.
The machine boasts a decent workspace of 300 x 180 mm along with a Z-axis of depth 45 mm.
Not only is this CNC machine cheap, but it is also great for beginners. And this router is perfect for those who want to take advantage of CNC without having to invest a lot of money.
It is built on the OSA (Open-Source Arduino) platform for addressing the G-code and motion control.
It works best on softer materials like wood, foam, and plastic.
You can safely expect an affordable and functional machine that incorporates the principles of CNC.
Key Features
Works on wood, plastics, PCB, and aluminum.
Has a work area of 300mmx180mmx45mm
Includes spindle
Offline Controller
Pros
Super affordable
Easy to use
Comes with spindle
Cons
2) Maslow CNC Router Kit
Next, we have Maker Made's Maslow CNC kit.
About Maslow, it is an open-source project that aims at building highly efficient large CNC machines that are suitable for processing large materials at about 2438 mm x 1219 mm – a lot bigger than the regular machines!
The best thing about this machine is it is an open-source and community-driven project. It works well with the router placed on the surface of your desired cutting material along the functional chains fixed to the top of Maslow's frame working and moving the cutting section of the machine.
It is a very unique machine that completely functions like the commonly used bigger CNC routers. We recommend buying this beast from the Maker Made CNC itself to get the authentic and original Maslow design.
At a low cost, it is one of the best things you can have as a woodworker. If you're looking for a cheap CNC router for processing large materials, then Maker Made is the way to go.
Key Features
Works on woods and plastics.
Has a work area of 2348mmx1219mm
Doesn't include a spindle.
Pros
Large work volume
Highly functional
Cons
Not suitable for some beginners
3) MYSWEETY CNC 3018 PRO
MYSWEETY CNC 3018 PRO is very similar to Sainsmart's Genmitsu 3018, in that it is a great entry-level CNC machine.
The "pro" label means it is a bit more capable. It comes with an upgraded control panel and an offline controller as well.
This means you don't always need to connect your computer to it.
Just like its name, MYSWEETY is indeed a decent DIY CNC kit that comes with a work area of 300 x180 mm and the Z-axis of 45 mm.
Further, it also includes a spindle motor of 775 and a strong frame of aluminum and nylon.
Priced at just under $300, the 3018 PRO is an excellent budget-friendly option that is great for those new to CNC machining.
Key Features
Works on woods, plastic, foam, PCB
Includes a work area of 300mmx180mmx45mm
Includes spindle.
Pros
Comes with a spindle
Sturdy metal frame
Comes with an offline controller
Cons
Assembling the machine can be a bit difficult some
4) L&Z 3020 CNC
L&Z 3020 is again one of the best small CNC router machines you can buy for under $300. It is one of the best entry-level machines you can buy without putting a dent in your bank account.
If you're just beginning with CNC, then this is one you should consider. It is completely easy to use and assemble. L&Z has smartly reduced the number of assembly steps as well as the parts to make it beginner-friendly and to function smoothly.
This machine is also based on an open-source project: Arduino and Grbl.
For this reason, you will get excellent support as well as the latest DIY ideas online.
Key Features
Works on plastics, woods, PVC, PCB, acrylics, bones
Has a work area of 300mmx200mmx45mm
Laser module available
Pros
Easy to use
Easy to Assemble
Excellent support
Super affordable
Cons
Not suitable for cutting and carving large and hard materials
5) Mophorn CNC 1610
Finally, we have the Mophorn 1610 which is an easy to use and compact CNC machine. It is perfect for beginners as anyone can learn to use it online.
The most highlighting feature of this router is its small size, which makes it perfect for installation anywhere. Another plus point is, the 1610 provides exceptional support for their product.
Further, it comes with a decent working area of 6.3″ x 3.9″ x 1.6″.
One of the best CNC machines under $200, the Mophorn 1610 offers many features for beginners and experts alike.
Key Features
Works on soft materials like plastics, PVC, PCB, Woods, copper, silver, aluminum
Comes with a work area of 6.3″ x 3.9″ x 1.6″
Includes spindle
Pros
Highly compact yet strong build
Easy to use
Perfect for metal engraving
Cons
Clamps are not of great quality
Assembly can be confusing.
Summary
So, these were the cheapest and best CNC routers you can get without spending a fortune. You can use these routers to cut materials like plastic, wood, plywood, foam and some other soft materials.
Although we don't recommend using these to cut harder materials, some of the above-mentioned routers can do this job too. You can engrave metals like aluminum.
Another advantage of using the CNC routers is that they offer excellent working space along the X and the Y-axes and also a decent depth of Z-axis.
We have done our job by providing you with the most affordable CNC routers of all time. Now, it's your turn to select the right one that suits your needs and fits into your budget completely!
Suggested Article: Best CNC Router for the money?