If you've never considered having a laser cutter to your classroom, it's a good time to start considering it. There are so many amazing things you can do with a laser cutter. There's nothing better than seeing your imagination come to life. Letting your students design and create their own items will allow them to be creative and learn real life skills.  Laser Cutters are great for any age range.
Whether you are teaching students who have some experience with laser cutting or students who are completely new to all of this, making sure you have the best laser cutter for the classroom will make the experience a more pleasant one for you and the students.
In a hurry… Here's Our Top Pick
Glowforge Plus
Equipped with a 45W CO2 laser tube, the Glowforge Plus can cut with precision up to 1/1000 of an inch. It can be used on a lot of materials such as wood, glass, fabric, leather, cardboard, anodized aluminum, and titanium.
Great Safety Features
Precision Laser
Best Laser Cutters for a Classroom
Glowforge Plus 3D Laser Printer
The Glowforge Plus was made to be the bridge between basic and high-end models. Many people want more power than the basic laser cutters have, but can't afford to spend a lot of money. With the Glorforge Plus, users can get a device that possesses great power at a much more affordable price.
The main reason the Plus is cheaper than the pro, is due to the fact that the Plus does not have a pass-through slot. The pass-through slot gives the Pro version an unlimited engraving length. Another thing that separates the two is the Pro version can operate for a longer period of time. Since the laser cutters are going to be used in a teaching environment, these features aren't a necessity, making the cheaper Plus version a better alternative.
With built in software and easy to use plug in play technology, we believe the Glowforge Plus is the best option for students and teachers alike.
Features
Equipped with a 45W CO2 laser tube, the Glowforge Plus can cut with precision up to 1/1000 of an inch. It can be used on a lot of materials such as wood, glass, fabric, leather, cardboard, anodized aluminum, and titanium.
For safety measures, the desktop laser engraver has a fully enclosed system to protect the user from fumes, smoke, and harmful laser beams. It also comes equipped with an air compressor that blows away the fumes that the laser produces.
Pros
Very powerful with an affordable price
Compatible with numerous materials
Simple to use
Cons
Customer service can be difficult to deal with at times
Orion Motor Tech 40W
Before you learn anything about this laser cutter, it should be known that this is better suited for more advanced classes. The software and overall system can be complicated to use.
The upside is that it's only cheaper and you may be able to purchase multiple ones for a classroom.. The price tag alone makes this a great option. It's not easy to find a laser cutter for such a low cost. If you are okay with putting in some extra time to learn how to operate the system, it can be a good purchase.
Again, since this is more complicated to use compared to other systems, this should be used in advanced classes where students already have experience with laser cutting. If you can learn how to operate the system, you will see that it's a great machine.
Features
The Orion Motor Tech 40W has an engraving area of 12″ x 8″ (300 x 200 mm) and is compatible with wood, glass, leather, crystal, paper, film, rubber, stone, bamboo, and more. Unfortunately, this isn't compatible with iOS and only works with Windows 2000, XP, 7, 10, and 8.
In regards to safety, it comes with a ventilation fan to help with the fumes that can be produced from the CO2 laser. It is very heavy weighing at 67 pounds, making it difficult to set this up on your own.
Pros
Affordable
Ventilation fan included
Enclosed
Cons
Dremel LC40-03 40W Laser Engraver & Cutter
The most expensive option listed, the Dremel LC40 will cost you more than the other laser cutters we have reviewed.
Obviously, that's a lot of cash to spend on a laser cutter, but if you are serious about having the best laser cutter for the classroom, you have to consider this as an option. For something that's almost the cost of a used car, you'd expect there to be a lot of features.
Gladly, there is.
Let's take a look at these features.
Features
Starting with the laser, the Dremel LC40 comes with a standard 40W CO2 laser that can slice through stone, rubber, glass, wood, leather, and acrylic. It also has an LCD touchscreen that can be used even if you aren't connected to Wi-Fi.
If you are connected to Wi-Fi, you can control the device from a distance. Instead of having to be next to the machine, you can now be a safe distance away from the fumes.
A built-in camera is there to help users align their designs to irregular workpieces. It works by giving you a preview of the design before you start cutting/engraving. This can make projects be much easier to complete while getting done at a quicker rate. The chances of making mistakes are much less when you have a camera.
The water cooling system is a nice addition but it needs to be constantly tethered which can be tedious at times. Fume extractors aren't a given either. If you want this included, you will have to pay more money, and considering the price tag of almost seven grand, having to pay extra for a fume extractor shouldn't be a thing.
Pros
Plenty of features
Water cooling system included
Safety features
High-Quality design
Cons
Pricey
Fume extractors cost extra
Choosing the Best Laser Cutter for a Classroom
Glowforge Plus 3D Laser Printer
The Glowforge Plus is our top pick as the best laser cutter for beginners.
Pros:
Includes Wi-Fi connection

Works with a wide range of materials

Extremely easy to use

Compatible with any software
Cons:
Works only with flat surfaces

Might be quite loud for some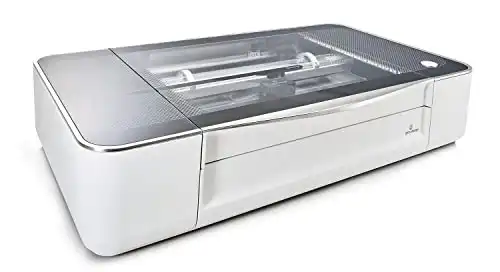 We earn a commission if you make a purchase, at no additional cost to you.
There are three options here that you can choose from. You have the Orion Motor Tech 40W as the cheaper option, the Glowforge Plus as the bridge between the beginner and higher-end cutters with a more affordable price, and finally, the high-end cutter Dremel LC40 costing the most. They each have their own uses and can be beneficial to teachers and students.  Overall we recommend the Glowforge Plus.
Finding the best cutter for a classroom doesn't have to be a long and grueling process. Nor do all of them have to be super expensive. Regardless of which choice you go with, rest assured that you are going to get your money's worth as well as provide a fun learning environment for the students.