Since writing this article on the best laser cutters for a small business, I've received a lot of positive feedback from readers like yourself.  Many have gone on to start their very own business and our making money with their laser engraver.  I always love reading these emails and messages, so please feel free to share your laser cutting journey with us!
In a hurry… Here's Our Top Pick
Our Pick
Glowforge Plus 3D Laser Printer
The Glowforge Plus is an excellent plug-in-play laser cutter. Prepare to get your creative juices flowing because this beauty is also a cutting beast.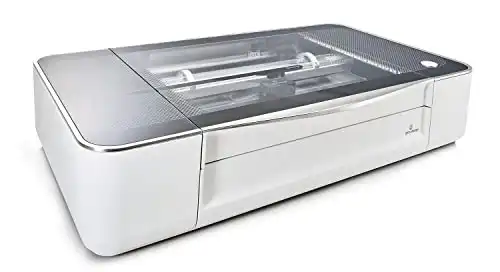 We earn a commission if you make a purchase, at no additional cost to you.
How does it compare? The Glowforge Plus is an excellent plug-in and-play laser cutter. Prepare to get your creative juices flowing because this beauty is also a cutting beast. It is known for its high cutting power and extraordinary precision. Compared to others in the market, you will find the versatility and power of this one far exceeds competitors. The only drawback? It is priced higher than its competitors.
Without further ado, let's get into our review of the best laser cutters for small business.
So, you're looking to start a small business but not sure of the best laser cutter to purchase.  Luckily, you've found the right article to help you.  Whether you are a professional engraver or an amateur that does small professional jobs on the side, there is an engraver for you. These machines may differ in price and size, as the sun and the moon differ from each other.
For the serious engraver, there is a machine that will be suitable for whatever engraving and cutting jobs you want to do. In this review, we will look at a variety of these engraving machines that are available to help you make the best decision.
Best Laser Cutter for Small Business Reviews
This laser engraver gives you great quality, flexibility, and functionality in one package for all your engraving work.
Review
The Glowforge Plus Laser Cutter is easy to set up in just about any space.  Prepare to get your creative juices flowing because this beauty is also a cutting beast. To work with it may take some time to get used to, but your creativity will quickly take off. This will be the start of a very satisfactory career.
You can draw directly onto the material you want to create, and onboard cameras will scan it. See your designs come alive when you hit the button for a great 3D creation. The engraver can easily be manipulated to give the most satisfactory end result, even for the beginner engraver.
The motors of this laser engraving machine can control the motions of up to a thousandth of an inch. This allows for very precise laser engravings for a perfect finished product in any design.
That is why this laser engraver can easily complete your 3D workpiece in no time.
The free software that comes with the engraving machine is very easy to set up and can be done in a few minutes.
It is also compatible with most popular software and operating systems such as Microsoft and Mac. It can also be connected to your smartphone or Tablet.
The high output wattage of the laser head will allow quite a high output volume to accommodate all the orders coming in. This means you have a laser engraver that will put you in the high-end category. It is very suitable for the serious engraver that wants to build a good business.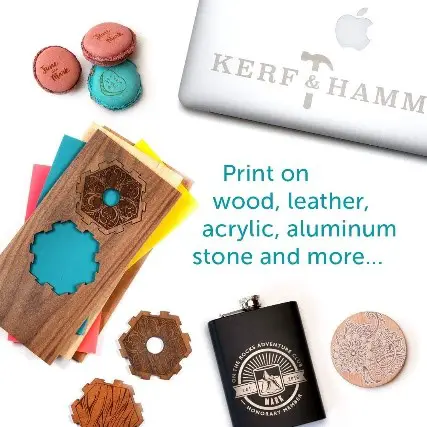 There is one drawback with this laser engraving machine: the engraver must be online for it to work. It is also not suitable for engraving on precious metals such as gold and silver, which is a negative.
Check out this video to see the Glowforge 3D laser printer in action.
PROS
High output wattage
Can be used on some soft metals
Easy to setup
Can be used for 3D engraving
CONS
The engraver must be online to start the job
It is not suitable for precious metals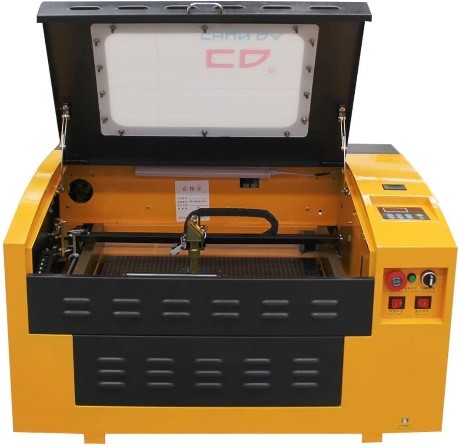 Review
Here you have a very high-end laser engraver that allows for a high output volume and great quality engraving work. It is an upgraded version of the previous TEN-HIGH model. The front-rear double door has no limited length and lesser size restrictions when engraving materials.
The updated version of this laser cutting machine also has an electric automatic lifting system and is easy to operate. The red-light positioning system allows for visibility, accuracy, and efficiency as you work.
For the professional engraver, this is the perfect laser engraving machine to boost the output volume of your engraving business. This is quite possible with the 100 Watt laser head included with this engraver from Ten-High. And it will give a high output volume with great quality engraving work.
The wide working space of this C02 laser engraver will allow the engraving machine to do the larger work. And this engraving machine allows for a replacement part for easy replacement when needed. This engraving machine is suitable for the beginner and the expert engraver alike.
The installation of the machine may take some time and may be a daunting task for the entry-level engraver. But an instruction video is supplied by the manufacturer to make the initial setup much easier. This will help the beginner and the professional save time with the setup.
You do not need the engraver to be online for it to work to provide you with high-end engraving jobs. The machine is completely standalone, and it is compatible with many different design software to make it very easy for you.
It is also very suitable to be used on a variety of non-metal materials for many great engraving applications for high output. This engraving machine can be used to engrave on glass and other non-reflective materials and other soft metals.
Unfortunately, the rotary axis for this C02 laser is not included with the laser engraver when you buy it. Provision has been made for the addition of one and can be added.
PROS
Very high output wattage
It has a wide working surface
Can be used offline and standalone
It will work on non-reflective surfaces
CONS
It does not have a rotary axis included
This machine can only be used with 110v outlets
CHECK LATEST PRICE ON AMAZON.COM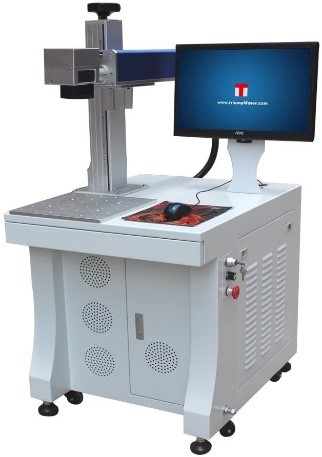 Review
This is a very high-end laser engraving machine that comes with very nice features for a much better output volume.
This is already a high-output laser that can be upgraded to an even higher output laser head. That will significantly increase the output of this fast engraving machine, which may improve the income that can be made.
If you are a little tech-savvy and have a bit of working experience with these machines, it will be easy to use. But it will also be very easy to operate for the beginner engraver for a great experience.
Upon reception of this laser engraver, it will not be difficult to set it up and have it up and running for use. It will save you time, and with the pre-installed software, you can start working as soon as you are ready.
You have quite a wide working space for engraving with this standalone laser engraver and cutter for many different sizes. This laser engraver can easily be operated with many different software interfaces for quick and easy design and access.
It comes with quite a high price tag which will likely put it out of range of the amateur engravers out there. But the unit will pay for itself over time with the high output volume it can handle and a great assortment of applications.
This laser engraver cannot be used to engrave on glass surfaces, limiting the range of applications it can manage. This may become an issue if you lose customers because of this limitation of the laser engraver.
PROS
Laser head can be upgraded
Very easy to use
It is easy to assemble
Wide engraving area
CONS
High price tag
Not to be used on glass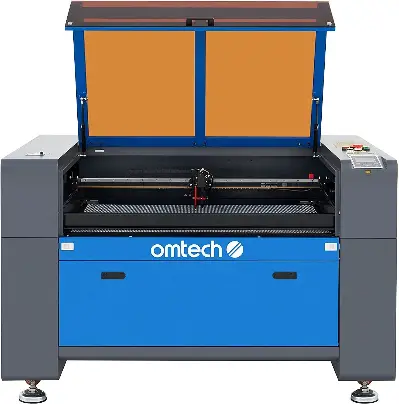 Review
The OMTech Laser Engraver and Cutter is a great option if you have a larger space and need a much larger cutting surface area when you work. It is an 80W laser engraving and cutting machine that uses a high-performance C02 tube to quickly, clearly, accurately, and deeply laser engrave designs into various materials, including wood, paper, cardboard, plastics, acrylic, leather, fabric, and some nonmetallic materials.
The workbed of this C02 laser engraver is motorized and features autofocus. The larger and wider 24×35 inch workspace makes the machine even more useful for your small business. It has automatic focusing, honeycomb and knife blade engraving platforms, and four wide pass-through doors. This can speed up your production process and eliminate the need for manual adjustments, which can often be frustrating and tedious.
The OmTech laser cutting machine also features a Ruida panel with Ruida digital controls. The convenient LCD screen gives you complete control over each project and allows for easy monitoring during the entire process.
The OMTech laser cutter machine also features password and key protection for safe operation. This feature prevents unauthorized use. Additionally, the wide viewing cover also includes tinted eye protection. The machine automatically cuts power when the cover is opened.
The built-in air assist blows away any smoke, dust, or sparks and protects the laser lenses and reflective mirrors. The large capacity bin is convenient for collecting all the debris as you work.
PROS
Large cutting surface area suitable for bigger projects
Has additional safety features
Easy to operate
Can cut through a range of different material types
Rapid autofocus so you can quickly correct the focus of the laser when needed
Autolift platform can easily raise and lower the workbed, increasing efficiency
CONS
There is no way to turn off their assist features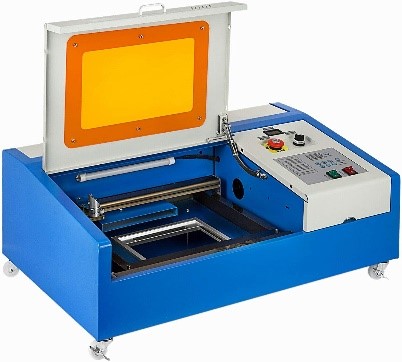 Review
The Mophorn laser engraving machine features 40w power, an 300 x 200 mm engraving area, and an engraving speed of 1 to 300mm per second. This desktop laser machine also comes with CorelDraw Software capable of NewlySeal and NewlyDraw. It can be employed in carving and cutting work.
This laser cutting machine has two LCD displays, including a temperature display and a laser power display. It is equipped with a laser switch, emergency stop, power, lighting, and four rotational wheels.
This laser cutting machine can laser engrave non-metal materials like rubber, acrylic, bamboo, wood, and paper. The machine is often used for stamp engraving, crafts, and printing businesses. Its C02 laser tube has a high-pressure discharge to produce a wavelength of 10.6um for engraving and cutting.
The premium laser head is high precision, which allows for high quality, durability, and high performance when it comes to engraving precision and overall performance. The LDC panel allows you to observe the machine's condition at all times, and the USB connectivity offers convenient and easy connections to a desktop or laptop.
When compared to more expensive models, you will find that the Mophorn Laser Cutter has everything your small business needs to get started. From durable quality, high precision, and powerful performance to high compatibility, you will find all this and more at an affordable price. It also integrates the newest light, machine, and mechanical movement, making this machine one of the most precise options on the market.
PROS
Exhaust fan and air vents included for effective heat dissipation
Convenient wheels and handle makes it easy to move the machine
Offers high performance and durability
Updated and accurate LCD panel for better monitoring
Affordable price point
CONS
Included software isn't the best
Exhaust fan is generally underpowered
Laser Cutter Buying Guide for Small Business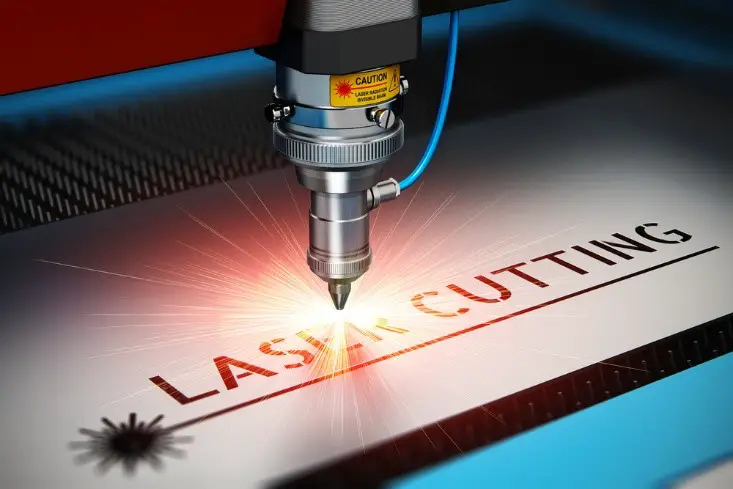 Now that we have outlined our top five picks for the best laser cutter for small business, let's break down a few of the considerations to keep in mind before making your investment.Price and Size
Being a small business, you want to invest in products that fit your budget and won't create a financial or spatial burden for you in the future. For this reason, you want to keep price and size in mind. Choose a size that is appropriate for the working space you have available.
Materials
Laser cutters work wonders on harder materials while others work on softer materials. Consider the products you will be engraving or cutting, and make sure the machine you choose can handle the work you do.
Connectivity
It might be in your best interest to find a laser cutter machine for your small business that gives you the connectivity options you need the most. Find a laser cutter that you can connect to your computer through a USB or Bluetooth. While this may make things easier, you can also find offline options if you don't feel it is a necessity.
Power
Another consideration is the power output of the laser cutting machine. A powerful laser means more accuracy and faster cuts. If you are a small business just starting out, you may want to go with a more affordable laser machine option with less power.
However, if you are invested and this is something you plan on doing in the long term, it is more convenient to have a machine with more power. If you want to expand from wood materials to sheet metal, you don't want to have to purchase an all-new machine.
Types of Laser Cutters
Three primary types of laser cutters are used: C02 lasers, fiber lasers, and Nd:YAG/Nd:YVO lasers.
C02 Lasers
A C02 laser produces a light laser beam as it runs electricity through a gas mixture-filled laser tube. There are mirrors on each end of the laser tube. One mirror is fully reflective, while the other is only partially reflective, letting only a small amount of light through.
The gas mixture in the tube of a C02 laser is typically carbon dioxide, nitrogen, hydrogen, and helium. A C02 laser can produce an invisible light and can range up to multiple kilowatts, making them good for industrial machines for small business.
Fiber Lasers
Fiber lasers are typically maintenance-free and have a long service life of approximately 25,000 laser hours. They can also manage higher intensities than other laser cutting machine types while producing strong and stable beams. A fiber laser is ideal for metal marking, metal engraving, and marking thermoplastics.
Depending on the power of your fiber laser machine, it can prove to be quite versatile. However, it can also prove to be a much more expensive option.
Nd: YAG/Nd: YVO Lasers
These use crystal laser cutting processes and have a high cutting power. However, this kind of laser cutting machine can be quite costly and has a life expectancy of between 8,000 and 15,000 hours. These machines can be used with coated and noncoated metals and plastics and sometimes even a few ceramics.
FINAL VERDICT
Overall, the best laser cutter for a small business would be the Glowforge Plus.  For the serious and professional engraver, this will be the best of them all. It is not too expensive compared to the money that can be made with this engraver, and it comes with lots of extras.
Another great alternative for your laser cutting business is the upgraded TEN-HIGH C02 engraving machine. It features a larger working area and can be used with various materials as well. And this engraving machine is great for a laser cutting business with higher volume output.