If you're like most people and are new to plasma tables, then you are probably looking for something suitable for beginners and low in cost.
I've been there before, I know I wanted to start with metalworking and make some metal art as a hobby, but I didn't know where to start.  I knew that I wanted an entry-level CNC Plasma Table, but I didn't know what to look for.
So, I decided to dedicate an entire month to researching and reviewing tables until I found ones that were best suited for beginners.
Maybe you aren't new to plasma cutters, but you are new to CNC machines, or vice versa.
Either way, this helpful guide should get you started in the right direction.
We will go over all the features, specs, details, and we will review multiple machines to help you make the best possible decision.
To make things a little less complicated, we will be focusing on mostly smaller table sizes and ones on the cheaper side.
If you are new to this and are looking for an entry-level CNC plasma table, then we can go ahead and assume you are not looking for a high-end industrial-sized plasma cutter.
To simplify this research process, I have focused mainly on table sizes in the range of 2' x 2' – 4' x 4'.
The prices will vary in this list, but we are mostly focused on machines under $10,000.
Now let's get into the reviews and our top 8 CNC plasma tables for beginners.
Entry-Level CNC Plasma Tables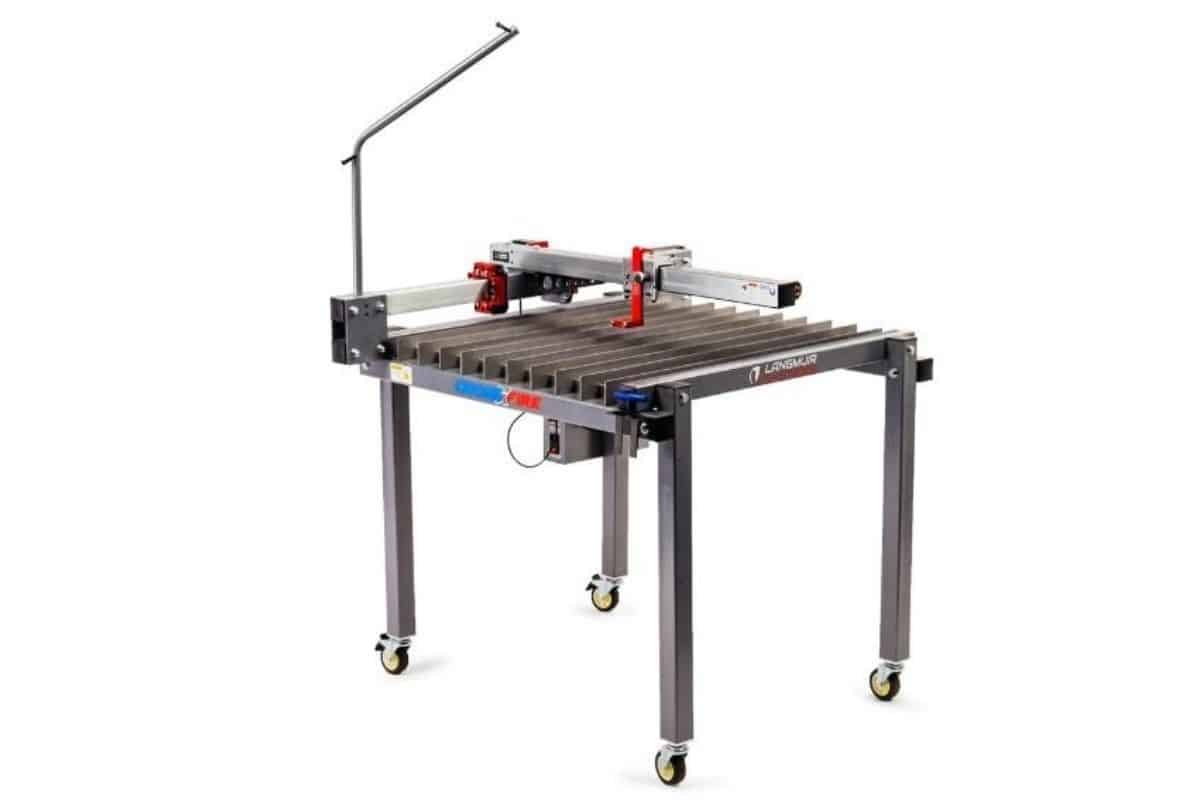 Courtesy of Langmuir Systems
If you are looking for one of the most affordable CNC plasma tables, then you won't find a better price than the CrossFire by Langmuir Systems.
This compact plasma cutting machine isn't just affordable, but it is easy to use.
With one of the smallest footprints on this list, the CrossFire will fit in just about any garage or workshop.
This lightweight CNC Plasma table is easily transportable thanks to its heavy-duty swivel-lock castors. The CrossFire is equipped with multi-start lead screws and anti-backlash lead nuts for the precision and accuracy you will require.
A rigid all-steel frame reduces any vibrations while machining, giving you all the structural support needed.
Equipped with a manual quick-adjust that makes adjustments simple, easy, and quick for your torch heights.  Standard with the CrossFire CNC Plasma table is a fully-integrated electronics system with automatic torch firing.
This allows the computer control software to automatically fire the plasma torch at the beginning of each program.
Features and Specs
XYZ Cutting Envelope 25.3" x 23.3" x 3"
Universal V-Block Torch Mount
Machine weight 130 lbs
300-IPM (Inches Per Minute) Max Machine Speed
Zinc Electroplated Rail System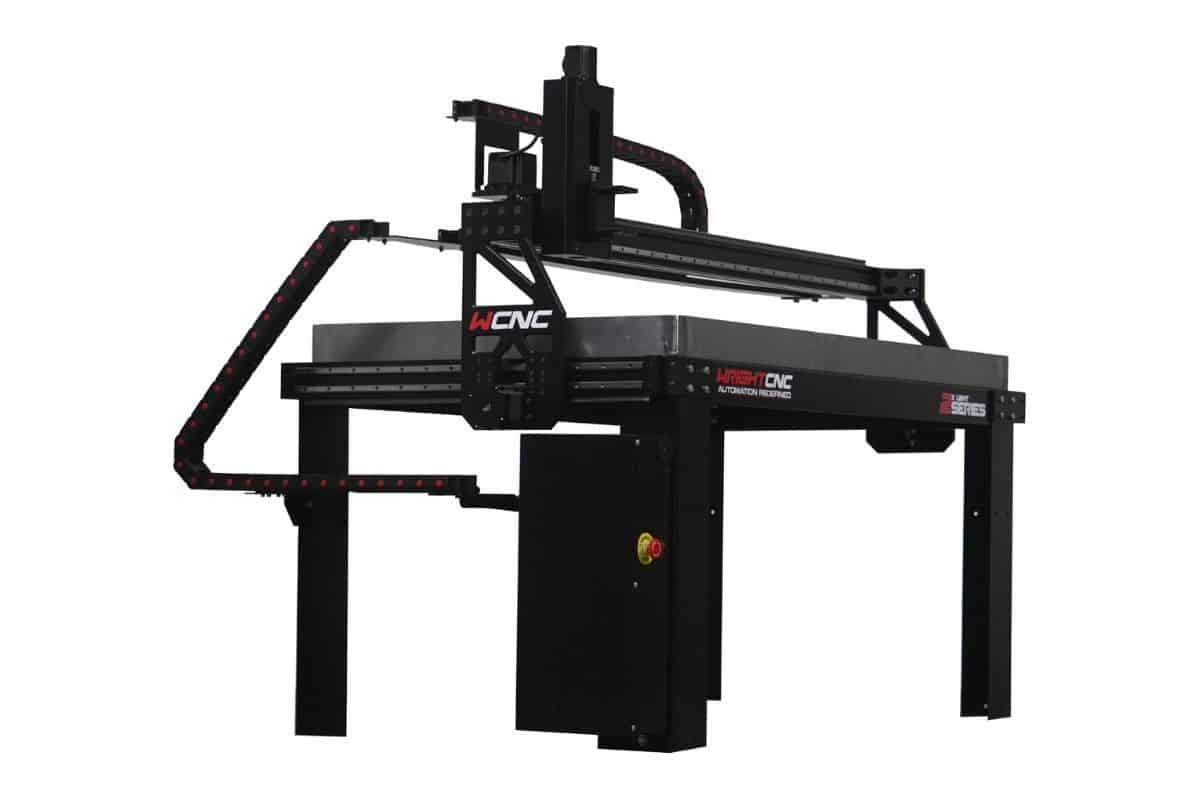 Courtesy of Wright CNC
If you are on a tight budget but you aren't willing to sacrifice quality, then this plasma table by Wright CNC is one you should definitely consider.
Built to last, this entry-level CNC plasma table is packed with features you would expect from more expensive industrial-grade machines.  Not only is this table affordable, but it is also expandable with larger kit sizes available.
Included with you Wright CNC is a software package that features SheetCAM, QCAD, and MyPlasma CNC Controller.
This machine comes standard with NEMA 34 stepper motors and heavy-duty dual linear rail systems, providing efficient and smooth operation.  Equipped with a precision grade Z-axis ball screw drive for a consistent cut rate and height each time.
Although we are focusing on smaller tables for our list, we should also mention this Wright CNC light series also comes in larger kit sizes.
So, you don't have to go small for your beginner plasma table if you don't wish to.
Overall, we were really impressed by the quality, features, and price of this plasma table.
Features and Specs
Entry-level 2×2 Table Size
USB/Wireless Connectivity
Dry/Wet Material Support System
XYZ Homing Switches Included
Expandable
Available in 4 Colors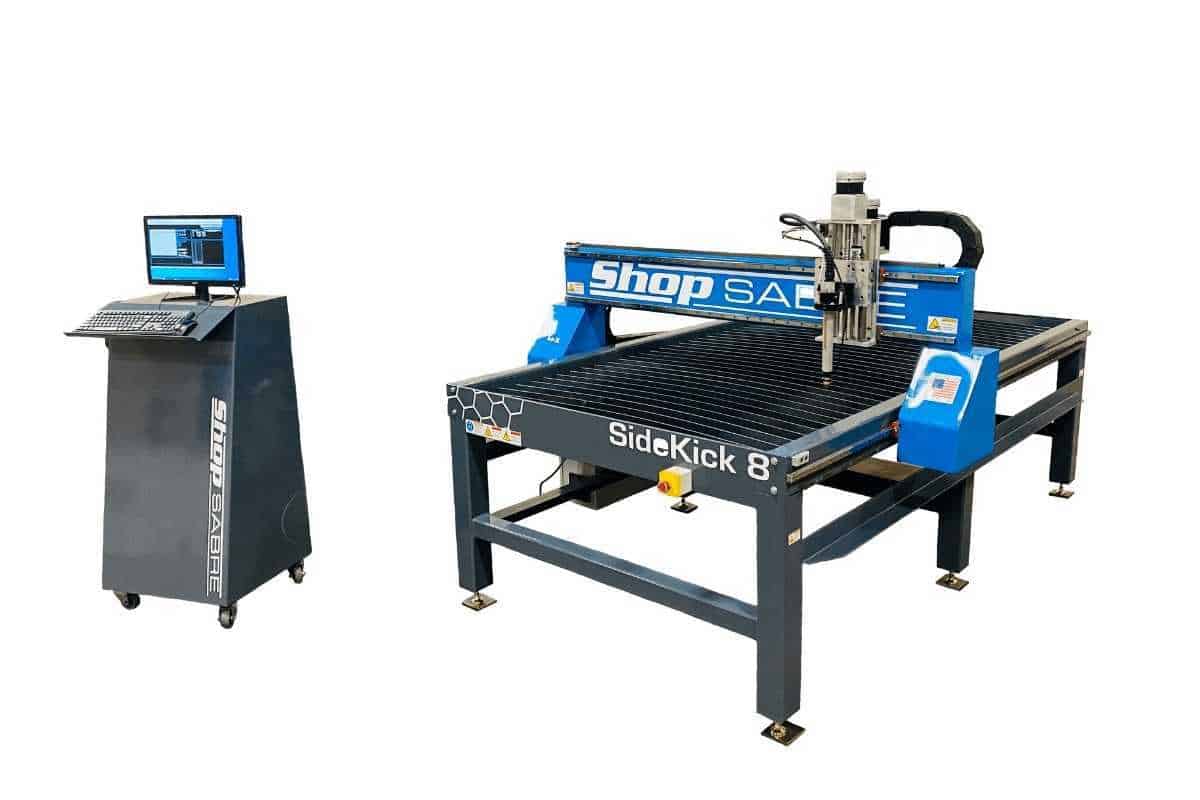 Courtesy of Shopsabre
An industry-leading CNC machine manufacturer, ShopSabre has created another quality machine at a respectable price.  The Sidekick offers industrial-grade quality plasma tables with four optional sizes available.
Although not the cheapest CNC plasma table on this list, the value of the Sidekick is in its overall value and quality.
This table sits on six heavy-duty 4"x4" steel tube legs that are welded together for maximum rigidity.  From the base to the gantry's, this plasma table is equipped with an aerospace-grade quality frame.
In terms of structural quality, there aren't many on this list that can compare to the ShopSabre Sidekick.
It doesn't just stop at the frame, there are many features included with this CNC plasma machine.
One of the many bonuses of this machine is the included EnRoute Fabrications CAD/CAM software.
It's not just software included, but a lot of hardware like the Machine Operator Control system with keyboard, mouse, and monitor.
With an easy to use interface, the Sidekick makes it operating and setting up your machine a breeze.  A preset plasma cut chart and a material library come standard with every machine.
After review, if you have the budget and space, we recommend this as a great beginner level CNC plasma table.
Features and Specs
4 Table sizes available
EnRoute Fabrication CAD/CAM
PC System Included
Made in the USA
Lifetime Tech Support
Optional Router Combo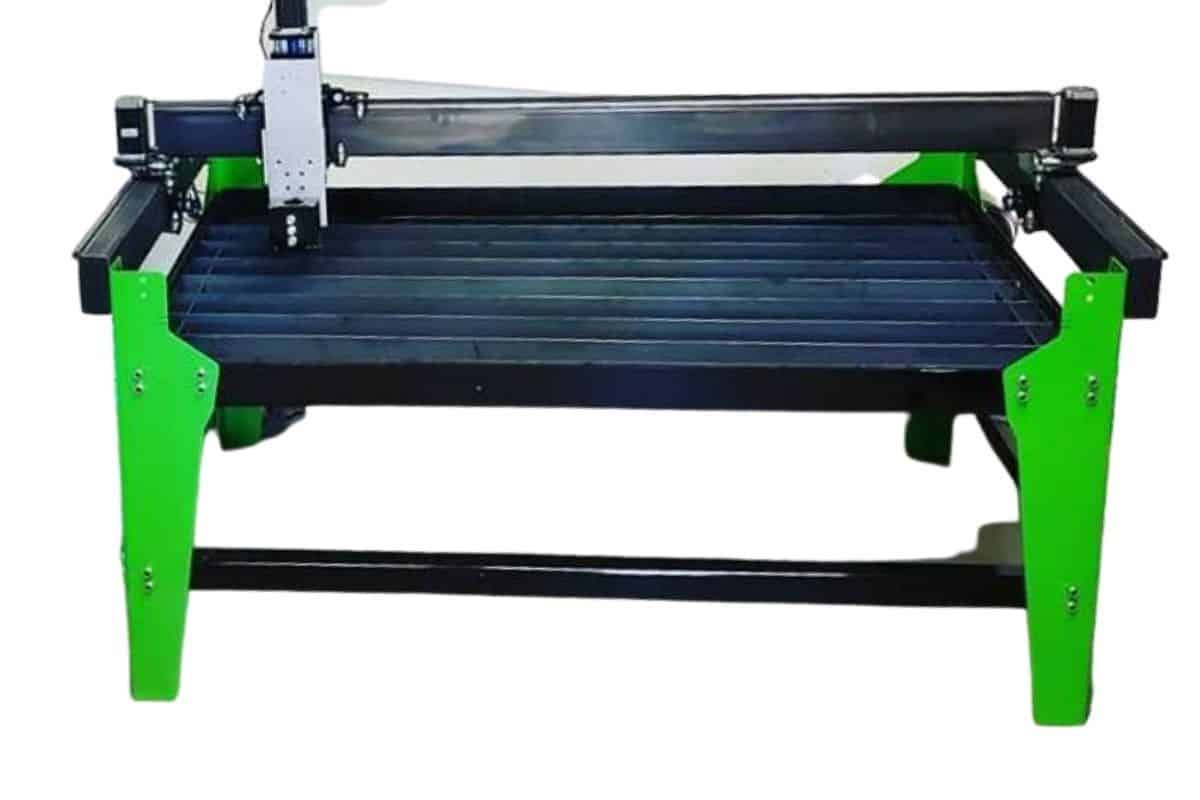 Courtesy of Premier Plasma
The Premier Plasma is a great option for those looking to find a machine on a budget.  Built-in the USA, these 4×4 cnc tables are made out of heavy-duty steel and won't wobble or move on you while cutting.
With a machine footprint of 5×5, you get a durable machine while limiting its footprint in your workshop.
Included with this mean green cutting machine is a personal computer featuring Inkscape, Mach3, ViaCad CAD software.
With NEMA 23 stepper motors and steel slats, the Premier Plasma table is built to cut metal quickly and efficiently.  A complete plug and play control box comes standard with each machine purchase.
Although this machine comes partially unassembled to reduce costs, there is a lot to like about these plasma tables.
Overall, to make this list, it was one of the best Plasma CNC tables we have reviewed.
Features and Specs
Made in the USA
Floating head on Z-axis
Steel Slats included
Optional Water Table available
Financing Available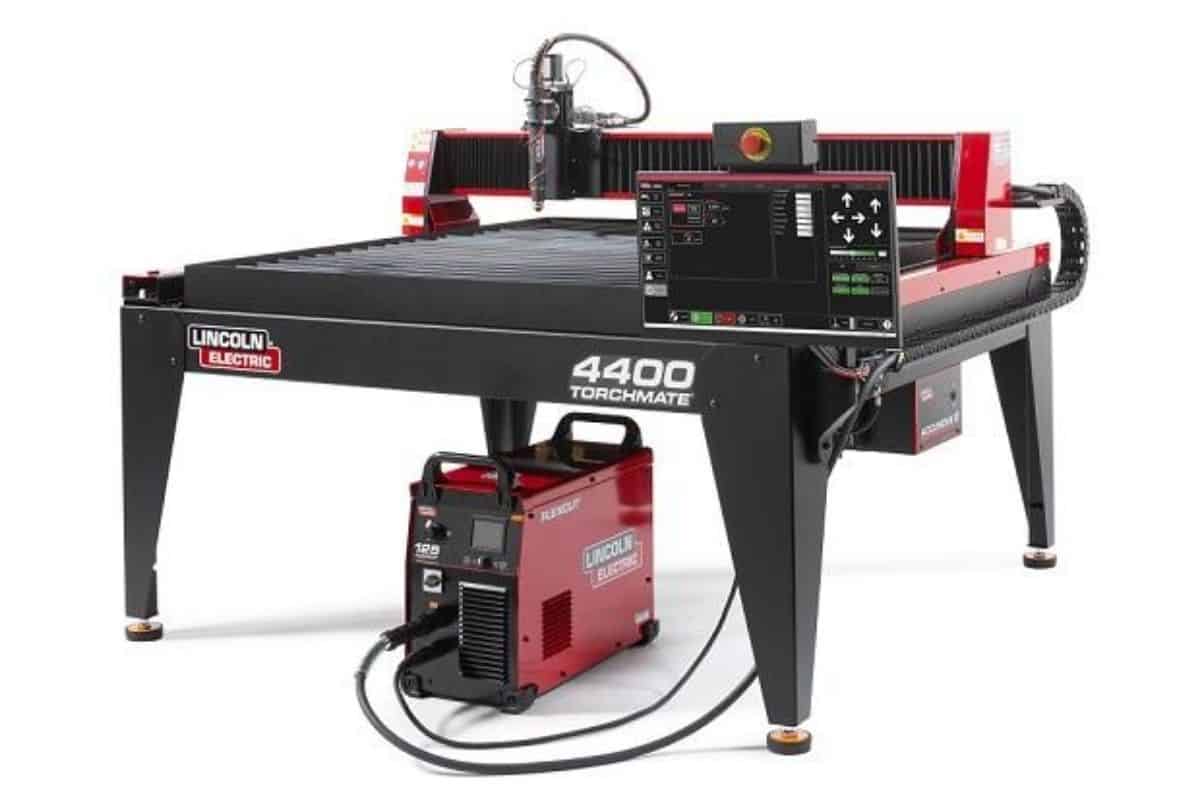 Courtesy of Torchmate
One of the higher-end CNC plasma tables on this list, the Torchmate 4400 is a powerful metal cutting machine.
This machine is packed full of features and comes fully assembled and ready to go.
When it comes to speed and accuracy there isn't a better plasma cutting machine on this list.  Built like a tank and with powerful stepper motors, the 4400 will be a great investment into any metalworking business.
The welded-steel construction of the table combined with the hardened rack and pinion drive system makes this one of the best plasma tables on the market.
Equipped with a Lincoln-Electric Plasma cutter, the machine is ready to operate in just 30 minutes of opening.
With extremely high attention to detail, the makers of the Torchmate have put cut quality, speed, and repeatability at the forefront of its design.
Featuring an all-inclusive package with CAD Software, height control, a CNC Controller, and a computer, it is hard not to love the Torchmate 4400.
Now you won't get all these features and qualities without having to pay a little more.
This plasma cutter will likely be out of the range for most budgets, but it is definitely one to consider if you have the money. If you need a larger table, definitely take a look at the Torchmate 5100 (featured in our list of the top 5×10 CNC plasma tables).
Features and Specs
Plasma Cutter Included
.0015" Repeatability
¾" Mild Steel Maximum Material Thickness
Integrated AVHC w/ Magnetic Torch Breakaway
Fully-Assembled
Financing Now Available

Related: A guide to building your own DIY CNC plasma table.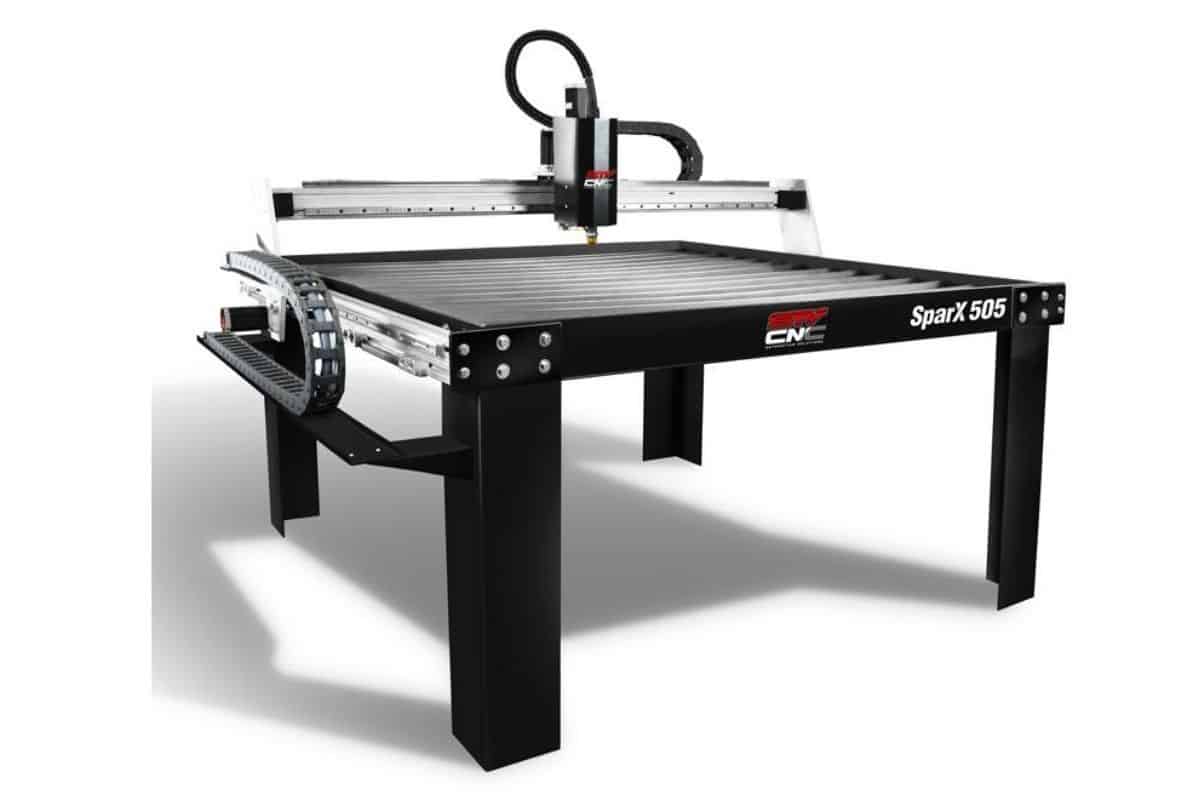 Courtesy of STV CNC
The SparX 505 by STV Automation is a solid 5×5 CNC plasma cutting machine.
With an affordable price of just under $6,000, the 505 is a great option for those that want a large cutting area, but don't want to spend a fortune.
Boasting a table that is sturdy enough to handle a 1" steel plate, this machine is definitely one you will want to consider.
Equipped with powerful stepper motors and high-quality linear guide rail systems, the 505 is able to perform accurate cuts time and time again.
Included with this machine is a 1-year warranty and lifetime support.  Not only that, but a water table also comes standard with every machine purchase.
One of the many perks of buying this plasma table is the included CNC and CAD software packages.
The torch height control is automated, making this plasma cutting machine easy to operate and adjust as needed.
An optional laptop computer is available as an add-on, with Windows 10 and Controller program already installed.
Features and Specs
1-year warranty
5×5 (60" x 60") Cutting area
Replaceable Steel Table Slats
800ipm Maximum Cut Speed
Advanced Cable Management
Available on Amazon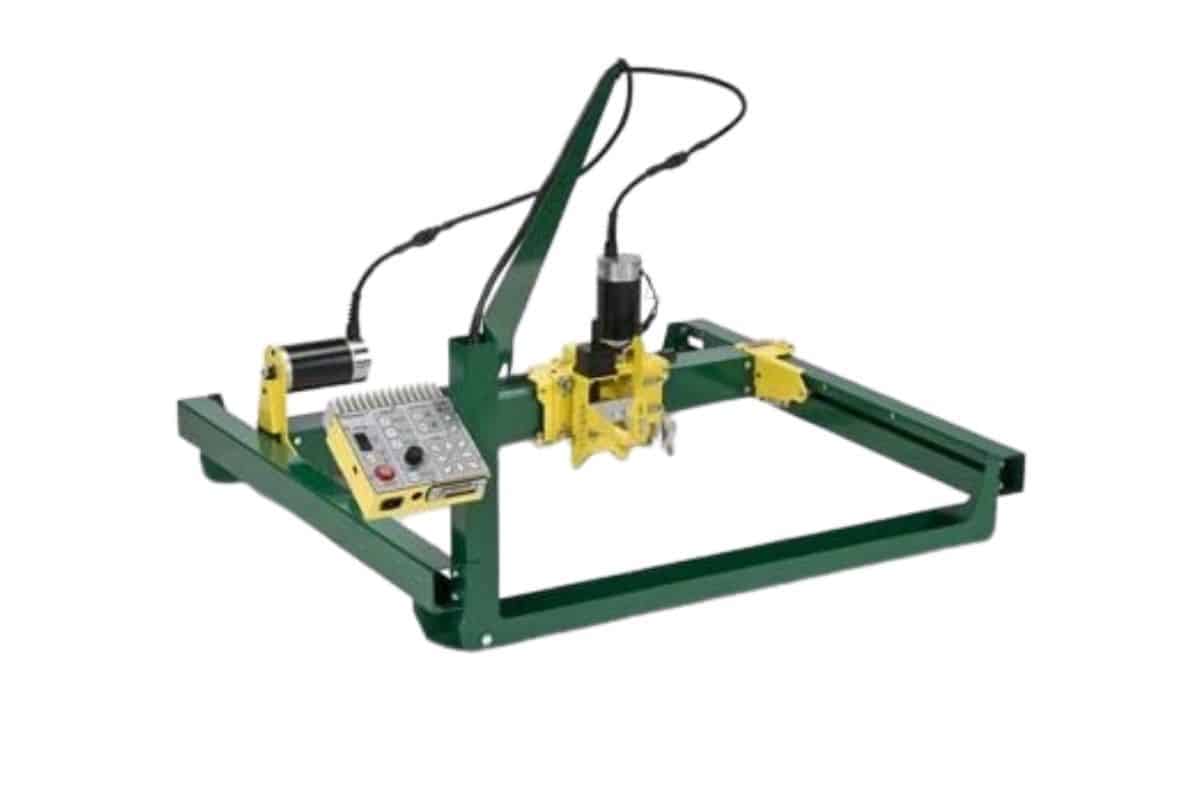 Courtesy of GoTorch
The GoTorch CNC Plasma table is an easy to use and affordable cutting system.
Featuring a compact design to save space and an easily portable build, the GoTorch is a must-have for a metalworking hobbyist.
Starting at a low cost of just under $3000, it is a great entry-level option for anyone who is just starting out in metal fabrication.
Although it is lightweight and portable, don't confuse this plasma table as a weak and unusable tool just yet.
What makes the GoTorch such a terrific option is that it is completely customizable and expandable to fit your needs.
Sold as a 2×2 table, the GoTorch is still expandable to up to 5×10 as your workload and projects get larger.
However, you will need to create your own base for each of these tables, so keep that in mind before purchasing.
With fully integrated software such as PlasmaCAM, the GoTorch Plasma Cutting System has all the tools you need to start cutting as quickly as possible.
Included with each machine is DesignEdge Software full of ready-to-cut designs and images to make starting your plasma cutting journey completely uncomplicated.
Overall, not a bad option for those wanting to start out on a much smaller scale.
Features and Specs
Low-Cost and Lightweight
Easily Portable
PlasmaCAM Software Included
DesignEdge Software included
1-year Limited Warranty

Courtesy of Baileigh
One of the few plasma cutting machines you can buy on Amazon, the Baileigh comes with a standard 2×2 CNC plasma table.  Included with this machine are a water table and a ball valve at the drain making this a great metal cutting option.
Another fully assembled machine making this a great option for those who don't want to go the DIY route and instead want to save time.
With the ability to cut ¾" mild steel, the PT-22 offers excellent metal cutting ability at an affordable price.
Although it's a Chinese made machine, it still has a lot of quality features despite some funny translations you may find while loading the software and controls.
One of the few machines featuring a rolling cart, this plasma table can easily be rolled and moved to wherever works best in your garage or shop.
Equipped with easy to use programming software, the Baileigh PT-22 is a nice option for those who prefer to shop on Amazon.
Overall, there is a lot to like about this machine when it comes to its size and features.
Features and Specs
Available on Amazon
Water Table Included
5" Casters Included
Hand-held Jog Control
Enclosed Motors and Electronics

CNC Plasma Cutter Buying Guide
Now that we've covered some of the best entry-level machines available, let's now go over what to look for when deciding on your CNC Plasma Table
Table Size
One of the main factors to consider before your purchase is, the table size.  So, the first thing we recommend doing is figuring out what materials and projects you plan on cutting.
If you aren't interested in cutting large metal signs or artwork, then we recommend you go with something in the 2×2 to 2×4 range.
There are obviously much larger tables out there like 4×8 and 5×10, so make sure you have a plan in place of what you want to cut with your machine.
Speed and Power
Now the speed in which you cut your materials will largely be dependent on the power of your stepper motors and the amps of your plasma cutter.
So, if you are looking to potentially start a metal fabrication business, cycle time will be a major factor in your purchase.
If that is the case, then you will want to go with a CNC Plasma Cutter that features high cutting speeds, and you'll want a plasma cutter that can handle those speeds.
Cost and Warranties
Now, probably the biggest deciding factor in the buying process, which is cost.  We all want to get the best deal possible, whether we are a business owner or just a metalworking hobbyist.
It's not just the price of the machine you should consider, you also factor in the warranties that each manufacturer includes.
We recommend before buying your machine that you look at this as an investment, not just a random purchase.
When you start to look at it as an investment you will then be able to see which machine will give the most value and features at the best price.
Final Take
It's good to know that there are a lot of quality Entry-Level CNC Plasma Cutters out there.
So, please take all of the information at hand and make the best decision possible whether you are a beginner or an expert metal fabricator.
If you have any questions or if you think there is a plasma table that needs to be added to this list, please send us a message or comment.
Thanks, and happy cutting!