Whether you're looking for some of the best laser engraving ideas, latest trends, wood projects, or cool gifts we've got you covered.
We've compiled a list of cool and unique ideas for laser engraving projects that we are sure you will love.  Some projects will include custom or personalized household items, while some will be incredible 3D artwork.
Because laser engraver users are always finding new and creative ways to make one-of-a-kind projects, we have decided to regularly update this article. The list will continue to grow and improve as we try to keep all of our readers up to date on the latest trends.
These laser engraving ideas and projects will cover a wide array of materials, including wood, acrylic, MDF, plastics, metals, corkboard, and many more.
To make matters easier for our readers, we will also link to where you can find any of the laser cutting files or materials needed.  We love to make these ideas come to life with simple and fun projects.  Now, let's get into some of our favorite laser engraving projects and ideas.
21 Fun & Easy Laser Engraving Ideas
1. Neon Bar Sign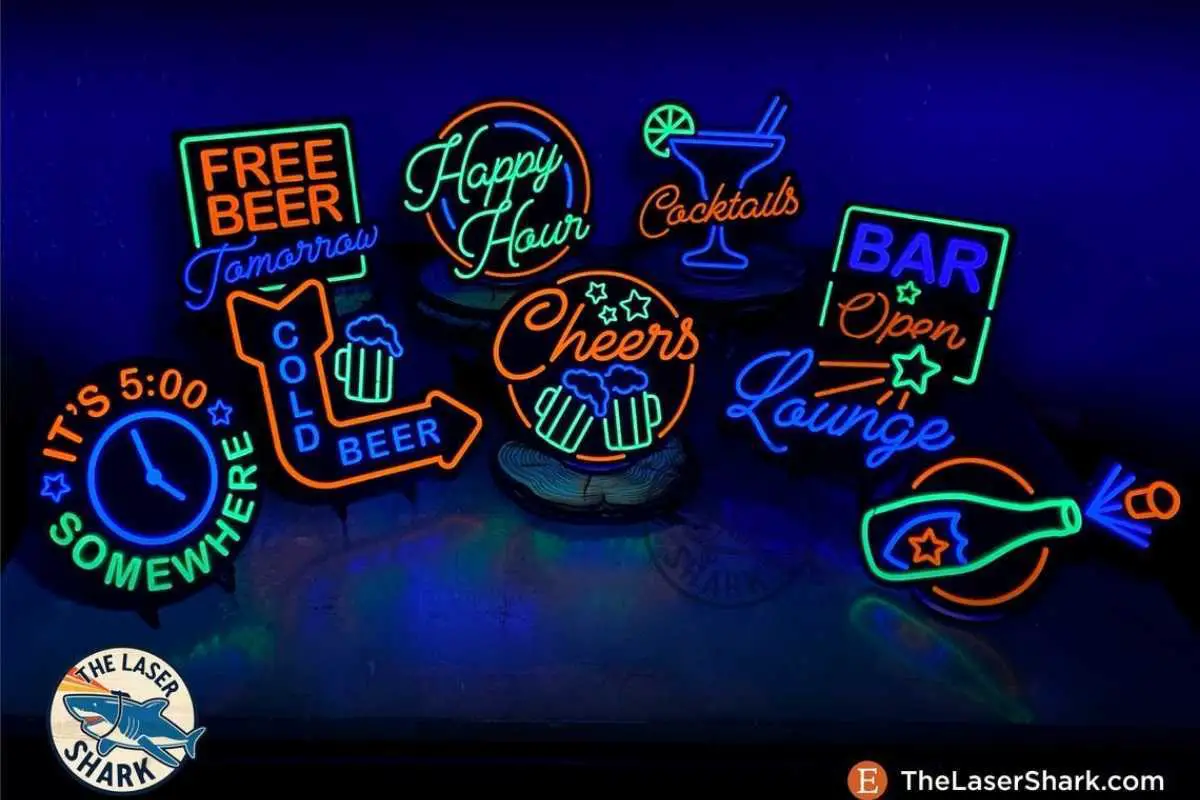 Image Credit – Etsy LaserSharkSVG
A neon bar sign is a great way to bring any basement or in-home bar to life.  Not only are these signs fun to make, but they are also great gifts for fathers or any beverage loving family members.  With many variations to choose from, there are options for just about everyone.
The neon bar sign is definitely a fun way to spice up any room in your home.  If you like this project idea, please let us know as we continue to update this list regularly.
2. Family Key Chain Holder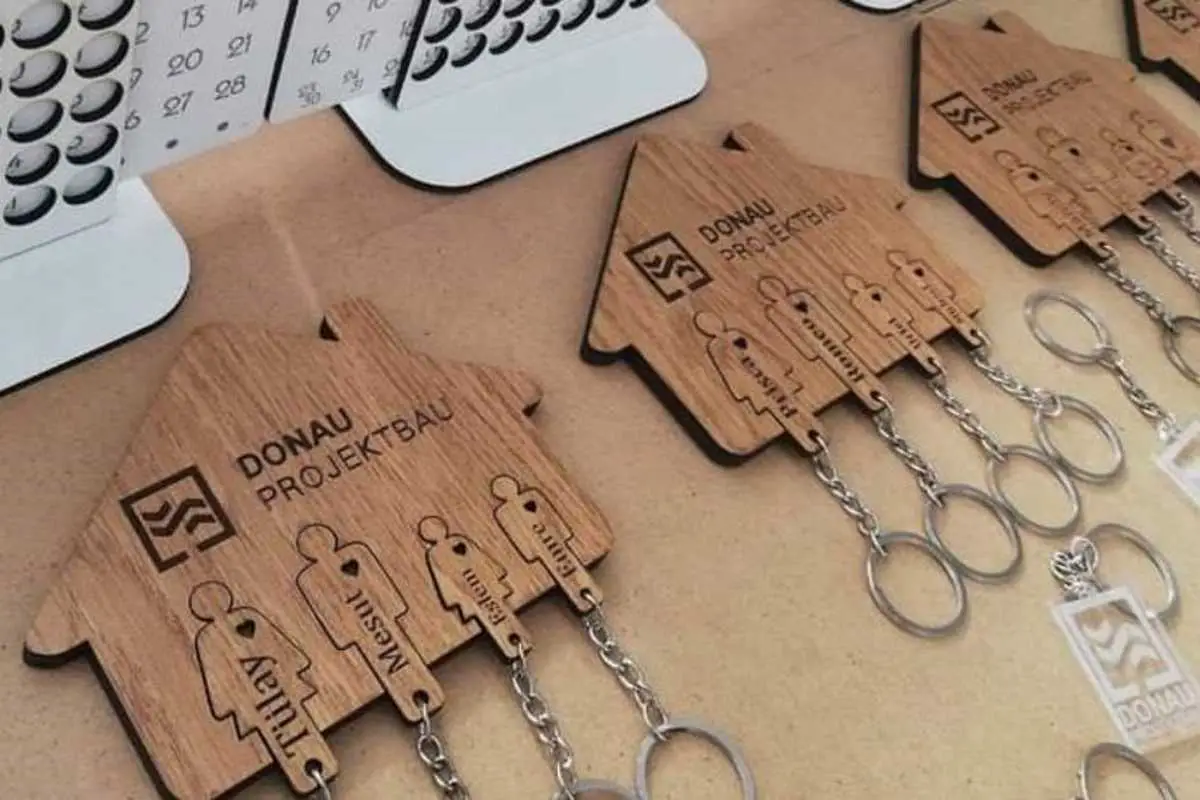 Image Credit – Etsy HappyCoupleDesign
One of the cutest and most unique laser engraved ideas we've seen is this custom family key chain holder.  Each spot on the keychain holder connects seamlessly with each individual's key chain.
A very cool way to keep your family's keys together and will definitely help anyone from losing their keys.  Simple and customizable, this is a great project for families and roommates alike.
3. Laser Engraved Bottle Opening Station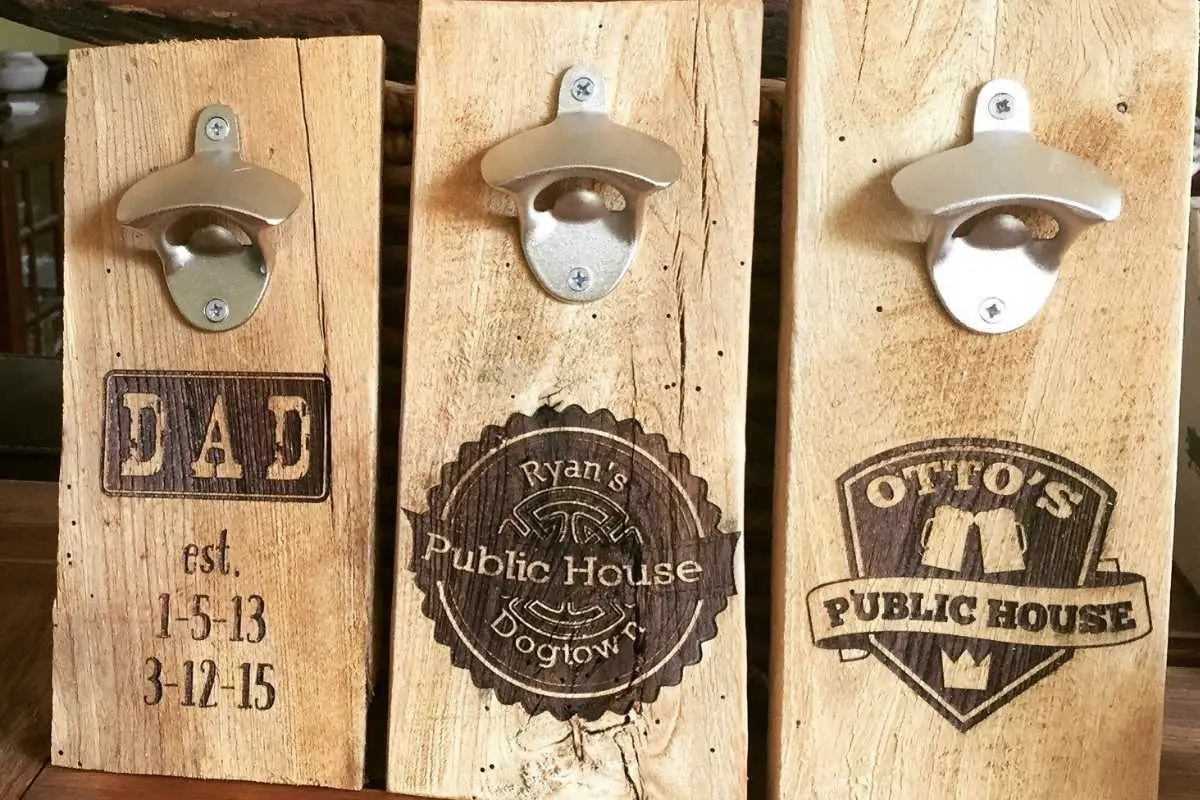 Image Credit – Pinterest
They say the perfect father's day gift doesn't exist, just kidding, no one really said that.  However, if your father or loved one is a beer or soda lover, then this might just be the perfect gift for them.  A personalized laser engraved bottle opening station is an easy and fun gift to make or even sell.
Make one of these projects and let us know how it turns out!
4. Laser Engraved Wooden Coaster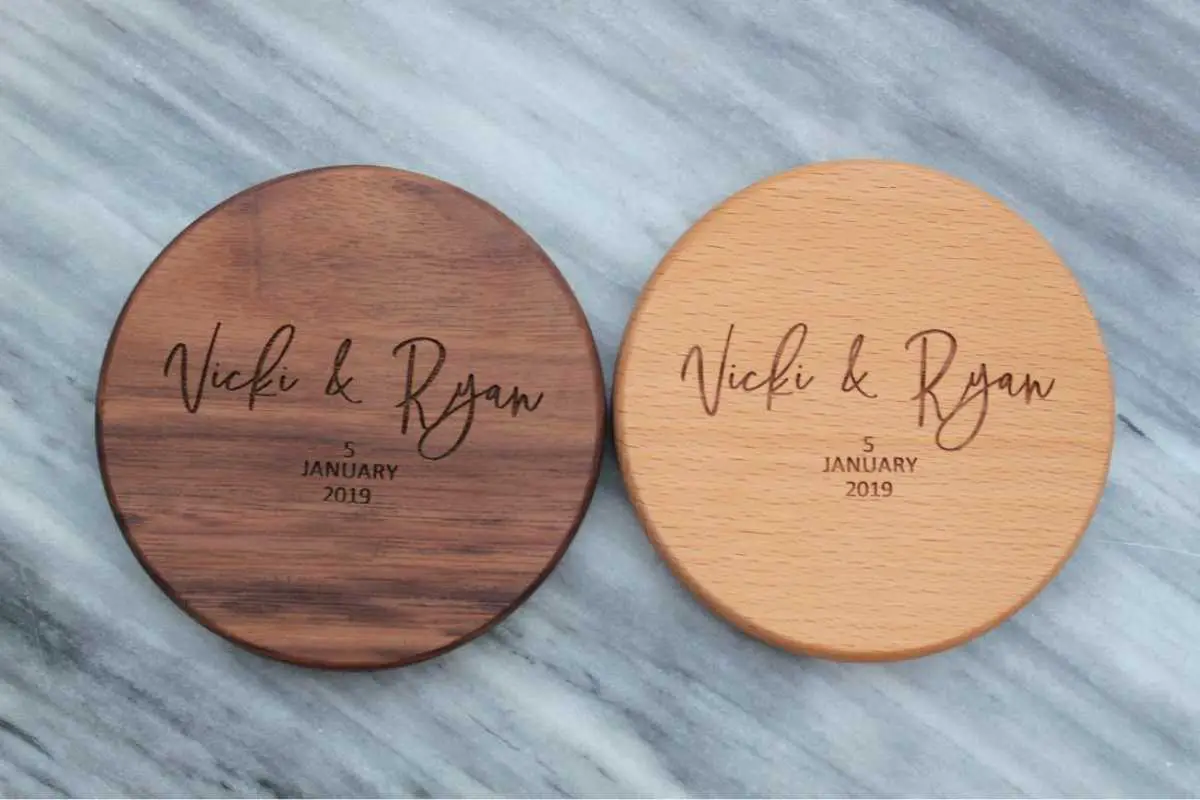 Image Credit – Etsy ItsSerenityDesigns
A fun way to commemorate someone's special day is with a custom wooden coaster.  Whether it's a wedding day or retirement party it is a great way to show someone you are thinking of them on that day.
Whether you are making these for brides and grooms or your own wedding, a personalized laser engraved coaster will be sure to add a touch of personal love to any occasion.  Walnut and oak are some of the excellent types of wood that are ideal for coasters.
5. Engraved Wood Flash Drive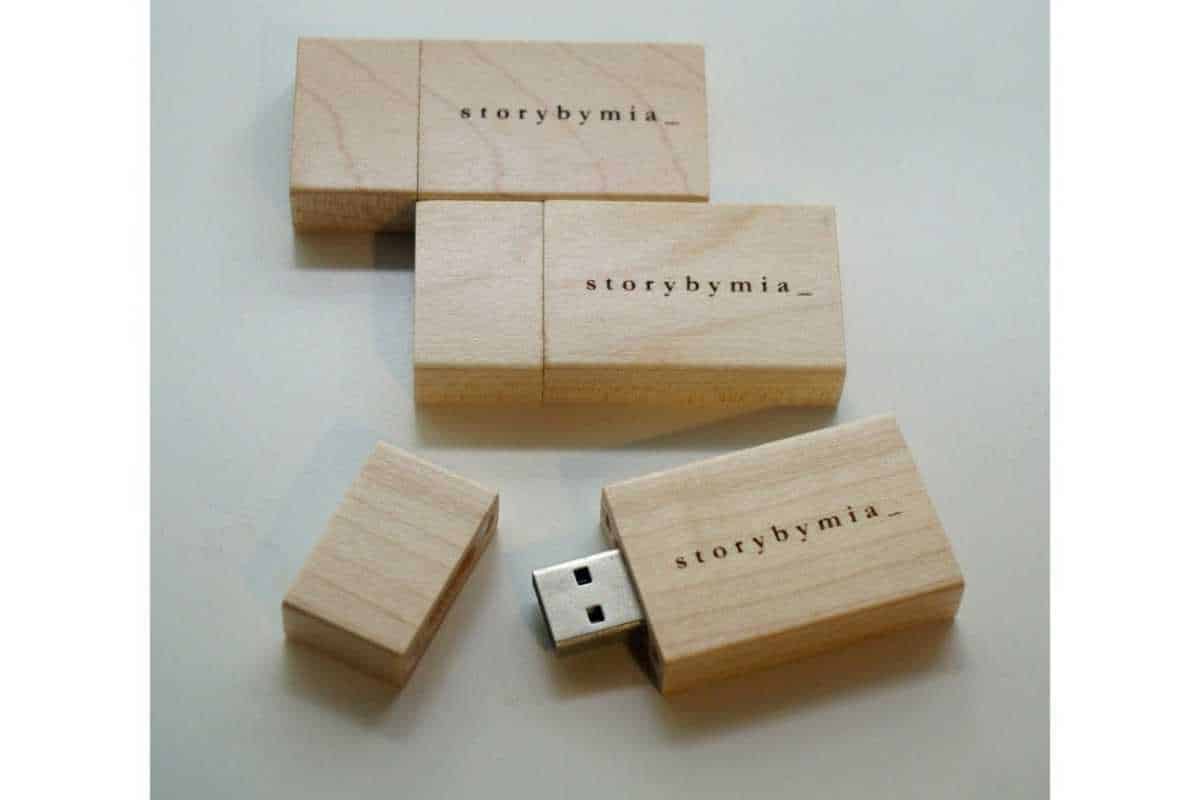 Image Credit – Etsy NaaMooCo
Check out this clever and fun way to hide your flash drive with this custom wooden enclosed cover.  It can be a great gift to give to your tech-loving friends and family.  A very simple wood project with an even easier laser engraving portion.
Just add a personal touch to each one and you're good to go.  To even make this project even better, you could also add a keychain to the end of the flash drive.
6. Personalized Cutting Board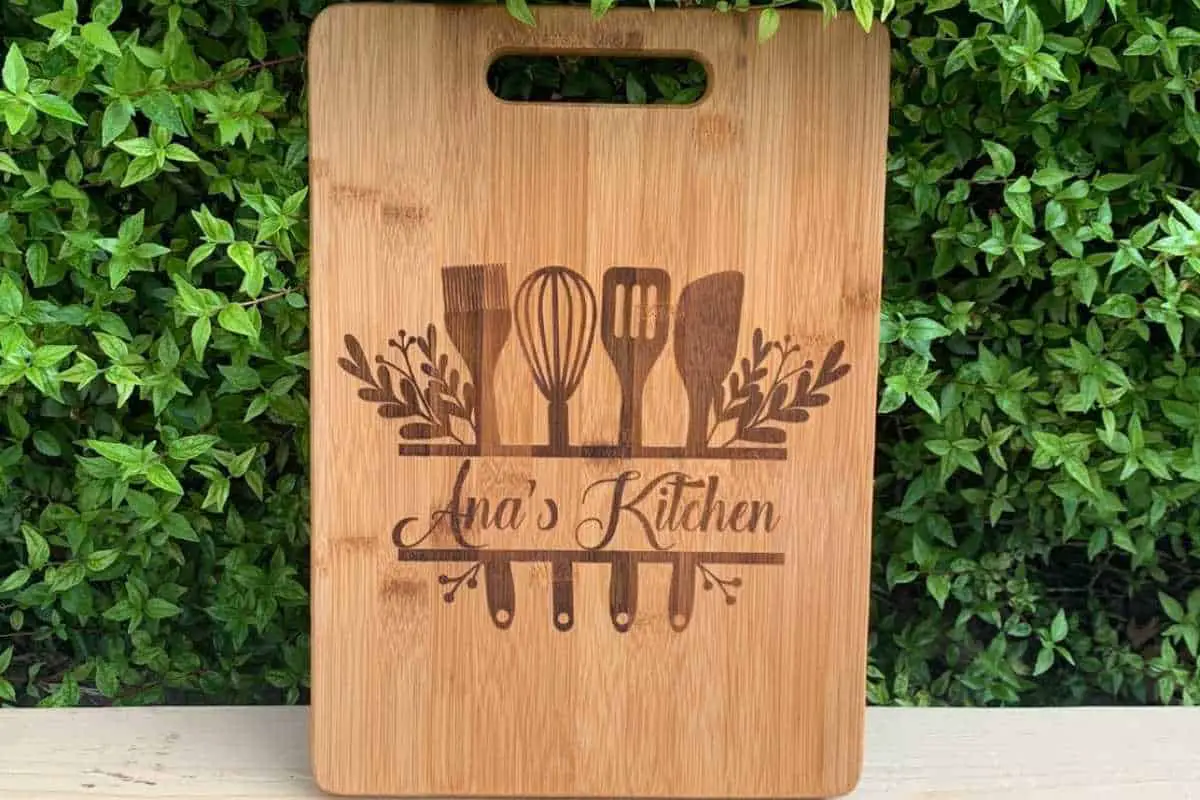 Image Credit – Etsy TacLaserEngraving
Whether you are a chef or just love to cook, having a personalized cutting board adds a little bit of zest to your kitchen.  Wood cutting boards are abundant, making this an easy and relatively inexpensive laser engraving project.
With many styles and fonts to choose from, this can be made for anyone.  Will also make a great gift for birthdays, Christmas, or even for a wedding.  An excellent laser engraving project for a beginner.
7. Wood Guitar Pick with Laser Engraving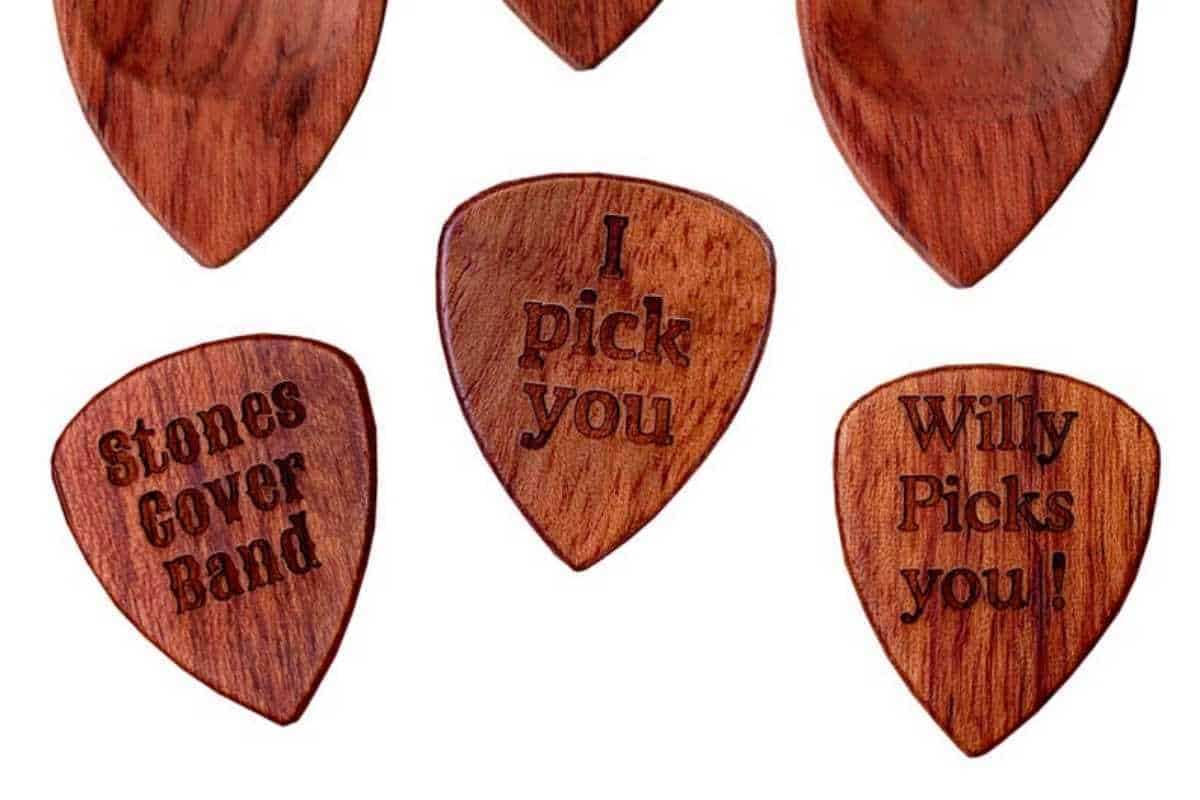 Image Credit – Etsy Elbedruck
The musician in your life will surely thank you for this laser engraved guitar pick.  With clever sayings like "I Pick You", this uniquely made gift will be sure to stand out.  No need to fret this one, any guitar player will love this gift because it is practical and handy.  Adding a personal touch to any gift is how you can truly make it special.
8. Cooking and Baking Measuring Chart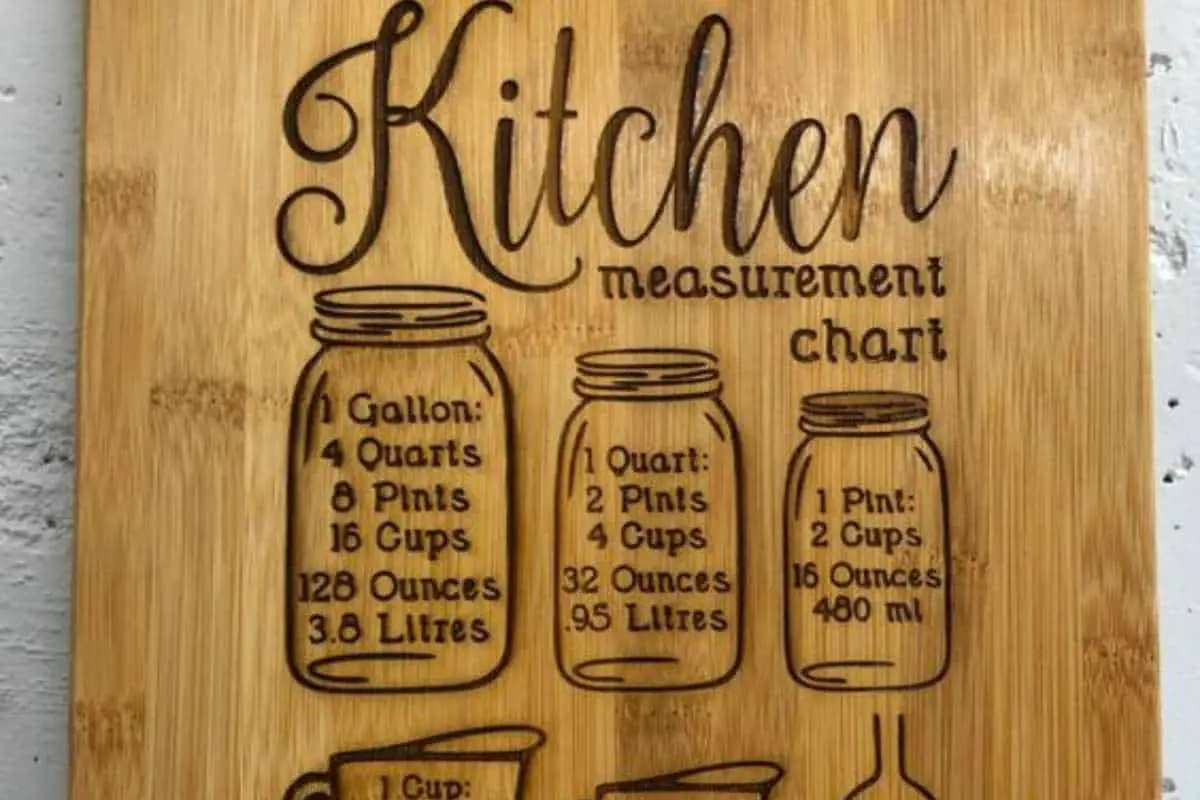 Image Credit – Pinterest
Another great kitchen item for any baker or cook you may know.  The laser-engraved kitchen measurement chart can be engraved on any piece of wood or on a cutting board for dual purposes.  Simple enough to use and a great way to help any baker do simple conversions from cups to pints and more.
9. Laser Engraved Magnets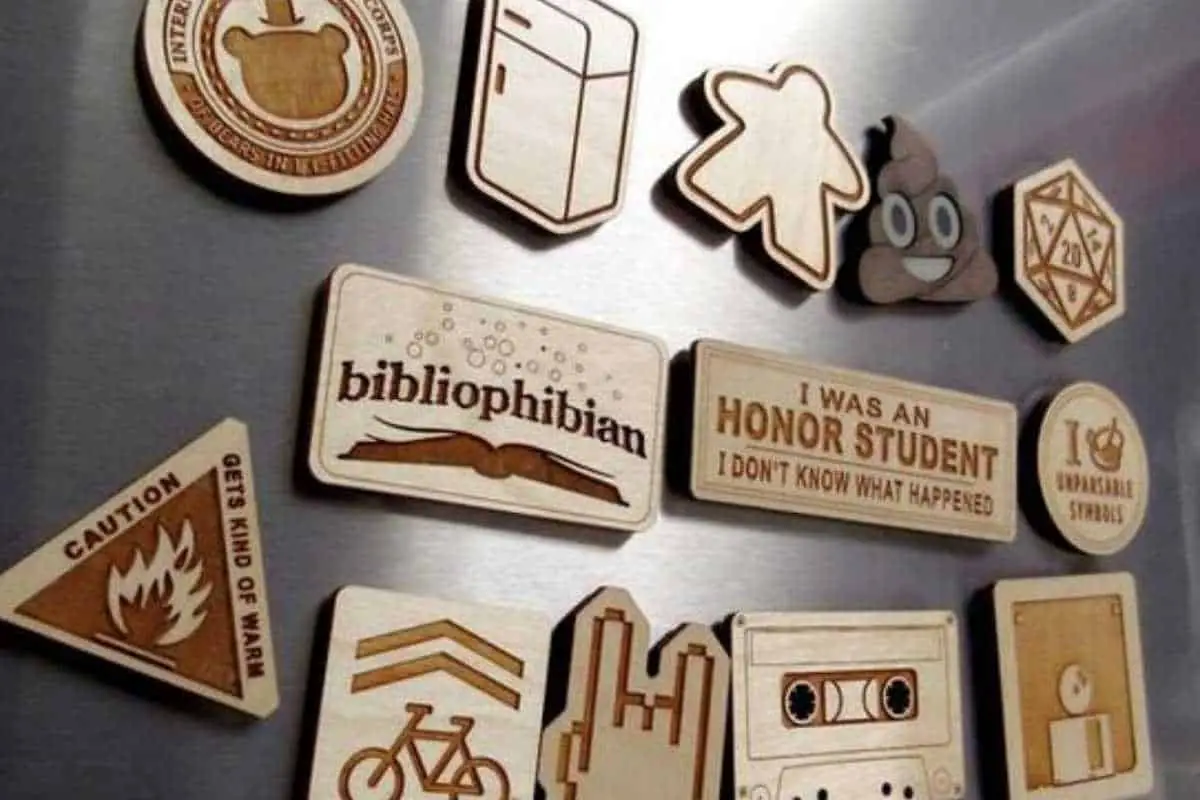 Image Credit – Pinterest
An adorable way to liven up someone's kitchen is with these customized laser engraved magnets.  With endless possibilities from emojis, nameplates, or places you've already visited, there are thousands of ways to make your refrigerator really stand out.  Great for parents with kids and school to hang up their kid's art and school work, or even great for the average bachelor to hang up local takeout menus.
10. City Map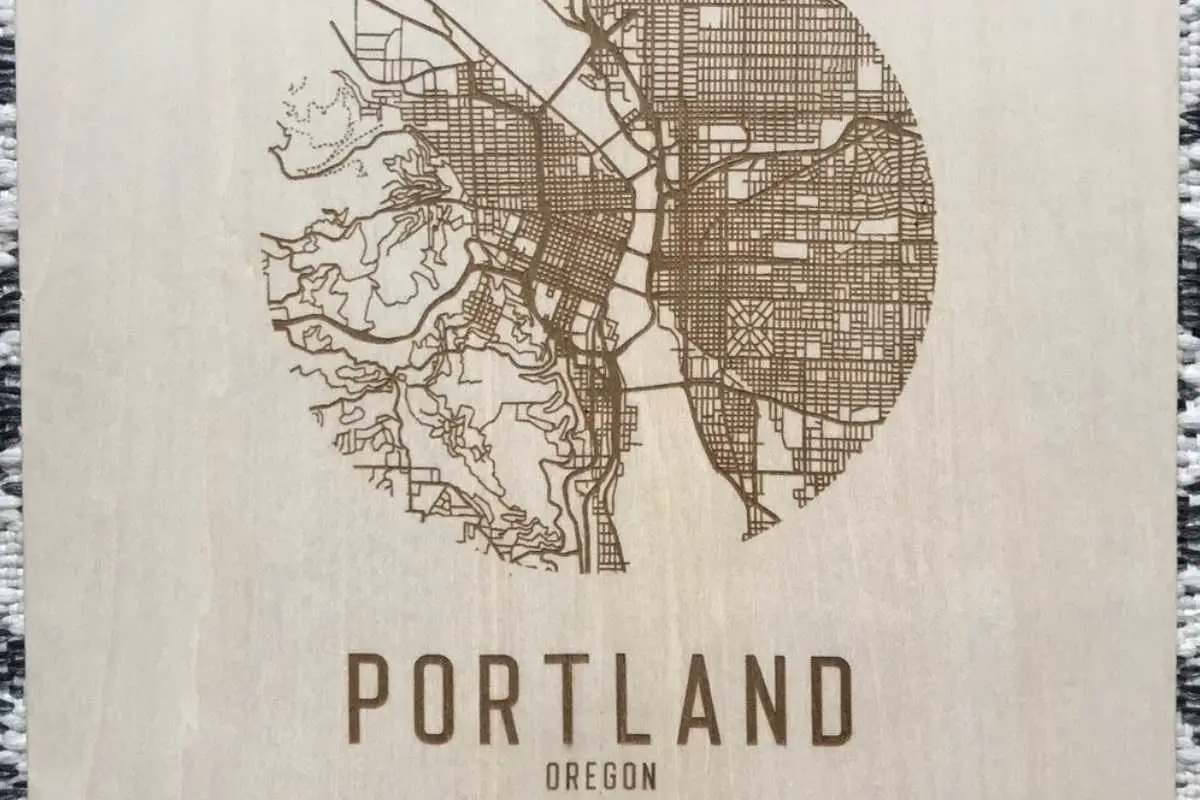 Image Credit – Etsy ORAZEngraving
A laser engraved city map is a great way to show your love and loyalty to your local region.  With so many people who take great pride in their towns, this is a perfect gift for any loved one.
City maps also do well if you are thinking of starting your own laser engraving business as they sell quite easily, and are very easy to make.  Simply find some wood, and start laser engraving.
11. Multilayered 3D Wood Bear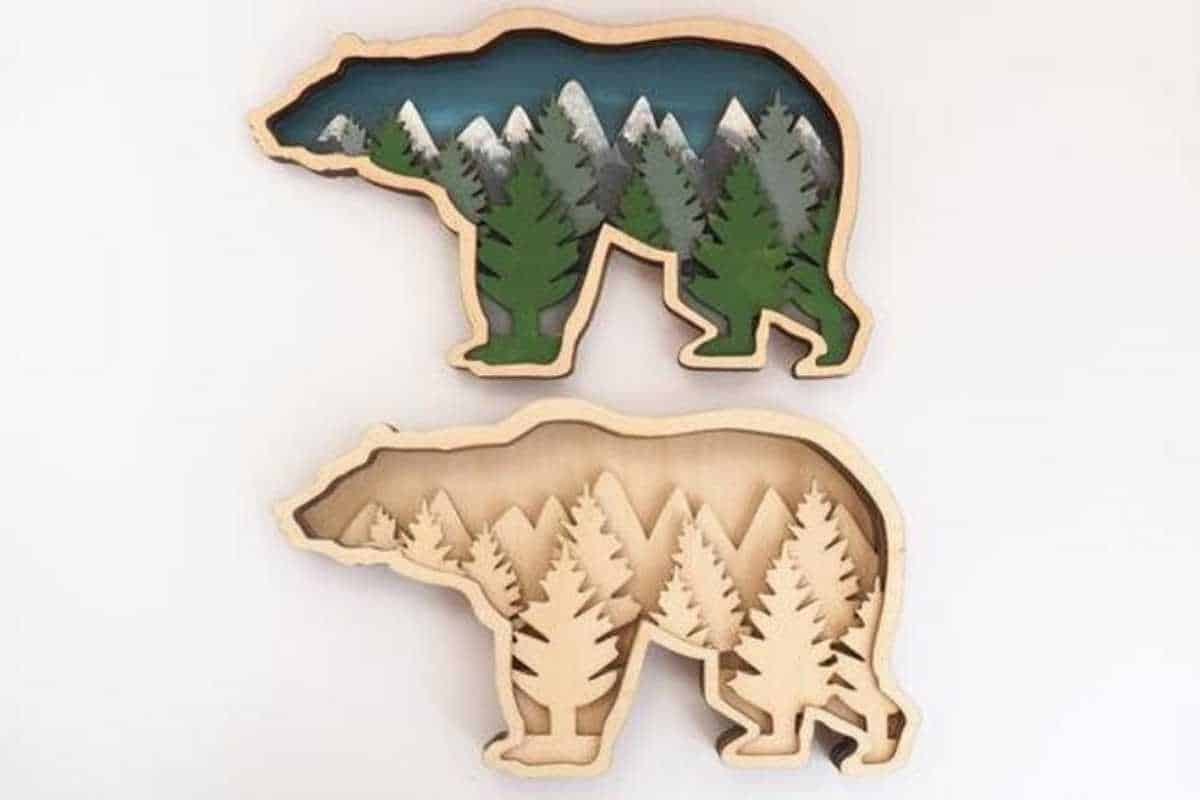 Image Credit – Etsy 3DCarsStlObj
This multilayered 3D bear is an excellent first project into the 3d laser engraved world.  Multilayered designs are the best way to make your laser engraving ideas really pop and stand out.
This cute bear with a surrounded forest would look great on any wall in your house, whether it's a living room or a kid's room.  Also would be an awesome laser engraving project for kids because there will be some painting and assembly involved.
12. Sci Fi Clock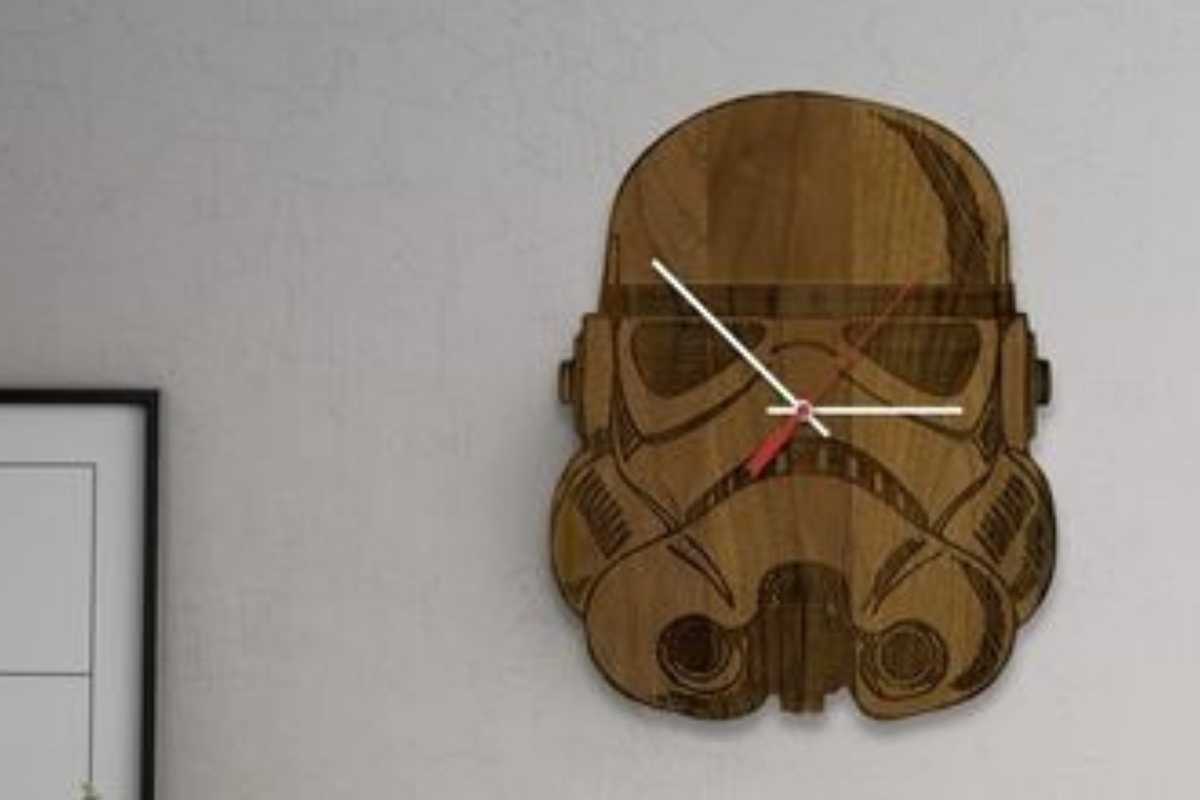 Image Credit – Pinterest
Any sci-fi lover will be sure to appreciate this Star Wars Storm Trooper wall clock.  Not only would this be a great gift, but it could also be a fun family laser engraving project.  All you need is some wood and an old clock that can be unassembled.  You can also just purchase clock parts without a frame, and simply drill a hole into your laser engraved wood.
13. Tic Tac Toe Game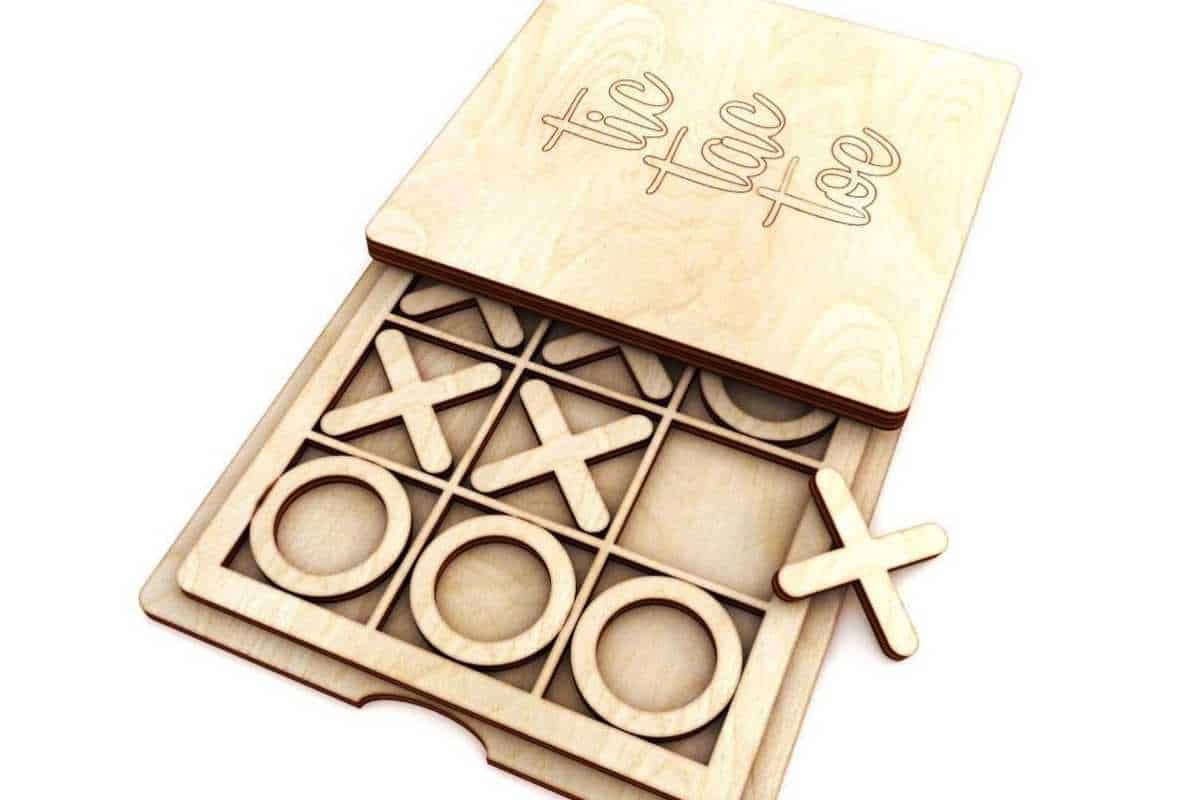 Image Credit – Etsy dolodom
Maybe one of our favorite laser engraved ideas on this list, is the tic tac toe game.  Not only is it cool, but it is also portable, making it a fun game to bring along on road trips.  If you are looking for laser projects to sell then this game would also make a great item to sell to restaurants.  A very simple and fun project for beginners.
14. Laser Engraved Wooden Comb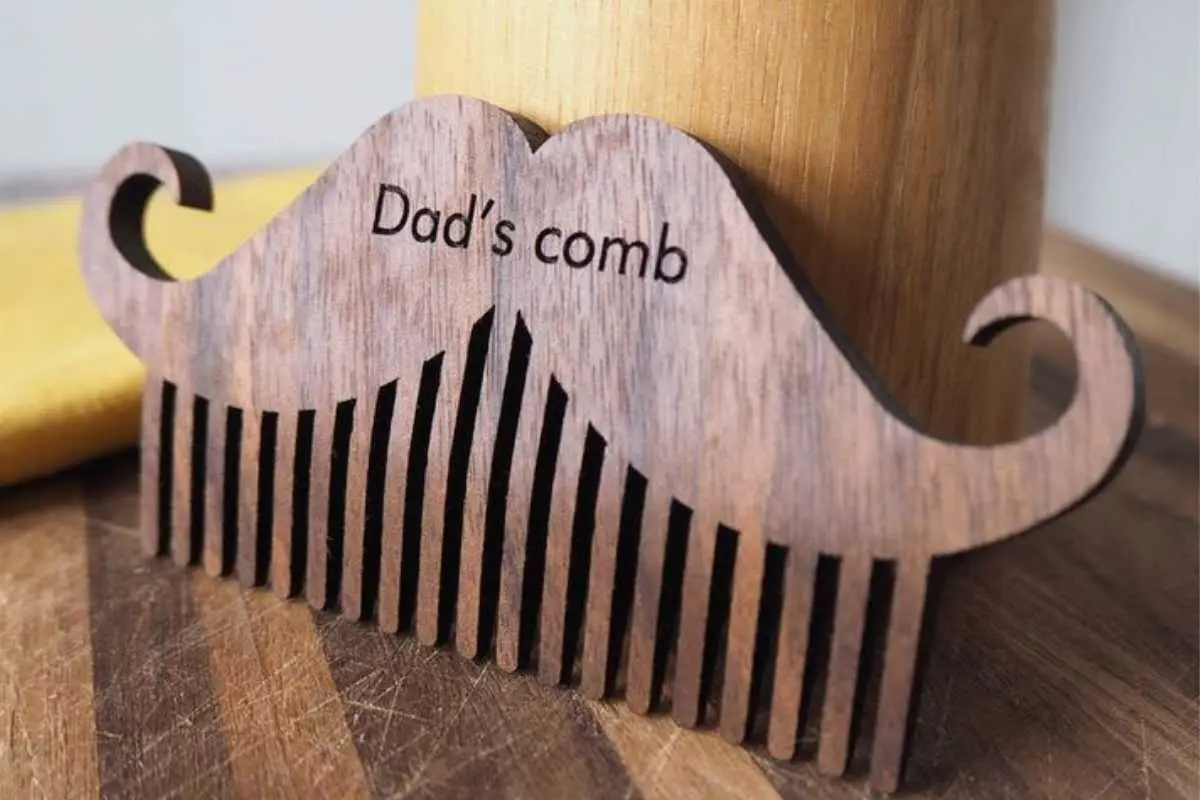 Image Credit – Pinterest Rebecca Williams
These personalized wooden combs are not only great for someone's hair but can also be great for beards or even a dog.  Make sure to be as creative as possible with the design of the handle because all that matters is the main part.  These laser engraved combs can be as detailed as you like, so be as creative as you want.
15. Custom Tumblers and Mugs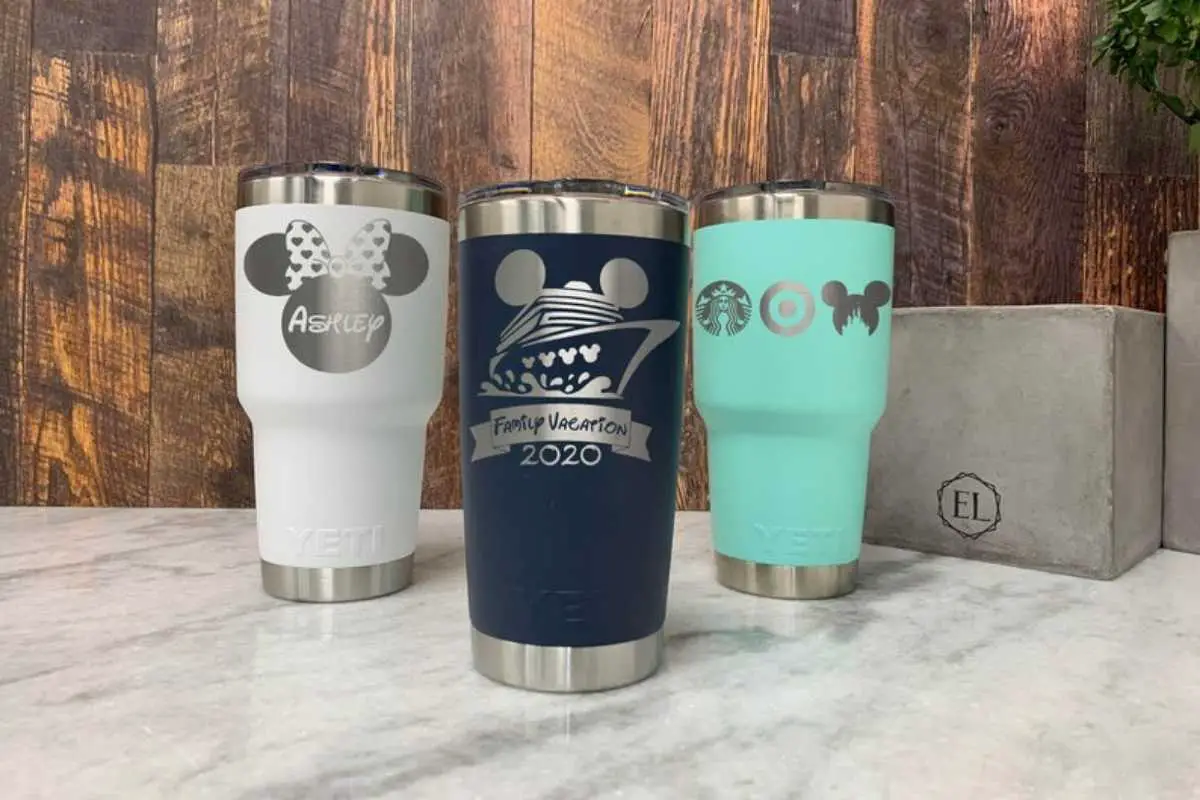 Image Credit – Etsy TheEngravingLady
The final item on this list is the personalized laser engraved mugs and tumblers.  With the recent popularity of these items, there really is no limit to what you can engrave on these cups.  They will make very special and unique gifts for any coffee or beverage lover.
16. Laser Engraved Leather Wallets
Yes, you can laser engrave leather! In fact, it's one of our favorite materials to engrave on. You can create personalized leather engravings on wallets for custom orders, like these guys, or create your own images, designs, and patterns on different textures and shades of leather.
17. Custom Engraved Bookmarks
This is a fun laser engraving idea for those bookworms out there. It's also a great way to try out your designs out on different materials (wood, leather, paperboard, metal, etc.) in a simple bookmark format. Then you can engrave custom bookmarks for customers, bookstores, and more.
18. Engraved Metal Nameplates
This is a great one for individual consumers and businesses. These would make great gifts for homeowners, pet lovers, newlyweds, new parents and more. And for business, a custom metal nameplate could be the perfect medium for a door sign, desk accessory, or even business card. Just have a look at all the options available here.
19. Laser Engraved Awards and Plaques
Another laser engraving idea that lends itself to different types of customers, awards and plaques are a great way to show off your design skills on different materials. These can be etched into wood, metal, or even glass to celebrate achievements, show employee appreciation, acknowledge top performers, and more. The opportunities here are vast, and it seems like a fun way to get started with your own laser cutting business.
20. Engraved Metal Tools and Equipment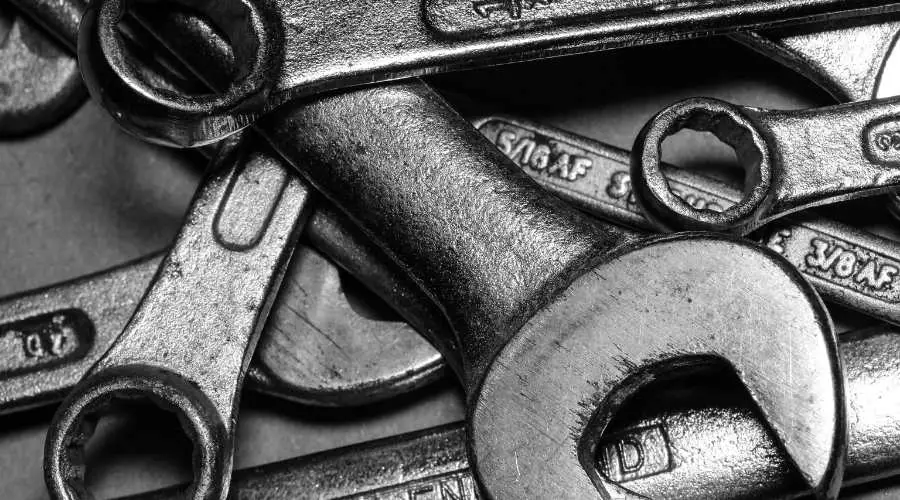 Ok, if you own a fiber laser cutter, you can really expand the range of metal laser cutting projects to work on. And custom engraved tools are a great way to start. You create personalized tool designs, business engravings, laser markings and etched patterns and more. Have a look at these engraved pocket tool designs for some inspiration
21. Personalized picture frames and photo albums
You can cut or engrave picture frames and photo album covers for a personalized gift or a custom, salable item. Using different types of wood, these are popular items on Etsy for weddings, anniversaries, baby photos, and more.
Laser Engraving Project Guide
Laser engraving ideas don't need to be overly creative or take a really long time.  Sometimes the best project is one that is simple and satisfying.  We are sure that there are many ideas listed above for any beginner or laser engraving expert.
To get the most out of your laser engraver, you need to be constantly expanding what you thought was possible.  We hope these ideas have inspired you to go out and make your very own creative projects.  When you do, make sure to send a picture or link to your newly made projects, because we would love to see them.