Are you tired of the same old cycle, boring bars, rough nights, and lack of groove as the world just keeps on turning by?  Sorry, not sorry.  Who doesn't love a good machinist pun? 
Now that the puns are out of my system, let's talk about something every start-up or machine shop owner has dealt with.  That of course is… finding an affordable CNC lathe that meets their current and future business demands.
I was once in the same boat as most as I was looking for a CNC lathe that was compact, functional, and fit my budget.  In the end, machine quote after quote, I just felt more frustrated and confused than before I had even started my quest. 
I eventually realized there just wasn't a perfect CNC machine out there when it came to the budget and capabilities I desired.  I was constantly imagining what I may need in the future like if I may need dual spindles, live tooling, or 5-axis machining capabilities.
Don't do what I did, it will just make things worse.  I eventually sat down one day and figured exactly what I needed in a CNC lathe.  Instead of focusing on what I thought my business maybe one day, I turned my focus into what best suits my needs for the current situation. 
You are probably thinking, well duh, don't buy what you don't need.  Unfortunately, lofty goals generally coincide with any entrepreneur. 
What type of CNC Lathe do I need?
So, I ended up not needing all the bells and whistles I had planned on originally.  My focus was now on a small CNC lathe like a toolroom lathe. 
When just starting out, whether it's in a small shop or on a strict budget, it may just be best to go with a smaller option.  So, that's the focus of this article. 
We will eventually cover some advanced machines in the future, but for now, let's focus on the best CNC lathes in today's market.
The first lathes we will cover in this article are the budget-friendly machines.  We're talking under $20,000, some under $10,000, and ones that are typically overlooked. 
After that, we will just cover small CNC lathes in general.  One's that may be higher priced, but fit in a smaller footprint than their much larger siblings. 
When it comes to small CNC lathes don't expect much travel in your X and Z axis.  Not to mention your chuck size will likely be only 6-8" at best, with very limited clearance for larger jaws and workpieces.
What to look for in a CNC Lathe
XZ Travel
Spindle RPM and HP
Machine Footprint (Floor space)
Programming Capabilities (NC & Conversational)
Features (Tool eye, turret slots, etc.)
One thing to remember before choosing a cheaper small CNC lathe option is that "tight budgets" don't usually work with "tight tolerances". 
Meaning, if you are requiring absolute precision from your machine, then choosing a cheaper lathe option will likely not result in the desired results. 
Accuracy and repeatability are key components in manufacturing industries, like aerospace, medical, and automotive.  Be sure to know the tolerances of your products and parts before going with the cheapest option available. 
Best Budget-Friendly CNC Lathes
Tormach 15L Slant-PRO® CNC Lathe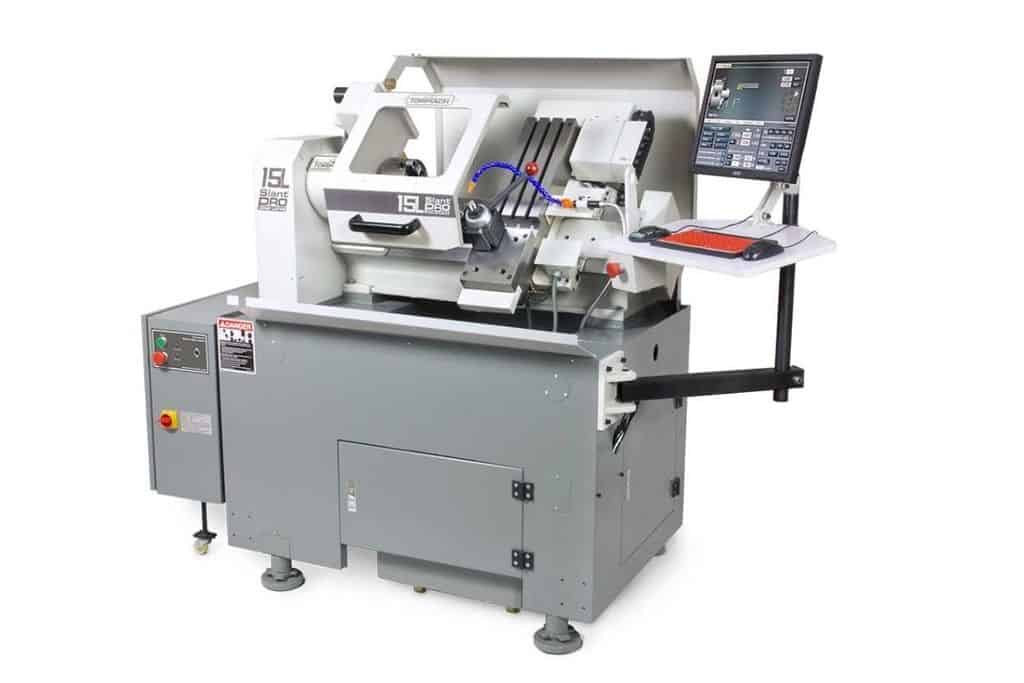 Yes, Tormach, the leader in high-quality affordable small CNC Mills, also has a hand in economical CNC Lathes.  Designed to fit in just about any workspace, the 15L Slant-PRO is built for prototyping, one-offs, and light production.  P
riced at around $20,000, this CNC lathe is a budget-friendly machine for start-ups and small shops.
Equipped with an 8-station turret to give you the flexibility and tooling options for some of the most complex designs you will have.  On top of that, the Tormach lathe includes a gang tooling system and a quick tool change post for easy to use tooling strategies. 
With fully-enclosed machine options available, you will have the safety features needed for you and your fellow employees.
An intuitive touch screen user interface comes standard with each machine, which also features an 80gb program memory storage.  When it comes to versatility from a CNC lathe, the 15L is fully capable. 
Conversational programming is also included with this machine, and as an added bonus, there is the ability to support up to four-axis continuous programming.  Overall, there is a ton to like about this small CNC lathe.
Features and Specs
XZ Travel 10" x 12"
6" Recommended Chuck Size
Rigid Tapping and Threading Constant included
Spindle Speed 100-3500 RPM
Dropbox File Support included
Haas TL-1 CNC Lathe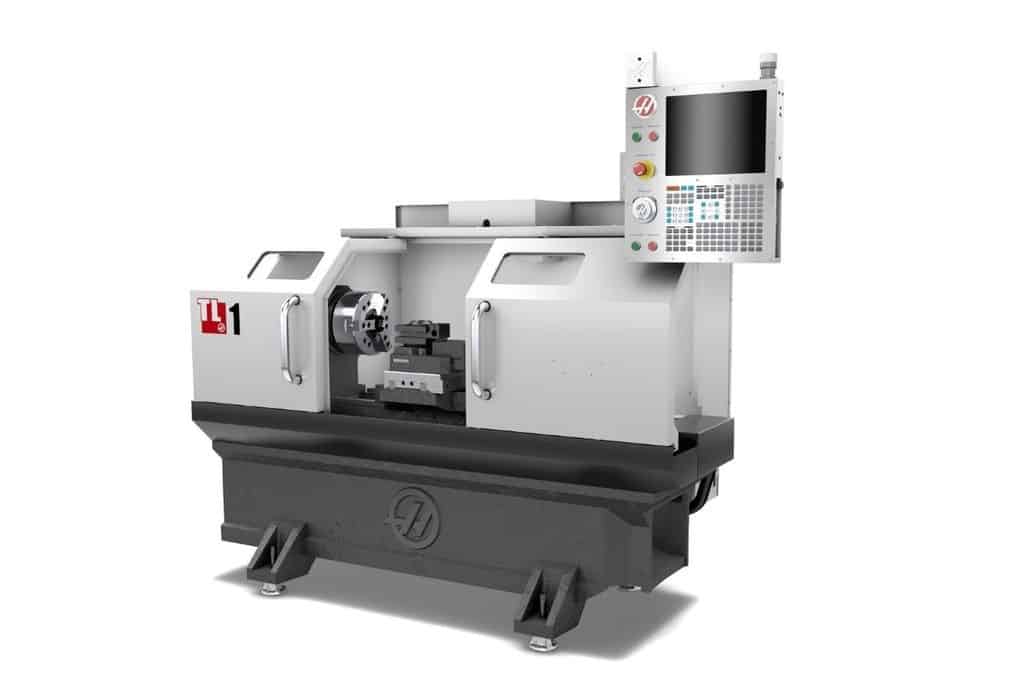 Looking for an easy transition from your manual engine lathe to a CNC, the Haas TL-1 is just the machine for you.  With an easy to program interface and a mountable hand wheel for manual mode operation, this lathe is one that programmers and machinists will both love. 
Starting at just under $30,000, the TL-1 is a great option for those wanting to replace their manual engine lathe or for those working in a small shop.
Whether you're a beginner or a veteran machinist, there are a lot of features to like with this small CNC lathe.  Like for starters, a conversational programming system lets you easily make programs without any knowledge of G-code. 
To make things even easier, this machine is equipped with a visual part programming system for proving out programs easily and efficiently. 
Coming standard with the TL-1 is a 1GB program memory, which is plenty of storage space for complex designs and programs.  The Haas drop feature lets you instantly add program files via a wireless connection, saving you time and energy. 
Like all other Haas CNC machines, the TL-1 is made in the USA and ships directly from their manufacturing facility in California. 
Overall, we believe this is one of the best CNC Lathe machine options for the money.
Features and Specs
1-year Standard Warranty
XZ Travel 8" x 30"
1800-RPM Max speed
Up to an 8" chuck available
Includes Work light and Chip Enclosure
Remote Monitoring Capability 
HX710 Turning Center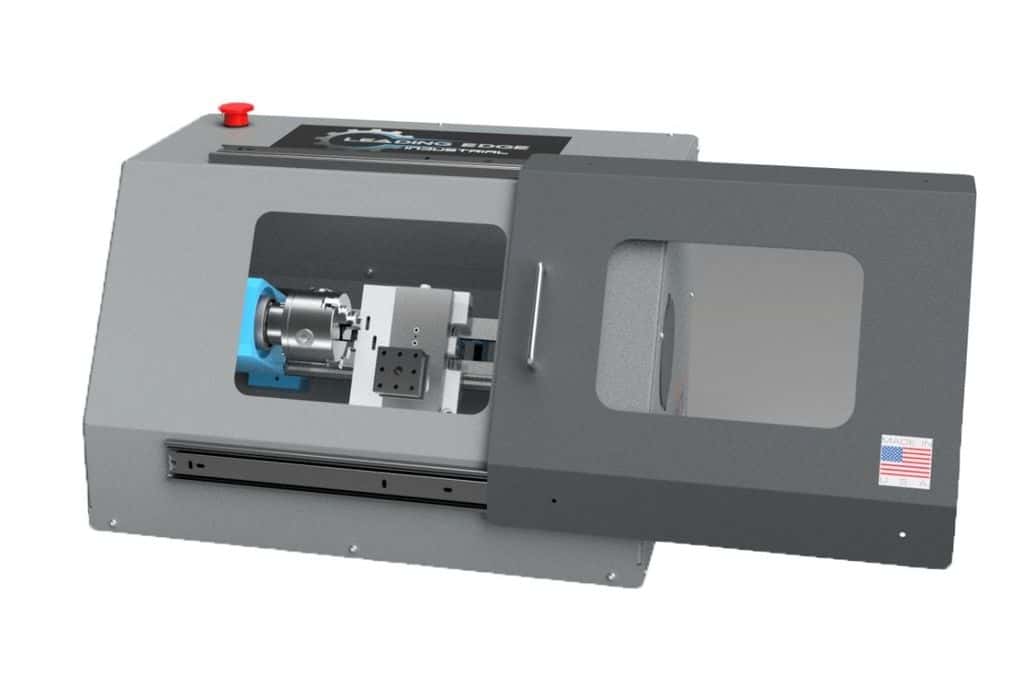 It doesn't get any more affordable or compact than the HX710 turning center by Leading Edge Industrial.  Priced at around $5,000, this desktop CNC lathe is perfect for those who want a machine in their home or garage. 
It's not just great for home use or hobbyists either, it is fully capable of producing high-quality parts and prototypes for many business applications. 
Equipped with a beginner's CNC toolset and a 3" Chuck and jaw set so you there is plenty of tools for just about anyone to get started with. 
If you're not sure where you want to place this machine then that is okay, because each HX710 comes with a Waterloo Rolling tool cabinet to use as the base of your lathe.  This makes it a great option for any office, garage, shop, or home machining set-up.
Now you're probably wondering how a machine could be moved so easily if they weigh a lot.  Well, that would be true in most cases, but this mini CNC lathe weighs only 118 pounds.  That is a lot of power and machining capabilities put into such a small footprint. 
If you are a beginner or are just looking for a small lathe with CNC programming capabilities then this machine might just be right for you.
Features and Specs
XZ Travel 3.5" x 10"
Spindle Speed Max 2500 rpm
Fanuc Compatible
Lightweight 118lbs
Made in the USA
Syil CNC Lathe Machine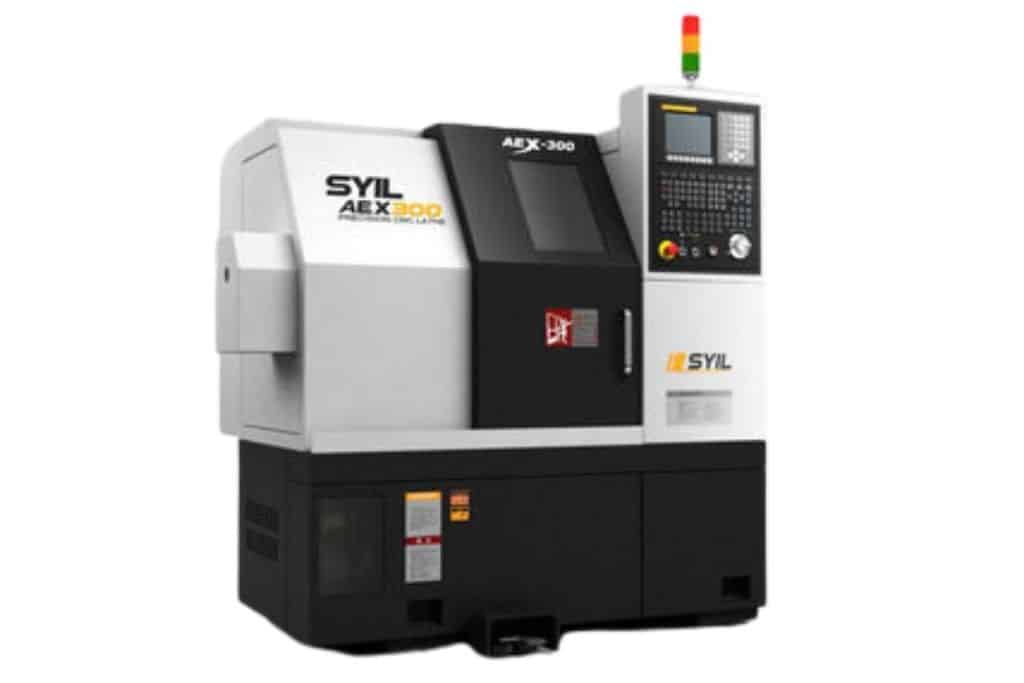 When it comes to budget-friendly CNC machines the prices don't get any more reasonable than with Syil machines.  This modest-sized CNC Lathe is a perfect option for those wanting the quality, power, and speed of a high-end machine, but in the price range of a manual engine lathe. 
With a high-rigid structure and large turning range, the Syil lathe is one to keep an eye on when looking for a quality CNC lathe machine.
Built to turn parts with ultra-tight tolerances, this machine is fully capable of high-speed precise cuts for most applications.  The Syil CNC lathe is also equipped with linear guides that are constructed with precision in mind. 
When it comes to floor space and cost, this CNC Lathe has a ton to offer your machine shop.
Features and Specs
12 Bit VDI Turret
Hydraulic Chuck
Quick Tool Change (0.5 Secs)
Max Spindle Speed 8-12k RPM
BT40 Spindle Nose
Kent USA CSM-1440 CNC Precision Lathe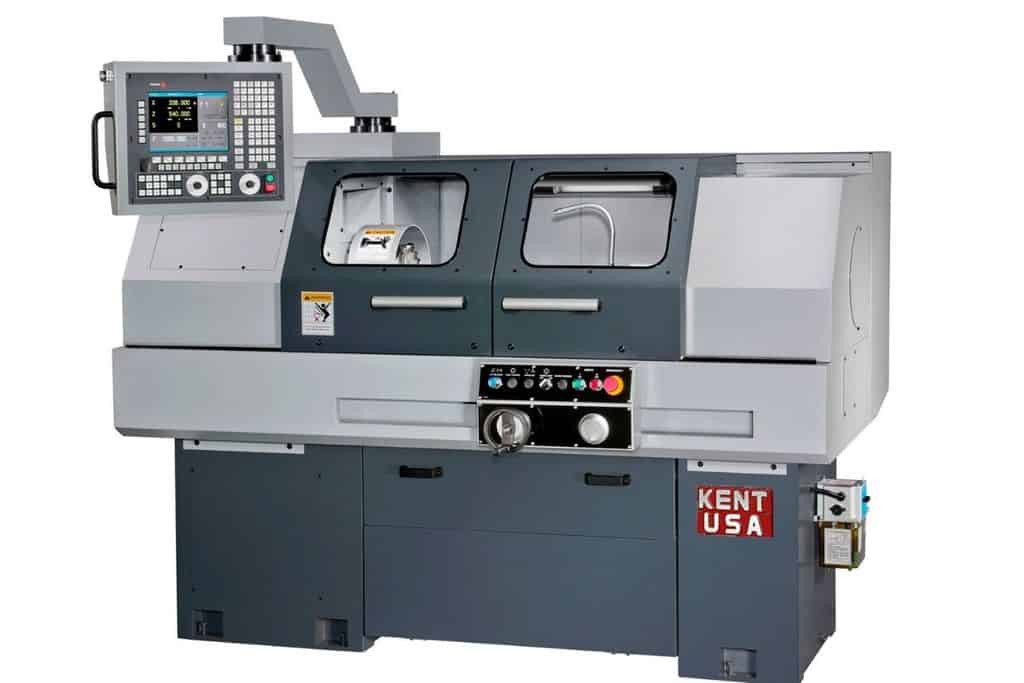 The CSM-1440 CNC lathe is a quality American made machine priced at under $20k.  Equipped with manual and conversational mode which makes it ideal for both production and one off jobs.  A perfect versatile CNC lathe for any small shop or personal garage. 
With a 50-2,500 RPM range, the Kent USA machine offers a lot of power when cutting various materials.  Overall there is a lot to like about this piece of equipment.
Features and Specs
7.5 HP Siemens Servo Spindle motor
Electric Handwheels
Autolube system
Optional Automatic Turret available
Best CNC Lathes for the Money
MAZAK Quick Turn 100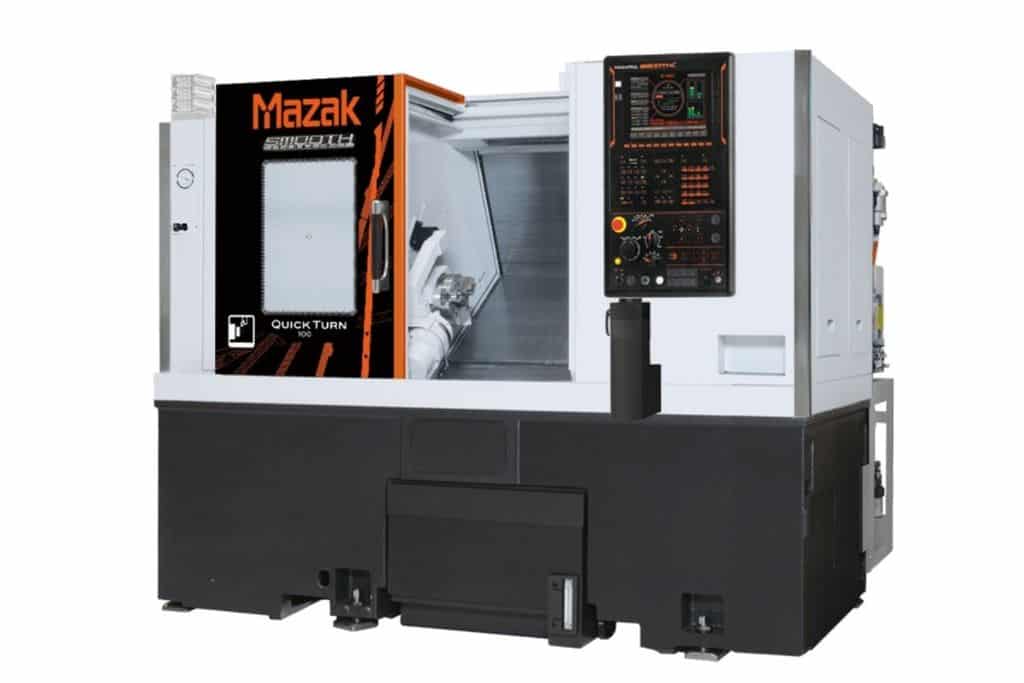 When looking for the best turning center in the market, the conversation generally begins and ends with MAZAK. 
Widely considered as the 'Other Thoroughbred' of Kentucky, Mazak is a world renown company in the CNC Manufacturing industry.  Whether you are looking for a small CNC lathe with live tooling, or a standard 2-axis machine, MAZAK will have you covered.
The Mazak Quick Turn 100 offers the best of both worlds, a small machine footprint, but with the highest machining quality in today's machine technology marketplace. 
With the new SmoothC integrated software, the quick turn can easily be programmed offline in a matter of minutes. 
With an automatic tool eye and a powerful spindle, this lathe has all the qualities and features a shop owner and a machinist would want. 
Features and Specs
6in Chuck Size
6,000 Max RPM
12-tool turret
SmoothC Control
15.0HP
Okuma GENOS L250II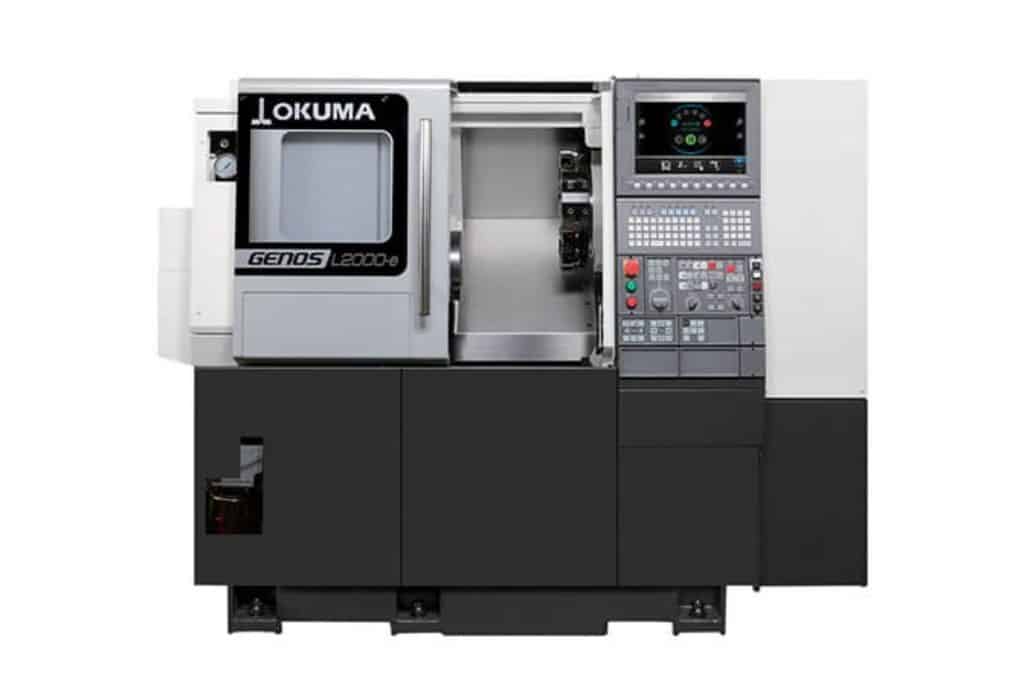 Another machining industry titan, the Okuma company knows exactly what a CNC machine needs.  The GENOS L250II is a masterful CNC lathe and the base model is priced at just under $80k, making it quite the investment. 
Although one of the more expensive options we have reviewed, we were blown away by its capabilities and thus we couldn't leave it off the list.
This dynamic lathe boasts an RPM range of 30-3,000 making it ideal for cutting anything from stainless steels to plastics.  When it comes to holding tight tolerances with repeatability, the rigidness of the machine plays a critical part. 
This machine is as tough and sturdy as it gets for a small cnc lathe, making it ideal for precision production jobs such as aerospace parts.
Features and Specs
11in Max Turning Diameter
15HP Spindle
Optional 8" Chuck
Up to 18.5" Z Travel
Takes up very little floor space
Hurco TM6i General Purpose Lathe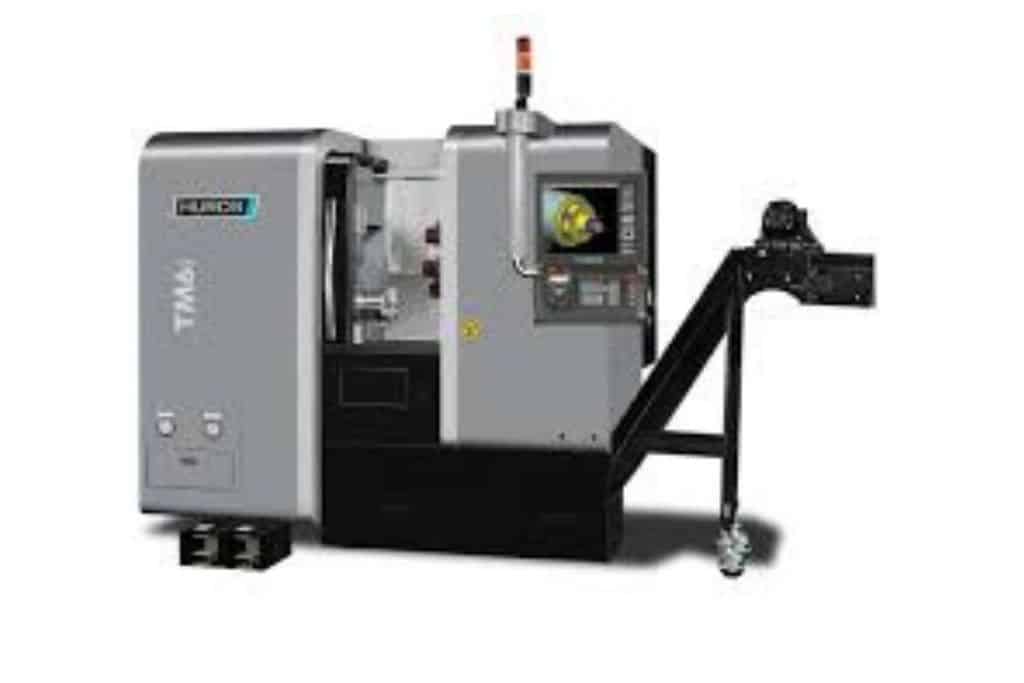 As one of the leaders in conversational programming, Hurco has excelled at making some of the best CNC machines in the world.  The TM6i is no different.  Featuring a state-of-the-art control panel and a rigid steel frame, this piece of equipment can fit right in at just about any machine shop.  
A twelve slotted tool turret will give you all of the flexibility and tooling capabilities you would expect from a much larger machine.  There is a lot to like about this small workhorse lathe and it is backed by a brand name you can trust.
Features and Specs
17.5 HP Spindle Power
6,000 RPM Max spindle speed
12.4" Max turning diameter
Affordable and easy-to-use
Chip Management System
The Final Cut
Now it's time to take one last finish pass on this list of CNC machines.  Overall, after reviewing each machine and going over every brochure and carefully evaluating the specifications of each lathe, I have come to one conclusion:
All of these machines are truly great in their own capacities and will be able to handle just about whatever you can throw at them.  
So basically what it comes down to is preference.  If you or your machinists are more comfortable with a Haas or a Tormach then it could make sense to stick with what you know. 
When it comes to uniformity and compatibility, it can be smart to use the same brand name machines.  It can save you money when buying your tooling or when having a service rep to come in and do maintenance. 
I hope this has been a helpful guide into what to look for when adding a small CNC lathe to your business or home space.  Just remember this is not just a purchase, it is also an investment in your future. 
So, choose wisely and don't be afraid to take your time and do some more research before buying. 
Good luck and safe cutting!