One of the best reasons to own a 3D printer is to make various practical products. Well, that and plenty of pop culture icons, such as cosplay armor, anime figures, tiny game pieces, and vintage Nintendo game decorations.
But, sticking with the practical for a second, what's more useful than a 3D printed wallet? No matter what, you need something to hold your cash, cards, and ID, so why not make it yourself?
Fortunately, there are tons of 3D wallet designs out there. We've curated 10 of them for your convenience. Best of all, since you can download the files for free, you can print multiple wallets for various occasions.
Some wallets are perfect for everyday use, while others serve as accents for specific outfits. We'll let you decide which is which.
What is a 3D Printed Wallet?
Typically, wallets are made of soft, pliable materials like leather, canvas, or cloth.
Since 3D printing technology has not yet advanced to make leather products, you'll have to settle for hard plastic. However, if all you're carrying are credit cards, an ID, and maybe some dollar bills, hard plastic is more than sufficient (as long as you don't put it in your back pocket).
Since these designs are 3D printed, you can incorporate any embellishments you like.
So, feel free to add logos, graphics, or other elements that make your wallet stand out even more.
Top 10 Examples of 3D Printed Wallets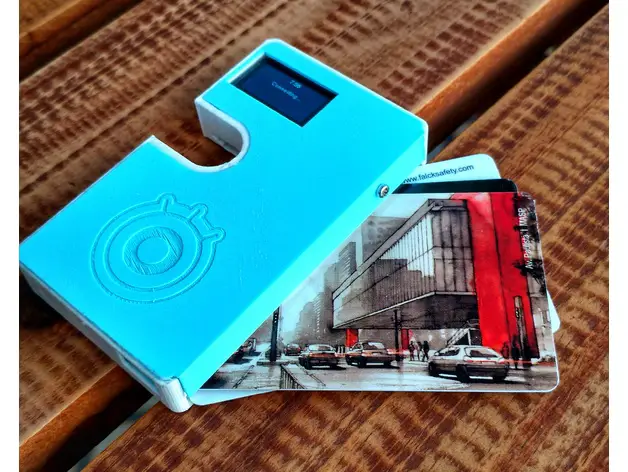 Source: iGorF2
Site: Thingiverse
This particular design works both as a physical and digital wallet. The pocket can hold all the usual pieces, such as cards and cash. However, it comes with a small screen that connects to the internet. So why does this wallet connect to the web? To monitor your cryptocurrency, of course!
As any crypto-fanatic will tell you, one of the biggest issues with blockchain coins is that they can fluctuate wildly from one day (or one minute) to the next. Instead of having to keep track manually, this wallet comes with a program that does everything automatically.
This wallet was so impressive that it took first place in the Instructables Pocket-Size Contest. You will need to supply some third-party elements (e.g., the screen), but the rest of the wallet is ready for your 3D printer. If necessary, you can upgrade the size of the screen to make it easier to see how well your Dogecoin is doing.
Source: Nancy
Site: YouMagine
Just because most 3D printed wallets are rigid doesn't mean that yours has to be. User Nancy has created something that puts the "fun" in functional – the Mixee Wallet. As you'll notice, this piece looks like a malleable jigsaw puzzle that you put in your pocket. This particular wallet takes a while to put together, but once you're finished, you'll be more than impressed with the results.
That said, don't assume that you'll have to pull an all-nighter just constructing this thing. Nancy made built-in hinges so that you can arrange your wallet faster and more efficiently.
But, you ask, won't everything fall out in my pocket? Don't worry; that's not a problem with the magnetic clasp that holds the top edges closed when you're not using the wallet.
Source: b03tz
Site: Thingiverse
We know what you're thinking – what makes this wallet so "smart?" Well, it has a one-handed design, which we think is pretty impressive. Once you fill the center with all your essential items (including change and keys), simply push the front section to the side to access the interior. Best of all, the cards will automatically get pushed up, making it even easier to pull out what you need.
As with other 3D-printed wallets, the capacity is relatively small (only five cards). However, once you master the opening maneuver, you'll be the talk of the town at your next party or shindig.
Source: aljaztitoric
Site: Thingiverse
At first, this wallet looks like it's made of Lego pieces. However, it's all 3D printed material; we're 99 percent sure of that. What makes this wallet so unique is its simplicity. No internal mechanisms, no complex build schematics – just pieces that glue together. There's even a tiny loop on the end so that you can attach the wallet to your keychain.
Keep in mind that this wallet is not enclosed, so cards can slip out if you don't keep it full at all times. Too full, though, and it'll be hard to grab what you need.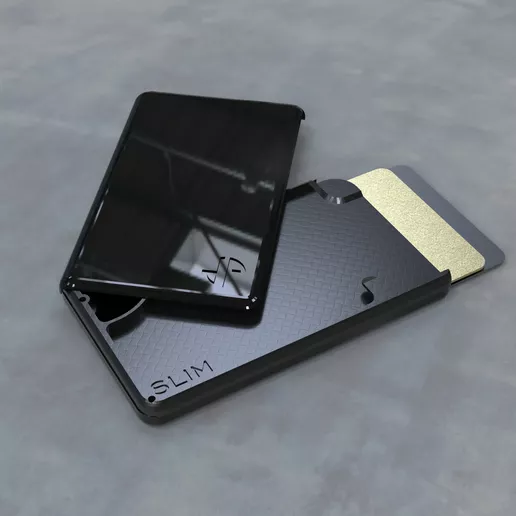 Source: Daniel PortalBR
Site: Cults3D
One of the best things about 3D printing is the collaborative community available on sites like Thingiverse and YouMagine. In this case, we have a reimagined version of the smart wallet we featured above. The functionality is similar, but there are a couple of added features that make this wallet shine.
First, it has a built-in money clip, which helps separate your bills from your cards. Second, the wallet's shape is a bit more ergonomic, making it fit better in your pocket. Otherwise, this version still pops your cards out automatically and has a snap enclosure to ensure it won't come open by accident.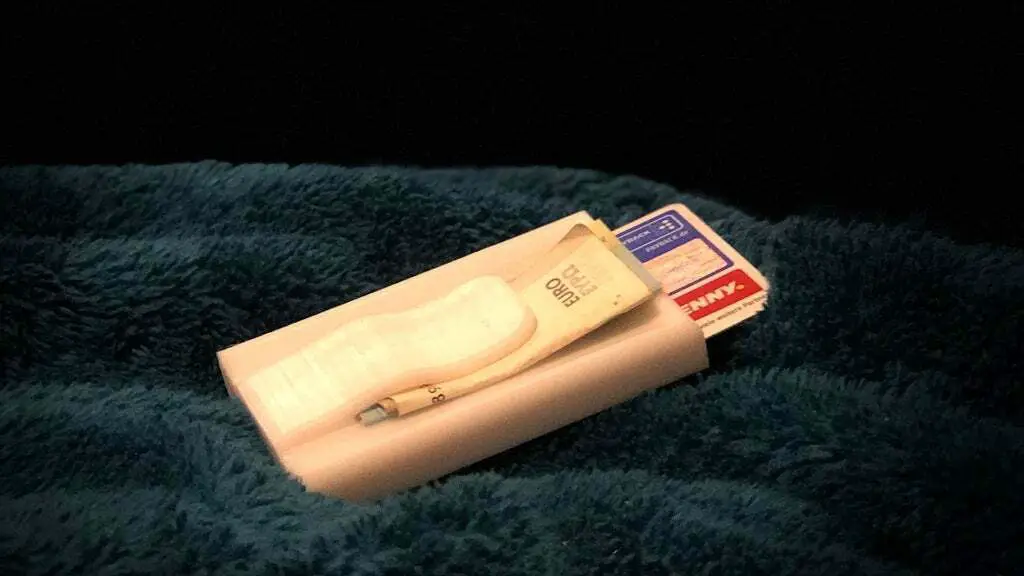 Source: Max3DDesign
Site: Cults3D
Sometimes, simplicity is the best option for organizing your stuff. This wallet may not look like much on the outside, but it has a sleek, practical design for everything you need. On the outside, there's a money clip to hold your bills (or cards, if you like to live dangerously). On the inside, there's a sloped edge that provides extra friction so that nothing slips out.
If you follow the design instructions, you'll notice that this wallet has smooth, curved edges for a more futuristic look. However, you can adjust these angles as much as you want. Personally, we like pixilated designs, but to each their own.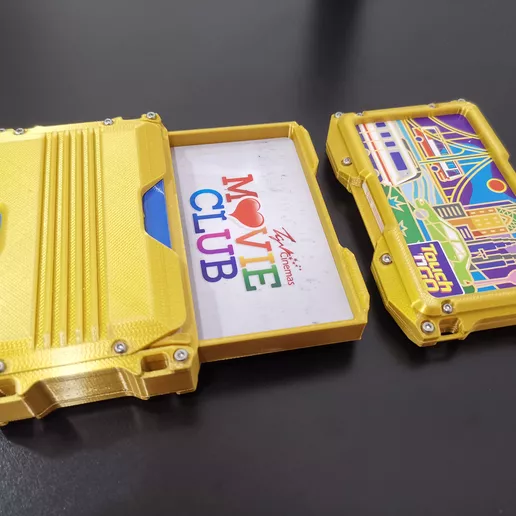 Source: FoodieHad
Site: Cults3D
If you want a wallet design that stands out, this model is tough to beat. With a thick, industrial shape, you'll feel like you're carrying a mini-safe in your pocket at all times.
One potential downside of this wallet is that you need screws to complete it. So, if you don't have them already, you'll have to go to the hardware store to finish this piece. However, they add a certain aesthetic that you can't find with other 3D-printed wallets.
Overall, this wallet is thick and sturdy and holds more cards and cash than most other models.
Source: BadPractice
Site: Thingiverse
For those who like having flexible, leather-style wallets, the Parametric Wallet is here to help. While other 3D prints focus on hard materials, this design offers a smoother, softer shape. If you use black print material, this piece will almost look identical to a standard wallet you'd find at any department store.
The features of this wallet are pretty minimal, as it's meant to replace a regular version. There are multiple pockets for cards and a big back pocket for cash and miscellaneous items. You can also customize the wallet with graphics or images on the sides if you want.
Source: Pentland_Designs
Site: Thingiverse
Have you ever wanted a wallet that looked and felt like a cigarette lighter? With this design, you can! The shape is similar to what you'd find on a Zippo, complete with a rear hinge and locking mechanism. Or, you can forgo the lid and just carry the wallet like a cardholder.
Older versions of this wallet include a slide lock, but the latest build requires pressure, not any complex mechanisms.
Source: David Mussaffi
Site: YouMagine
Finally, we have a basic 3D printed wallet with no bells and whistles. However, what sets this design apart is that you can choose from a wide array of surface patterns. If you're new to 3D printing, we suggest cutting your teeth on something simple like this so that you can master your machine for more complicated pieces.
As you can see, 3D printed wallets can take on various shapes and sizes. Again, since these designs are open-source, you can adjust them as you like. We recommend printing them as-is first to see what you're working with, then coming up with unique add-ons if you want.
That's the beauty of 3D printing!
Featured Image Credit: by aljaztitoric