In this guide we will tell you about the best paints for 3D prints, as well as, discuss the right way, with some tips & tricks, to do the painting.
In a hurry… Here's Our Top Picks
Crafts 4 All Acrylic Paint Set
A high quality non-toxic paint that works well on most 3D printed parts. We recommend following our 3D printing guide below on prepping your 3D print before painting. This will result in a quality finish that will last.
Editor's Choice -Best Paint for 3D Prints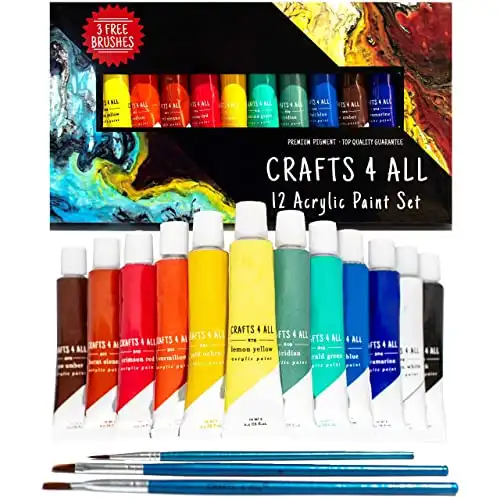 We earn a commission if you make a purchase, at no additional cost to you.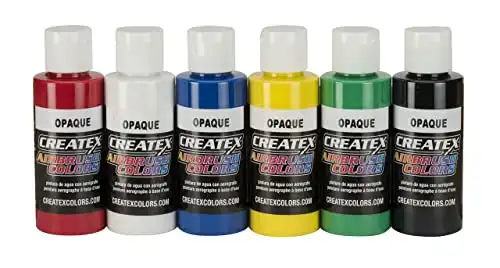 We earn a commission if you make a purchase, at no additional cost to you.
Types Of Paint for 3D Prints
There are a variety of paints you can use to paint your print models. They come in different categories such as oil-based, latex, lacquers, enamels and acrylics. A majority of these paints are suitable for both ABS, PLA, and other 3D printing materials.
Types of Paint for 3D Prints
●     Oil-Based
●     Acrylics
●     Latex
●     Enamel
●     Lacquer
Generally, beginners use simple acrylic paints with the help of brushes. These are very simple to use to get the proper control while painting. Also, acrylic paints dry quickly and offer easy cleaning.
You have to select the type of paint you want to use: spray paint, brush paint or airbrush paints. Of these,  brush is the most economical option and is suitable beginners. However, it doesn't give a very smooth application.  The airbrush is pricier but gives a natural and glossy finish.
Lastly, there are spray paints, which are both affordable and easy to use.
Depending upon your comfort level and budget, you can go for any of these paint types for painting your PLA and ABS models.
Painting PLA and ABS
The methods of painting and the selection of paints for both PLA and ABS is almost the same.
However, due to the differences in surface, you need to pay a little extra attention. The surface of PLA models is porous, so when the first coat of paint is applied, it doesn't look great.
Therefore, to make the surface smooth and to fill the pores, you should always apply a good primer, especially for PLA.  After 2-3 coats of primer, you can apply multiple coats of paint to get the desired results.
The best paint for PLA is an acrylic based paint.  An acrylic paint will leave the best overall finish on your 3D print requiring only a couple of coats.
On the other hand, ABS models have a smooth surface and painting them is straightforward. But here also, you need to sand and smooth out the models before applying the paints to avoid the ugly 'blobs'.  Also, applying a primer is a crucial step before painting, so don't skip it.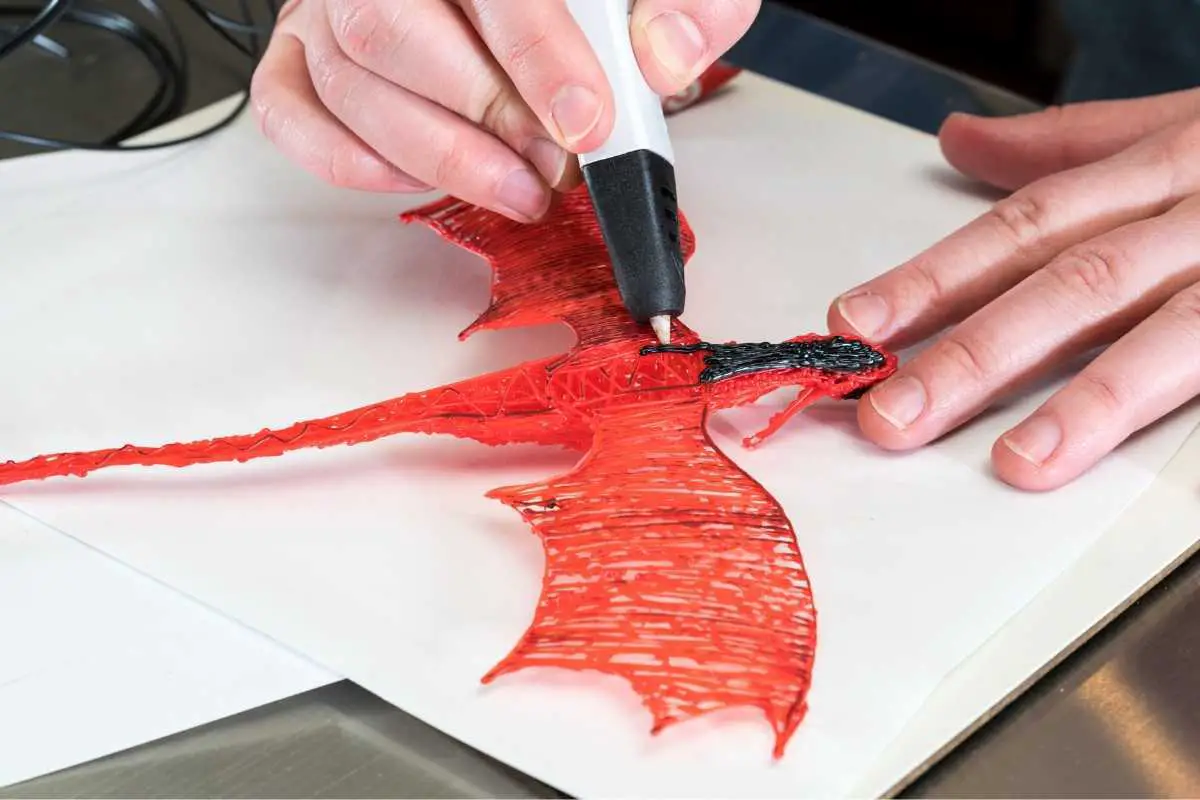 How To Prepare 3D Print For Painting?
You have to follow a complete process in order to prepare the print for painting. It involves cleaning, smoothing and priming the 3D print prior to painting them.
1. Cleaning
First thing you should do is clean the finished object very well to remove any extra parts and supports, or abnormalities. You can use a knife or a cutting blade to eliminate the artifacts. Just make sure to make your surface as smooth as possible.
Suggested Article:How to Clean Up 3D Printed Parts | 5 Tips & Tricks
2. Smoothing
Smoothing the 3D model involves various methods like sanding, acetone vapor for ABS and ethyl acetate for PLA. Since the latter methods impose various health hazards and hence, sanding is the best way to smooth out the models.
Use a combination of grit sizes to get rid of all the artefacts and fine lines from the print. Beginners use sandpaper but if you have experience you can try power sanding tools as well.
Suggested Article: Best 3D Printer under $1000: Ultimate Buying Guide
You can also use fillers to make the surface smooth at the glued joints. First, clean and sand your model to remove dirt and small. Then apply multiple layers of spray fillers or primers. Use grey filler instead of white, as it makes the flaws visible.
After the application of primer, dry the model and sand it again using fine-sized grit sandpaper. Spray the primer and sand again until the printed object is completely smooth.
3. Painting
If you're a beginner you can use acrylic paints. Otherwise, spray paint and airbrush give truly great results.
Once your product has dried, you can finish with a clear coat to protect and seal the colors. This will result in a glossy and natural finish.
Best Paint for 3D Prints
Rust Oleum Multi-purpose Spray Paint
Spray paints are considered to be the best because they are easy to use and are affordable.  Rust-Oleum Painter's Touch Ultra Cover works very well on plastic surfaces as well as wood, metal, ceramic and masonry.  It dries quickly and a single can covers up to 12 sq ft. It gives a high-end glossy finish.
Rust Oleum Painter's Touch
Another product from Rust Oleum. It is a multi-purpose spray paint suitable for PLA, ABS, wood, foam, metal, masonry and few other materials. It is quite durable and transforms the entire look of the object. It makes the model look professionally designed. Also, it gives a matt finish which gives a vintage look.  A great option for your 3D printer projects.
Smooth-On XTC-3D Print Coating
*Great Alternative Finishing Option
If you're looking for a great quality and beginner-friendly coating for 3D prints then, you should check out XTC-3D print coating. It is a great option for finishing the your 3D prints that are already painted, as it results in a natural and glossy finish. It works for PLA, ABS, SLA, SLS along with other materials such as wood, foam, fabric, paper, plaster etc.
Best Airbrush Paint for 3D Prints
Below are some of the best airbrush paints for 3D prints :
U.S. Art Supply Airbrush Paints
The US Art Supply's airbrush paint set comes with deep and rich colors that will enhance the beauty of your project. You can either use them individually or by mixing them. You can use these paints on plastic, fabric, paper, foam, wood and a few more surfaces. This paint set also comes along a color reducer, airbrush cleaner and a mixing wheel using which you can try different color combinations.
Createx Airbrush Paint – Best Paint for PLA Filament
Createx brand is known for their high-quality and rich airbrush paints which are used by a majority of professionals. This set includes a total of eight vibrant colors each packed in 2-ounce bottles. They can be used on a variety of surfaces including plastic, wood, fabric, paper etc.
ChromaAir Airbrush Paints
Another choice of professionals! ChromaAir airbrush paints are great for beginners as well. They come in a set of eight rich water-based colors. They can either be used on their own or diluted. There are 2-ounce bottles and also include a reducer.
Which Primer To Use on 3D Print Parts?
Priming is a must for your 3D creations. It will conceal flaws such as pores and fine lines and allow you to achieve a professional finish.
But the question is which primer to use on 3D prints?
Select a primer that is suitable for your plastic. There are brush-on primers and spray ones. Although both are great, spray primers are easier to use resulting in an even application. You can use the brush-on primers for reaching the tough corners of your object.
How to Paint 3D Prints PLA and ABS
Here are some useful pieces of advice for painting the 3D print models :
Always paint in a closed environment because wind can cause uneven strokes and allow   dirt and dust to adhere to the paint.
If you're using brush-on paints, make sure to apply the paint smoothly to avoid  brush strokes.
While using spray paints, try for one  an even application at a time.
Always paint the object in a covered zone. A cardboard enclosure can be used for this purpose.
Maintain a good distance while applying the spray paint.
Applying multiple coats for a better finish.
Always mount your model on a dowel to avoid fingerprints.
Wear safety gear such as gloves, respirator, glasses and an apron.
Finishing Up
Overall, there are a lot of different ways to paint your 3D Print, whether it's with acrylic or and airbrush paint.  Just make sure to properly prep your 3D printed parts before painting.  Soon you may even start your own business.
Suggested Article: What can I make and sell with a 3D Printer?