Lasers cutters are suitable for many professions, from growing your business to being used in the classroom for demonstration. A high-quality laser cutter can help you cut materials into any pattern or design, as per your specifications.
One of the most popular cutters is the Dremel Laser Cutter. Let's take a look and find out what all the hype is about.
CHECK LATEST PRICE ON AMAZON.COM
Dremel LC40 Laser Engraver & Cutter
If you want a product to help you turn your vision into reality, the Dremel cutter is the one-stop solution to achieve this. It is not only easy to use, but it contains all the features that your next project needs. This laser cutter also boasts maximum safety, being certified as the first UL Safety-approved laser on the market.
Who is This Laser Cutter For?
This product is suitable for professionals seeking a premium-quality machine. It is custom designed to fulfill all of your wants and needs, and it is doubtlessly one of the best, high-tech devices on the market. All of these features also come at a premium price tag, but its quality definitely justifies it.
What's Included?
The package includes a hex box, reusable tote bag with straps, a wood sheet, and a honeycomb plate. There is a quick-start guide, two water hoses, and an air tube.
Furthermore, it also comes with exhaust shroud screws, exhaust duct clamps, a hex box connector cord, and a hex box cap. Other accessories, such as alcohol wipes, a spacer puck, an Ethernet cable, and much more are also included.
Overview of Features
Dremel is a trusted brand with a long history in designing premium products. With more than 20,000 hours of endurance testing and quality checks, this laser cutter is built with durability in mind. It is a guarantee of reliability that provides continuous run time that fulfills any project needs.
One of the highlights of this model is that it transposes advanced technology in one of the simplest forms. It boasts reduced frustration due to its easy-to-use, simplified system. The software is dynamic and highly intuitive, and you receive everything you need without any extra charges. Once you put everything together, you can start creating right away.
Another feature that explains the higher price tag attached to this product is that it will never compromise on your safety. This model is the first UL-certified laser on the market, featuring five safety sensors that boast real-time diagnostics. This means that the laser is continuously monitored, eliminating safety concerns so you can focus on creating the best designs.
Overall, this laser cutter is a facile, intuitive home laser cutter or engraver. It can be used with a large variety of materials, including stone, wood, glass, and even leather, paper, or fabric. This makes it extremely versatile and suitable for any project you might have. It saves time and energy, and its compact design has intuitive controls.
How to Use Dremel LC40 Laser Engraver & Cutter
This product comes with clear instructions on how to set it up. Follow the guidelines and make sure you pay attention to each step. When they operate, laser cutters release a toxic exhaust; therefore, make sure your model has appropriate filtration and ventilation and always use it in well-ventilated spaces.
Alternative
If this product does not suit your budget, we recommend checking out the Orion Motor Tech 50W Laser Cutter and Engraver. It is powerful and provides a wide working area of 12″ x 20″. You can also use it with a large variety of materials. This includes cardboard, bamboo, wood, acrylic, cork, leather, rubber, and other non-metal materials.
It has an excellent performance that can reach up to 23.6 inches per second of engraving and 15.7 inches per second for cutting. Both efficient and accurate, this laser cutter works wonders for home use. It allows you to boost creativity and customize each project to your liking.
It comes with a red dot pointer that helps you be extremely precise, as it shows where the laser will fire. Overall, this is a great product for beginners and home use.  We also compared the Glowforge Plus vs the Dremel LC40, and we have a Glowforge Plus review as well.
Conclusion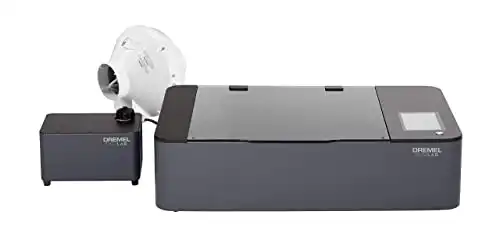 We earn a commission if you make a purchase, at no additional cost to you.
After review, the Dremel Cutter is on another level when it comes to laser cutting. It is one of the safest premium-quality products on the market and is ideal for business use or classroom demonstrations. It has intuitive controls and turns advanced technology into simple, easy-to-understand processes that provide the best experience.
If this product is not compatible with your budget, you could also consider checking out the Orion Motor Tech. It can be used with almost any non-metal material, allowing you to craft with precision. You can also complete all of your projects quickly due to the speed of the machine.