Are you looking for the best laser engraver under $500? If so, you've come to the right place. In this blog post, we'll take a look at some of the top budget laser engravers on the market and discuss what makes them stand out from the competition.
We'll also provide an overview of the features that you should consider when shopping for an affordable laser engraver.
So, if you're in the market for a new (relatively) cheap laser engraver, read on for all the information you need to make an informed purchase.
Budget Laser Cutters Reviewed in this Guide:
Best Laser Cutters for Under $500 List
Comgrow Z1 Desktop Engraver (5W and 10W)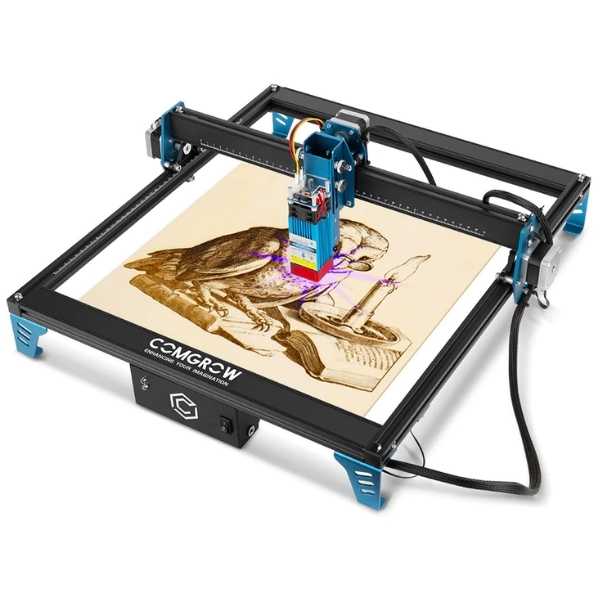 Our top pick for an affordable laser engraver under $500 is the Comgrow Z1. This little machine delivers surprising cutting speed and accuracy in a small package. It's perfect if you're just getting started and looking for a compact desktop unit.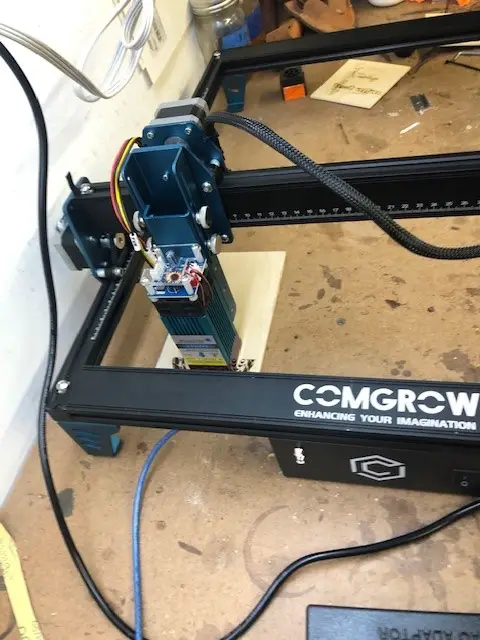 The Z1 is a diode laser engraver/cutter that comes in two models: a 5W and 10W option. We've worked with the 5W, and found that it was easy to set up and very precise when testing on samples.
However, the 10W, which is still well under $500, is built with a dual diode module and would be better for actually cutting out designs and working with tougher materials like metal or coated glass.
That said, both the 5W and 10W machines can handle a range of materials for engraving projects, including plywood, leather, aluminum, cardboard, acrylic, and non-woven textiles. The Z1 also comes with a rotary roller upgrade option if you want to work on rounded objects (like the ever-popular Yeti Cup laser engraving).
This machine is relatively easy to put together. There is some preassembly, but we found that this video was helpful in taking us through the steps. Still, you might expect around 30 minutes or longer to get it up and running.
Finally, while you can use the free LaserGRBL software (Windows only), we had much better results after installing Lightburn, which requires a one-time $60 license key and can be used on Windows or Mac.
Bottom line: This is a great entry-level laser engraver for the price.
Highlights:
The cutting area of 400 mm x 400 mm (15.7″ x 15.7″) offers ample size for different projects without taking up too much room in your workspace
Easily connects to your laptop or desktop via USB
Supports SVG, PNG, BMP, G-Code, JPG and more
Easy to adjust Z-axis height to work with different materials
Good customer service, 1-year warranty, free shipping, and plenty of additional information on their website to get started right away.
SainSmart Genmitsu LE 5040

The LE 5040 from Genmitsu is another budget laser cutter we love. And with a slightly larger cutting area compared to the Comgrow Z1, at 500 mm x 400 mm 19.7″ x 15.7″, you get a little more project space with similar levels of speed and precision.
However, while the 5040 is built with a capable 5.5W laser module, you'll find more cutting power with the 10W dual-module Z1 option at a similar price point.
That said, most DIYers are big fans of this unit, partly because of how user-friendly it is. And if you're just looking to let your creative juices flow on some cool engraving ideas, you can apply your designs to all sorts of materials, including wood, MDF, anodized aluminum, paper, textiles, acrylic, and more.
Note: if you have questions on material compatibility or design ideas, just visit their website or join their active Facebook group (with over 22K members).
Overall, this unit is stable, quiet, and precise. It also works with both the free LaserGRBL and licensed Lightburn software.
As mentioned above, we definitely prefer using the Lightburn software. And you can even try it for free before committing to the paid license. We recommend it.
One thing to note is that this unit comes with a fixed focus, but I'm not sure if you can control the Z-axis height, unlike with the Comgrow above.
This would be unfortunate, as even slight adjustments can make it easier to work with different materials and improve precision and contrast. Check with the manufacturer on this one.
However, one added feature that we like is the offline control module. And, don't worry, this model also includes a rotary roller upgrade option for working on rounded objects like tumblers.
Highlights:
An affordable laser cutter that works on a variety of materials
Comes with an offline control unit for easy accessibility
Max cutting speed of  10000 mm/s  (5x faster than 3018 model)
The platform is larger and more stable than other models in this price range
Active support and Facebook community using Genmitsu engravers and CNC machines
Ortur Laser Master 2
The Ortur Laser Maser 2 is a very popular cheap laser engraver available on Amazon.
With a 390 x 410 mm (16″ x 15″) cutting area, it's in the mid-size range of the machines included on this list. This unit features 5.5W laser beam output with a max moving speed of 10000 mm/s, comparable to the Genmitsu 5040.
What's unique about the Laser Master is the G-Sensor safety feature.
This feature detects an outage or computer malfunction and will stop the laser beam if such an issue occurs. We like ti because it gives some peace of mind if you leave the model running and step away for a bit.
Also, the Laser Master 2 comes with an upgraded motherboard, including a USB portal, an offline control input, and easy-to-access reset and power buttons.
Like other diode lasers on this list, this unit is compatible with both Laser GRBL and Lightburn (the preferred option) and works with most file raster or vector types, including JPEG, JPG, BMP, PNG, SVG, and more.
It also has an "optically compressed" laser module, meaning a shorter focal length, which the manufacturer claims allows it to cut harder materials.
We're uncertain if you'll see much of a difference, though, compared to other laser cutters in this class. We prefer an adjustable module as well.
Overall, this company provides responsive customer service support (especially for an Amazon seller).
However, you might not be pleased with the assembly, even though they claim it should take no more than 10 minutes, as it comes with many steps and often causes some confusion. So be sure to reach out to them if you have problems with the components and/or assembly steps.
Highlights:
Great entry-level laser cutter at a cheap price point
Comes with an updated motherboard and G-sensor safety feature
Compatible with LaserGRBL and Lightburn
Jinsoku LC-60A
The Jinsoku LC-60A is a new budget laser engraver from Genmitsu. And although it has a similar design to other diode laser cutters on the list, with a simple open frame and diode laser module, there is more to this one than meets the eye.
For example, the 60A comes with a larger cutting area, at 23.6″ x 23.6″, compared to other cutters on this list. It also includes a very nice integrated Air Assist feature and compressor. This reduces burning and produces a cleaner and smoother cut line or engraving pattern.
Of course, with these added features, you're also looking at the max price in this $500 budget category.
But this unit is worth the added cost, we think. First, aside from the air assist and larger build platform, you get a couple of added safety and performance features.
This includes an emergency stop button, an included laser face shield (unlike others that just come with the green lens glasses), plus a Z-height adjustment knob.
This knob gives you 50 mm of focus range to produce more depth and precision on different materials.
Like the lower-priced Genmitsu above, you still get 5.5W of output power and 10000 mm/s max moving speed. But this model has a larger frame than lower-priced options, with added stability and even a 50 mm leg extension for more vertical space when cutting.
If you want a user-friendly laser cutter with easy assembly, great support (FB group included), and higher-end features, this is our top pick. It's just a little more than some new DIYers are ready to spend.
Highlights:
Broad material and file compatibility (PNG, NC, BMP, JPG, DXF, SVG, Etc)
Added safety features like an emergency stop button and protective face shield
Air assist feature for smoother lines and more precision
Larger 600 mm x 600 mm (23.6″ x 23.6″) cutting area
50 mm leg extension included
OMTech Desktop K40 Laser Cutter
With this K40 model, we're stepping into a slightly higher price bracket, but you should still consider it among the best laser engravers for under $500. And for a CO2 laser engraver, with 40W of power, this is a great deal.
Although you get more power than diode lasers in this list, the engraving surface is a little smaller, at 300 mm x 200 mm (12″ x 18″). Also, keep in mind that with the 40W power output, you need to manage the settings to preserve the laser tube.
For example, if you're cutting at low power (10 – 40% output), you can expect 1500 – 2000 hrs of use. But if you continuously operate at the max output (i.e. 70 – 100%), you're looking at 400 – 600 hrs.
Aside from the enhanced power that comes with a CO2 engraver, the OmTech comes with several advanced features for this budget category.
For example, as an enclosed CO2 unit, it includes a built-in exhaust fan and water cooling system. It also has a dual engraving platform, so you can work with different shapes and sizes, along with a built-in leveling board.
The laser module also has a 2″ focus distance to fine-tune the cut depth on different surfaces. But it won't work with a rotary tool. For that, you need to look at one of the open frame diode options in this list.
As for software, this K40 unit comes with the Laser DRW program and is compatible with CorelLaser and CorelDraw. Most K40 users, though, opt for a combination of Inkscape with the free and open-source K40 Whisperer control software. 
Note: If you want to use Lightburn with the K40, you'll need to upgrade the motherboard. It's a common modification, as so many users love the layout and editing features in Lightburn. Here is a motherboard upgrade option from OMTech.
Ultimately, if you want the power of a CO2 laser cutter but aren't ready to jump into the Glowforge price bracket (and it's a big jump), this is a good starter unit.
We'll have some other entry-level CO2 recommendations soon. But for now, this one is the only option we can recommend in the $500 price range.
Highlights:
Dual engraving platforms with built-in exhaust and water cooling system
Broad material compatibility, including wood, bamboo, leather, marble, paper, and much more
40W laser output with 100 – 255 mm/s recommended speed
Atomstack A5 M50 Pro Laser Cutter
Atomstack is well-known among the best cheap laser engravers available on the internet. And they have a few models to choose from, including the basic A5 version, an A5 Pro, and A5 M40 Pro.
But our current pick is the A5 M50 Pro. It's not a huge price difference between the models, but the A5 M50 delivers more cutting power with added safety and offline features than the others.
For example, all the Atomstack engravers boast a laser compression feature, which is supposed to increase the actual cutting energy when focused on the material. And the Pro models each have a power output of 5 – 5.5W*.
But the M50 has a "quadruple" lens compression feature, which can cut up to 0.8″ of wood, and 0.6″ of acrylic material, compared to 0.2″ of cutting depth with the based A5 Pro model. It might not seem like much, but when working with a diode laser, you'll appreciate any additional cutting ability a machine can offer.
The M50 also has offline terminal support, so you don't have to be connected to a computer to use it. And it has one of our favorite (and most basic) features: an emergency stop button.
Combined with a sturdy metal frame and a 410 mm x 400 mm (16.1″ x 15.7″) cutting area, this is a great hobby-level engraver.
Keep in mind that the actual footprint of this unit is about 26″ x 22″, something you'll need to consider when setting up your workspace.
This unit works with Laser GRBL or Lightburn and supports most raster and vector file types, including NC, BMP, SVG, PNG, JPG, DXF, and more.
You can use it to engrave on metal, wood, leather, coated or blackened glass (it won't work on clear glass – you need a CO2 unit for that), acrylic, and more.
Highlights:
Quadrupled compression lens, .003″ spot size, and fixed focus for accurate engraving and enhanced cutting power
Offline terminal ability with simple unit controls for easy accessibility
Protective laser cover to protect eyes
*Keep in mind that this is the actual laser power, not the 40W of machine power noted in the description.
Sculpfun S9 Laser Cutter
Right at the top of the low-budget laser engraver price range, the S9 from Sculpfun is a very popular model with DIY makers. This is mainly due to its simple design and easy assembly, along with a precise 5.5W laser beam that's ideal for engraving projects.
While the company claims this beam matches the power of a 90W CO2 laser, and can cut through up to 15 mm wood and 10 mm acrylic materials, we think it's better suited for engraving. And the laser beam is very thin (0.1 mm), which is ideal for precise engravings on wood, leather, textiles, paper, and more.
But some users are still comfortable using this for more heavy-duty cutting applications.
You can learn more about how to assemble this unit and the different cutting capabilities in this video:
The cutting area is typical of an open frame diode desktop unit, at 410 x 410 mm (16″ x 16.5″), with plenty of space for desktop projects.
The S9 also works with a range of software platforms, including LaserGRBL, Lightburn, Benbox, Grbl Controller, and more. It supports all file types, including JPG, PNG, NC, G-Code, BMP, and SVG.
If you want a simple, no-frills, quality, durable desktop laser unit, the Sculpfun S9 is one of the best in the business.
Highlights:
Adjustable laser with fixed focus and sliding design
Sturdy frame and ample cutting space for different materials
5.5W laser output (comparable to 90W CO2) with ultra-fine 0.1 mm beam for precise engravings
ANYCUBIC Mega Pro FDM 3D Printer & Laser 2-in-1
The ANYCUBIC Mega Pro FDM 3D Printer and Laser Engraver combination provides dual functions at the price of an affordable laser cutter.
While you will be working with a smaller engraving area (about 8.6″ x 5.5″) and lower laser output power of 1500mW, this machine will let you experiment with engraving and etching projects, with the added capability of 3D printing.
So, makers and crafters can explore the world of 3D printing with the added bonus of laser engraving. This popular machine can work with basic laser engraving materials (i.e. wood, leather, cardboard) and allows multi-color 3D printing.
It produces high-quality 3D models and precise engraving without requiring any expertise in the two technologies.
Also, users appreciate the reduced printer noise due to the new ultra-quiet stepper drivers not being available on previous printer models.
They also appreciate the ability to pause at a particular height so that a different color of filament can be applied with a single nozzle.
The ANYCUBIC Mega Pro is an excellent choice for those who want to explore more than one crafting technology.
If you want to focus on laser engraving, though, we would suggest starting with one of the diode options in this list or trying out a CO2 (i.e. K40 model) instead.
Highlights:
Engraving Area: 220 × 140 mm
Materials: Leather, Paper, Wood, etc.
Laser Power: 1500mW
Image Format: BMP
3D Printing Build Volume: 210 × 210 × 205 mm
LaserPecker Pro Mini Engraver
The LaserPecker Portable Laser Engraver is our favorite mini and portable budget-friendly laser engraver. It's small enough that you can tote it anywhere and operate it with a smartphone. It has .01mm precision and comes with protective eyewear as well as a small tripod.
It is a great choice for anyone who wants the ability to craft on the go.
The Pro model has a .15 mm light spot (compared to 0.3 mm with the base mini model) and uses a blue-violet laser to engrave objects within a 10 x 10 cm range. It works well on softer materials like wood, paper, leather, cloth, etc.
The LaserPecker Mini can be controlled via Bluetooth using the app, which also lets you create and edit pictures, patterns, text, and more. This unit supports most file types, including JPG, PNG, BMP, G-Code, and more.
The Mini also has a unique autofocus feature that senses the distance of the object from the lens and sets the appropriate focal length.
Keep in mind, that just because this is a small unit, you are still working with a real laser and need to keep safety in mind. In fact, that is one of our biggest concerns with a portable model like this. Be sure to use the included safety glasses and magnetic safety shield. You should also have proper ventilation, depending on the material you're working with.
Also, the LaserPecker mini will cost about the same as many of the diode units on this list.
If you want portability, then it's perfect. But for a stand-alone desktop engraver, you might want to consider a more stable, sturdy, and powerful option.
Learn more about the LaserPecker 2 in this guide.
Highlights:
With an engraving area of 10 x 10 cm and 1600mW power, this unit is perfect for small etching, engraving, and carving projects on software materials.
Works wirelessly via the Bluetooth app or with the included USB-C cable
405 nm blue-violet laser with 10,000 hours lifespan
Includes carrying case, magnetic shield and tripod stand
P70 Portable Laser Engraver
The P70 M40 portable laser engraver comes pre-assembled and offers a great option for combining an affordable diode laser engraver with easy setup, power and portability.
This engraver outputs 5.5W of power, which is more than your standard portable laser cutter, along with 0.01 mm of accuracy. It also includes an adjustable module with a fixed focus and auto-zoom feature. This allows you to set the correct height of the module and let the machine do the work of zooming in for accuracy and precision.
As a small, portable machine, the cutting area is smaller than standard enclosure-less diode units. At only 200 x mm (7.8″ x 7.8″), it's roughly half of popular low-budget open frame diode models.
But this little package makes up its small engraving area for it with a very user-friendly open frame and a smooth stepping motor. It also includes supporting blocks to lift the unit higher, so you can work with different objects, shapes and thicker materials. Plus, you can add a rotary attachment to work with cylindrical objects.
Although it delivers more power than a small unit like the LaserPecker, or the 2-in-1 option from AnyCubic, this device does not come with a separate app for importing and modifying designs. You'll still need to set up with a computer (USB cable included) and use a program like LaserGRBL or Lightburn to get started.
It does, however, support most file types, including NC, BMP, JPG, DXF and ore.
Ultimately, this is a unique design with the potential to do some serious engraving, etching, and even cutting from a portable unit. As a nice safety feature, it also includes a nice eye protection shield, which blocks out a reported 97% of harmful UV light.
Highlights:
A portable unit that comes mostly pre-assembled, with the power of many standard diode cutters (5.5W)
The ability to cut up to 10 mm wood or 8 mm acrylic materials
.02 mm spot width with .01 mm engraving accuracy for precise designs
Budget Laser Engravers Buying Guide
When choosing the best laser engraver on a budget, you will want to look at a few different specifications. Much depends on the materials you want to work with and the type of projects you intend to focus on. While all laser engravers cut and engrave, some work better on different materials.
Beyond the issue of how much a new laser cutter will cost, here are the most important features to compare:
Size
The first thing you will want to consider is the size of the projects you will be working on. Varied bed sizes allow for a difference in the continuous cutting action your budget laser cutter can perform.
If your objects are larger than the cutting bed, you will have to continually reposition the materials, and some materials will be too big to work with at all. It is also faster to cut multiple small pieces at once if the bed space is generous enough.
In addition to the size of the bed, you will want to consider whether or not the bed needs to go up or down or if a fixed bed is sufficient. An adjustable bed will allow different sized or bulkier objects to be placed on the bed.
Above you'll find cutting areas with an average of around 15 to 16 inches in length x width.
Power
The wattage determines the strength and reliability of the laser. The higher the watts, the faster you will be able to cut.  Laser cutting on a budget is important, but you don't want to sacrifice power in your laser engraving machine. Most models in this price range have between 5W and 6W laser beam outputs. For CO2 lasers, you'll be starting at around 40W.
Materials
Each laser engraver has its own range of materials that it can effectively cut. Some engravers work best with soft materials like leather or wood, and others have the capability to cut plastic, metal, stone, or glass.
Also, if you plan to engrave on rounded surfaces (i.e. tumblers, bowls, etc.), it's best to look for a laser cutter with a rotary roller upgrade option.
These will add around $50 to $100 to your cost, but can open up a lot of design possibilities.
Safety
Let's face it" cutting or engraving with a laser comes with some inherent safety issues. Whether it's due to burning the material, eye damage caused by looking directly at the beam, excessive power usage, or just the fumes from coated or plastic surfaces, you should look for a machine with some built-in safety features.
We like to see hobbyist laser cutters with features like emergency shut-off buttons, automatic detection with shut-off, and of course green lens safety glasses and shields (if available). You should also think about exhaust fans and cooling systems, depending on the type of machine and the ventilation in your workspace.
What's better: CO2 or Diode Laser Cutters?
If you're looking for a budget-friendly laser cutter, you've probably realized that the majority are diode models.
These don't have an enclosure and come with lower outputs, between 5 – 6 watts. On the other hand, CO2 laser cutters are typically more expensive, come with higher watt output (i.e. 40W and up), cut at faster speeds, and have built-in cooling mechanisms.
With the increased power, speed, and enclosure, you might be wondering why you'd even consider a diode cutter if you can find a CO2 model in this price range. Well, for one, there are way more options in this budget category.
Also, with an open frame and no mirrors (unlike within a CO2 model), these cheaper units – with fewer moving parts and less complexity – tend to be very durable and easy to move around. That's why they make great desktop units.
You can also get a lot of power and precision out of the direct laser beams with a diode module. Just keep in mind that if you want to cut harder materials (stainless steel, stone, marble, etc), thicker woods, or any transparent/translucent/glossy surfaces, you'll be better off with a more expensive CO2 model.
Common Questions about Cheaper Laser Cutters
Which Software Should You Use with a Hobbyist Engraver?
Most of these hobbyist models can be used with a free program called LaserGRBL. It's free but only works with Windows. Also, we've had nothing but problems trying to get this to load consistently.
So, in most cases, we recommend using Lightburn. It's easy, inexpensive (just a $60 license fee), and more reliable. Although we still have some problems from time to time. Just make sure your drivers are up to date.
What File Types Can I Use?
Most laser cutters in this category are compatible with almost any image file type, including PNG, JPEG, SVG, DXF, BMP and more. This means you have lots of options for finding sample images, stock designs, and clip art from places like Vecteezy, or creating your designs using programs like Photoshop or Illustrator.
Check out this resource for some of the best free laser cut SVG file sources online.
Enjoy Your New (Affordable) Laser Engraver
In this guide, we've listed and reviewed several of the top laser engravers for under $500 that you can find online.
Are they perfect? Of course not, but what can you expect in this low-budget price range.
But it's still a big investment, so it's important to research your options and choose carefully.
We think the 10 budget cutters in this list are worth evaluating, as they pass our initial screening based on build quality, compatibility, later accuracy and power output, and overall customer satisfaction.